See if We Have Top-Rated
Storm Maintenance Pros in Your Area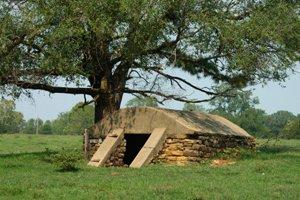 The main purpose of a storm shelter is to provide a space where you and your family can survive a natural disaster—such as a tornado or hurricane—with little or no injury. However, shelters can also be used as a safe place in case of an intruder or a fireproof place to store valuable items.
Storm shelters are prefabricated tanks made of steel, reinforced concrete, or fiberglass which may be installed in the ground or under a slab or foundation before a new home is built. They include skid-resistant steps, benches, and turbines or other ventilation systems. Storm shelters are available in larger sizes for facilities such as daycare centers and apartment buildings. Generally speaking, you should have at least six square feet for each occupant. A 6 foot by 8 foot storm shelter, for example, can hold up to 8 people.
Storm Shelter Installation
To install a shelter, a hole is dug with a back hoe, the shelter is lowered into the hole, secured in concrete, then the rest of the hole is backfilled with soil. A conduit can also be run for electricity and telephone, if desired. The door is usually just above ground. Consumers frequently landscape around shelters that are installed in yards, and building permits are usually required.
Storm shelters can be installed by a manufacturer's representative or licensed contractor. Some manufacturers will only provide warranties on shelters installed by their own distributors. Others require they be installed by licensed contractors. Others offer to give consumers installation instructions.
Storm Shelter Options
Locked or Unlocked Shelters: Locked shelters will enable you to store valuable items in your shelter and keep neighborhood kids or drifters from getting in there. Still, many homeowners remove anything of value from the shelter and leave it unlocked. If you do lock your shelter, make sure everybody in your household knows where the key is. You may have only seconds to get into your shelter. As soon as you hear reports that storm conditions may be forming, you should also unlock your shelter.
Inground or Above Ground Shelters: Above ground shelters require less ground preparation, are less susceptible to ground water and soil freezes, and can be more easily entered. Inground shelters, though, are obviously safer in the event of a tornado.
In-Home Entry or Yard Entry: Shelters with in-home entries are more convenient and safer. You can more easily control not only access to neighborhood kids, but also unwanted pests as well. If a tornado destroys your home, you may get trapped inside. Take advantage of an in-home shelter by including survival supplies. Shelters with yard entry allow for easier installation and work in most situations. It may be impractical to impossible to install an in-home shelter in a preexisting home.
Other Storm Precautions
Shelters are a smart way to take cover, yet there are other items that can protect your home while you are protecting your family. Storm doors, storm windows, and storm shutters, not to mention garage door braces, do well to fortify your home during storms, hurricanes, and tornadoes.
Marcus Pickett is a professional freelance writer for the home remodeling industry. He has published more than 600 articles on both regional and national topics within the home improvement industry.
More Tips & Advice For Your Home
Related Articles
Recent Articles