Tip: Window Screen Repair
See if We Have Top-Rated
Windows Contractors in Your Area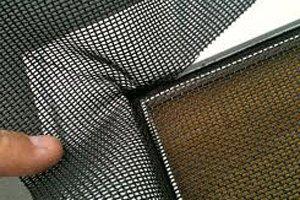 Window screen repair is one of those home improvement tasks that is well within the reach of your average home handyman, if you possesses the right tools. Of course, it is a time consuming chore, and many homeowners choose to hire the job out to save time, and just to be safe. If you don't count yourself among the world's handiest people, there are window screen repair specialists available for hire so that you won't have to lift a finger, or lose a minute of your day, in order to get your screens back up in working order.
Window Screen Repair 101: The Basic Patch
The most common screen repair is patching up small, or larger, holes in existing screen. If that sounds like your problem, you're in luck. All you need is a piece of replacement window screen and a little patience to keep the bugs at bay. Cut the replacement screen to the proper size, and then get out your sewing needle. You're going to need to "darn" the new screen into the old by using a piece of the new screen to sew the patch into the hole.
Repairing Window Screens 201: Screen Replacement
Repairing window screens by replacing the screens altogether is an entirely different animal. Instead of purchasing a small portion of screen, you're going to have to buy a roll of it, as well as spline material, and a spline tool. Again, this is a relatively easy job to perform, but it will take time, and you need to know what you're doing.
First, remove the old screen.
Second, cut a new piece of screen a little bit larger than the window you're installing it in.
Finally, install the screen. You should use a little bit of glue to hold the screen in place, then you'll need to install a new strip of spline (the rubber material that fits in the groove in the window and holds the screen in place) with the spline tool.
As mentioned before, this is pretty straightforward stuff, as long as you have the right tools. Just be sure to visit the hardware store ahead of time, so you aren't left without the proper supplies in the middle of the job.
Hiring a Professional
While window screen repair is a fairly straightforward job, it does take time, and tools, in order to ensure it's done right. For that reason, many homeowners choose to hire a screen repair contractor to come in and do the job for them. In addition to repairing window screens, most window screen repair specialists offer other services that the homeowner needs as well. These services include door screen repair, window frame repair, and replacing and enhancing security latches. If repairing window screens is on your to do list, talk to a contractor who specializes in window screen repair, and other window and door maintenance, about repairing your window screens as soon as possible.
Matt Goering, formerly a carpenter and house painter, is a freelance writer for the home improvement industry who has published over 600 articles.
More Tips & Advice For Your Home
Related Articles
Recent Articles