Why Does My Faucet Make a Loud Noise?
See if We Have Top-Rated
Plumbers in Your Area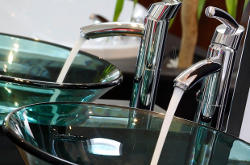 Q: I put in new plumbing for a new tub in a remodel and every time that I turn on both faucets, they make a loud noise (like air in the line or something), but when I only turn on one faucet, it doesn't happen. What could be the cause?
A: First, try removing the handles and stems. If the washer is floating and/or the seat is loose, tighten everything back up. This is a rare situation, but it does happen.
Another possibility is that the water pressure is too high. In this case you need to call a plumber to adjust it, or troubleshoot to see what could be the cause.
Kathy Maynard has been matching homeowners with home improvement contractors since 1990 and has written scores of articles advising homeowners how to find, hire and work with reputable service professionals. She also authors Weekend Warrior, a weekly home improvement column in The Sacramento Bee.
More Tips & Advice For Your Home
Related Articles
Recent Articles