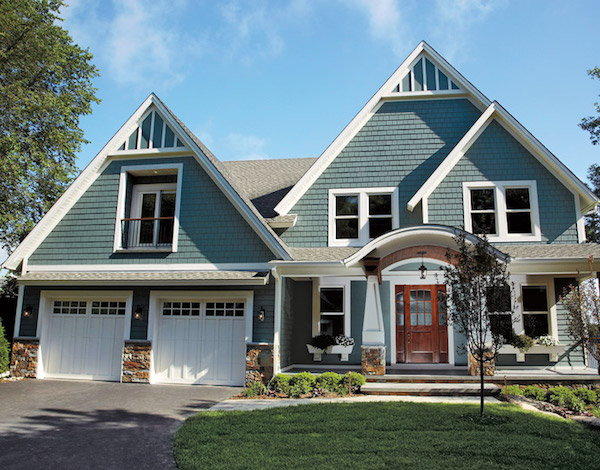 We've all taken high school English, so we've all seen the play where she stands on the terrace and talks about love. Therefore, not surprisingly, the location of that famous speech has now become a part of architectural history. A Juliet balcony is a small veranda barely big enough to fit a person. So why, do you ask, would you want to build such a confined area on the side of your house? Unlike larger balconies, a Juliet balcony isn't intended for large parties and patio furniture. Instead, it is an intimate extension of the interior room, which is meant to add an outdoor ambiance to the indoors and vice versa.
Interior Design, Outside?
Often a Juliet balcony is made to fit the traditional model from the Shakespeare play: a short, narrow rectangle surrounded by stone balustrade that is supported by plinths and opens almost immediately into the adjoining room through glass doors. As you can see, the design of the place tends to be more important than its function, but that doesn't mean it isn't useful. In fact, due to its European influence and romantic heritage, this small, exterior area has become very fashionable among buyers and therefore can add a lot of value to your home if it used and displayed properly. Here are some decorative ways a Juliet balcony can be utilized:
Garden: By installing railing planters, balcony boxes or hanging baskets, this space can quickly become a high-rise garden. This is not only practical for city dwellers, but by adding plant life right outside a room, a relaxed, natural mood is instantly created. You could possibly even wind vines between the balustrades, partially enclose the space with a shaded trellis for more privacy or seal the area with glass windows to form an impromptu greenhouse.
A Life-size Window: Having a Juliet balcony allows you to open up a room. Since there are usually French doors that lead out onto the veranda, you now have the option of opening up an entire section of your wall to let in more light and fresh air.
The View: These additions are very common in urban settings since they don't take up much space but still permit a place to admire and behold a spectacular cityscape.
Need to find a pro for your Juliet balcony?
Find Pros
Modernization
If your home is not constructed of brick or stone, you may think a Juliet balcony isn't for you. However, since the 15th century, many renovations have been conducted to make this area feel more modern and contemporary. Instead of stone balustrades, install a glass railing for a lighter, sleek appearance. Make the sides into iron grates for a more rustic, country look. And if your house has wood siding, decks or patios, a wooden Juliet balcony can be a perfect upper-story accent to match your home's pre-existing exterior.
These small additions not only look great from inside their adjoining rooms, but hey are also eye-catching from the street below. They create an old-fashioned fairy-tale atmosphere that is perfect for the occasional romantic rendezvous. Plus, they're cheap to install since they are a pretty uncomplicated add-on to a building (depending on the design and material of a home's exterior). Just make sure you hire the right professionals to do the job for you so that this outdoor extension is safe, sound and well-supported.
---
No Comments Yet
You can be the first to comment!