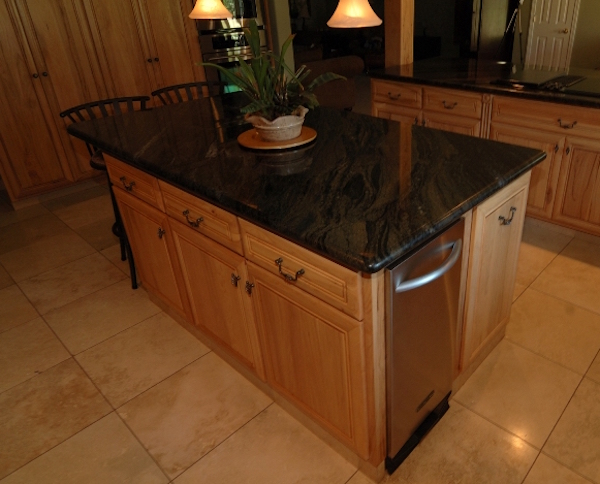 While most apartment and condo dwellers pay a flat rate for garbage disposal, lots of homeowners are forced to pay by the bag. In the latter situation, it makes sense to reduce your refuse as much as possible. In addition to recycling what you can and composting organic garbage, some find that a using a trash compactor is a great way to reduce monthly garbage pick-up bills. If you have a big family that produces multiple bags of waste each week, a trash compactor could also save some space generally taken up by full bags waiting to be put out.
Where to Put a Trash Compactor
A trash compactor is meant to reduce wasted space, but the wrong type of trash compactor in the wrong space can really get in the way. This is especially true if the space in your kitchen is limited to begin with.
If you have a kitchen that is light on floor space, an under counter trash compactor is probably the best choice. These models are smaller and won't take up any extra floor space. When installed, an under counter trash compactor will appear much like a dishwasher. Though they will maximize the floor space, you might have to lose a cabinet or set of drawers during the installation.
Homeowners with larger kitchens should consider purchasing a freestanding trash compactor. A freestanding unit is often larger than an under counter one. They also come with finished tops. So, you'll lose some floor space, but will gain another countertop.
Trash Compactor Sizes and Pricing
Residential trash compactors, though not all the same dimensions, are fairly similar in size. Before you go and shop, it's a good idea to take careful measurements of the place you want the unit to go. When comparing models, you'll be happy you know exactly the amount of space you have to work with. Lower end trash compactors start at around $350 or $400; the most expensive ones are generally less than $800 for a home model.
What to Look for
As long as you buy a model that suits the size of your household, most trash compactors will perform the job you need them to do with very little maintenance. For safety, though, you'll want to make sure that the unit has an anti-jam system and tilt sensors. If there are children around, you might want to buy a model with a removable key knob to make sure that only adults can turn it on.
Need to find a pro for your trash compactor?
Find Pros
Trash Compactor Bags
Each company that makes trash compactors makes their own brand of trash compactor bag. If you buy the trash compactor bags built by your company for your specific unit, you'll be assured of optimal performance. Most companies have similar prices for their bags, so buying them from a competing company, with rare exception, probably won't be that cost effective.
Since a full trash compactor bag is a lot heavier than a regular garbage bag, they have to be extremely tough. This doesn't mean, however, that they are indestructible. Putting glass into your trash compactor could end up slicing the bag. This is dangerous for you (carrying the bag), as well as the environment (really, that glass could have most likely been recycled).
---
No Comments Yet
You can be the first to comment!