Plumbing Design: Let the Function Become the Focal Point
See if We Have Top-Rated
Plumbing Contractors in Your Area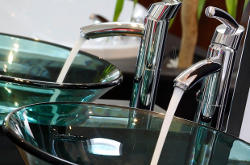 Maybe you've seen a recent commercial on TV. A young couple, prospective homebuyers, walks into a fancy office full of blueprints and schematics. When asked how they can be helped, the couple looks at one another and then places a high-end faucet on the desk and says, "We want you to build a house around this." The scenario is a bit extreme in terms of a plumbing fixture deciding the look of an entire home, but it's not as far-fetched as you might think.
It's the Little Things
You walk into a kitchen and what do you see? Or, more importantly, what are you looking for? A refrigerator, a dishwasher, a new stove, the floor and countertops. In a bathroom, you take in its size, its tile, its cabinetry, and maybe even the vanity and mirrors. But people tend to ignore the one thing that makes a bathroom a bathroom: the plumbing fixtures. You use them every day. When you cook, bathe, or simply use the restroom, you're constantly touching and operating these items whether it's a tub, shower, toilet, or sink. They are the only things that tie a room together, so when remodeling, make sure not to skimp on the plumbing design because it's the first thing everybody notices, even if they don't know it.
More than Meets the Eye
Plumbing design is an important part of building or remodeling any home, and it doesn't just deal with how things look. Professionals in this field are also plumbers themselves and partake in all areas of the vocation, including pipe-sizing, pipe-fitting, code regulations, safety features, and the overall installation and maintenance of a system. So when hiring a designer, always make sure they are certified in all parts of the job. This is especially vital if you're building a new home, which means the plumbing has to be built anew and will require trained experts to get the initial installation done right.
The Newest of the New
But, as a homeowner, you're probably more concerned with the finished product: What will your refurbished kitchen or bathroom look like? And if you're going to build or remodel a bathroom to look brand new and modern, then you might want to consider some of the newest plumbing fixtures to hit the market:
Sinks: First, choose one that best fits your taste. Vessel sinks consist of basins installed on top of the counter which require special faucets but have a unique, artistic look. Pedestal sink are popular due to the space they provide and their antique appearance. There are even new hung-sinks that attach directly to the wall and take up no space at all, or vanity sinks which do the opposite: they look like actual bureaus with full cabinetry yet have an under-mounted sink installed in the top. Showers: Modern showers focus on interesting tile designs, including natural stone, and tend to be separate from the tub. Consider jets or waterfall faucets, both providing a modern look with a relaxing sensation: one which forcefully massages your body, the other that lets the water gently glide over you.
Specialty: For bathrooms, tubs have become a big deal: clawfoot tubs, whirlpools, or even steam units. As for kitchens, you probably want to stay more practical, but that doesn't mean there aren't new inventions in efficiency out there: filtration systems and pull-out faucets are items intended to help your family stay clean and healthy.
Plumbing fixtures can really spruce up a room, but you also want to think about necessity vs. luxury. What do you really need in your bathroom or kitchen, and would a trendy appliance help or just get in the way? Also, be aware that these contemporary items are not for the faint of pocket: most will run you several hundred dollars just for the part, which won't include the installation and labor. So, though it's often worth the investment, choose wisely so your remodel can be both extravagant and economical.
Marc Dickinson has worked in both the general contracting and landscaping trades and is currently a home improvement freelance writer with over 300 articles published.
More Tips & Advice For Your Home
Related Articles
Recent Articles