Updated: August 27, 2021
Reviewed & approved by Cati O'Keefe, Expert Home Building & Sustainability Contributor.
Written by HomeAdvisor.
Cost to Build a House Per Square Foot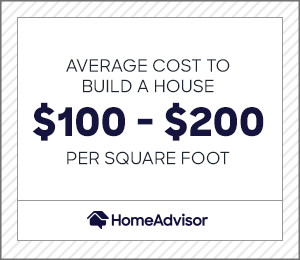 New home construction typically falls between $100 and $200 per square foot but custom and luxury options can reach $500 or more per square foot. On average in the U.S., it costs $287,297 to build a house, with most homeowners spending between $123,860 and $451,713. Labor makes up roughly 40% of the build cost, with permits, design fees and materials making up the rest.
The price you will ultimately pay is based on the location of the property, the size and footprint of the house, and the quality of the finishes and products you select. High-end builds in urban settings with a high cost of living, like New York or San Francisco, can run $400 per square foot or more.
2021 Notice: Material Prices are Surging
Demand for siding and other building materials have grown over the past year. And, as a result, manufacturers are increasing materials prices. Prices have gone up 5% to 10% this year, and many parts of the country are experiencing long delivery times. If you're planning a building project, we recommend starting as early as possible in the season, preparing for potential price fluctuations, and allowing extra time to order materials.
Thank you for submitting your feedback.