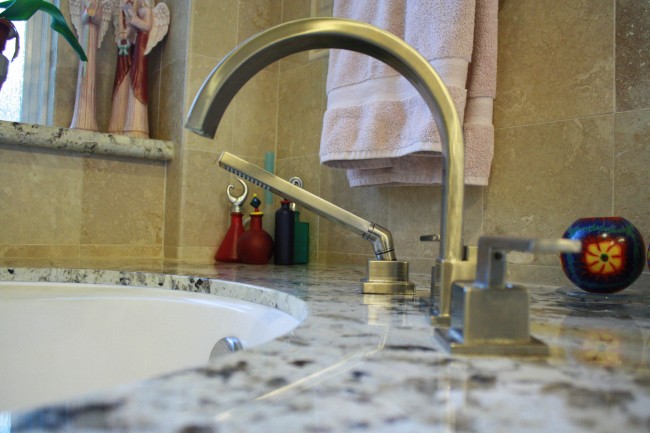 Your bathtub faucet is one of the most important, and overlooked, fixtures in your bathroom. What most homeowners don't realize is that depending on the type of bathtub, they have numerous options when it comes to choosing a faucet. Whether you're concerned about the cohesion of your bathroom decorating, your household water use, or troubleshooting your current faucet problems, here's what you need to know:
Bathtub Faucet Basics
Let's start simple and work up. When you're looking at a new faucet for your bath there are a few basic considerations you need to take into account.
Flow—Remember, this isn't a sink faucet. Your bathtub can hold up to sixty gallons of water, so the faucets you use for the kitchen sink aren't going to cut it. If you're working with a professional bathroom contractor, this shouldn't be a problem, but DIYers beware of neglecting to purchase a faucet with an appropriate flow capacity.
Brass, Chrome, and Other Metals—It's tempting to cut corners with faucets. Don't. Get a solid brass model if possible, as opposed to one that is chrome or brass plated. Why? If you cut corners you're probably going to have to spend money replacing that fixture in a few years. Pay for quality up front, however, and you'll likely enjoy your new faucet for the lifetime of your tub.
Style—Budget is always a concern, but make sure you choose your bathtub faucet to match your tub style. If you've got an older tub, get a vintage Victorian faucet. If your bathroom design is modern chic, then look for contemporary, flowing models. And if you're just looking to replace the faucet in your guest bathroom, don't break the bank on designer faucet models.
Extras—If you're in the market for a new bathtub fixture, you might think about adding a few extras as well. Enclosed tubs and showers can be enhanced by steam showers and multiple showerheads, while a standard bathtub faucet can be outfitted with a flexible handheld showerhead to make bathing more convenient. The truth is, if you can imagine it, there's likely a faucet out there to match.
Specialty Bathtubs and Faucets
There are instances where you'll need to dig a little bit deeper into the world of faucets (and don't fool yourself, it's a bigger world than you might think). Roman style, or free standing, tubs are very popular and necessitate special fixtures when it comes to faucets. Also, clawfoot tubs are making a comeback, especially in older homes. These tubs require clawfoot tub faucets, also referred to as Victorian faucets that adapt modern plumbing to antiquated bathtubs. Clawfoot tub faucets can be incorporated directly into the tub itself or, more commonly, come in stand alone models. These clawfoot tub faucets rise out of the floor and drop over the top of the tub edge to provide water. Whatever style you choose, it's always important that you meld modern faucet technology with classic bathtub design. Just because your clawfoot tub is a century old, doesn't mean your faucets have to be!
Bathtub Faucet Repair
A bathtub faucet leak is a bigger and more urgent problem than you realize. One drip per second equals nearly 200 gallons a month, and if your faucet leak is severe enough to create a stream you're probably looking at thousands of gallons of water going down your drain every month. That's something you're going to notice when your monthly utility bill arrives. Many online sources will suggest that DIY faucet repair is a relatively simple process. If you're pretty handy, you might be able to fix your own faucet, but it's not a project to be tackled lightly. Innocent gaps in knowledge can quickly make the problem worse, and the last thing you want is to pay for emergency plumbing services. If you can't identify the difference between a washer and cartridge faucet, then bathtub faucet repair is best left to a professional.
No Comments Yet