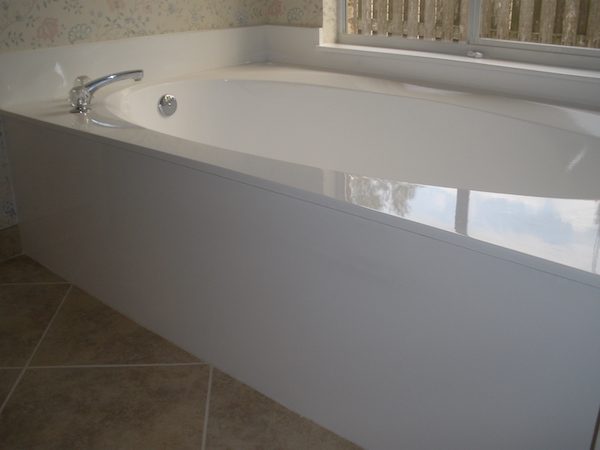 Bathtub refinishing is often marketed as a "do it yourself" project. The truth is if you want a quality refinishing job that lasts for years and saves you bundles of money over a new model, you probably want to talk to an experienced professional to get the job done.
Superior Materials
There's a lot of reasons to trust this job to an experienced refinisher. The first is simply materials. Most DIY bathtub refinishing products are inferior to those used by the pros. As a result you can count on your DIY job to crack, peel, and fail much quicker than work done by a pro. An experienced refinisher, on the other hand, will use a high performance acrylic polymer coating that is specifically manufactured for refinishing laminate, porcelain, fiberglass, and other materials. And their work should last 10-15 years before you see any significant wear.
Hazardous Materials
Another reason to go with a professional is that the chemicals involved in these projects are not something to take lightly. You'll need to invest in a respirator, a ventilation unit (if your bathroom fan isn't powerful enough), and protective gloves, all of which add up when you figure in the final cost. A professional already has all these materials handy, you won't have to worry about the negative affects these chemicals might have on you or your family.
Benefits of Refinishing
Regardless of whether you choose to contract out your refinishing job or do it yourself, bathtub refinishing is an excellent choice over buying a new bathtub. First and foremost, you'll save yourself a bundle of money. Sure, a new tub can be purchased for only a few hundred dollars, but when you factor in removal, installation and labor, you can expect to save up to 70% by choosing to refinish rather than buying a new fixture. And with the quality job a professional will provide, you honestly won't be able to tell the difference between a new and refinished model.
Ready to start your
bathtub refinishing

?Find Pros
Most DIY bathtub refinishing kits have you paint on the new finish. This will result in a finish that looks exactly like you'd expect it to: painted on. A professional will use a pressurized sprayer to ensure that your new refinishing job looks and functions just like a brand new bathtub, not a cheap quick fix.
Why Stop At the Tub?
If you're having a bathtub refinishing job done, consider other refinishing projects you can do at the same time. Refinishing technology has reached a point where in a day or two you can have brand new looking sinks, tile, and even kitchen countertops. The sky is the limit, and the savings make this one home improvement project that is a no-brainer.
No Comments Yet