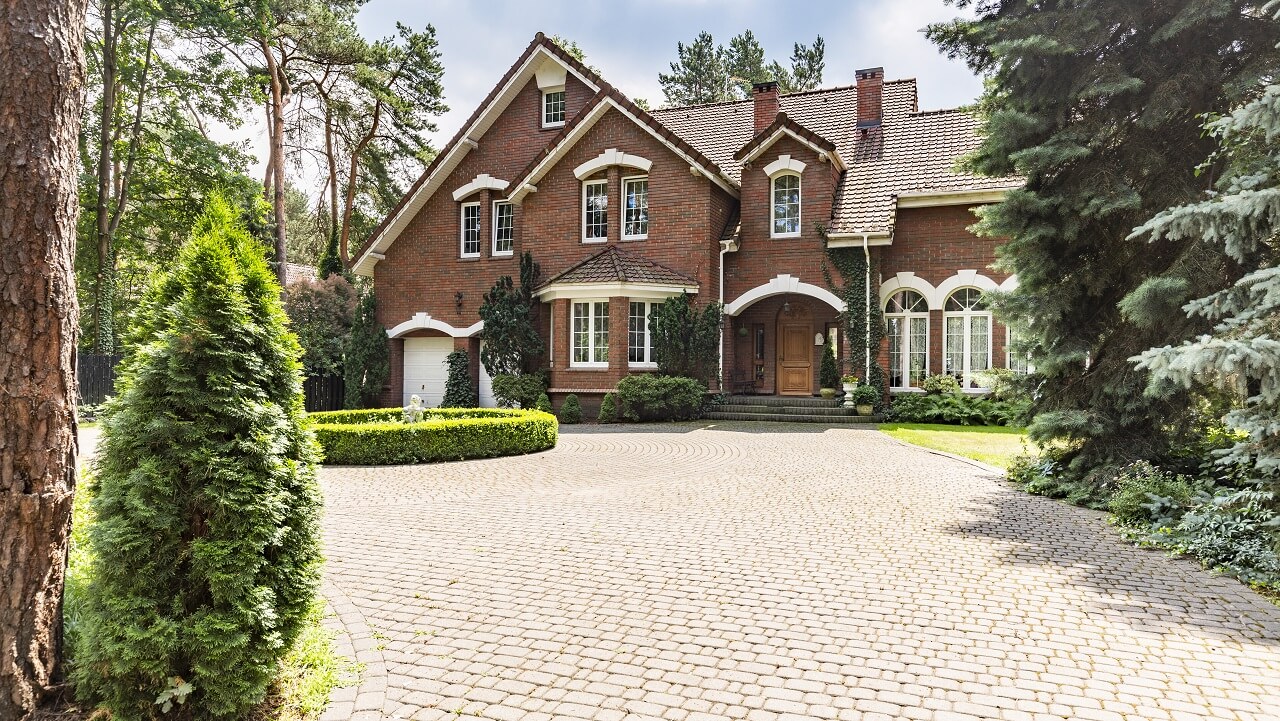 © Photographee.eu – stock.adobe.com.
Popular driveway materials in the U.S. include concrete, asphalt, gravel, paving stones, brick and shell. To choose the best type of driveway material for your home, consider your climate, the material and installation cost, durability, aesthetics, maintenance and ease of repair. Before you decide, use this guide to find out which type of driveway is best suited for you.
On This Page:
How to Choose the Best Driveway Material
Your driveway is the first and last impression a visitor has of your home. Plus, it plays a vital role in curb appeal. But it's also a useful feature that needs to withstand years of exposure to weather and a vehicle's weight. When choosing the best driveway material, consider the following:
Cost: Find the right material and installation cost that fits your budget.
Usage: Parking, play area, work area
Existing foundation: A new foundation increases costs.
Climate: Temperature extremes limit driveway surface choice.
Aesthetics: Color and style pattern impact appearance and cost.
Sustainability: Consider eco-friendly driveway materials and check out our guide to green driveways.
Types of Driveway Materials
There's a wide variety of driveway materials, each with specific benefits. We've rounded up some of the most popular so you can make an informed choice.
Concrete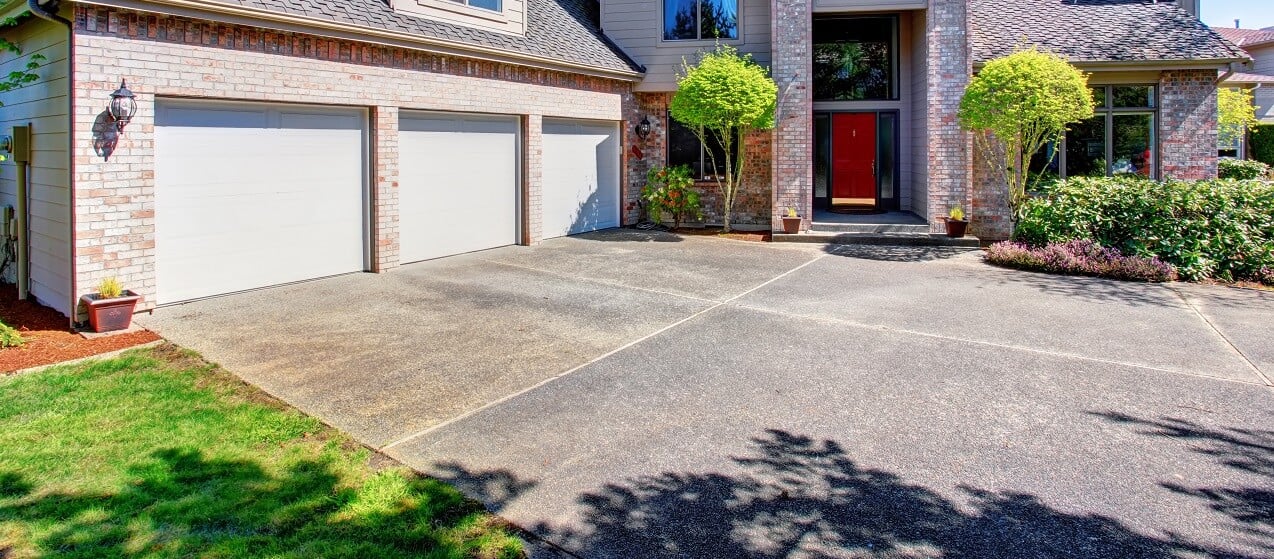 © Iriana Shiyan – stock.adobe.com.
Concrete is a popular driveway option thanks to its strength, durability and choice of finishes. It's a good choice for hot and temperate climates.
Pros:
Budget-friendly: Concrete driveway installation costs $4-$15 per square foot.
Durable: Can last for decades with minimal maintenance
Versatile: Can be stamped or colored for visual appeal
Sustainable: Made of natural materials and can be recycled
Cons:
Susceptible to cracking without a quality foundation
Poured concrete is not well-suited to slopes.
Not suitable for salting in winter unless sealed
If unsealed, prone to damage from freeze/thaw cycles
Need Help Installing a Concrete Driveway?
Asphalt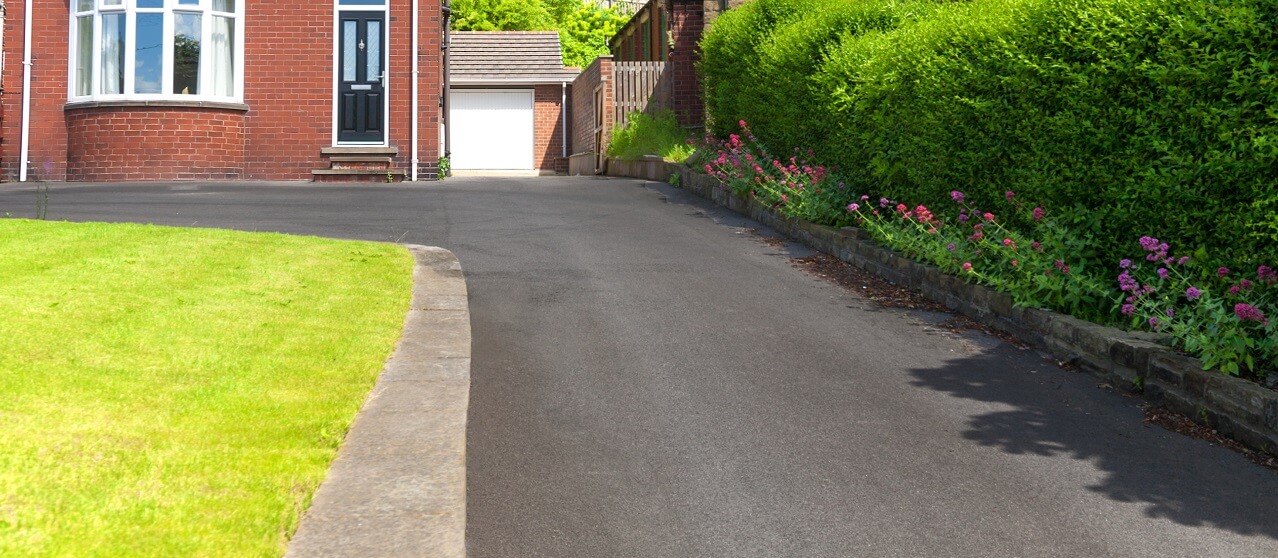 © charmphoto – stock.adobe.com.
Asphalt driveways are inexpensive and can tolerate sub-zero temperatures. This is one of the best options for cold climate driveway materials.
Pros:
Copes with winter conditions: Can tolerate expansion and reduction of water during freeze/thaw cycles
Low price: The cost to install an asphalt driveway ranges from $7-$13 per square foot, including materials and labor.
Suitable for installation on inclines
Can be stamped and colored
Cons:
Can be uncomfortably hot to walk on in summer
Can crack and distort without an adequate foundation
Petroleum-based: Not environmentally friendly
Requires regular maintenance
Get Quotes For Your Asphalt Driveway
Gravel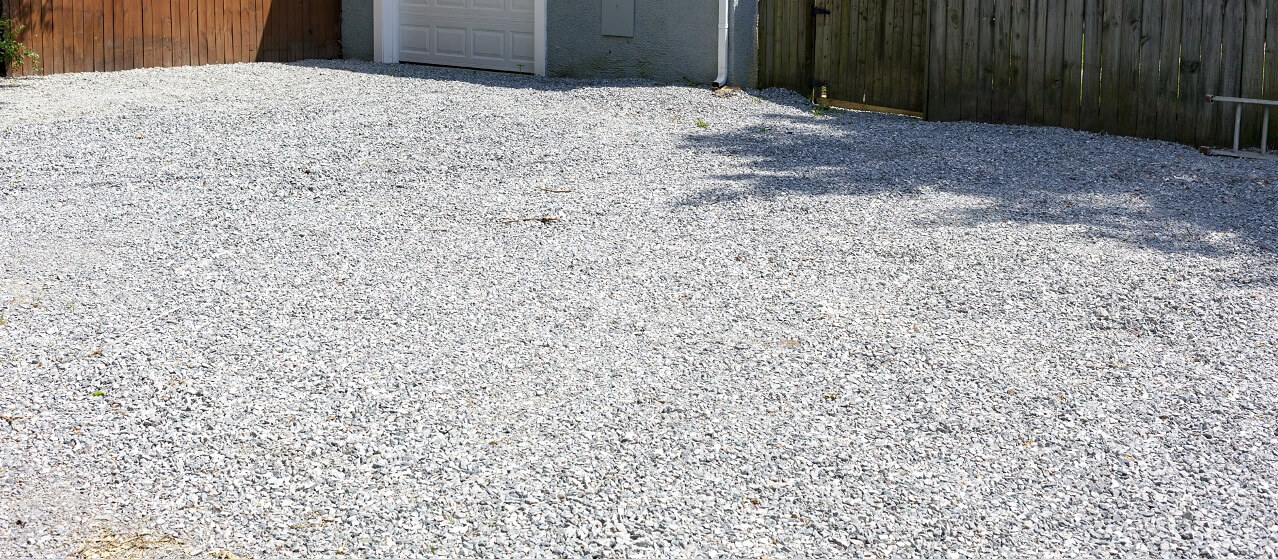 © Noel – stock.adobe.com.
Gravel is a classic driveway material with an endless choice of colors to suit any home.
Pros:
Cost-effective: A solid choice for covering large areas. Gravel driveways cost about $1.25-$2 per square foot.
Extensive color, shape, and size combinations available to create a custom look.
Locally sourced gravel is cheaper and more eco-friendly.
Suitable for wintery conditions. Provides traction in wet and icy conditions.
Cons:
Not suitable for sloping driveways
Frequent (although simple) maintenance. Gravel drifts to the sides and onto lawns as cars travel across it.
More challenging to remove dirt and debris compared to smooth driveway surfaces
Over many years, stones are lost or removed by vehicles, so the driveway will need topping up with fresh gravel occasionally.
Get a Quote From a Gravel Installer
Brick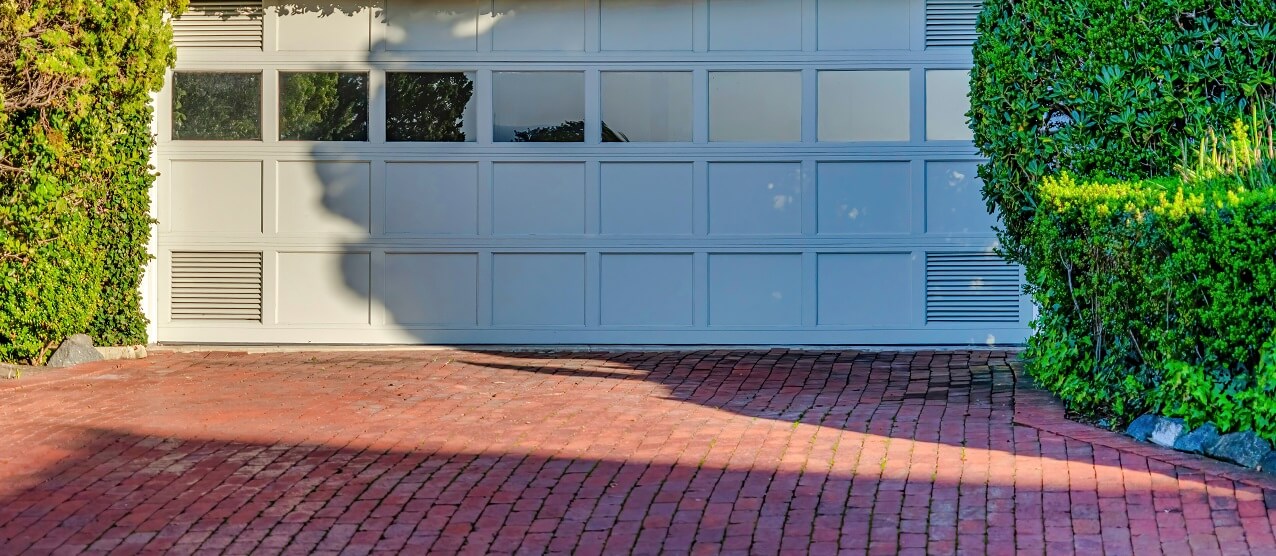 © Jason – stock.adobe.com.
Brick driveways add classic beauty to your home and, if laid correctly, will last several lifetimes
Pros:
An array of colors and placement patterns available
Incomparably strong and durable
Minimal maintenance costs
Adds value to the property
Cons:
Stone Pavers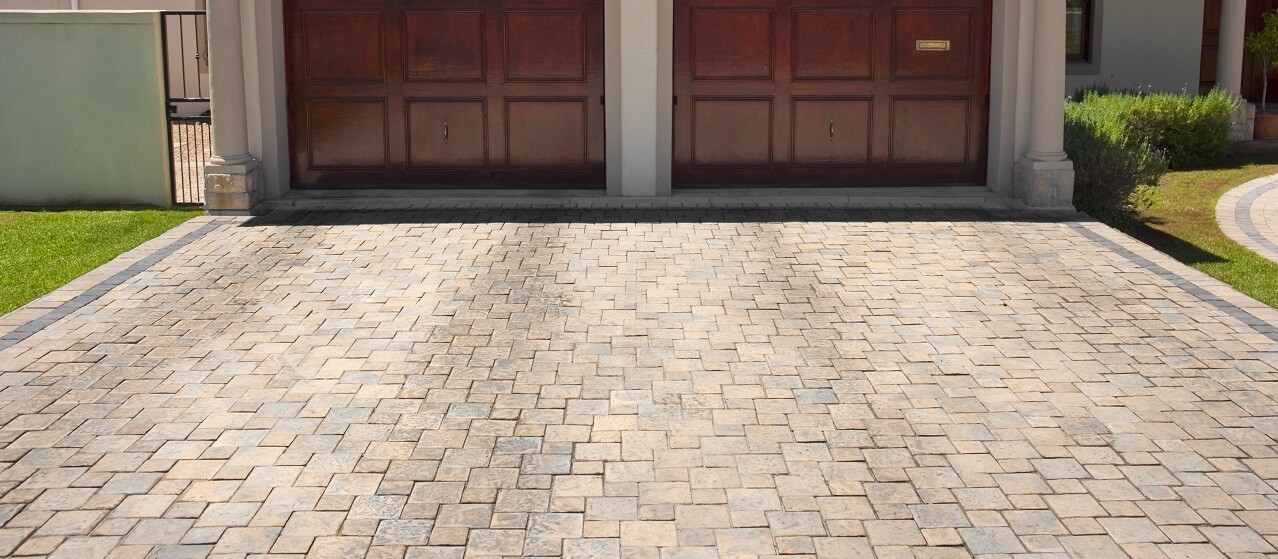 © HeinSchlebusch – stock.adobe.com.
Stone pavers are available in endless color and pattern options and are prized for visual appeal.
Pros:
Something to suit most budgets: The cost to install stone pavers varies between $15-$60 per square foot.
Can provide good traction in all weathers
Natural, recyclable material
Easy to maintain
Cons:
Some stone pavers, like bluestone, are attractive but not as durable as brick.
The larger the slabs, the more expensive the installation.
Some types, such as sandstone, are easily stained by substances like motor oil.
Some stone pavers require regular sealing to protect against weather damage and stains.
Get a Brick or Stone Paver Driveway
Tar-and-Chip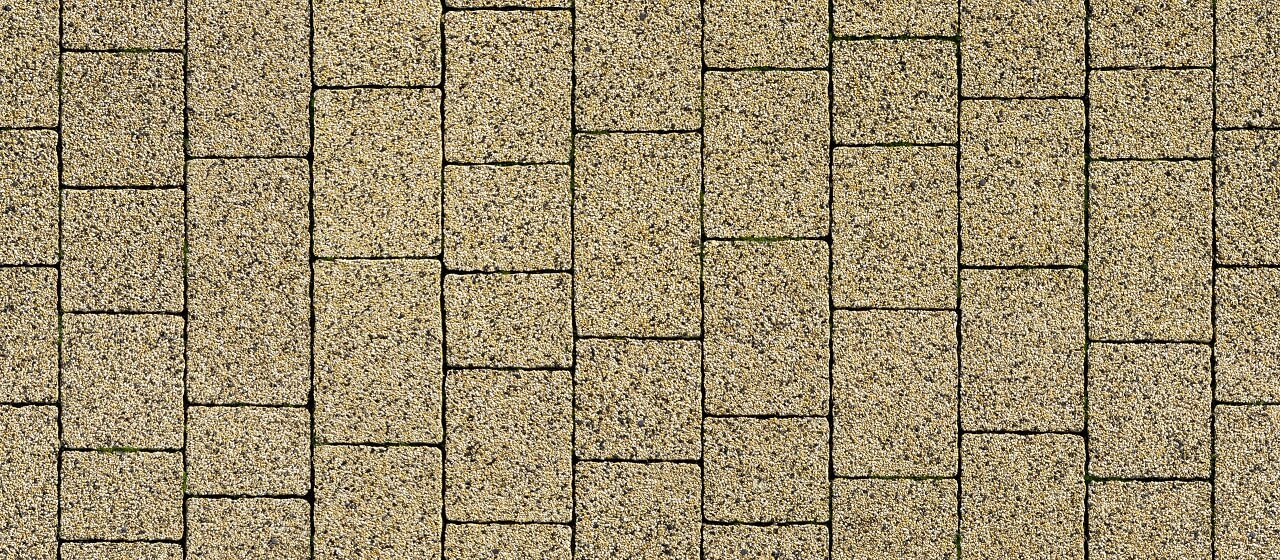 © Artem Zarubin – stock.adobe.com.
Tar-and-chip driveways are budget-friendly and provide good traction.
Pros:
Low-cost: A tar-and-chip driveway costs $1-$5 per square foot.
Easy to maintain
It's unnecessary to seal this type of driveway.
Provides good traction in all conditions
Cons:
Limited lifespan
Difficult to clean away debris and snow
Easily damaged by snowplows
Talk to a Pro About Getting a Tar and Chip Driveway
Shell
Shell driveways are environmentally friendly and cost-effective. They provide a charmingly rustic appearance.
Pros:
Low-cost: The price to install a shell driveway is $0.50-$4 per square foot.
Shells break down evenly to form a stable, level surface.
Eco-friendly, sustainable and renewable
Provides good traction in all weather
Cons:
Over time, shells break down or disperse off the driveway, volume decreases, so the driveway needs topping up occasionally
Difficult to remove debris, snow and ice.
Can be sharp and painful to walk on
Not durable
Heated
Heated driveway systems are perfect for colder climates, keeping driveways clear of ice and snow
Pros:
Moderately priced: The cost to install a heated driveway is $12-$21 per square foot.
Prevents snow and ice build-up, making the driveway safer
Eliminates labor-intensive snow-shoveling
Can potentially be placed under an existing driveway to reduce costs
Cons:
New driveway required if the system cannot be placed under the existing surface, increasing costs.
Can cause concrete to crack from uneven heat distribution
Potentially expensive repair costs, if the driveway surface needs to be lifted to fix pipes or wires.
Get a Heated Driveway Today
Resin
Resin driveways are attractive, durable and provide good traction.
Pros:
Moderately priced: Installation of a resin driveway costs $8-$12 per square foot.
Quick to install and only requires a few hours of curing
Minimal maintenance required
Cons:
Not DIY-able. Requires specialist installation.
In sunny climates, requires resin with UV protection for longevity
Not suitable for heavy daily traffic
Grass and Turf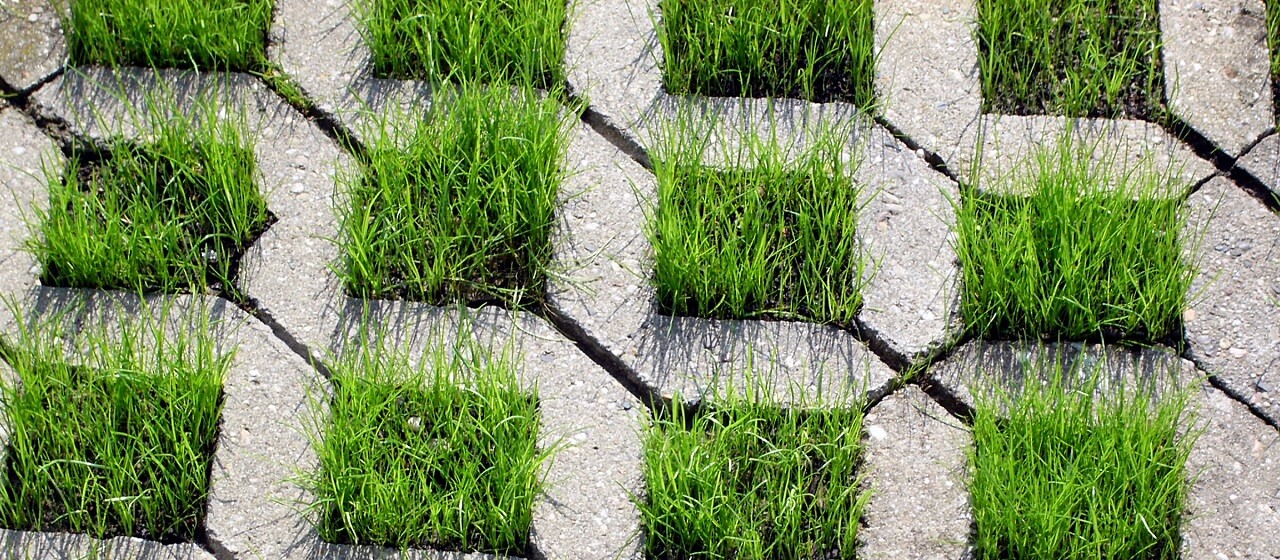 © Kalle Kolodziej – stock.adobe.com.
Grass or turf driveways are attractive and environmentally friendly
Pros:
Cons:
Not durable, so not suitable for heavy traffic driveways
Grass may die off without adequate water or in harsh winter conditions and need reseeding.
Limited lifespan
Glass
Environmentally friendly glass driveways are aesthetically pleasing and provide good drainage.
Pros:
Moderately priced: The cost to install a glass driveway is $9-$18 per square foot.
Sustainability: Repurposes glass that would otherwise end up in landfills
Permeable: Rain trickles through rather than running off to waterlog the surrounding lawn.
Cons:
Must be pre-tumbled, or edges can be sharp and dangerous
Not widely available
Can be difficult to remove debris
Rubber
Recycled rubber provides an environmentally friendly, high-traction driveway
Pros:
Budget-friendly: Recycled rubber driveway installation costs $6-$8 per square foot.
Flexible: Can withstand extreme cold and freeze/thaw cycles
Minimal maintenance necessary
Sustainable: Repurposes material that would otherwise pollute the planet
Cons:
Difficult to clean
Requires specialist installation
Not durable enough for driveways with lots of heavy traffic
Ready to start your
driveway installation

?Find Pros
Best Driveway Surfaces Compared
You'll likely find that you're struggling to decide between at least two driveway materials, such as concrete vs. asphalt or pavers vs. concrete, as many have similar properties and costs. If you're not confident with your options, contact a paving contractor in your area who can give you further insight into which material is best for your home.
Best Driveway for Cold Weather
The best driveway for snow and ice is asphalt or recycled rubber, as both substances are flexible enough to withstand freeze/thaw cycles and still provide adequate traction. Heated driveways are an excellent alternative, as they prevent snow and ice build-up, keeping the driveway clear and safe.
Best Driveway for Sustainability
The best driveway surface for sustainability is anything that is recycled, recyclable, renewable or sustainably sourced. Choosing rubber or glass means less waste in landfills. Sustainably-sourced shells are a renewable resource and a cost-effective alternative to gravel.
Best Low-Budget Driveway Surface
Gravel, tar-and-chip and shells are all top choices for budget-friendly driveway surfaces. Remember that shell and gravel driveways decrease in volume over time, so they will periodically need topping up.
Best Low-Maintenance Driveway
For a low-maintenance driveway, go with concrete, resin, or recycled rubber. Of the three, concrete driveways have the longest lifespan and the highest strength. Rubber is a smart choice in colder climates, and resin is a good option for decorative residential driveways.
Best Driveway Material for Curb Appeal
Brick and stone are the best driveways for curb appeal. While both are reasonably expensive options, these driveways can add significant value to your property if appropriately laid. They are long-lasting and available in a variety of colors, patterns and types.
Ready to start your
driveway installation

?Find Pros
No Comments Yet