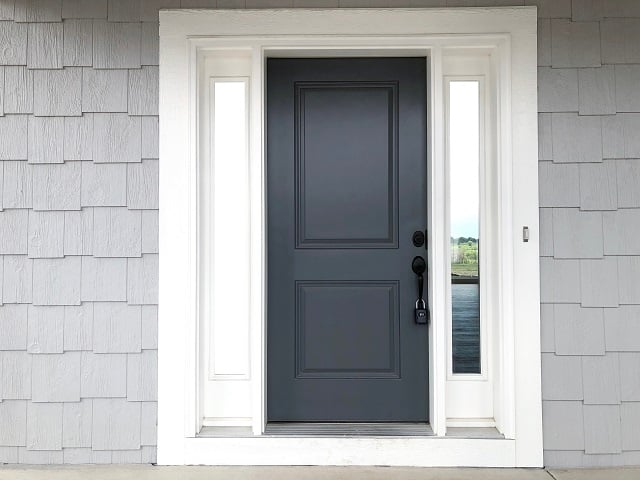 Adding curb appeal to your home doesn't have to cost a fortune in renovations. With the best front door colors, you can easily and inexpensively give your home a breath of fresh air while adding a touch of personality at the same time. Whether you're looking to sell your house or simply want to change things up a bit, a new front door color can give your home the boost that you're looking for.
While there are many popular front door colors, the best front door paint color for your house will depend on a variety of factors. Some of these include the architectural design of your home, your personal taste, or the color of your house.
On This Page:
Best Front Door Color for Resale
Black and charcoal grey front doors can increase a home's resale value by more than $6,000. It's a classic and modern choice that draws a beautiful contrast from all but black home exteriors, attracting buyers' eyes to the entry. Plus, it looks great with almost any wreath! If you're repainting your front door before listing your home, look for a semi-gloss or glossy black paint to give it a shiny new look and feel.
Best Front Door Colors for Modern Houses
If you want to make your home look modern and sleek, designers recommend these front door colors for non-traditional homes:
Black
Lime
Turquoise
Eggplant
Taxi Yellow
Bright Orange
If you prefer natural wood hues instead of paint, look for:
Sleek Espresso
Mid-Century Walnut
Driftwood Grey
To give your home a more modern look, consider changing the door altogether. Trending styles include doors with stacked rail paneling, vertical planks, or glass cutouts that create a sleek and clean look that stands out. Find door installers near you and give your house a quick facelift.
Best Front Door Colors for Traditional Houses
Colors for traditional homes don't have to be boring or plain. Some of the best colors for front doors can stand out while enhancing your home's classic architecture:
Jet Black
Classic Red
Slate Blue
Emerald Green
Dark Gray
Pure White
To refresh the door of your traditional home while keeping its timeless elegance, consider a door with mixed textures, glass panes or interesting paneling to match the stately look of your traditional home. You can
Best Front Door Colors for White Houses
If your home is a crisp, airy white, the possibilities are endless when choosing the best color to paint your front door. While any door color will look great with white, it's important to choose a shade that goes well with your home's shutters, trim and roof. Choose a door color in the same palette as the shutters, trim and roof to make sure they coordinate nicely and don't take away from the bright white of your exterior walls.
Match the color of your door to the décor of your porch, curtains, or landscaping details in your front yard. The great thing about white is that you can combine some front door colors to create a one of a kind door that is welcoming and appealing. Some ideas include pairing a neutral tone with a pop of color or choosing a bright door handle that stands out.
Best Front Door Colors for Red Brick Houses
Red brick homes are classic and can work with several front door hues. The key here is to consider the tone of your brick to avoid clashing or more blending than you would like. Does the red have an orange undertone? If so, paint the door a warm hue. If the red has a blue undertone, try a cool color. Not sure which undertone it has? Use a temperature-neutral color.
Colors that go well with multiple shades of red brick are:
Sage
Black
Navy
Light Gray
Front Door Colors and Their Meanings
It's fun to think of the possible meanings of door colors. While it may just be a matter of personal preference, some people associate characteristics with door colors. Here are some of the meanings associated with popular front door colors:
| Color Family | What It Says About You: |
| --- | --- |
| Black | You appreciate order, control, and simple elegance. |
| Gray | You are indecisive and prefer compromise. |
| White | You prefer a simple and organized home décor. |
| Pink | You are romantic, happy, and generous. |
| Red | You are welcoming and enjoy attention. |
| Orange | You like to entertain and enjoy a good challenge. |
| Yellow | You are logical, positive, and creative. |
| Green | You value tradition and are ambitious. |
| Turquoise | You enjoy emotional balance and have big dreams. |
| Blue | You enjoy peace and value truth. |
| Purple | You are a risktaker and free spirit. |
| Brown | You are warm, reliable, and stable. |
If there's a front door paint color that you love but doesn't match the color of the rest of your home, you can always repaint your exterior. The cost of painting your home exterior is between $1,700 and $4,000, depending on the total finished area and the local cost of labor.
Best Color for Front Door Feng Shui
According to Feng Shui, the direction your front door faces is a key factor that determines the good energy of your home. With the right choice of color, you can strengthen this energy and ensure harmony in your house.
The best color for your south-facing front door is red, as this enhances the Fire element of this direction.
The best color for a north-facing front door is blue, as north is the element of water.
If your door faces west, the most auspicious color is white because the element that governs this direction is metal.
The best color for an east-facing door is green because the element that corresponds to this direction is wood.
Take a look at our guide on how to paint a front door to create a beautiful entrance that welcomes family and friend to your home.
FAQS
What color front door sells houses?
The best front door colors to sell a contemporary house are bright yellow, pink, and turquoise because they capture the attention of buyers. However, black front doors seem to have the best resale value. Traditional homes look best with muted colors; the most popular shades are deep blue, dark gray, and sage green.
Should the inside of your front door be the same color as the outside?
It is okay to paint the interior of your front door a different shade than the outside. If the outside color works well with the interior but is too bright or too dark for the interior, you can paint the inside differently.
What kind of paint do you use on a front door?
Semi-gloss paints are ideal for front doors. Regardless of color, these paints are more durable and easier to keep clean than flat sheens.
Need to find a front door painter?

No Comments Yet