The best types of shutters will definitely add beauty to your home, and you can choose from interior and exterior options. You can install shutters to control the amount of natural light in your room or add privacy and security to your home.
When looking for the best window shutters, it's vital to understand your options. This guide covers both interior and exterior shutters to help you find a great choice.
On This Page:
How to Choose the Best Shutters
To choose the best shutters for your home, you'll need to consider a few factors, including:
Interior or Exterior: Different materials and styles fit better outside the home than inside.
Budget: You'll pay more for some types of materials than you will for others. However, style doesn't play much of a role. Shutter installation costs $2,300 on average.
Style: Although it doesn't factor into cost, it might help your homes curb appeal. Always look for shutters that both match your home's design and fit in with the neighborhood aesthetic.
Climate: In some areas, you'll only need these for looks. But in some places, like Florida, they may need to be functional as well.
Type of Shutter Material
Shutters are also available in different materials, depending on what you want for your windows.
1. Best Wood Shutters
Ideal wooden shutters give a classic, elegant look. You can choose from pine, cedar, mahogany, and redwood options to get the best wood for outdoor shutters. Most importantly, you'll want to match your current home's design. Wood offers classic designs, but it tends to age over time. Sealing the wood at least once every year is the best way to protect your shutters.
Pros:
Extremely popular for aesthetics
Wide variety of colors, grains, and quality
Excellent ROI
Can paint or stain as needed
Cons:
Require regular maintenance
More expensive than cheap metal or vinyl
The best wood for exterior shutters comes down to one of style. Almost any wood will do, but some paint easier than others while some stain easier than others. Quality hardwood shutters cost $200 to $350 per panel.
2. Best Vinyl Shutters
Vinyl shutters are the least expensive options, and they're made from hollow PVC. The best exterior vinyl shutters are low maintenance, weather-resistant, and lightweight. They also don't crack or rot. The best exterior vinyl shutters offer long-lasting beauty since they don't fade
Pros:
Budget-friendly
Doesn't need staining or painting
Maintenance-free
Waterproof
Cons:
Limited color choices
Can fade in the sun
Not as durable as wood or metal
Vinyl shutters cost $25 to $150 per panel. They don't require any repairs or maintenance but need replacing if they become damaged.
3. Best Composite Shutters
If you want an option that looks like wood but requires less maintenance than real wood, then composite shutters make the best options. Composite shutters are impervious to water, and the finish is designed to last for long.
Pros:
Waterproof
Durable and long-lasting
Maintenance-free
Cons:
More expensive than vinyl
Heavier than wood or vinyl
Limited color selection
Composite shutters cost $80 to $300 per panel. They're an upgrade from vinyl and excellent in wet climates. But they don't quite capture wood's look.
4. Best Metal Shutters
Both aluminum and steel shutters make excellent additions to any home. With the right care, they can resist corrosion. However, they're a better choice for areas away from the saltwater air of the coastal regions.
Pros:
Excellent lifespan
Wide range of colors and styles
Extremely durable
Cons:
Can rust easily
Dents easily
Moderately expensive
Metal shutters cost $130 to $500 each. Cost depends heavily on the style. Awnings tend to run twice as much as a single flat panel.
Best Exterior Shutters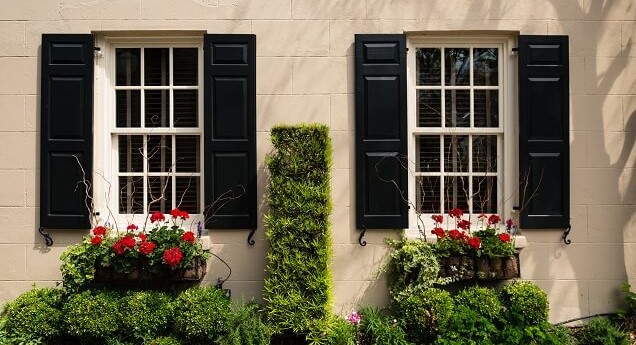 Exterior shutters are installed on the outside of your home. Depending on the material and style, exterior shutters cost $150 to $2,000. They can be functional or decorative, and here are the best exterior shutters:
Exterior Shutter Prices by Type

| | |
| --- | --- |
| Hurricane | $1,800 – $5,200 total |
| Plantation | $20 – $600 per panel |
| Board and Batten | $150 – $600 |
| Raised Panel | $25 – $550 |
| Combination | varies |
| Cut Outs | varies |
Best Hurricane Shutters
The best hurricane shutters are made of metal but come in a variety of styles. Often, when speaking of a hurricane shutter, you'll see a roll or fold away style that completely blocks out all entryways. However, you can find decorative styles with hurricane ratings, meaning they'll withstand winds of at least 110 mph.
Hurricane Shutters Cost: $1,800 – $5,200 for a complete home
Highlights: Not for looks but instead to block wind, they roll away when not in use. They often mean a discount on your homeowners' insurance.
Best Exterior Plantation Shutters (Louvered)
The most popular style of shutter is the plantation shutter. Classically made from wood, you'll find louvered shutters in all material choices and an expansive color palette.
Plantation Shutters Cost: $1,300 to $4,000 for a complete home
Highlights: Overlapping wooden slats in a frame. The slats allow breeze and light to pass through. Louvered shutters suit Italianate, Victorian, and colonial home styles. You can paint or stain them depending on your desired design.
Board and Batten
The best wood for board and batten shutters depends entirely on the style of home you have. You can use almost any wood, so long as it matches what you already have. These shutters are made using one to four boards joined together by cross panels or battens. They come in different styles, including square, spaced, joined, and arch-top. These simple designs make them ideal for brick or farmhouse-style homes.
Price: $150 – $600 per panel
Highlights: Rustic look for American Gothic and Western-styled homes. Excellent on log cabins. Classically made from wood, you can find it in almost any material.
Raised Panel
The raised panel shutters are ideal for most home styles, and they look like kitchen cabinets or doors. They offer an inviting country-garden style, and you can use dark exterior painting on your walls to set a dramatic look.
Price: $25 – $550 per panel
Highlights: Excellent choice for midcentury American and colonial style homes. These architectural shutters fit most modern looks as well and come in any color and material choice.
Combination
If you want shutters that offer different styles, then combination shutters are worth picking. They have a mix of louver and panel styles within the same shutter. Combination shutters are great options for homeowners that want a customized design.
Price: varies
Highlights: Custom made to fit your home and design style with some options already in stock at some window retailers. They're excellent for those seeking privacy while also allowing air flow and light to filter in.
Cut-Out Shutters
Cut-out shutters are basically any of the above shutters with cut-outs. The cut-outs come in different patterns to create a truly personal and customized touch. Some professional carpenters allow you to submit your desired patterns if you need cut-out shutters of your choice.
Price: varies
Highlights: Custom shutters made with your choice of cut outs. You can choose from premade designs or send your own in for a truly custom home accent. Most cutouts are in board and batten, shaker or raised panel.
Best Types of Interior Shutters per Room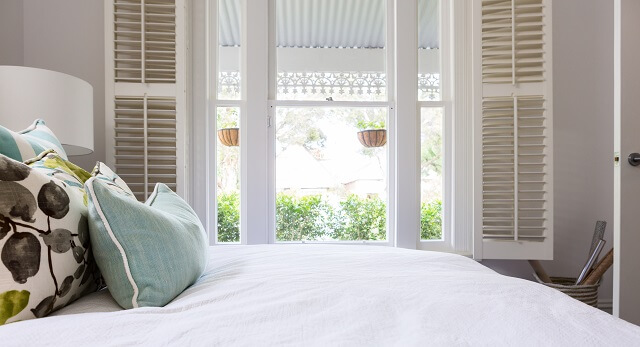 Interior options are used inside your home, but they're not popular as their exterior counterparts. Although you can hang any style with any material choice, there are a few more popular interior ones you should know:
Interior Shutter Prices by Type

| | |
| --- | --- |
| Cafe | $40 – $600 per panel |
| Shaker | $60 – $600 per panel |
| Plantation (interior) | $20 – $500 per panel |
Cafe Style
Inspired by the French cafes, the cafe style shutters cover half of the window to offer privacy. At the top of the window, this style leaves an obstructed opening to allow light penetration.
Price: Varies
Highlight: Creates privacy on the bottom of the window while leaving air and light to enter through the top. Usually plantation style and made from wood.
Shaker Style
This is a more traditional style with flat, solid panels covering your window. They're ideal for blocking excessive light while providing privacy at the same time.
Price: $60 – $600 per panel
Highlights: Modern look and feel. It works with most designs and comes in many colors and materials.
Interior Plantation Shutters
Plantation shutters have wide louvers, measuring about 3-1/2 to 4-1/2 inches wide. They're designed to allow more light into the room, and they can be tailored to fit your window space. Plantation window shutters are the most popular options, and they're ideal for bedrooms and dining rooms.
Price: $20 – $500
Highlights: interior styles tend to be lighter, thinner, less expensive. They're made entirely for light and privacy so don't stand up to weather as well as exterior models.
FAQs
Do shutters add value?
Shutters are a permanent fixture to your home. Since they make your windows more energy-efficient, they are considered a valuable addition to your home. Therefore, they increase the assessed value of your home.
What material is best for shutters?
The best shutter material for your home depends on your unique needs and situation. For example, wooden shutters are not suitable for wet areas, but they look great. Vinyl options are cheap and easy to maintain, but they tend to be attractive. They're also not suitable for larger windows.
Composite shutters are durable, cost-effect, and low-maintenance. However, they're heavy, making installation hard. They also offer limited style options.
How much does it cost to install shutters?
Local shutter installation costs around $1,100 to $3,500. Low-end projects can be as little at $100, while high-end projects can cost up to $8,600. This figure includes labor costs. The shutters' individual cost ranges from $70 to $1,200 depending on your preferred material, size, and style.
No Comments Yet