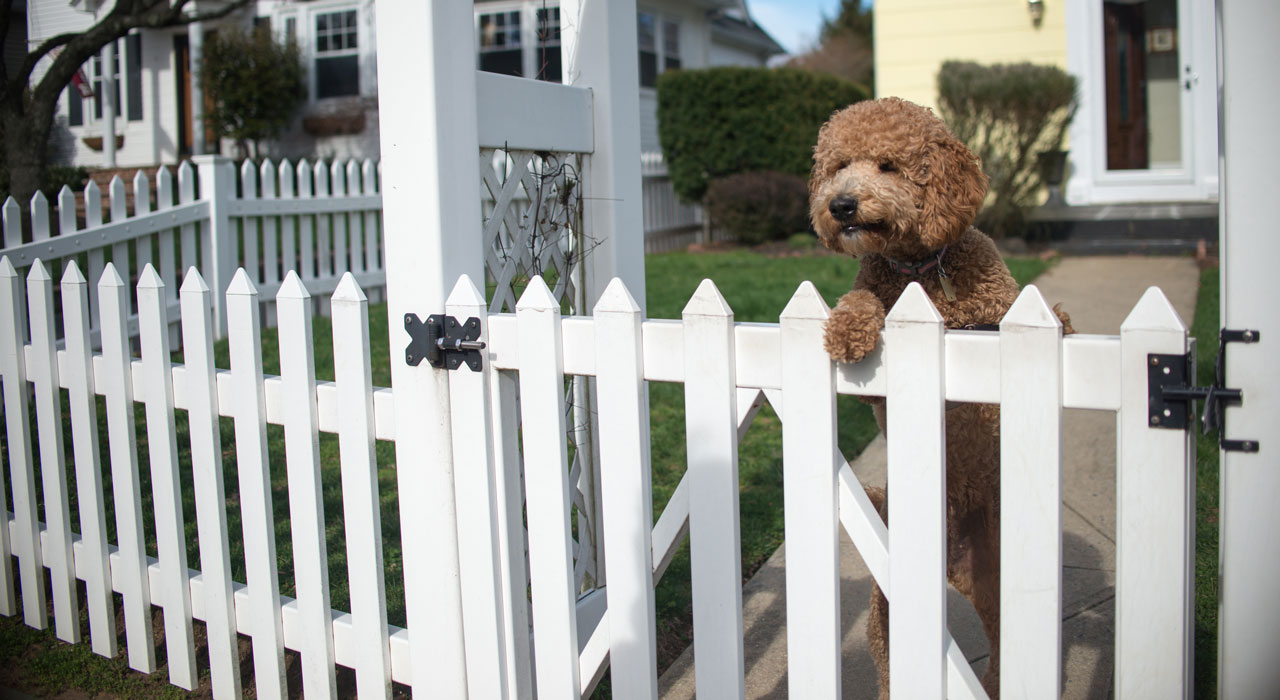 © Sue Barr – Getty
Wooden fences can benefit any property by establishing boundaries, adding security and privacy, keeping pets and livestock safe and increasing property value. When deciding which wood fencing materials are right for your project, consider your budget, the qualities of the wood, the type of fence you're building and its purpose.
On This Page:
How to Choose the Best Types of Wood for Fences
Choosing the best lumber for a fence isn't as simple as choosing the cheapest deal or your preferred color. Consider the following criteria before you make a decision:
Budget: The cost to install a wooden fence varies significantly, so be clear on your total budget before you make your selection.
Durability: Take into account, rot resistance, strength, lifespan, hardness (measured on the Janka hardness scale), ability to withstand the extremes of your local climate and resistance to pest infestation.
Maintenance: The frequency and simplicity of cleaning and treating, as well as the ease of repair, varies between wood species.
Installation: Look into the type of foundation or support necessary for stability, depth of posts and accuracy of ground leveling.
Hardwood or Softwood: Hardwoods are more expensive, but make an extremely durable fence. Softwoods are more budget-friendly, and although they're less durable, they're termite resistant.
Type of Fence: Some wood types are more suitable for horizontal or vertical builds, and others may be better for large boards or little painted pickets.
Types of Wood for Fences
When it comes to fencing material options, there are seven popular hardwoods, softwoods and composites options. Opt for termite-resistant softwoods like redwood if this pest is prevalent in your area, or go for dense hardwoods like ipe if weather extremes and rot resistance are your biggest concerns.
Pine


© Irina Efremova – Adobe Stock
Pine is an inexpensive softwood that's a popular garden fencing option. It takes stains well but looks just as rustically charming when left unstained.
Pros:
Inexpensive: Pine fencing costs $1-$5 per six-foot-tall picket
Moderate lifespan of 15 years
Soft and easy to work with
Resists shrinkage
Decay and rot-resistant: Good for fence posts with lengths below ground level
Cons:
Prone to insect damage: Requires treatment with insecticidal sealant to prevent bug infestation
Pressure-treated pine is more resilient but has a green tint that takes time to fade
Cedar


© MarekPhotoDesign.com – Adobe Stock
Cedar is an attractive, close-grained softwood with distinctive knots. Moderately priced, cedar has a more refined appearance than pine.
Pros:
Mid-priced: $2-$8 per six-foot-tall picket
Western red cedar: more expensive at $6-$8 per six-foot-tall picket
Long-lasting: Lifespan of up to 30 years with proper maintenance
Natural oils and acids repel deter insects
Resistant to rot
Cons:
Requires annual cleaning
Power washing and/or annual staining is necessary to stop cedar from fading and turning gray
Boards may expand and warp over time in persistently humid climates
Cypress


© Uncle Sam – Adobe Stock
Cypress is another low-budget wooden fence material if the wood is young. The older the cypress, the more costly it becomes. It's pale and easy to stain to any hue and has an interesting, less-uniform grain pattern than cedar and pine with fewer knots.
Pros:
Inexpensive: Young cypress costs $2-$3 per six-foot-tall picket
Moderate lifespan of up to 15 years
Rot resistant
Contains cypretine, which deters insects
Tough and resistant to scratches and dents
Moisture resistant
Cons:
Mature cypress is rare and expensive
Cypress trees native to the Southern US—transportation costs can be high
Wavy or curved grains can cause boards to twist and warp over time
Redwood


© Bawinner – Adobe Stock
Redwood is costly but attractive. It's sound, distinctive and doesn't require staining.
Pros:
Lifespan of 25+ years with proper care
High concentration of tannins increase resistance to pests and reduce the likelihood of warping and twisting
23% stronger than cedar based on the Janka hardness scale
Only requires a clear sealant to let its natural red hue shine
Does not shrink or warp
Cons:
Comparatively expensive: $8-$10 per six-foot-tall picket
Constant moisture, freezing, thawing and dry conditions can damage redwood.
Takes over 50 years for a redwood tree to become harvestable, so it's rarer and more expensive than other options
Ipe


© Bekir Ugur – Adobe Stock
Ipe is a strong, extremely sturdy hardwood that comes in a wide variety of colors. It has many natural properties that protect against pests and exposure, making it a popular fencing material.
Pros:
Moderately priced: $3-$8 per six-foot-tall picket
Outdoor lifespan of 75+ years with minimal care
Dense hardwood that's naturally resistant to rot, insects, scratches and splinters
Second-hardest wood in the world and the highest rating for termite resistance
Has the same fire-resistance rating as concrete and steel
Tight, uniform grain
Performs well in all climates
Does not require staining or sealing
Cons
Requires oiling annually
Challenging to install and repair because of its hardness
Requires carbide saw blades and titanium drill bits because of its hardness
Needs yearly cleaning
Balau

© Tony Savino – Getty
Balau, also known as batu, is a tropical Taiwanese hardwood that's prized for its longevity; deep, rich color; and uniform, knot-free appearance.
Pros:
Inexpensive: $2-$5 per six-foot-tall picket
Long lifespan: 30+ years with proper care
Naturally resistant to insects (including termites), fungus and mold
Tough, durable and extremely hard
Resistant to rot and decay
Does not require staining
Cons:
Porous, making it prone to stains unless it's sealed annually
If unsealed, it requires oiling at least once, preferably twice, per year
If not sealed and oiled, it will dry out and crack in hot weather
Composite


© HCast – Adobe Stock
Composite is an amalgamation of plastic, paper pulp and wood fiber. Often made from recycled materials, it's a popular, environmentally friendly option.
Pros:
Long lifespan of 20+ years
Requires little maintenance except washing down
Not affected by insects and fungus
Withstands UV rays
Looks like real wood
Does not rot
Cons
Comparatively expensive: $6-$10 per six-foot-tall picket
Does not take stain
Can develop mold
Can shrink and expand with temperature changes
Can fade with time
Wood Fencing Materials Comparison
If you can't decide which wood is best for your project, or you're stuck between two options, such as cedar vs. pine, hire a fencing professional or talk to a local fencing installer to discuss your options.
Best Wood for Horizontal Fences
Ipe is a great choice for any fence but outlasts most other common woods as horizontal fences because it can withstand exposure to the elements and is resistant to twisting and warping. This tropical hardwood works well in harsh climates and, when used in horizontal installations, brings a particularly high-end look with its close, uniform grain.
Best Wood for Vertical Fences
Redwood is a popular choice for vertical fences as it has a long lifespan and is resistant to rot, fungus and pests, including termites. It's also high in natural oils, so it repels moisture, even if it's not sealed. This sturdy, durable wood is dense and unlikely to twist, warp or splinter, so the long, straight lengths necessary for tall vertical fencing remain strong and rigid for years with minimal maintenance.
Best Wood for Fence Posts
Softwoods such as pressure-treated pine are solid options for fence posts. Pine is comparatively cheap and is resistant to termites and other pests. Additionally, the third of the post buried below the ground doesn't rot as quickly as other woods. Tropical hardwoods such as ipe and balau also do well as fence posts, resisting below-ground rot and withstanding high winds and storms. However, they are so hard that they require special drill bits and saw blades. For best results, all drilling and cutting needs to be finished before the post is in the ground.
Best Wood for Privacy Fences
Cedar is a smart choice for privacy fences. It's long-lasting, has a tight, uniform grain with few knots, and doesn't warp or shrink. It's reasonably lightweight and DIY friendly, helping you save on the cost of fence repair or installation. This affordable, budget-friendly softwood can last up to 30 years.
Best Wood for Fence Rails
Redwood performs well for fence rails. It's resistant to insects and rot. Plus, it's strong enough that it won't sag and can withstand being pulled at or climbed on. Redwood doesn't shrink or warp and requires minimal maintenance, making it a good choice for a boundary fence that will receive little attention.
Best Wood for Picket Fences
Cedar is popular for picket fencing because it's affordable, DIY friendly and naturally insect repellant. It's durable but still requires cleaning and yearly maintenance to keep it in the best possible condition. You can seal, stain or paint it to get the classic white picket fence or go for a more natural look.
Best Wood for Horse Fences
Pine or cedar are the top choices for horse fences. These softwoods are resistant to insects and have a reasonable life expectancy. If you're building horse fencing, you'll likely need a considerable amount of material, so it makes sense to minimize costs, and both of these woods are budget-friendly and strong.
FAQs
What type of wood fence lasts the longest?
Each type of wood has a different lifespan. Cedar is the longest-lasting softwood, with a lifespan of 30+ years, if properly maintained. Ipe is the longest-lasting hardwood, with a life expectancy of up to 75 years in the right conditions.
What is the best material for fencing?
Cedar, redwood, and pine are popular softwood fencing materials. The best hardwoods for fencing are ipe and balau.
How much should a wooden fence cost?
Installing a wooden fence can range between $1,600 and $4,000, depending on the materials and cost of labor. Use the fencing cost estimator to find out how much your home improvement project costs.
No Comments Yet