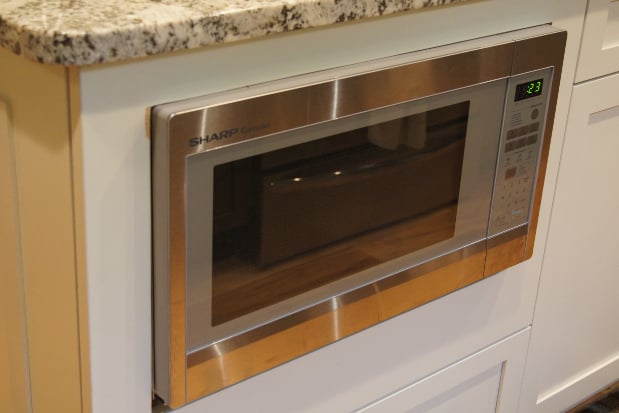 If you're buying a new home, you've probably already chosen quite a few built-in appliances for the house plan. Often installed in the kitchen, these devices are part of the permanent construction and create a seamless appearance. This is their greatest asset: they become almost invisible, allowing you to focus on other design features in the room. The fact that they blend in with any home décor makes them very popular features since they also add convenience and value to the house. However, many think they own "built-ins" when they don't. Often people misuse this word, thinking they own permanently fixed equipment when they really own fitted appliances.
Built-in Appliance Design
The term built-in appliance is often thrown around, loosely applying itself to any machine that's fitted into preexisting countertops and cabinetry. There's nothing wrong with this definition per se, but to get at the crux of built-in appliance design, there are small distinctions you should be aware of. When it comes to maneuverability, most appliances are available in a number of built-in designs.
Portable: Often referred to as freestanding, these machines are completely transportable, making them easy to position in a variety of ways. For instance, dishwashers and ranges that stand at the end of a counter system are entirely unattached to the actual construction.
Slide-in: This is the misnomer. Though you may have a range or refrigerator seemingly built into the kitchen, it's probably a portable unit that's simply slid into a preexisting nook. It seems permanent, but it's actually transportable, offering the best of both worlds: the look of stability without the commitment.
Built-in Construction: Units are literally fixed into place, such as a wall-oven or stovetops installed into the actual countertops (sometimes these stovetops take on the look of a large open grill surface, maximizing space and efficiency while cooking).
Built-in Appliance Installation
There are some devices, such as dishwashers and ranges, which should always be built into a kitchen: they look sharper and are simpler to use. Microwaves, for example, have become a common built-in appliance installation. By building the microwave into the cabinetry you're no longer resting it upon the counter and taking up valuable space. However, some newer innovations are hidden washing machines. You can always throw these in the closet or a separate room, but what if they were fitted below a countertop to create more usable area? Or what if they were installed inside a cabinetry system where they could be concealed with the swing of a door? Fridges are also being built into kitchens in order to optimize space, creating cabinets above and below, while smaller units could simply be slipped into a cabinet.
Ready to start your
Appliance Installation

?Find Pros
The Pros and Cons
Pros: They're great space savers. Unlike free-standing machines, they're literally backed against a wall, creating more floor space. Plus, due to their solid construction, they're simple to manage and easier to maintain and operate. They tend to be available in a variety of design styles and sizes, and often come with more features and options.
Cons: However, if you're buying new units to replace older items, make sure they fit in terms of width to avoid further remodeling. You want them to be at the right height as well—level with your counter for easy operation. Also, consider longevity: Will these permanent additions add value in the long run, or are they simply a passing fad?
Built-in Appliance Convenience
There are many things to love about this type of appliance, not the least of which is convenience. Smaller appliances and appliance accessories can bolster the level of convenience for the appliances and for your kitchen as a whole. New innovations appear on the market seemingly every week: Some are more cool and exciting, while others are strange and trendy. Take the time to consider what is worthwhile in terms of cost and convenience and what is simply a waste of time.
Blender: A blender or food processor mechanism can be installed in a countertop: just attach the pitcher or container onto the drive and you have an instant mixer at any time.
Coffeemaker: They're literally installed in the wall of a kitchen and are extremely convenient though a bit expensive. You could also have an espresso machine put in, though these tend to take up significant space.
Dishwasher Drawers: These small units fit under a counter and are the size of two standard drawers. They're quiet, efficient, take up less space, and can match any façade but oftentimes you'll need more than one for them to be useful.
Warming Drawers: Once again, the size of a standard drawer, these devices keep food warm while you cook, entertain, or pick the kids up at soccer practice.
Microwave Drawer: The drawer styling saves valuable countertop and cabinet space by being installed beneath the countertop instead of on top of it. It becomes a seamless addition to your kitchen cabinetry instead of an awkward, bulky, appliance.
No Comments Yet