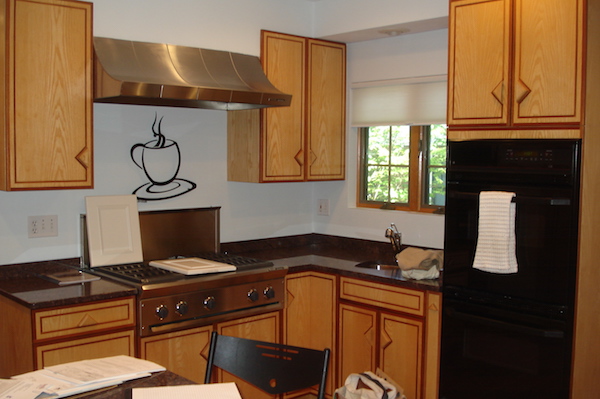 A good cabinet is a terrible thing to waste. Perhaps your old kitchen cabinets are well-made and still sturdy, but cosmetically worn and torn. Maybe you've purchased an older home with a charming kitchen full of cabinet fronts and hardware that have seen better days. Rather than plan an expensive, total replacement of cabinets, think about having those cabinets refaced at half the cost in material and labor. Bathroom and kitchen remodels are almost always done on a strict budget, and tough choices often have to be made. By saving money refacing your cabinets, you can spend the rest of your budget on the countertop, sink, bathtub, or refrigerator you've always wanted.
Compare replacing kitchen cabinet doors costs with that of refacing using our True Cost Guide.
Refacing a Cabinet
You might think that if you're not replacing your old cabinetry, you should be able to do this project on your own. In truth, though, it's probably easier to replace your old cabinets on your own than it is to resurface them. Homeowners with good carpentry skills can replace their cabinets, but refacing involves a more delicate touch and requires a larger pool of expertise to ensure the cabinet refacing looks like a newly installed cabinet. Of course, if by refacing a cabinet you mean slapping on a wood stain, that's no problem. Professional cabinet refacing, though, means a whole lot more than that and the end result is closer to a new cabinet that one that's merely been painted over.
Professional Cabinet Refacing
To reface a cabinet, your service professional will remove cabinet doors, drawer fronts and hardware. A thin coat—generally about 1/4-inch—of wood is then wrapped around the remaining cabinet faces. This can be selected from a wide variety of veneers such as a wood grain, pure white or a favorite color or finish. Laminates are also available. The new, matching cabinet doors, drawer fronts, and hardware are then installed to give the room a completely new look.
Refacing does not change the layout of the cabinets. But if you like the current cabinet arrangement, you might consider refacing existing cabinets, adding a few new ones to another spot in the room, or modernizing the interior of your cabinets with pull-out or swivel shelves. In addition to providing new design options, refacing can greatly improve the durability of cabinets, adding years of life. And don't forget your bathrooms. Refacing cabinets and draws in those areas will provide dramatic changes for those spaces, too.
Ready to start your
cabinet refacing

?Find Pros
Other Popular Refacing Projects
Cabinet refacing is, by far, the most popular surface in the home to reface, but it's not the only one. Countertops and bathtubs are also great candidates for refacing projects. Wall-mounted cabinets see their fair share of abuse, but it usually doesn't compare to constant use, dirt, spills, and sheer physical force of countertops and bathtubs.
Depending on the nature of your countertop, you may be able to reface it simply by professionally sanding down the surface—solid surface countertops are a good example—but most countertops can be resurfaced and for significantly cheaper than replacing them. If you've let your old bathtub go, you probably have come to believe it'll never be clean again. In fact, cleaning your bathtub may be a lost cause, but bathtubs, too, can be resurfaced to make them new again.
What it really comes down to is what you can't stand anymore in your kitchen or bathroom and what you wouldn't mind if it looked new. This is why bathroom and kitchen remodeling plans and budgets are so important. Figure out what you what to have refaced and what you want and can afford to have completely replaced.

Ready to start your
cabinet refacing

?Find Pros
No Comments Yet