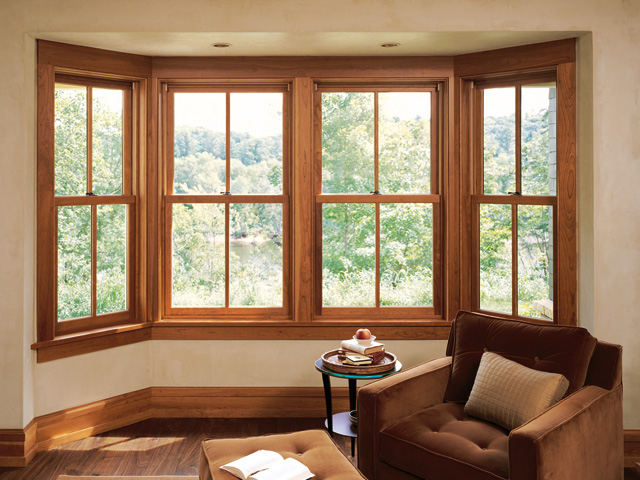 Picture and bay windows are great for letting natural light into your house, but they also require a lot of room. You have to plan for an entire wall of glass, which can make a room hotter or colder than desired. But if you want natural light, but don't have the money or space for it, then a casement window may be your best option. For one, they are constructed on a side hinge which opens to the outside, creating the space-efficiency of a double-hang. But since crank windows are able to open all the way, they allow for maximum ventilation as well.
Anywhere in the Home
The best thing about casement windows is their ability to adapt. Unlike pictures or bays, they don't take up too much space on the wall and they are easy to install yourself. Or, if you choose to hire a professional for a flawless installation, the job takes less than a day. Plus, unlike a double-hang where you have to be right next to it in order to have leverage for lifting the sash, casement windows have a turn-around handle to do the work for you. Therefore, they're perfect for hard to reach areas, such as above kitchen sinks, bathroom toilets, or wide countertops. Also, since they're natural ventilators, they are perfect for hot, humid areas of the house: kitchens, bathrooms, converted attics, or other upper-story spaces.
Other Benefits
Energy efficient: Since casement windows open from the side with a manual handle, they leak less air and actually create a tighter seal between the sash and frame. Plus they use less glass, all of which makes your home more energy efficient.
Locks: As with opening and closing, crank windows also have easy-to-reach interior locks—once again, great for hard-to-reach areas of the house.
Easy escape: Casement windows are often used in basements bedrooms to fulfill fire codes. Because they are tall and can open up so wide, they are ideal for easy egress in case of emergencies.
Easy access: Not only are they easy to reach, they are also easy to maintain. If you open it all the way, you can distend and then disengage the arm-hinge in order to gain full access to the glass, hinges, tracks and frames for easy cleaning (this is also the same process used when used as an egress window).
Options: Of course since they can open up so wide for ventilation, they all come with screens to protect you from pesky pests. Also, just because they are perfect for hard-to-reach areas, doesn't mean they have to be used there. They can be found in any part of the home, and they come in both single and double pane varieties. In fact, if you don't want to pay for a picture or bay installation, simply create a row of crank windows along any wall to achieve the same affect for less money.
Ready to start your
casement windows

?Find Pros
Maintenance and Warnings
Like any part of the house, crank windows need to be properly maintained: regularly clean the glass and lubricate the hinges. However, if you move into an older home, you may need to invest in some casement replacement windows. Since they are used so much and the arm-hinge and crank receive so much stress over time, you may need to buy a sturdier model. You don't want any window to be worn out and flimsy, so if the handle falls off too easy, or the hinges have become rusty, or the arm-hinge won't extend all the way due to bearing the weight of the frame all these years, don't hesitate to purchase casement replacement windows. They're inexpensive, easy to install, and can add quite a bit to your home's re-sell value.
No Comments Yet