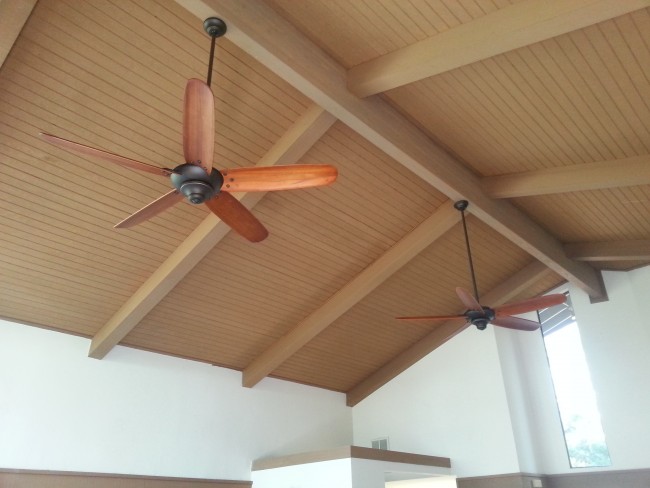 A ceiling fan can brighten up a room, and cool it down at the same time. The extra air circulation makes a room fresh, and the aesthetic accent can certainly enhance an otherwise dull ceiling. One of the oldest ways to chill out, ceiling fans are a welcome addition to any room be it classic, country, or modern.
Ceiling Fan Installation with Existing Wiring
If you are thinking of replacing an existing fan or putting a fan where an overhead light already is, ceiling fan installation is a breeze for a professional handyman or woman. This is a common project for DIYers and can be done by homeowners that don't necessarily have a lot of home improvement experience.
Most fans you purchase will come with instructions that include a step-by-step guide for putting up your fan where a light or old fan exists. If you purchase a fan used, it may be possible to find decent instructions online. Small ceiling fans are generally easy to mount. Larger fans that are very heavy will require extra support. Companies that manufacture large fans may recommend professional installation due to the complications inherent in fastening a heavy object to a ceiling.
Ceiling Fan Installation without Existing Wiring
Ceiling fan installation in a place where there wasn't anything to begin with is a much more complex task. It is more difficult than simply putting in an overhead light. The process will demand knowledge in several different areas and should only be attempted by a professional or an experienced DIYer.
This situation will require not only basic carpentry skills but also knowledge of supports and anchoring. Additionally, and this is the hard part, this installation will include installing new wiring, which can cost about $1,330 on average. Many people aren't entirely comfortable working with electricity, and for good reason. The process of putting new wiring in place is significantly more complicated than putting something where wiring already exists.
Buying the Right Ceiling Fan
While ceiling fan installation is not for everyone, picking out the right ceiling fan can be done by anybody. The right fan will appeal to the individual's aesthetic taste, but should also provide many years of comfortable service as well.
The motor of the ceiling fan is probably the most important thing to consider when purchasing. Look for fans that guarantee quiet operation and come with a warranty. There is a relationship between the pitch of the blades and the amount of air circulation that occurs. If one fan seems more expensive than another, it may have a more effective blade pitch and require a stronger motor (which is a good thing if you want more air movement). Also, check the amount of running speeds that a fan has, then compare it to the number of capacitors the fan has. If the fan has three speeds, it should have three capacitors, as well. A multi-speed fan with only one capacitor is a dead giveaway that the motor might not be of high quality.

No Comments Yet