How & Where to Get the Best Prices on Landscaping
Landscaping is the best way to enhance the beauty of a land. It is also one of the most affordable options out there. The average landscaping budget usually depends on what kind of style you are going for. The average cost of cheap landscaping is around $4 to $6 per square foot (installation only). Complete remodeling will cost between $1,000 and $40,000. While landscaping can come at a steep price, there are affordable landscaping options available.
On This Page:
Cheap Landscaping
You need to know about the different styles of landscaping to understand what will be suitable for you. For doing that, you need to research different kinds of budget landscaping themes and materials. The cost of materials depends on what type of design you will choose and the landscape contractor you hire to help with your project.
Disadvantages of Low-Priced Landscaping
You can build your desirable landscaping on a limited budget, but you should be aware of a few disadvantages to buying discount material or services:
A lot of materials have to be DIY'd
Some of the more creative materials are also more costly
More time and effort needed if skimping on landscaping services
What Are Some Cheap Landscaping Options?
There are many beautiful landscaping styles to choose from. Before you select a specific type, you have to think about what kind of affordable landscaping style will compliment your lawn. The following are cheaper (and visually appealing) landscaping options.
Modern Landscaping
The best quality of modern landscaping is that you can get highly creative with this style. You can mix and match cheap landscaping furniture and make a path with discount landscaping stones, as a start. Modern landscaping costs between $4,000 to $5,000.
Japanese Landscaping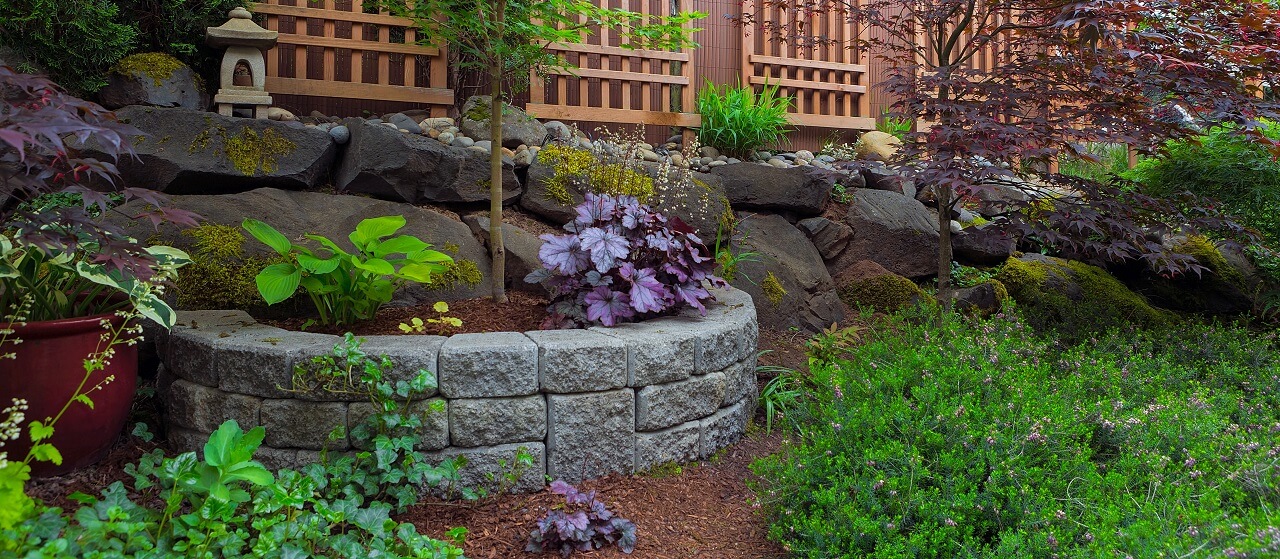 There are only four main elements in Japanese landscaping:
Plants
Rocks
Water
Ornaments
You can buy your preferable plants and cheap pebbles instead of a more expensive rock type. You can also cut extra costs by purchasing lower-priced, low-maintenance shrubbery and bushes as your plants and building a DIY water source with the gravel. Overall, you can expect to pay about $3,000 to $4,000 for Japanese landscaping.
Cheap DIY Landscaping
There are endless ways that you can create your own landscaping plan on a budget. You can mix and match styles, materials, and plants per your interests. Plus, making your own materials, like lawn ornaments, and know where to buy discount mulch and plants, you may be able to hire a higher-tier landscaping contractor. DIY landscaping costs, on average, $1,000 to $2,000, not including labor or installation.
Cheap Landscaping Options on Average (Materials Only)

| | |
| --- | --- |
| Modern Landscaping | $4,000 – $5,000 |
| Japanese Landscaping | $3,000 – $4,000 |
| Cheap DIY Landscaping | $1,000 – $2,000 |
Discount Landscaping Pricing and Suggestions
The lowest cost of a landscaping project is $3,000 to $4,000, and this does not include the cost of installation. In this price range, you can build a basic landscaping design.
Front Yard Landscaping on a Budget
On average, you can expect to pay $15,000 for moderately-sized front yard landscaping. But by going cheaper on some materials and plants, you can build your front yard landscaping on a tight budget. For example, you can plant beautiful (and less expensive) flowers like catmint, lavender and daisies in your front yard. A stepping stone walkway costs $15 to $35 per stone. Consider cheaper walkway material, like gravel, which can cost $650 for a 100-foot long pathway.
You can also replace your lawn with cheap landscaping stones to not have to spend maintenance fees on maintaining the soils.
Backyard Landscaping on a Budget
If you have a small space in your backyard, you can try vertical gardening, which is a budget-friendly choice for a limited space. You can build an organic garden with vegetable plants and colorful, inexpensive flowers and replace higher-priced grasses with perennial ground covers, which cost $1 to $4 per square foot.
Other ideas include decorating existing trees with affordable lighting. Standard twinkle lights cost about $6 to $9 per strand.
A creative and affordable idea for your backyard is to build an outdoor fire pit. Installing an outdoor fire pit costs between $50 to $60. Using these techniques can help you create your cheap backyard landscaping at about $1,000 to $4,000.
The Best Place to Buy Cheap Landscaping Materials
The best way to find discounted landscaping materials is to compare costs from both local businesses, big box stores, and independent installers. Keep in mind that each option offers different service types, and each has its pros and cons. Buy from the place which will be suitable for you.
Landscaping Company Pros and Cons

| Seller | Pros | Cons |
| --- | --- | --- |
| Big Box Stores | Every kind of product is available | Minimal assistance |
| Large Franchises | Reliable national service | Price cannot be negotiated |
| Online Retailers | Innovative and more unique options available | Occasionally unreliable |
| Small Franchises | Low price | Lack of innovative products |
| Landscaping Installers | Easy availability | Options are limited |
You can buy inexpensive landscaping materials from the big box stores from $1. You may want to wait until a store is having a sale to get a better discount.
TIP: While you are buying the DIY materials, check if the products are damaged and check the plants to see if they are fresh before leaving.
Cheap Landscaping Installation
Cheap landscaping installation costs about $1,000 to $5,000, on average. This cost does not include the cost of maintenance. The cost of affordable lawn care is $100 to $500, depending on the size of lawn you have.
The cost of hiring a landscape architect is $70 to $200 per hour, and the cost of hiring a landscape designer is $50 to $150 per hour. Generally, installers give you a discount if you hire them for the maintenance, too. You may also get a discount from professional landscape designers and architects if you buy materials from them.
When Is the Best Time to Buy Cheap Landscaping Materials?
The best time to buy plants, mulch, soils, perennials and more is late in the fall season, after the big planting and summer rush.
Hiring Cheap Landscaping Installers
It would be best if you found a professional landscaping installer to install your whole project. It is better to hire a professional installer because they will understand your plan and your needs and could help save you money in the long run by completing your project correctly the first time around.
Before you hire a professional, make sure to reference a checklist for the landscapers to hire the best professional and to get a better deal. Consider the following factors before hiring one:
Whether they have insurance or liability after the work
Whether they can give you a written contract with the estimated charge
Whether they have a positive reputation via online reviews
Whether you are hiring a professional or a student designer
FAQs
What is the cheapest rock for landscaping?
The cheapest rocks for landscaping are pea-sized and crushed gravel. Pea gravel costs between $300 and $400, and a crushed gravel driveway costs between $300 to $60,000 depending on the size of your driveway.
Can you negotiate with landscapers?
If you are hiring a big company to do your landscaping, then you don't have the chance to negotiate with the price. But if you hire individual landscapers, you have a better chance of negotiating down your initial quote.
No Comments Yet