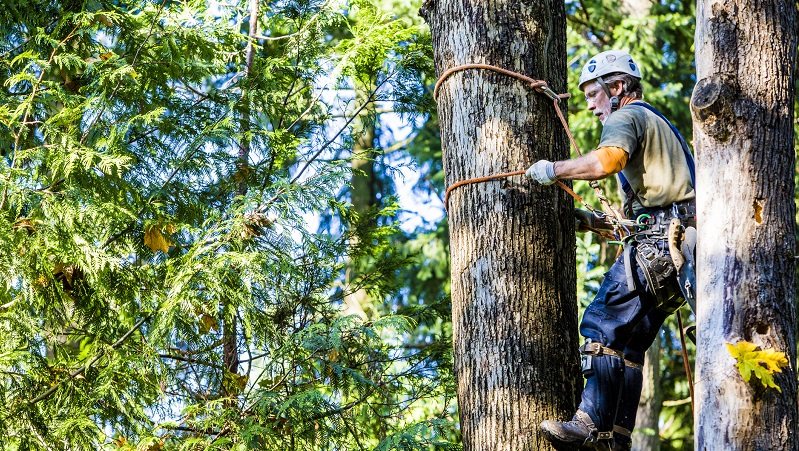 How to Hire an Arborist and Tree Service
Keeping your trees healthy and beautiful requires regular care. However, most homeowners are not experts on plant health and maintenance. That's why it's important to hire a professional. Before you do, it's helpful to know what services are available and who performs them. This guide will tell you how and when to hire a pro, answer frequently asked questions, and provide tips to help you find the right contractor.
On This Page:
What Does an Arborist Do?
Also known as "tree doctors" or "tree surgeons," arborists can identify, prevent and treat tree diseases and infestations that an average tree service cannot. Arborist services are always led by a certified, educated expert. Tree service providers may or may not require licensing, depending on where you live. While "tree services" and "arborist services" are both useful in maintaining a healthy tree, they are not the same. Here are a few common tasks each type of professional performs.
| Arborist | Tree Service |
| --- | --- |
| Disease treatment & prevention | Trimming (pruning) & Cutting down (felling) |
| Insect infestation | Tree, limb, & stump removal |
| Pruning & planting | Climbing |
| Preventive services | Cosmetic services |
Expert Preventive Services and Inspections
Regular check-ups from a trained, experienced arborist play a key role in maintaining a healthy landscape. Expect to pay an arborist $75 to $100 for an annual inspection of one to five trees. Each additional unit will cost you about $25. Additional fees of about $35 may apply if you need to submit a report to your local government. An arborist will report either in favor of keeping or removing foliage on a property.
Caring for new plants is typically more intensive than mature tree care, but it's a good idea to employ an arborist to examine older plants every year or two. A certified arborist can effectively address overall health, including disease, fungi, and insect control.
Consult an arborist at the first sign of problems. Like viruses in humans, diseases, insects, and fungi come in waves. Patterns also change from year to year. Your local arborist can inform you of current risks and their warning signs.
Return to Top
What Does a Licensed Tree Service Do?
Services like cosmetic tree trimming and stump removal do not always require a background in plant biology. However, these tree management tasks can be dangerous to both the tree and the worker. Professional services should have the experience, expertise, and equipment to do the work safely and properly.
Professional Tree Trimmers & Cutters
Homeowners hire trimmers to:
maintain trees and large shrubs
cut foliage to improve the appearance of a landscape
prune branches to clear roads or sidewalks
Tree pruning, removing certain branches in order to help a tree stay upright and grow properly, requires training and expertise. Cutting down individual trees, known as tree felling, requires skilled operation of heavy equipment and scaling of tall trees. While some landscapers can perform these tasks, they are usually best reserved for an arborist or a licensed and experience tree service.
Tree, Limb, & Stump Removal
Service providers remove trees and limbs when a homeowner or arborist has identified it as dead or diseased. Homeowners may pay to remove a tree or limb if it is a danger or a nuisance. For instance, hovering too closely to a house's roof or blocking views from inside the home.
Plant health is not a concern when it comes to stump removal. For that reason, you may not need an arborist. It is still a difficult task, and the cost of stump grinding by a professional is well worth the time and cost savings of renting the equipment yourself. Removing large stumps with mature root systems and stumps in close proximity to your home always requires a pro. DIY methods, like burning the stump or pulling it out with a truck and chains, can cause damage to your home or its foundation.
Tree Climbers
Climbers are professionals who can climb the tree without the help of cranes or other large equipment. They can access limbs in tight spaces and urban locations, as well as areas where machinery is prohibited, like in protected parks and forests. Better access also allows them to remove limbs with precision. Many climbers are also certified arborists.
Return to Top
When to Hire an Arborist vs a Professional Tree Contractor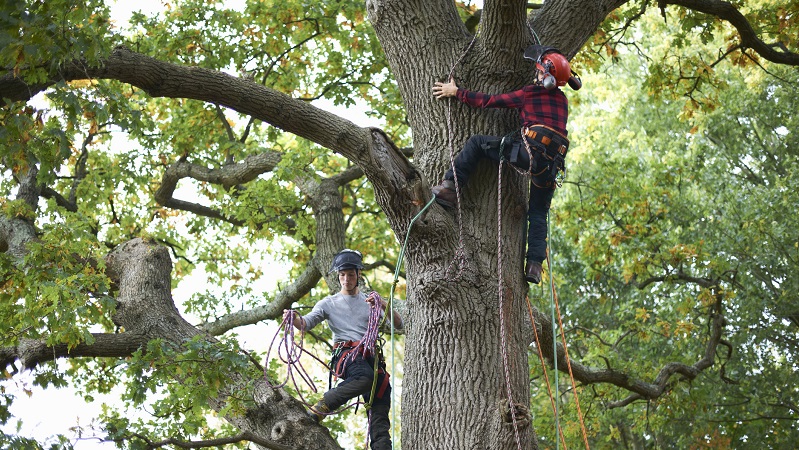 As a general rule, homeowners should use a professional contractor when they need cosmetic maintenance or tree, stump, or dead limb removal. On the other hand, you should hire a certified arborist for any task related to plant health, including:
Treatment and prevention of disease/insect infestation – knowledge of plant biology and local climate helps properly identify problems and prescribe effective treatments.
Proper pruning – training in ANSI A300 cutting standards minimizes wounds and reduces potential damage from insects and disease.
Planting – knowledge of correct depths and growing conditions improves the health and viability of young plants.
Contract work – certification, education, and training ensures work is performed safely and reduces liability concerns.
Tree Care Services vs. Independent Specialists
Due to the dangerous nature of the work and potential consequences, homeowners who are considering hiring an independent contractor should be cautious. Ask the questions below to ensure you choose a pro who is reputable, qualified, and certified. Otherwise, you may end up losing money to an opportunist with a truck, ladder, and chainsaw, especially right after a storm. Even worse, sloppy work can lead to property damage or threaten your safety.
Tips to Find a Certified Arborist Service
Most companies with a certified arborist on staff want you to know. But if they don't tell you, you should ask for proof of certification. You may also want to ask which, if any, national associations the company is a member of. Some of the most popular associations include:
These professional organizations keep their members up to date on the latest knowledge and expertise in the field. This translates into better care and healthier plants for their clients.
Check Tree Service Insurance Requirements
Providers should be able to supply proof of insurance upon request. Ask to see certificates of liability and worker's compensation. Call the tree service's insurance company to verify policies are current and accurate for the nature of the job.
Get a Contract
Be cautious if a service requests advance payment or offers to start work without a free cost quote. Homeowners should insist on a written contract before work begins or any money changes hands to protect both parties.
Vet "Licensed & Bonded" Professionals
"Licensed and bonded" credentials mean very little in the tree care industry. While some states and municipalities require a company in this industry to obtain a license, many do not. When it comes to bonding, almost no residential projects require it. Thoroughly research companies that advertise these credentials.
Check International Society of Arboriculture (ISA) Credentials
If you're looking for a certified arborist, check for credentials from the International Society of Arboriculture on the company's website. You can also verify the certification on the ISA website. Per the ISA, credentials can help consumers identify qualified tree care pros.
Questions to Ask When Hiring
There are certain questions you should ask all contractors before you hire one. Asking questions in advance helps protect both your landscape and your investment.
Can you provide proof of insurance? Double check the information with their insurance company.
What are your credentials? Check certifications with the organization who issued them. If they are working near power lines, they should be approved line-clearance arborists.
Can you provide a list of references? Ask for contact information for recent customers.
Do you provide detailed estimates? Secure written estimates from three companies to compare prices, timelines, and scopes. Estimates should include the type of equipment they will use and accommodations they'll make to prevent damage to your property.
Will you draw up a contract? Laying out the work, cost, and payment terms up front protects all parties.
Do you follow best practices? Practices like using climbing spikes and removing the tops of healthy trees, referred to as "topping," can cause wounds and should be avoided.
Will your crew use personal protective equipment? The Occupational Safety and Health Administration (OSHA) requires it. Reputable companies do, too.
You should also ask yourself, "Does the company look professional?" Are vehicles, equipment, and uniforms in good shape? Do they have a website and reliable reviews?
Return to Top
FAQs
What Do You Call a Tree Doctor or Tree Surgeon?
Professionals in the health and wellness of plants are called arborists, tree surgeons, tree doctors, or arboriculturists. Titles other than "certified arborist" can be used without credentials, so be sure to verify experience and expertise.
Do I Need to Tip Tree Trimmers & Removers?
Like with most home services, tips for tree trimmers and removers are welcome but not required. When individuals go above and beyond and/or perform extra work outside of the contract, a tip may be appropriate.
Who Cuts & Services Palm Trees?
Hire an arborist or pro with verifiable experience to cut and service palm trees to prevent damage.
Who Should I Call to Service My Tree After a Disaster?
First, call your insurance company to verify your coverage benefits before hiring a reputable arborist or service to tend to your tree after a disaster. In some cases, government agencies, like FEMA, may provide funding to remove debris that poses a health or safety risk. Scams often follow storms, so it is particularly important to do your research after a disaster.
Looking for a Tree Service?
When you are looking for arborists in your area, protect your investment and peace of mind by researching and asking questions. If the company doesn't check out, move on. This work is too important to leave to anyone other than a true professional.
Return to Top
1 Comments