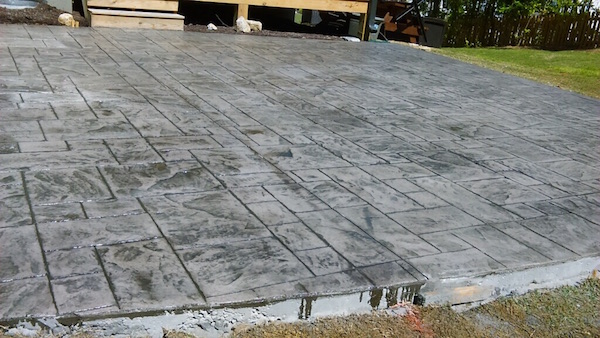 It makes sense. Given that concrete is one of the most durable building materials, it is also one of the most difficult to remove. Diamond-coated saw blades need to be used to provide cleaner and safer concrete cutting. The point to note about diamond-coated blades is not that they are expensive (and they are), but they can help you understand just how dangerous concrete cutting can be. Many of us remember from school that the only thing that can cut a diamond is another diamond. Concrete cutting through walls often involves cutting through steel rebar as well. Sparks will fly. This is not your cabinet resurfacing home improvement project.
Concrete Cutting Needs
Homeowners commonly find they need to cut into existing concrete to repair a broken water pipe or sewer line that is running under a concrete patio, driveway or walkway, or to dig trenches and lay pipe under existing concrete slabs/pads to add drainage to their yard. Sometimes a homeowner might want just part of a patio or other concrete slab cut in order to alter their landscaping. It's also not uncommon to remove a section of a concrete wall, especially in the basement, to gain access to crawlspaces and for other home improvement projects.
Concrete Cutting Contractors
Trusting someone to come into your home or lawn and remove a section of concrete is serious business. Naturally, finding someone who has a lot of experience in concrete cutting is a good start. Get client references and check them out. You might consider asking the contractor about a situation when things didn't go exactly according to plan and how the situation was dealt with. Talk to the contractor about the equipment and safety precautions that will be used during the project. While good communication is always essential to ensure your project goes well, you'll need to be sure the contractor understands exactly what you want, as you won't be able to look over the contractor's shoulder once the concrete and sparks start flying.

Ready to start your
concrete cutting

?Find Pros
Concrete Cutting Safety Precautions
A contractor will undoubtedly have eye and ear protection and take safety precautions to protect his or her own self. Ask if the contractor is using a walk-behind saw or a hand-held saw. The walk-behind saw is much safer, but some projects may lend themselves to hand-held saws. Find out why the contractor is using a particular saw. If he or she can explain to you why that saw is being used, you've probably found yourself a quality contractor. If you get the impression the contractor is using a hand-held saw because they're a professional and they'll be fine, you might consider talking to different contractors. A contractor who appears cavalier about his or her own safety may be cavalier toward your home as well.
No Comments Yet