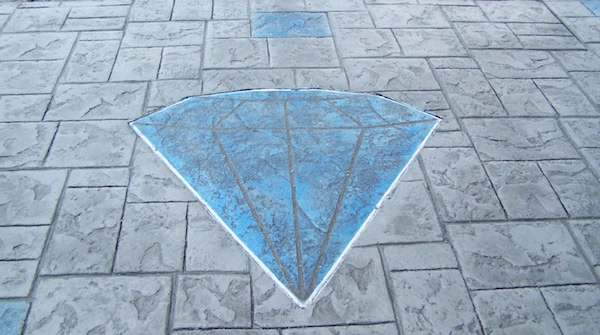 Concrete is a practical material for sturdy, long-lasting surfaces. However, that rough, gray surface isn't particularly attractive. Thankfully, concrete engraving is an easy, economical way to spruce up your concrete surfaces, either outside or inside the home. Your plain, gray concrete driveway, walkway or interior flooring is stained to give it color, and patterns are then carved into the surface using special tools, giving the appearance of grout lines. The end result is a surface that has the look of brick, flagstone or marble, but at a fraction of the cost. This process can be used with new or old concrete.
Concrete Engraving Designs
At its core, the engraving process involves the same two components of all decorative concrete finishing: texture and color. For an interior floor, increasingly common with basement remodels, most homeowners choose a smooth finish that isn't the hallmark of engraving. Yet, if a homeowner wanted their concrete floor to resemble an exotic stone tile, engraving might, indeed, be the way to go. That said, concrete engraving designs are probably most common for backyard patios and walkways, but don't get too confined by tradition. Engraving can deliver anything from 15th century Chinese landscaping to the iconic yellow brick road. It's your home and your yard. Of course, concrete is going to last decades, possibly a lifetime in warmer climates less vulnerable freeze/thaw cycles, so you should also look at concrete engraving designs as you might a new tattoo. It's going to be with you a long time, so you should guard against something that you may grow to dislike.
Concrete Engraving Steps
Here's an overview of the concrete engraving steps that your project is likely to use:
The concrete is cleaned and acid etched. For older concrete surfaces, this cleaning must be thorough enough to remove any old dirt and grease stains.
Cracks are repaired, if necessary.
The surface is stained in the color of your choosing.
The lines are then engraved using special tools.
After cleanup, a sealer is applied to protect the surface against the elements.
Ready to start your
concrete engraving

?Find Pros
Reasons for Considering Concrete Engraving
Since it is not an overlay that can break down or become separated from the concrete surface, engraving finishes last as long as the concrete itself. Also, it will not add to the thickness of the surface, which can affect water drainage. Since each environment is unique, your concrete will react differently than anyone else's to the stain used. This can produce a natural, variegated look that is all your own, and the result is a beautiful, artistic surface. Maintenance is also easy, as there is no weeding to do along the grout lines (as there is with brick) and no cracking or replacing of individual pieces.
Concrete Engraving Contractors
A relatively short project (two days, a week at most), the process is nevertheless one that's best left to the pros. Concrete engraving contractors are trained to handle the complex machinery, tools, and heavy-duty chemicals that come with the terrain. Part of this calculation is safety, sure, but it's also notoriously difficult to apply and control concrete staining agents. And you only get one chance to get it right. For this reason, you also need to take your time when considering concrete engraving contractors. Look for someone with years of experience and/or a portfolio and customer referrals that include a project similar to the one you're looking for.
No Comments Yet