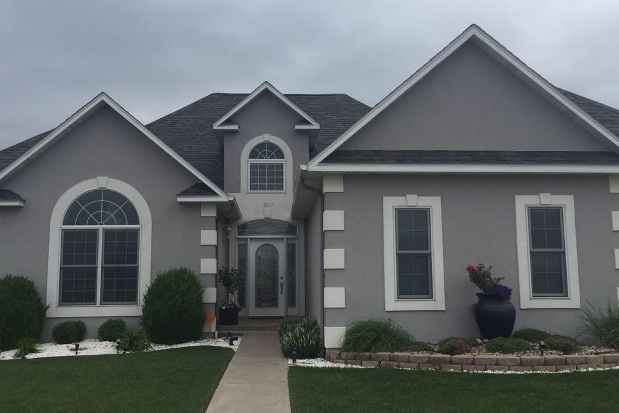 Concrete siding is most often thought of as fiber cement siding, like Hardie board. While fiber cement siding is an excellent product, homeowners shouldn't limit their view of concrete to this singular material. With advances in technology and design, this siding has come to encompass a wide range of options, from stucco to stone veneer, to concrete board siding materials. If you're looking for rot proof, insect proof, fire retardant, low maintenance, and beautiful siding solutions, then concrete siding is the answer you've been looking for.
Stucco
Besides fiber cement siding, stucco is probably the most widely used concrete style siding material on the market today. Stucco is actually a cement based mixture that is applied in several coats over a lathe base. It has no seams where weather, insects, or other potential threats can enter your home, and it lasts a lifetime. It is also very attractive. Think of the clean appearance and smooth lines of any southwestern style home, and you can see why stucco has become one of the top concrete siding materials on the market.
Concrete Board Siding
True concrete board siding isn't so much an exterior siding material as it is a valuable substrate when installing other forms of siding onto your home. It is composed of aggregated Portland cement, and has many possible applications. One of the more popular uses of concrete board siding is as a base for EIF, or external insulation and finish systems. These systems are basically a composite stucco material that has some advantages over traditional stucco when it comes to price and installation.
Ready to start your
Siding Installation

?Find Pros
Mortarless Masonry
Mortarless masonry is the building material that has become so popular in the construction of new commercial buildings. It is composed of pre-cast concrete "stones" that fit together and hold without the application of traditional mortar. It's hard to describe, but perhaps the best way to picture it is as large concrete "bricks," stacked just as you'd expect brick to be laid. While mortarless masonry has found a comfortable home as an attractive, and economical, siding for commercial applications, it also offers many benefits for the average homeowner. As landscaping material, skirting around decks and raised patios, for attractive retaining walls, and as a basic home siding product, mortarless masonry creates a textured, gentle appearance anywhere it is installed.
Stone and Brick Veneer
One of the most exciting siding materials that have hit the market as of late are stone and brick veneers. These veneers are created by pouring Portland cement, natural aggregates, and pigments, into stone based forms, creating a lightweight siding material that is almost indistinguishable from real brick and natural stone. The upside is obvious. They are relatively easy to install, don't require reinforced walls, and entirely cut out the cost prohibitive process of laying natural stone and brick. However, the cost of cement varies depending on the look you're going for. And because they are ultimately a concrete siding material, they sport all the benefits of concrete (resistance to rot, increased durability, fire resistance, and incredible beauty), without cleaning out your savings account.
If you're interested in concrete siding alternatives for your home, talk to a contractor experienced in installing any one of these innovative siding solutions. Make sure they know what they're doing, however, as many of these processes require a sound level of expertise to get done right. Finally, don't rule out the benefits of choosing a contractor who works exclusively in any of these specialty areas, since they know the ins and outs of a specific material.
Ready to start your
Siding Installation

?Find Pros
1 Comments