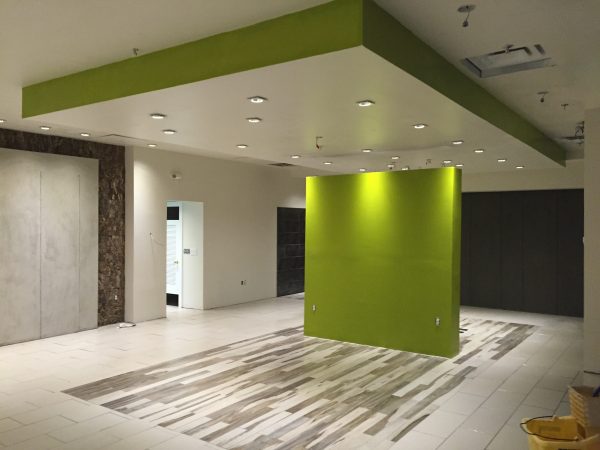 A drop ceiling, sometimes referred to as a suspended ceiling, consists of a hanging metal grid which is suspended by wires from an original ceiling. Then, within this framework, a number of acoustical panels are literally dropped into the channels to form a solid surface. They're often reinstalled to cover up exposed plumbing and wires that run underneath a ceiling's structure. Although they're typically seen in public buildings, such as offices and schools, they can also be very useful inside one's own home.
Important Practicalities
If you have an unfinished area in your house, like a basement or laundry room, instead of installing expensive drywall overhead, a drop ceiling may be more practical. Since they don't consist of much construction and the materials themselves are economical, they are very efficient and cost-effective. Plus they offer other unseen benefits:
Sound Control: Concrete basements produce echoes. Laundry rooms are often loud. And if you have a home theater, it's crucial to control the sound. Therefore, drop ceiling tiles are your perfect answer. Due to their fibrous make-up, these panels are wonderful acoustical absorbers which can soak up any residual noise.
Cover-ups: Though they are often used to conceal unsightly pipes and electrical wiring, a drop ceiling still allows you easy access to this equipment: simply lift a panel and you're in business.
Leveling: The metal grids can easily be adjusted to different heights as they're installed. So if you have an uneven ceiling, some simple alterations to the framework can correct any leveling problem.
Protection: Though the acoustical paneling is light and portable, they're also sturdy if you invest in some water or fire-resistant products. Plus, if there is ever water damage, they're also easily replaceable.
Insulation: Since your ceiling will now be partially hollow, it's important to install additional insulation overhead. Some foam or batt insulation can usually do the job, but you can also purchase insulated panels for even more noise absorption.
Stop the Dreariness
A drop ceiling can feel a little stuffy: you don't want your home to look like your office. Also, your ceiling will now be slightly lowered in terms of head space. So follow the following tips to expand and brighten a room:
Add Some Color: Don't hesitate to decorate your drop ceiling tiles with some paint. Or paint the metal grid work in between the panels for a unique outline affect. Or you can even buy designer panels that can create an attractive overhead pattern.
Open It Up: You don't have to just stick to acoustic panels either. Install some mirrored panels to make a space look bigger. Or, though it's a bit expensive to design, you can even install glass skylight-panels that open the room to outdoor light.
Light It Up: Lighting is important. Though drop ceiling tiles often use florescent lights, any recessed lighting will work as long as they're securely attached to the metal bars.
Drop It Like It's Hot: In addition to insulation, there are now "radiant panels" available which literally radiate heat down into the room.
Getting It Dropped
These ceilings only cost a few hundred dollars, plus installation. And though they are very user-friendly (many homeowners buys kits and install them themselves), it's best to hire a contractor who has experience in planning around wires and pipes. Plus these professionals can work with pre-existing structures (such as posts and walls); they can give you a sound estimate in terms of pricing (how many tile you'll need for a particular space); and they can also cut and size around any difficult corners and edges.
No Comments Yet