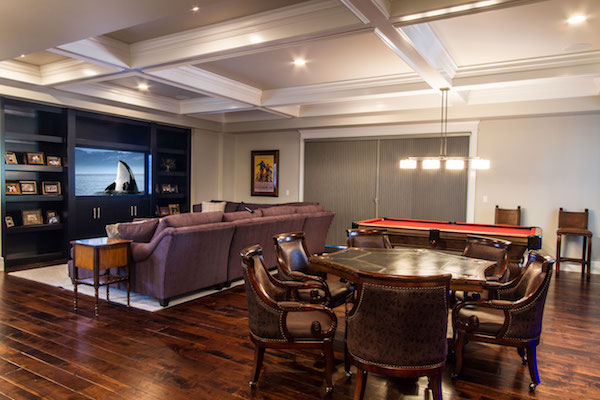 Entertainment rooms have become popular additions, and even great remodels given that the typical suburban home has extra rooms and massive basements that are perfect for entertainment rooms. Make no mistake, entertainment rooms don't have to be pigeonholed into simply a big room with a big couch facing a large TV. These rooms can be made to entertain in whatever way you want.
Adding on Entertainment Rooms
Your imagination should allow you to divine exactly how your basement or spare room should entertain. The back of the house is typically the best place to add on since it won't change the texture of the front of your home from the street. But don't think that you can't build onto the second floor. Certainly there is nothing wrong with a fresh coat of paint, a sectional ottoman, and a big screen TV. After all, most families go this route so that their living rooms or great rooms are centered around conversation instead of who's winning the game. Entertainment room remodels are also a good way to go.
Entertainment Room Remodels
Many homes built in the last 15 years have the fireplace in the middle of the room, and as a result the TV has to be offset from the direction of the furniture. This can not only make for an awkward TV viewing experience, but it also makes the room look odd. By moving the main television into another room or into the basement, you can keep the natural flow of the original living room, while also creating an entertainment room that makes it easy and comfortable to watch television.
Entertainment Rooms are Home Theaters Just Waiting to Happen
Home theaters are not just for the wealthy. Although it sounds like a convenience only afforded by wealth, home theaters are home additions that require very little work to complete. A large spare bedroom is perfect for the home theater, and here are a few home theater ideas. You can pick some or all of these for your home theater.
Ready to start your
entertainment room

?Find Pros
Tear out the drywall and wire for surround sound. If the cost for this isn't in your budget, then you can just wire externally and hide the wires along the corners of the floor or where the wall meets the ceiling.
If you decide to remove the drywall for surround sound, it is a good idea to soundproof the room. Soundproofing is a good choice because the noise will not interrupt the rest of the house, and it will also further enhance the audio environment of the home theater.
An entertainment center is most likely key to a home theater, unless you are using a projection screen television. Here is a place where you can save a little money by using a prefab room addition entertainment center. If you are going all out, have a carpenter build a custom entertainment center to fit your room and your needs.
If the room is large enough, consider building a 9-12″ platform at the back of the room for stadium seating. This will allow you to seat more people, and make it feel like an actual theater.
Game Rooms, Wet Bars, & Home Gyms
Other popular uses for basements and spare rooms have been game rooms, and why not? Everyone loves games. Dartboards are a great, almost requisite choice, as are pool tables if you have the room to bring it in the house. Ping pong tables are great because most of the ones that are made anymore can be folded up and pushed up against a wall and out of the way.
If you choose to have a game room, this does not exclude the idea of having a wet bar, and it may in fact be a great complement to the game room. A wet bar is a great place to entertain, and house a mini fridge, a kegerator, and a liquor cabinet. This remodel is best suited for the basement just because of the amount of space required.
Of course, as much as we hate to admit it, the home gym is probably what we need the most. The great thing about a home gym addition is that most of the cost involved is the equipment you want to use. It will help to add a few mirrors to your home gym, maybe a television to watch while you are sweating away those extra pounds, and a rack to hang the weights. Other than that, a home gym remodel is a perfect entertainment room addition because it is low-cost and high-reward (when you actually use it).
Bathroom Additions
If you are doing an entertainment room addition, if you have room, add on a bathroom. Half baths are a great addition to entertainment rooms because your guests will not have to wander off or upstairs to use the bathroom. Half-baths are small and efficient and can be an excellent compliment to entertainment rooms of any flavor.
No Comments Yet