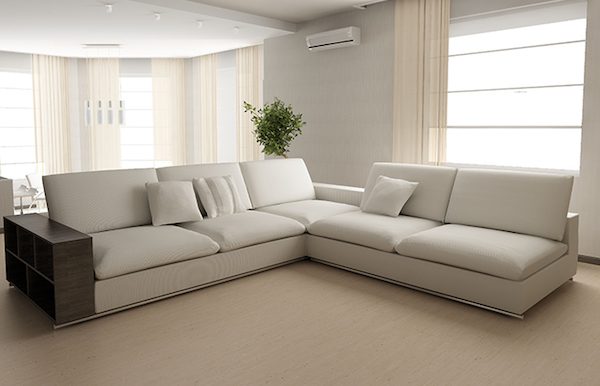 If you purchase a high-quality piece of furniture, fabric protection is something you should think about almost immediately. While some might feel that furniture fabric protection is unnecessary, the fact is, after spending hundreds (or even thousands!) on a recliner, sofa, or loveseat, it is worth the little bit extra to make sure that a spilled cup of coffee doesn't ruin your investment. Upholstery protection is not just for furniture, either. After buying new drapes, curtains, or a new rug, a small investment in protection could save you a bundle in replacement down the road.
Furniture Fabric Protection Products
Though you can still find them, the days when the clear plastic cushion cover was the hallmark of successful fabric protection are now over. Plastic covers are certainly effective, but if you want to truly get the comfort you paid for when you bought your furniture, fabric protection needs to be a bit less intrusive. Thankfully, upholstery protection is no longer left to the unattractive, uncomfortable plastic of decades past; today, furniture fabric protection is undetectable in sight, smell, and (most importantly) touch.
Most modern upholstery is found in liquid form. In many cases, that liquid is conveniently packaged in a spray bottle. Though plenty of upholstery protection products are available for do-it-yourself application, there are several advantages of hiring a pro to seal your furniture, soft flooring, and window dressing fabrics.
Professional Upholstery Protection Application
As with any other project around the house, the choice between doing a job yourself and hiring a pro to apply upholstery protection is based on two main factors: affordability and the quality of results. Since furniture fabric protection products are so easy to come by, many people assume that the difference in DIY and professional results is minor. This, however, is simply not true. Just as professional interior painting projects often produce better coverage and, ultimately, more polished looking walls, the experienced work of a professional can yield far more effective results than most homeowners are likely to get when it comes to upholstery protection.
The reason for the difference is two-fold: professionals are much more aware of which products work best on which fabrics, and they are also more skilled at applying these products in a manner that protects without changing the look or feel of the fabric underneath. The cost of hiring a professional to perform furniture fabric protection is obviously going to be higher than the cost of doing it yourself, but the cost of replacing a piece of furniture due to inadequate or improper application is definitely going to run you much more!
Furniture Fabric Protection Follow-Ups
Unlike those old plastic cushion covers, the nature of modern upholstery protection products is such that a few follow-up treatments may be necessary. Companies that specialize in applying these products are aware that the seal they create won't last forever, and they typically offer touch-up treatments to make sure that your furniture and other fabrics are guarded against future as well as current staining.
A custom program can be scheduled for your convenience, monitored throughout the year, and adjusted as needed to meet the specific needs of your home. Hiring a professional upholstery protection specialist usually goes something like this:
First, a representative analyzes your fabrics and your household use patterns, recommends the appropriate products, and presents a customized, written proposal.
Second, certified technicians clean surfaces as needed and apply the appropriate protective treatments at a time that is convenient for you.
Finally, they provide you with special cleaning and maintenance products picked especially for your fabrics and give you detailed instructions on how and when to use them so you can solve minor problems quickly and easily.
2 Comments