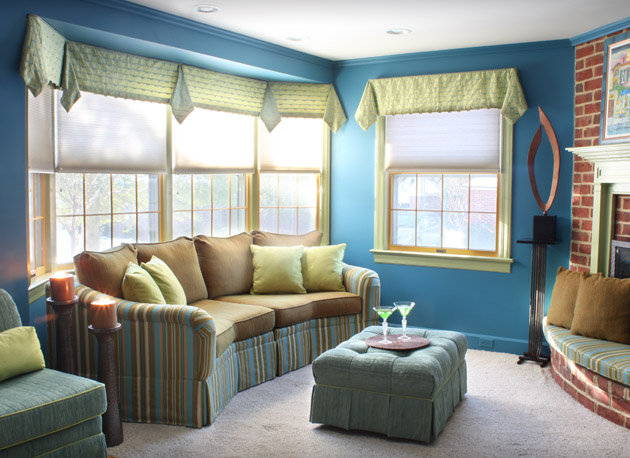 A lot of emphasis is placed on energy-efficient windows these days, so much so that many homeowners overlook the simple and effective advantages of installing green interior and exterior window treatments. When it comes to home energy efficiency and reducing energy bills, however, how you choose to cover your home's windows can make a big difference. In this guide, we'll give you some tips on what you can to do to improve home energy efficiency with well-chosen interior and exterior window treatments.
The Cost and Value of Green Window Treatments
Estimating the cost of your green window treatments is really a matter circumstance and the perspective you start with: If you were planning on a cheap set of venetian blinds from the local department store, you're probably going to pay a little more to go green than you initially budgeted for. If you were going to install quality window treatments in the first place, however, then you're unlikely to spend much more by going green than if you go a more conventional route. Of course, dollar and cents aren't always the best way to assess the value of going green. While green window treatments will keep your home cooler in the summer and warmer in the winter, reducing your energy costs year round, it's just as important to remember that investing in green window coverings is also an investment in a better, more sustainable world for generations to come.
Tips for Green Window Treatments
Install Exterior Blinds—Sunlight that gets through the window glass is going to heat up your home to some degree, even if you've installed heavy interior blinds, shades, or drapes. When it comes to keeping your home cool, exterior blinds are the best way to keep solar heat out during the dog days of summer.
Install Window Awnings or Overhangs—Window awnings and overhangs are another effective way to shade your windows and prevent heat gain during spring, summer, and fall. Awnings and overhangs are most effective when installed one to two feet above the window, and within thirty degrees of due south.
Install Light Colored Interior Blinds, Drapes, and Shades—Lighter colors reflect sunlight and heat away from your home instead of absorbing it and releasing it into your living spaces.
Install Louvered Shutters or Adjustable Blinds—Louvered shutters and adjustable blinds provide you with the most control when it comes to letting in maximum light and preventing unwanted heat gain.
Install Tight Fitting, Insulated Shades to Reduce Heating Costs—Window treatments aren't just beneficial during the summer. By installing tight fitting, insulated shades, you can prevent heat loss through windows in the winter, as well.
Shade Windows with Landscaping—Trees and shrubs aren't exactly window treatments, but by planting deciduous trees and bushes so that they naturally shade east and west facing windows, you can enjoy natural shade during the summer and natural heating power from the sun during winter months, after the leaves have dropped.
Final Thoughts for Green Window Treatments
Green window treatments are a smart choice for your pocketbook, your home, and the environment, but it's not unusual for homeowners to feel a little overwhelmed when presented with the full scope of green remodeling options. If you're feeling unsure about how green you're willing to go with your window treatments, there's no need to worry. Going green is not an all-or-nothing proposition, and any step you take in a green direction is a smart one. If you think green is the right choice for your new window treatments, talk with your contractor or interior designer about adopting a green remodeling philosophy, find a contractor who specializes in green building and remodeling, or seek out the services of a green consulting firm so that you can be sure your new window treatments are as green as they come.
No Comments Yet