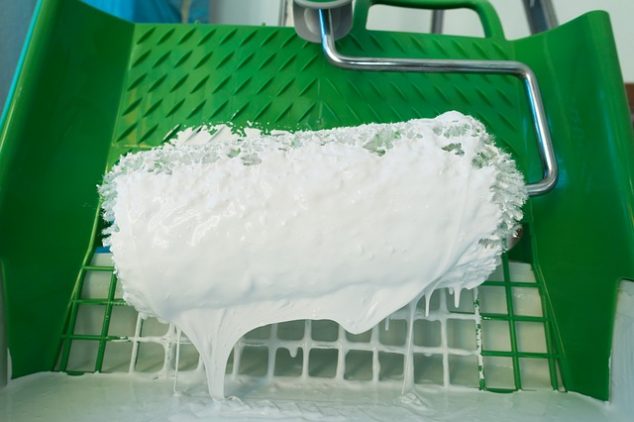 The kids had grown up and moved out, and it was time for Peggy Rambach to reclaim her house. She wanted to remove the wallpaper that adorned her 1910 colonial in Andover, Mass., and replace it with fresh paint to create clean-looking spaces.
As a writer and artist, Peggy wanted her home to reflect her creative nature and become a peaceful haven for both work and relaxation. She went online to find an artisan painter and discovered Renaissance Revival Painting of Montague, Mass., at HomeAdvisor.com.
As she spoke with co-owner Tracy lee Hall over the phone, Peggy was struck by Tracy's infectious enthusiasm and asked her to look at the house. During their initial meeting, Peggy described the Spanish-influenced yellow she wanted for the kitchen walls, paired with a rich blue for the cabinets. Tracy and her partner, Jeff Hardacker, put Peggy's vision into action. The kitchen turned out just as Peggy wanted, so she hired Renaissance Revival Painting to redo the rest of the house.
"They just created my vision and they were incredibly skilled and fast about doing it," she said. "Tracy and Jeff are young and excited about what they're doing, and they work together beautifully."
A whole-house renaissance
In addition to transforming the kitchen, these pros created a dining room reminiscent of 1920s Paris with painted stripes of turquoise, magenta, black and a peachy beige. In the basement, Jeff designed a mural of trees and flowers to reflect Peggy's backyard garden, devising a calming oasis that complements the bamboo floors. Tracy rearranged the living room furniture to emphasize the fireplace and painted the walls a dark peach. The space is so much more inviting that Peggy said she uses the room more frequently now.
Clients who hire Renaissance Revival Painting benefit from Tracy's and Jeff's formal training in sculpture, illustration and painting. In addition to their technical ability in faux painting and murals, the partners also help customers with color selection, space planning and furniture placement. Tracy and Jeff also make it a priority to communicate well with clients.
Good listeners
"We listen to each other — that's the biggest thing," Tracy said. "I say, 'Don't be afraid to tell me how you feel.'"
Peggy enjoyed collaborating with Tracy and Jeff, and she's enormously pleased with their work.
"The house is stunning," she said. "Each room has a feel that goes along with what should be happening in that room. It's conducive to creativity and calm, and it's comforting and beautiful."
Need to find a pro for your painting project?
Find Pros
---
No Comments Yet
You can be the first to comment!