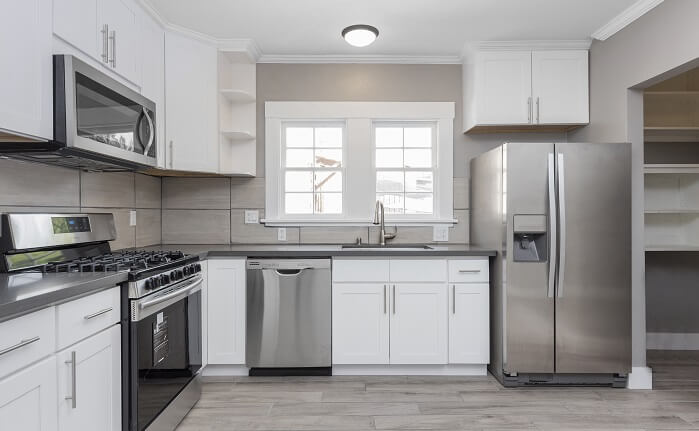 Stainless steel offers a sleek look to your appliances, but it can show smudges and fingerprints quite easily. Whether you hire a professional cleaner to remove imperfections or choose to tackle the job yourself, make sure to keep these tips in mind.
How to Clean Stainless Steel Appliances
Wipe down all surfaces with a rag or sponge and a mixture of warm water and everyday dish detergent.
Dry all the surfaces.
Using a commercial stainless steel cleaning product to reduce fingerprints and restore shine, wipe in the direction of the grain in the steel for a sleek final appearance.
Wipe clean.
Tip: Hiring a local cleaning professional to maintain your stainless steel cleaning can help save you time and ensure that the job is done right.
Tips for Cleaning Stainless Steel Refrigerators
When washing with water and detergent, focus underneath the handles of the fridge as well as the water dispenser.
Wipe away any visible spots or stains with white wine vinegar.
Use a soft rag and commercial stainless steel cleaning solution to wipe down.
Tips for Cleaning Stainless Steel Sinks
Sprinkle baking soda liberally over the entire surface of the sink and let sit for up to 20 minutes.
Use a soft toothbrush to scrub the surface.
Rinse away the solution with cold water.
Mix a paste of baking soda and lemon juice to clear away stubborn stains and follow the same steps.
How to Polish Stainless Steel Appliances
If the tips mentioned aren't getting that brand-new shine and luster that you want from your stainless steel appliances, then polishing the material might be the best option. Most professional cleaners will be able to take care of this for you as part of a maid service, which you may be able to find for as little as $100.
No Comments Yet