Every quarter, HomeAdvisor and The Farnsworth Group conduct a survey to track business confidence among thousands of trade professionals and small businesses in 13 different categories.
The responses vary from quarter to quarter, and the questions span from "How do you expect your revenue to change over the next year?" to "What type of impact will labor costs have on your business over the next year?"
In the most recent survey, the results of one particular question struck me as eye-catching.
More than 50 percent of all companies have seen an increase in their average revenue per project. This share is even higher — above 60 percent — among mechanical contractors, meaning more and larger-sized plumbing, electrical and HVAC jobs.
Driving the increase in mechanical work – or rather, work done on the infrastructure of the home — is a combination of homeowners catching up on deferred maintenance, a dramatic increase in spending on "lifestyle improvements" and even aging in place modifications.
Bathroom and kitchen makeovers often involve more extensive plumbing work, while electricians are kept busy by the demand for more luxurious or automated lighting, programmable thermostats and smart technologies just starting to catch on.
Plus, many of the homeowners that had been fixing an aging HVAC unit to keep it going are now starting to swap it out for a new one.
What are Homeowners Spending* on Home Improvements in This Category?
They range from a few hundred dollars for basic repairs and upgrades to high four-digit projects.
Cost to Hire an Electrician: $316
Hire a Plumber: $302
Repair an Air Conditioner: $336
Install a New Furnace: $4,193
Install a New Central Air Conditioning Unit: $5,329
Remodel a Bathroom: $9,574
Remodel a Kitchen: $21,892
*All costs are attributed to HomeAdvisor's True Cost Guide.
Why Industry Sentiment Across All Business Categories is Extremely Strong
The home improvement industry has rapidly grown since the bottom of the housing cycle – and the results of the most recent HomeAdvisor Farnwsorth Index indicates that it's set to rise even faster over the next twelve months than during the last year.
When asked how confident business owners about their company' ability to get new business in the next six months, and the average answer was nearly a nine out of ten. More than half of the respondents reported a ten out of ten — and that was before Hurricanes Harvey and Irma sent demand through the roof.
What's more, Home Depot just revealed the impact from recent storms incurred an additional $282 million in sales.
 
The surge in homeowner equity has empowered homeowners to tackle bigger projects, catch up on remodels they may have put off, and indulge in improvements that are just nice to have. And, higher levels of homeowner equity have made it easier for people to get access to home equity loans and lines of credit.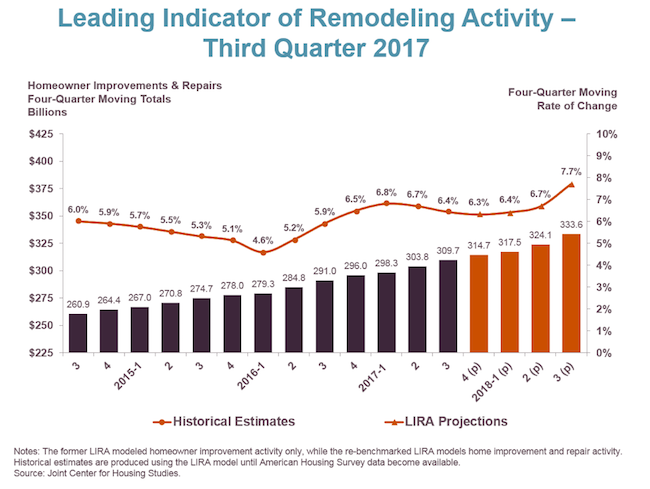 Brad's Bottom Line
This is all part of a virtuous cycle that is still pushing the levels of an already $400 billion industry even higher. The Harvard Joint Center for Housing Studies predicts annual gains in home renovation and repair spending will increase from 6.3 percent in the fourth quarter of 2017, to 7.7 percent by the third quarter of next year.
No Comments Yet