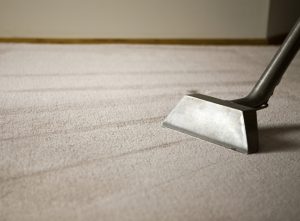 The carpet in your home takes a lot of abuse, suffering through trampling, spills, and plenty of dirt throughout the course of a year. When it comes time to clean the carpet — either with a professional carpet cleaning service or a as a DIY project — using harsh chemicals might not be a very good solution for preserving the carpet, the environment, and your own personal health. For those reasons many people today are turning to greener alternatives for carpet cleaning. Here are some of the benefits that green carpet cleaning can have for your family, your home and the earth.
Fewer Toxins Released into the Environment
Harsh chemicals that are used in carpet cleaning often have a significant negative impact on the environment. During the carpet cleaning chemicals are released into the air (the same air you and your family will have to breathe after the carpet cleaners are gone), and after they are used to clean up the spots on your carpet, these chemicals are poured, dumped, or rinsed down the drain where they can be potentially harmful to the water supply.
The majority of traditional carpet cleaning mixtures use a long list of harsh chemicals in order to lift the stains of your everyday life out of the carpet. While it can leave you with clean and shiny carpet, the price that the environment pays for the toxins left behind can be steep. Greener or more earth-friendly alternatives often include ingredients that are nontoxic and biodegradable. In addition, these products often come in packaging that is recyclable to reduce landfill waste.

Better Health for Your Family
Another side effect of chemical carpet cleaning is the potential impact on the health of you and your family. The use of a cocktail of noxious chemicals inside the enclosed space of your home can often lead to significant problems, particularly for babies, toddlers, and pets—who spend the most time breathing near the carpet—and for those who already suffer from respiratory illness. Some of the most common symptoms people suffer after breathing in carpet cleaning chemicals include:
Sneezing
Coughing and congestion
Headaches or migraines
Asthma attacks
Nose, lung, and eye irritation
Nausea and fatigue
To compound the problem, unless you purchased carpeting made entirely of organic materials (which is pretty uncommon in most traditional residential construction), your carpet is made up of synthetic fibers and materials that could interact with carpet cleaning chemicals to detrimental effect. Some of the most common chemicals found in both carpets and cleaners include acid, acetone, formaldehyde, pesticides, disinfectants, and more.
Carpet cleaners that have these dangerous chemicals often leave a concentrated vapor of toxins in the air that you and your family are breathing. Even letting the carpet "dry" or "air out" for a short period of time will not eliminate these toxic fumes entirely.
Less Water Waste
Another environmental impact of traditional carpet cleaning that many people don't consider is wasted water. Many "green" carpet cleaning methods today use significantly less water in the process of cleaning. This has a few different benefits:
First, using less water means there is less water wasted or thrown away after the carpet is clean.
Second, less wasted water reduces the potential that the hazardous chemicals found in carpet cleaning compounds will be dumped or poured into the water supply, where they can impact the whole community.
Finally, reducing the volume of water in carpet cleaning means that carpets can dry much faster (sometimes in as little as four hours), getting your family back into your home sooner, and limiting the opportunity for mold and mildew growth.
Longer Carpet Life
Many traditional chemical cleaners can also reduce the beauty and useful life of your carpets. Mixing harsh chemicals with the synthetic materials in your carpet may lead to visible problems like yellow or brownish coloring in the carpet, but it can also have an unseen consequence for your flooring. As the chemicals come in contact with the carpet fibers they can break it down and cause it to deteriorate prematurely. With the high cost of removing existing and installing new carpet, it makes sense to use a cleaner that will prolong the life of your flooring rather than break it down and cause it to wear out sooner.

How to Find the Best Green Carpet Cleaning Materials
Green carpet cleaning supplies are available both from professional cleaners and do-it-yourself stores. If you're planning to hire a carpet cleaning company, ask them about the cleaners they use and if you're concerned about whether or not they are organic, get a list of ingredients. Talk to the company about their process and policies for using chemical cleaners, and select carpet cleaners that put your family's health and the environment first.
If you're planning to do your own carpet cleaning, search for products that have a list of ingredients that you recognize and can pronounce. Often these cleaners are odor-free and will advertise the certified organic ingredients inside. If you are not sure about a product, take some time to research the ingredients and how it's made before you purchase it for use in your home. Another important consideration is the container that the cleaner comes in. Choose organic cleaners sold in recyclable packaging to further reduce the environmental impact of your carpet cleaning.
Many people are increasingly concerned with the volume of chemicals that we are exposed to in our day-to-day life. Fortunately you don't have to suffer through stained and soiled carpet just because you don't want to use harsh chemicals on your floors. If you're worried about the impact that traditional carpet cleaning might have on the environment and on your own personal health, look for green solutions that can provide you with the clean home you want and have minimal impact on your health and the health of the environment.
Carpet cleaning might seem like a very small part of an overall environmental strategy, but as more and more people begin to change their behaviors and use sustainable materials in all different aspects of life, these small changes can collectively benefit the health of the planet and the health of the people living here.

3 Comments