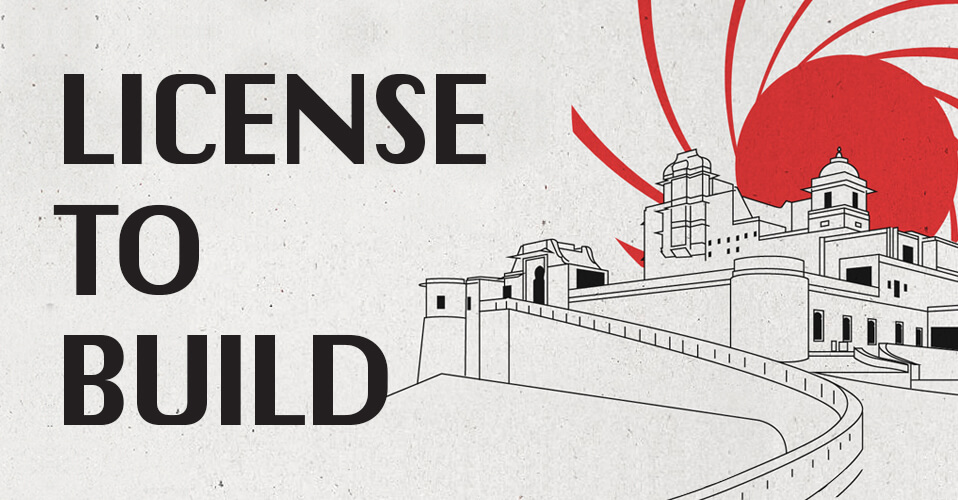 Few franchises have influenced American culture like "James Bond" has—and that includes architecture. Manicured estates, Prairie-style house plans and well-furnished lodges provide more than incredible film sets and backdrops for the movies. They spark inspiration and are easier to imitate on your own property than you might think.
Below, you'll find 50 essential buildings from the franchise immortalized by artist Leonie Wharton. This minimalist poster explores Bond's architectural history and imagines how you might bring some of 007 home.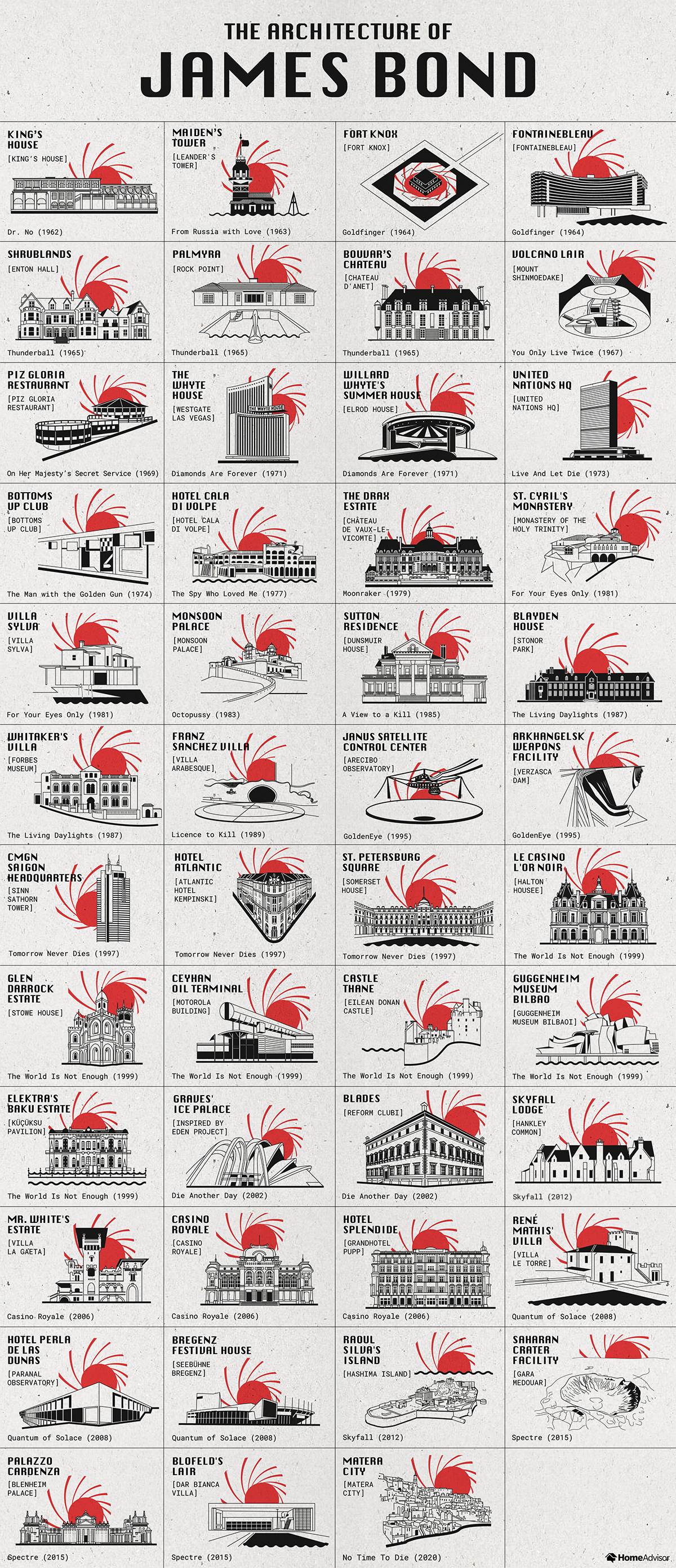 King's House (Dr. No, 1962)
"Richmond Road is the 'best' road in all Jamaica," writes Ian Fleming at the start of "Dr. No." "The 'best' people live in its big old-fashioned houses, each in an acre or two of beautiful lawn set, too trimly, with the finest trees and flowers from the Botanical Gardens at Hope."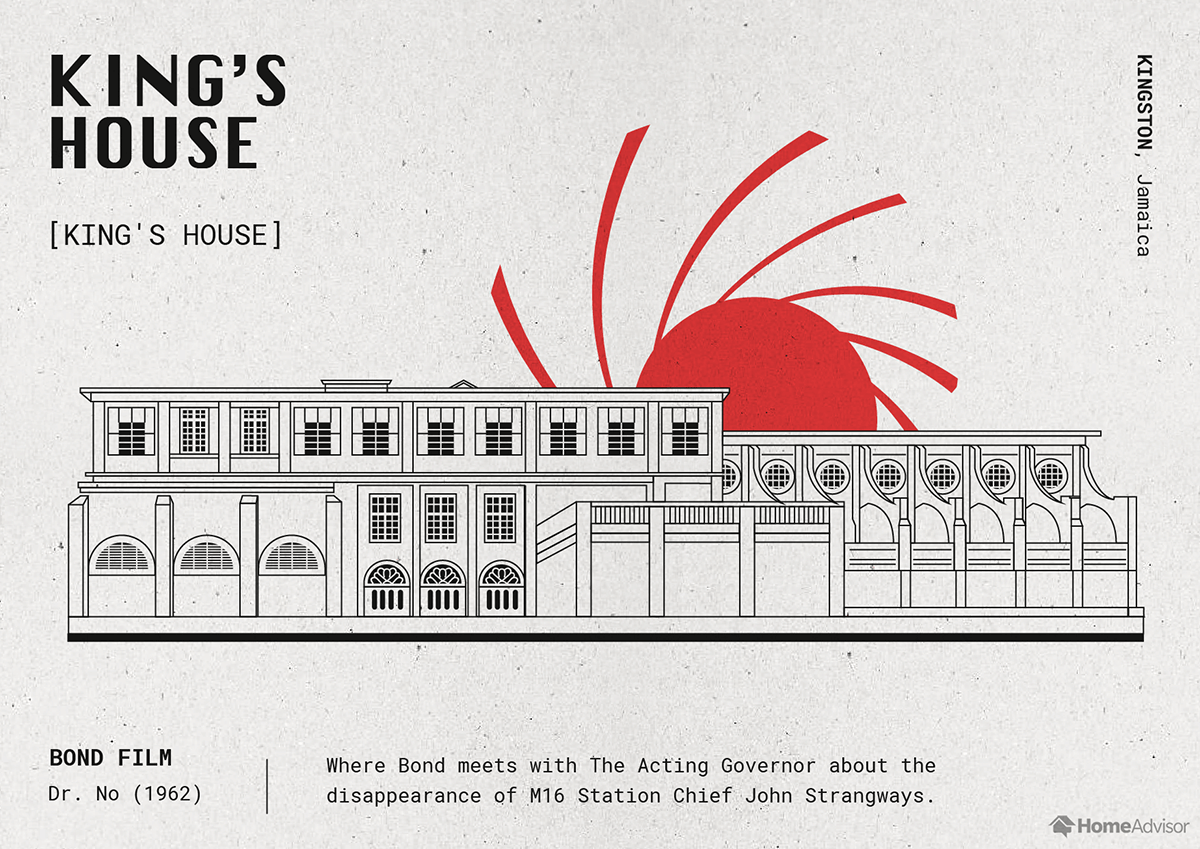 Luckily, you don't need several acres to create an outdoor oasis. A landscape designer near you can help transform even a small space to your liking, and it's simple to find and hire a gardener who can choose and nurture plants that bring the area to life.
Maiden's Tower (From Russia with Love, 1963)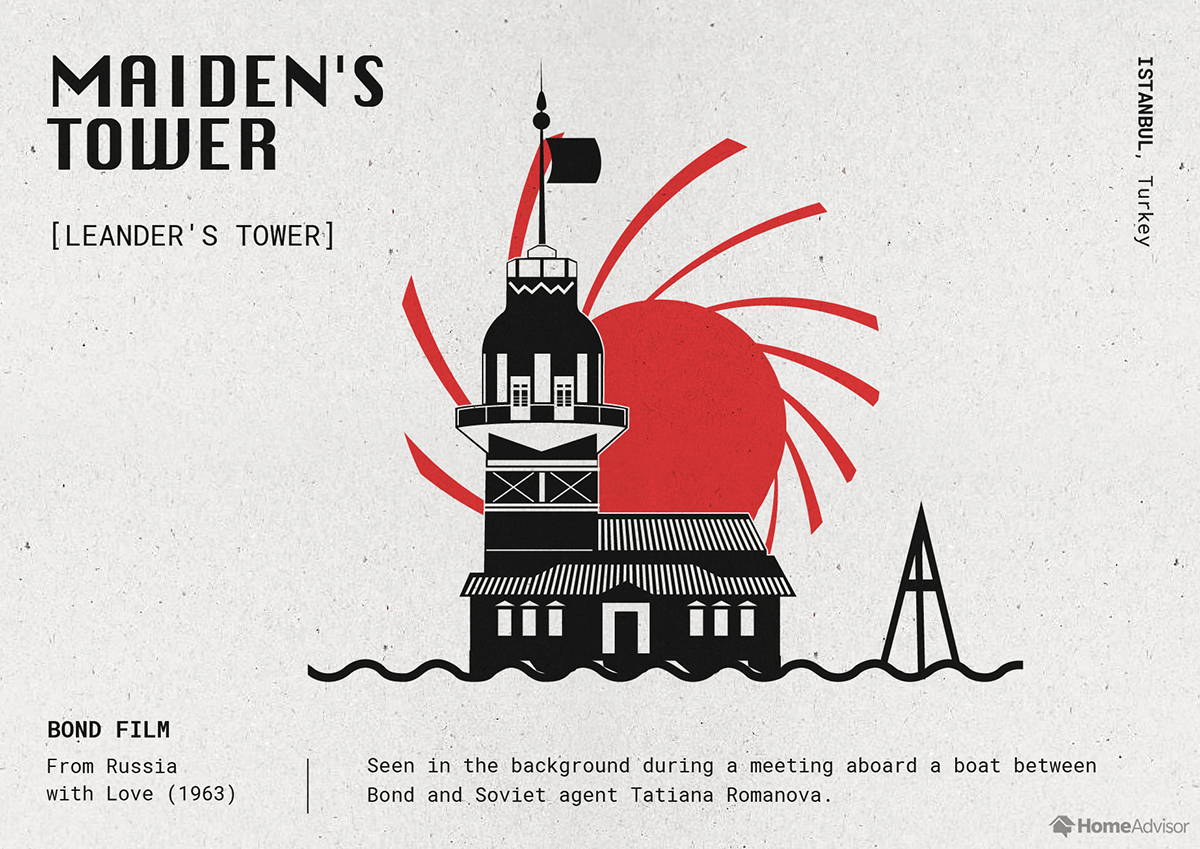 One of the oldest structures in our poster set dates back over 2,000 years. However, it has faced its share of peril over the years, including earthquakes, invasions and fires. The tower appears in the background of "Bond #2," but became a leading location as Elektra King's Turkish lair in "The World Is Not Enough."
Fort Knox (Goldfinger, 1964)
Ian Fleming wrote the Fort Knox Bullion Depository into "Goldfinger." It holds 147.3 million ounces of gold, and boasts a whopping 16,500 cubic feet of granite.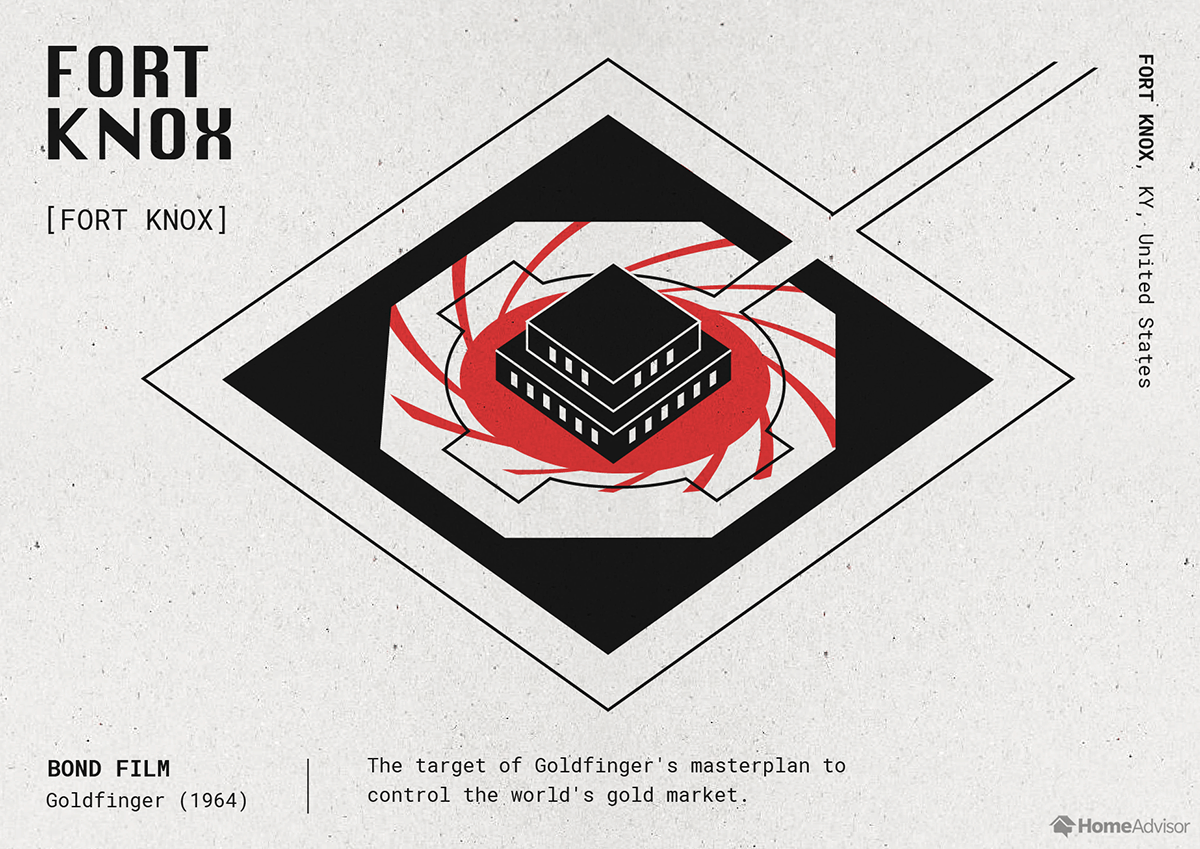 For a warm, natural look in your kitchen that borrows from Bond, consider gold granite countertops. The cost to install or replace countertops usually starts at $1,900.
Fontainebleau (Goldfinger, 1964)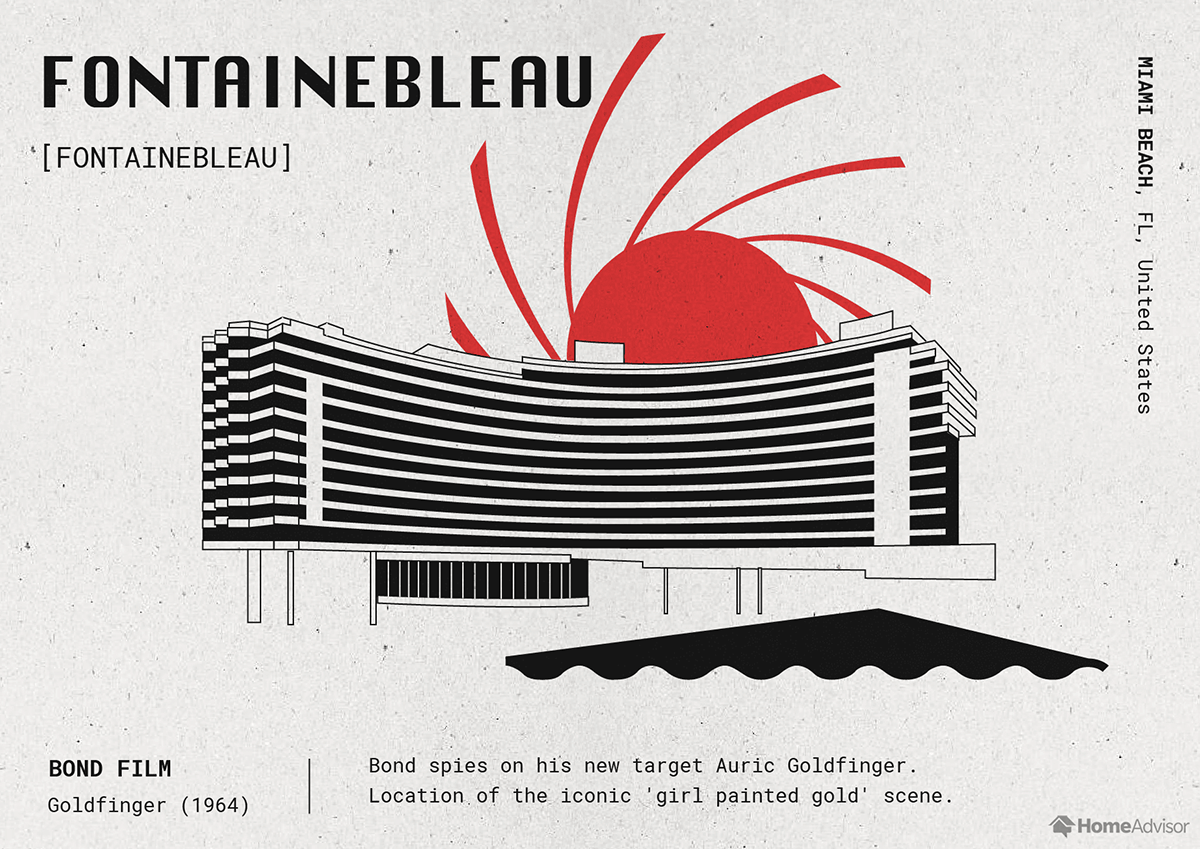 Fontainebleau was Miami Beach's most luxurious hotel when it opened in 1954. Bond meets his CIA ally Felix Leiter by the pool of the neo-baroque resort. In a villainous real-life twist, the manager later erected a 14-story extension to block the sun from a neighboring hotel pool.
Shrublands (Thunderball, 1965)
This Georgian mansion played the part of a health spa in "Thunderball" and its unofficial remake, Never Say Never Again (1983). Bond starts the film recuperating from his previous mission, but notices a fellow patient happens to be a SPECTRE operative.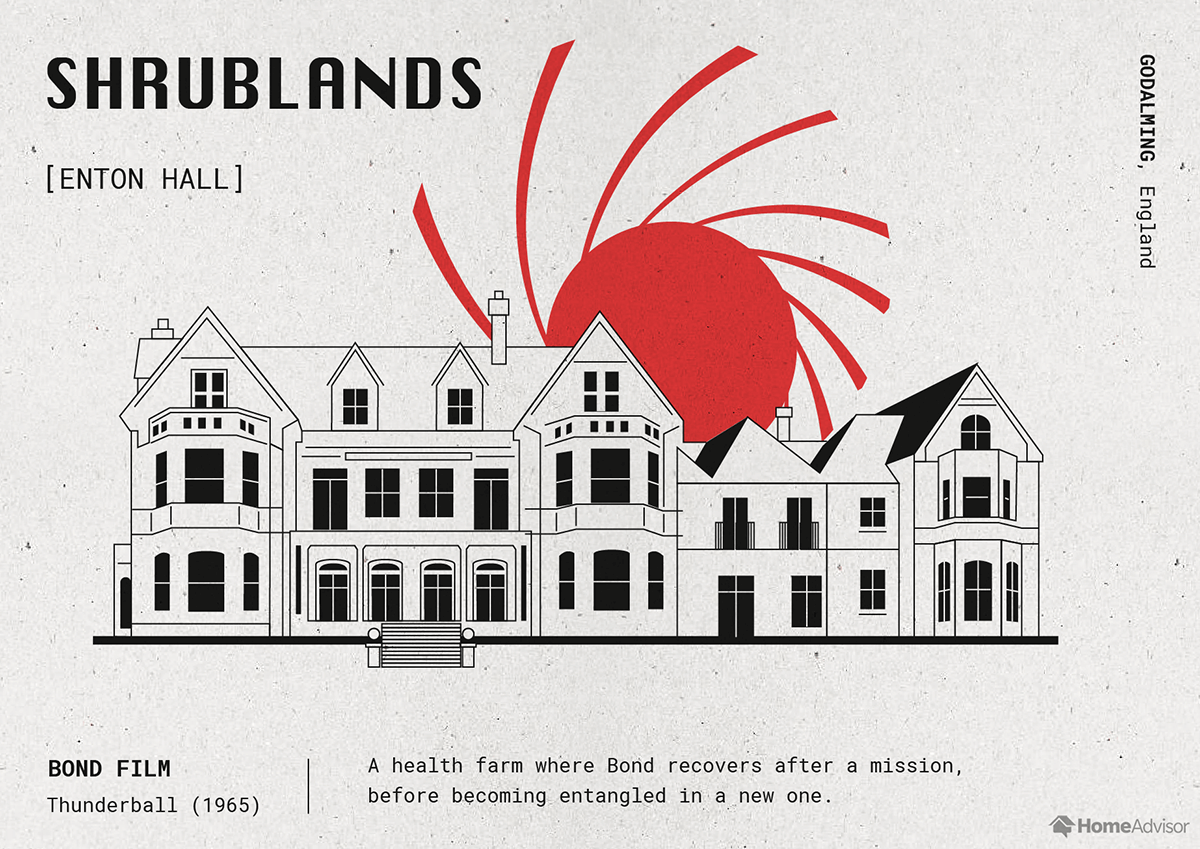 Even if you don't have a sprawling estate, a lawn maintenance and mowing service near you can help emulate Shrublands' pristine landscape in your own yard.
Palmyra (Thunderball, 1965)
"Thunderball" villain Emilio Largo resides in a Bahamian villa named Palmyra. It is played in the film by a place called Rock Point, owned by a millionaire couple from Philadelphia, Pennsylvania. The villa is perhaps most infamous for its shark-infested swimming pool.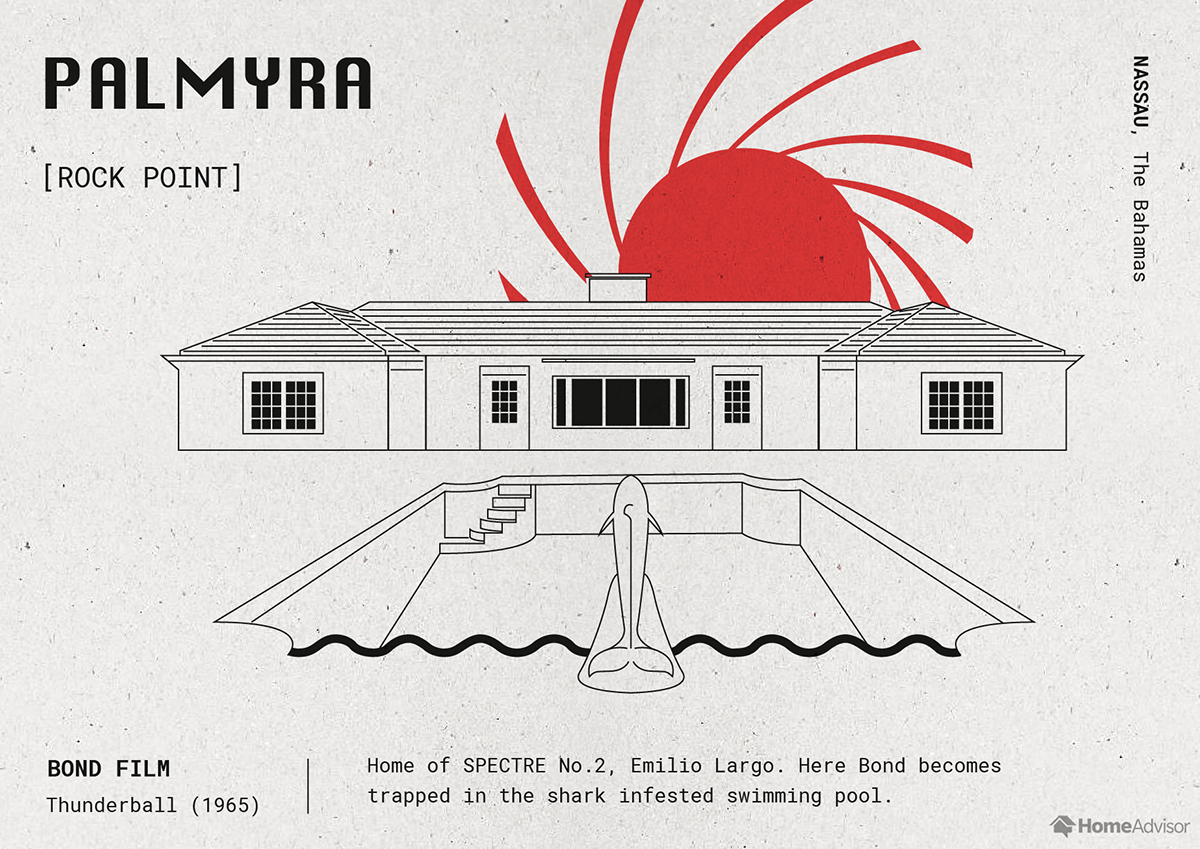 You can get the look and feel – without the sharks – by installing a salt water swimming pool. Generally speaking, salt water pools cost a little more than chlorine pools to install, but less to maintain over time.
Bouvar's Chateau (Thunderball, 1965)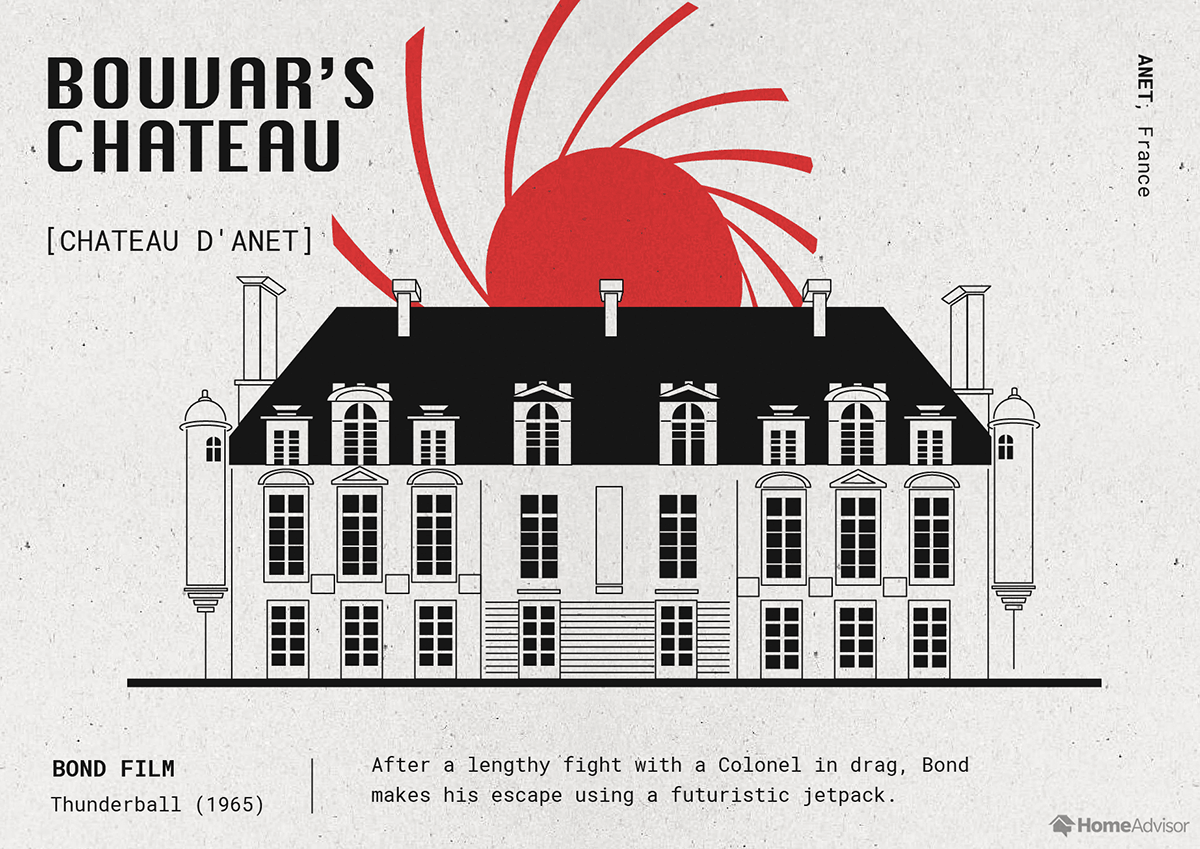 The real Bouvar's Chateau is Château d'Anet in Northern France. The chateau is from the 14th century, and appears in the pre-title sequence of "Thunderball".
Volcano Lair (You Only Live Twice, 1967)
An extinct volcano became the villain's lair and launch site for SPECTRE's Bird One spacecraft in "Bond #5." The exterior was filmed at Mount Shinmoe-dake on Kyūshū, the southern island of Japan. The interior was designed by regular Bond designer Ken Adam and built at Pinewood Studios at a cost of $1 million.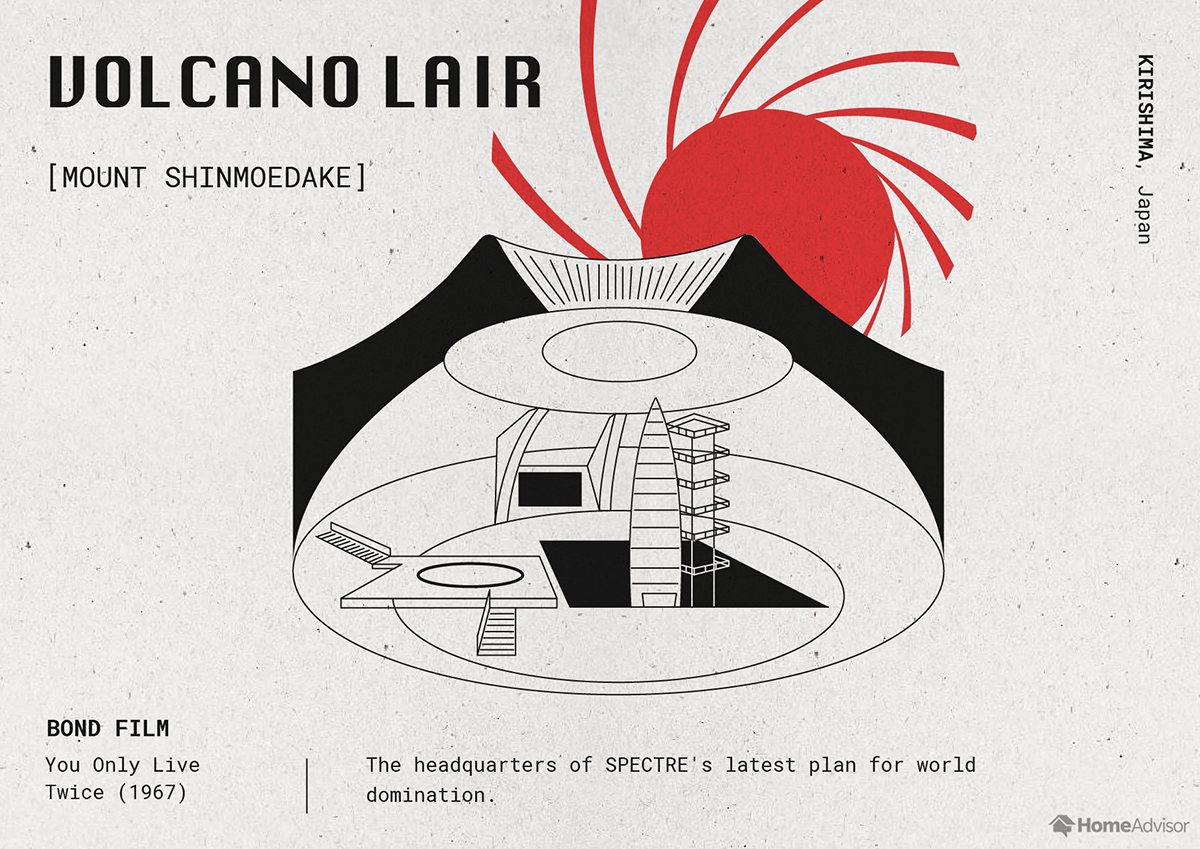 For most homeowners, the cost to hire an interior designer averages about $6,500.
Piz Gloria Restaurant (On Her Majesty's Secret Service, 1969)
Ernst Stavro Blofeld's mountaintop lair is actually a revolving restaurant at the Schilthorn summit in the Bernese Alps of Switzerland. The building was incomplete when the movie's producers found it, and they financed its completion in return for exclusive filming rights. The real restaurant later kept the name Piz Gloria from Ian Fleming's story.
The Whyte House (Diamonds Are Forever, 1971)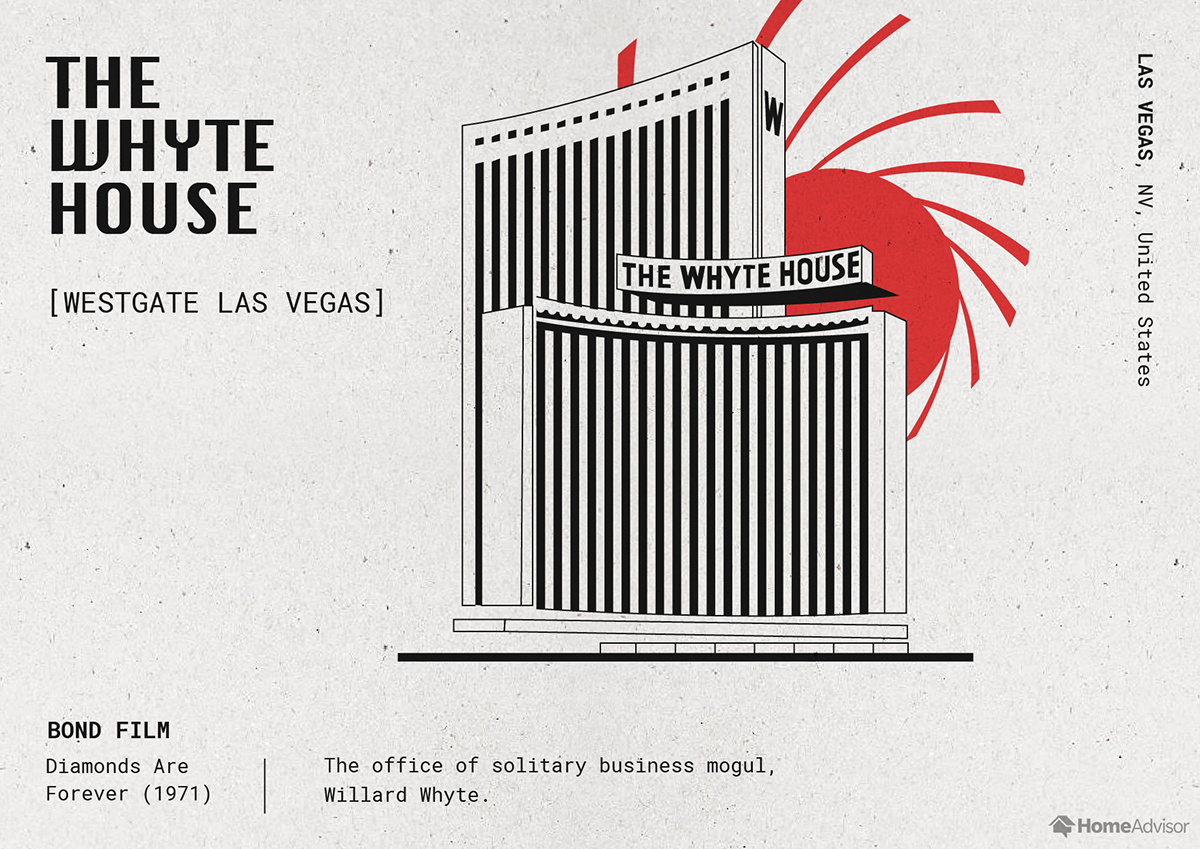 The industrialist Willard Whyte was inspired by real-life recluse Howard Hughes. Like Hughes, Whyte resides in a hotel penthouse: the International Hotel in Vegas (now the Westgate). The tall building at the back was added in post-production to make the complex seem bigger.
Willard Whyte's Summer House (Diamonds Are Forever, 1971)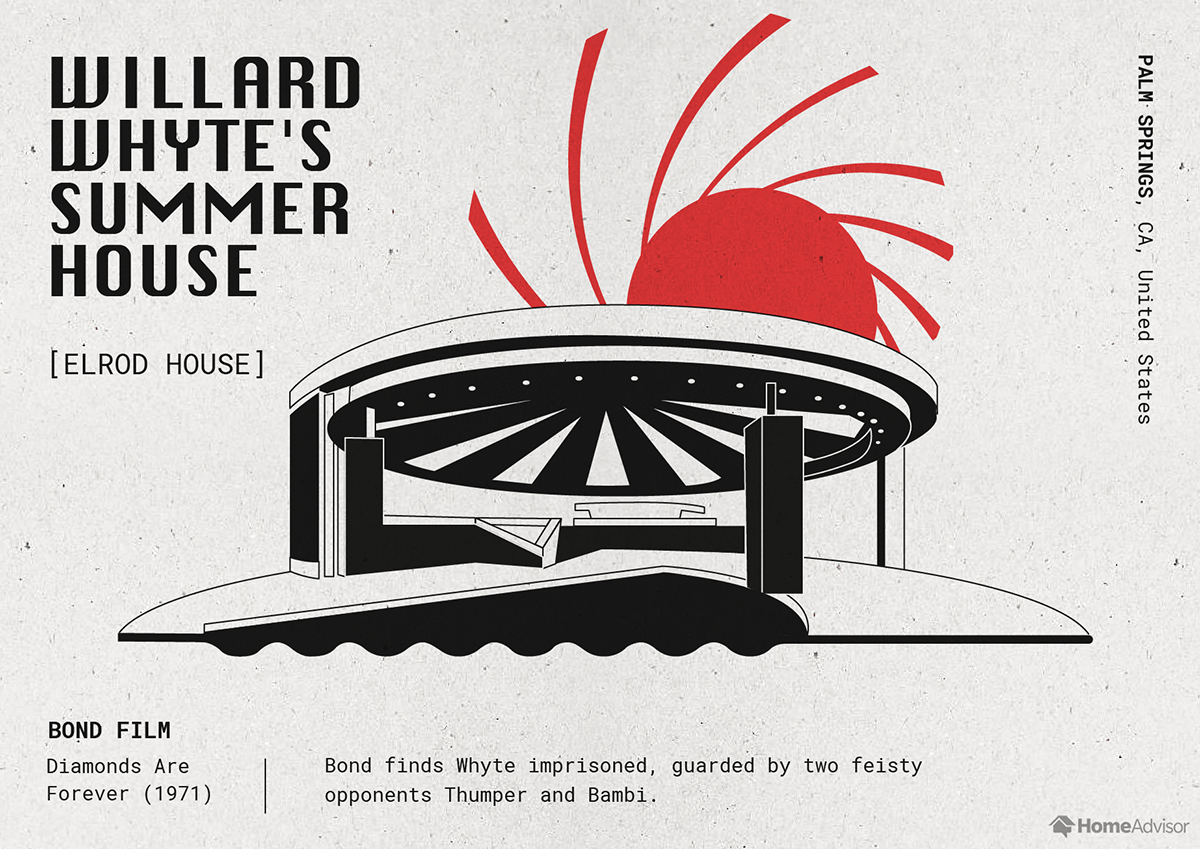 Bond is held against his will by Blofeld's cronies in this famous Palm Springs home. The Elrod House is an extraordinary modernist statement, incorporating rock formations from the hill on which it was built by celebrated architect John Lautner in 1968. The interiors were designed by Arthur Elrod, who commissioned the home.
UN HQ (Live And Let Die, 1973)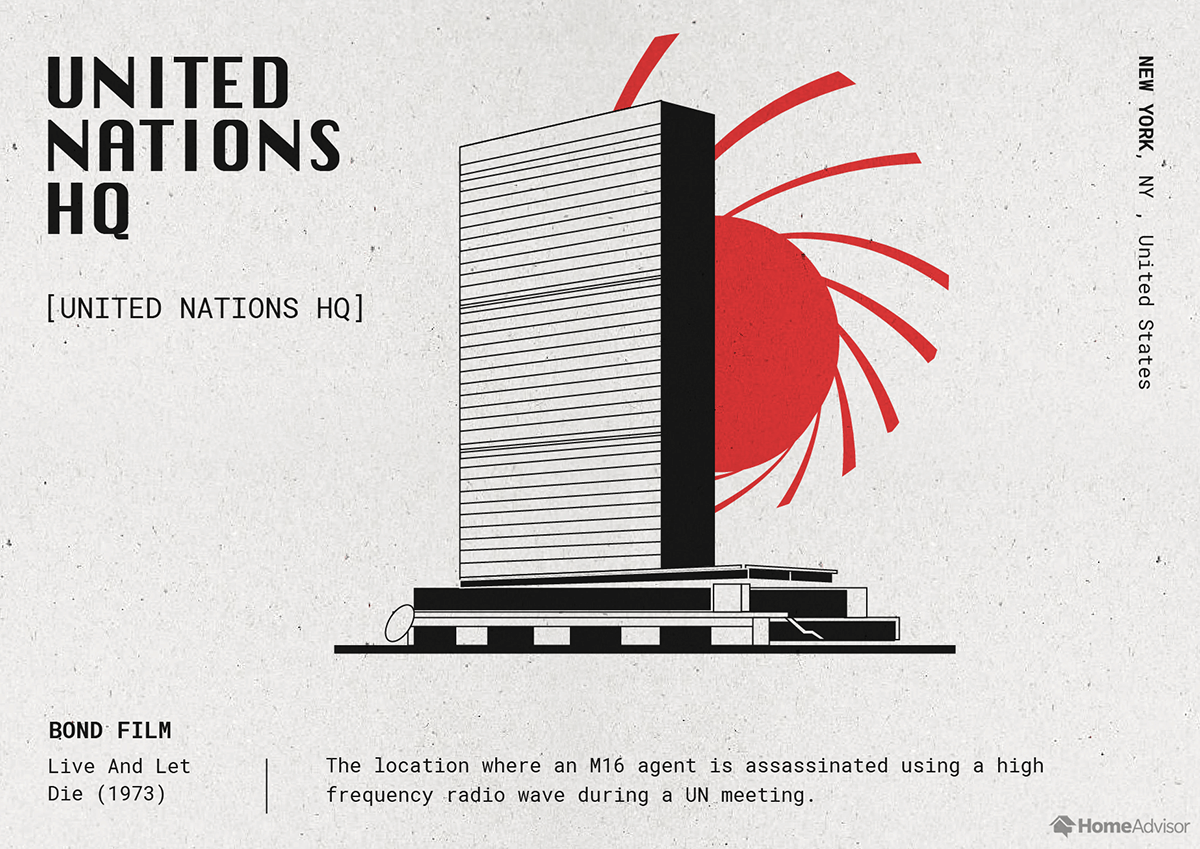 The headquarters of the United Nations were built by the Harrison & Abramovitz firm in New York. Bond is drawn here when a fellow agent is killed in the building through the use of a weaponized headphone translator headset. Harrison & Abramovitz are also responsible for the CIA's Original Headquarters Building.
Bottoms Up Club (The Man with the Golden Gun, 1974)
This real-life strip-club on the Kowloon side of Hong Kong was the scene of a murder and more in "Bond #9." The club ultimately became one of Hong Kong's oldest bars before shutting down in 2009.
Hotel Cala di Volpe (The Spy Who Loved Me, 1977)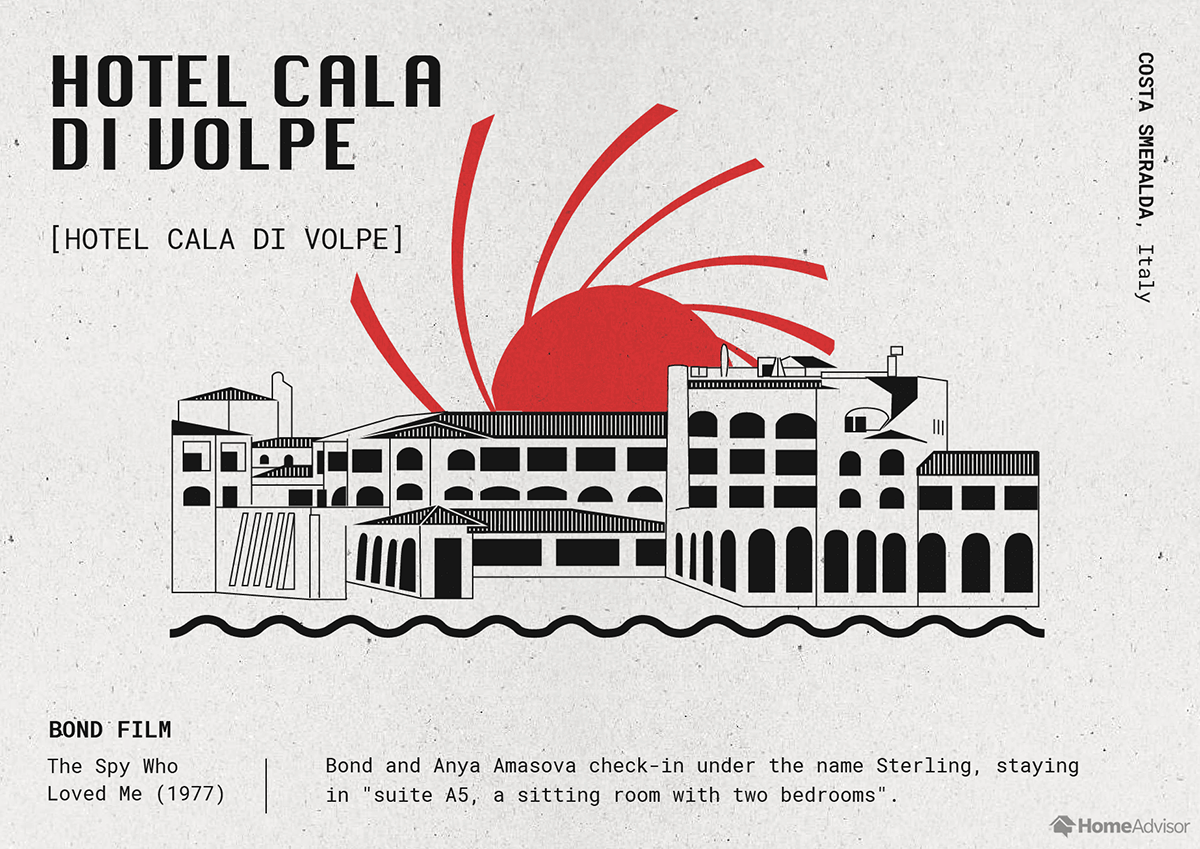 Architect Jacques Couëlle designed this hotel to resemble "an ancient Mediterranean fishing village – a private compound of interconnecting terracotta rooftops, turrets, porticoes and terraces abloom with bougainvillea." Roger Moore's Bond checks into "suite A5, a sitting room with two bedrooms" with Anya Amasova. Suite A5 was in fact made up in the hotel's bar, so you needn't spend hundreds of dollars a night to stare at Roger Moore's ceiling.
The Drax Estate (Moonraker, 1979)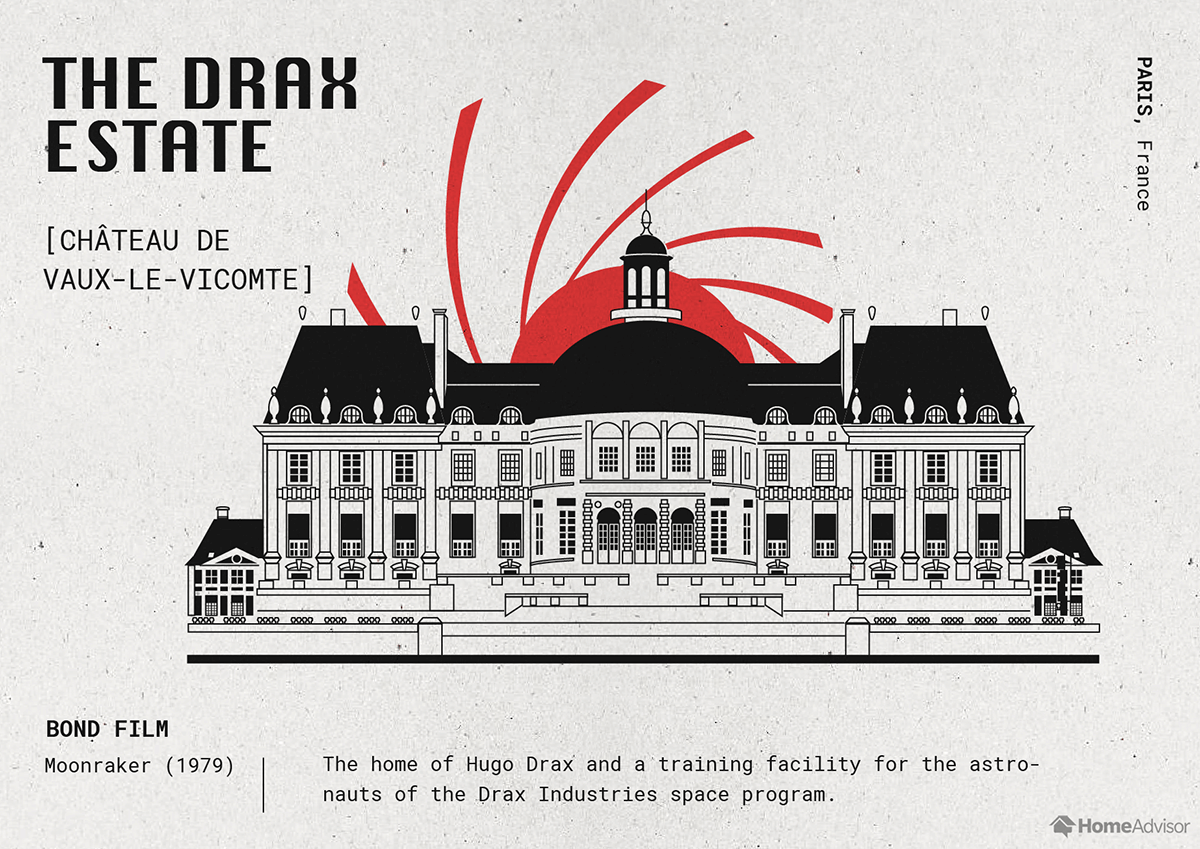 In the movie, billionaire space shuttle magnate Hugo Drax lives on a French estate shipped brick-by-brick to California. To save money, the team filmed the exteriors at the 17th-century baroque Château de Vaux-le-Vicomte, outside Paris, France. The building's architect, Louis Le Vau, is most famous for his work on the Palace of Versailles.
St. Cyril's Monastery (For Your Eyes Only, 1981)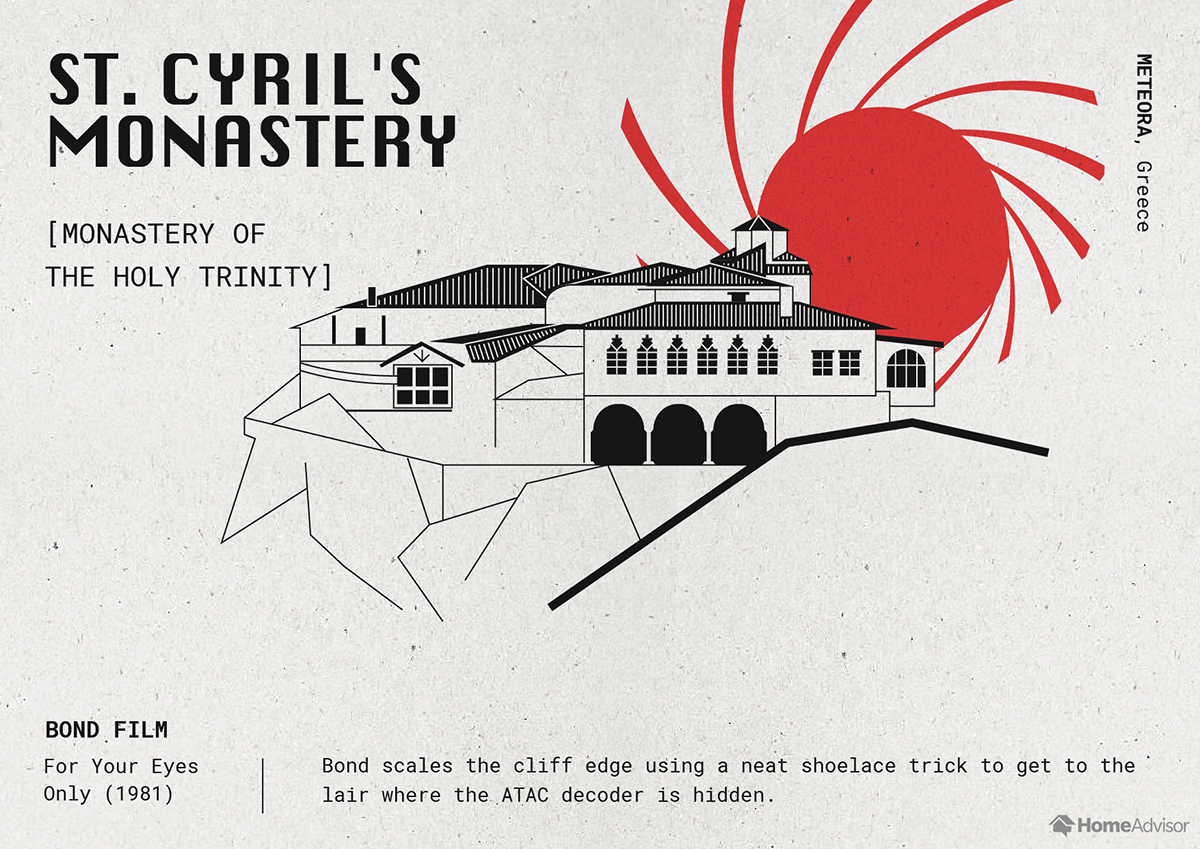 The Meteora Monasteries sit atop a rock formation in central Greece, and are one of the rare Bond locations to be on the UNESCO World Heritage List. The Monastery of the Holy Trinity was built in the mid-15th-century atop a sheer cliff that is climbed by Roger Moore's stunt double, in search of villain Aris Kristatos and the stolen ATAC system.
Villa Sylva (For Your Eyes Only, 1981)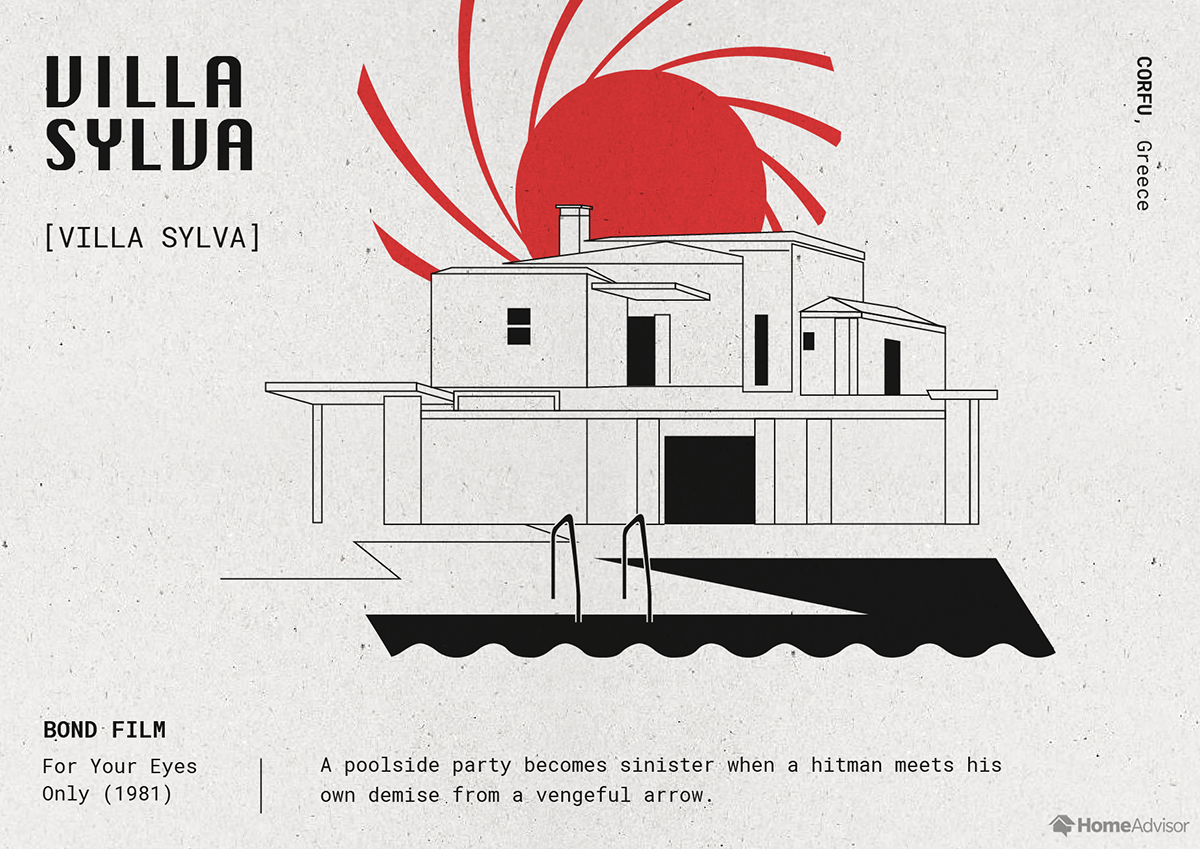 Villa Sylva is a luxury beachfront vacation rental villa and wedding venue in Corfu, Greece –but in "For Your Eyes Only," it plays its namesake in Madrid. Bond comes here on the tail of the Cuban hitman Gonzales, but is beaten to the chase by Melina Havelock and her crossbow.
Monsoon Palace (Octopussy, 1983)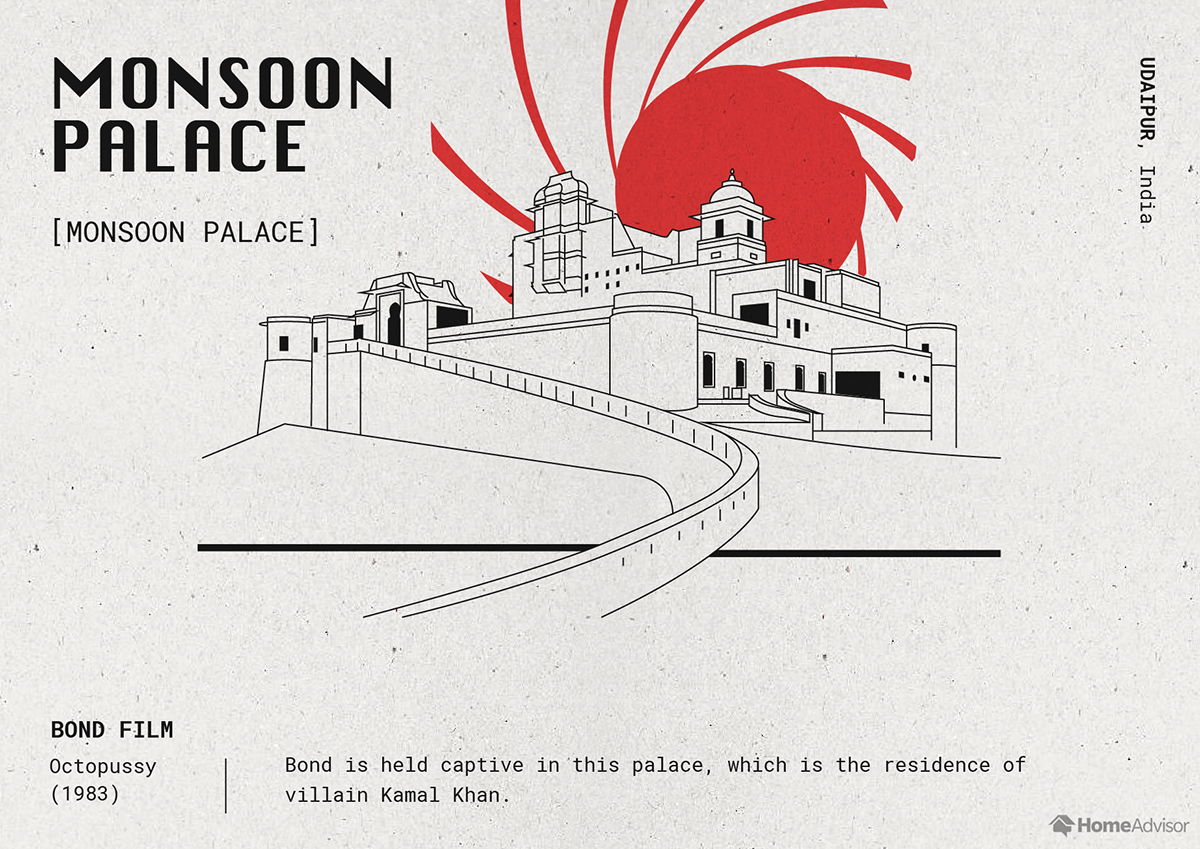 The Monsoon Palace is Kamal Khan's home-in-exile and the location where Bond is famously served a stuffed sheep's head. The home was built in Udaipur, Rajasthan in India in 1884 as a resort for the royals, as well as to watch and track monsoon clouds around the area.
Sutton Residence (A View to a Kill, 1985)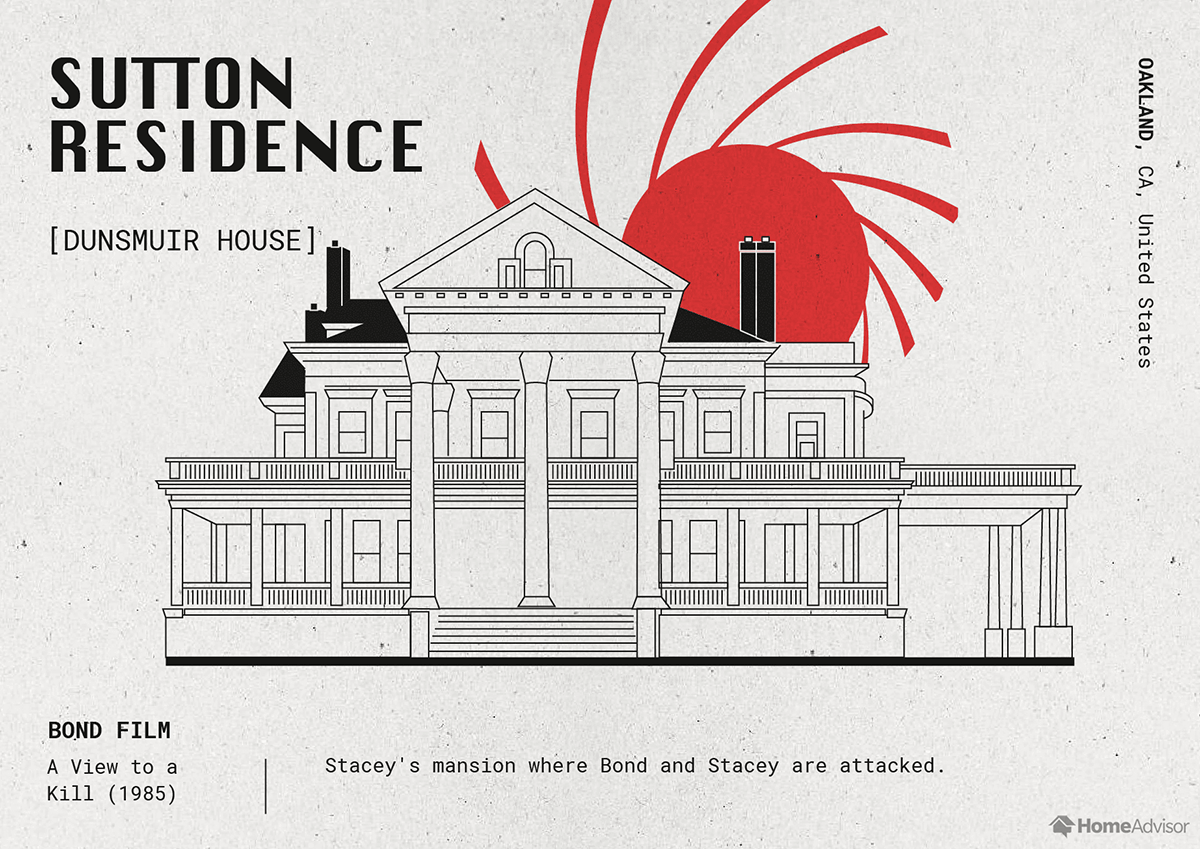 This neoclassical-revival style manor is the home of geologist and Bond girl Stacey Sutton. Bond rescues Sutton from Max Zorin's cronies. The house is almost bare by this point – Sutton having sold off the family furniture to fight her legal battle against Zorin.
Blayden House (The Living Daylights, 1987)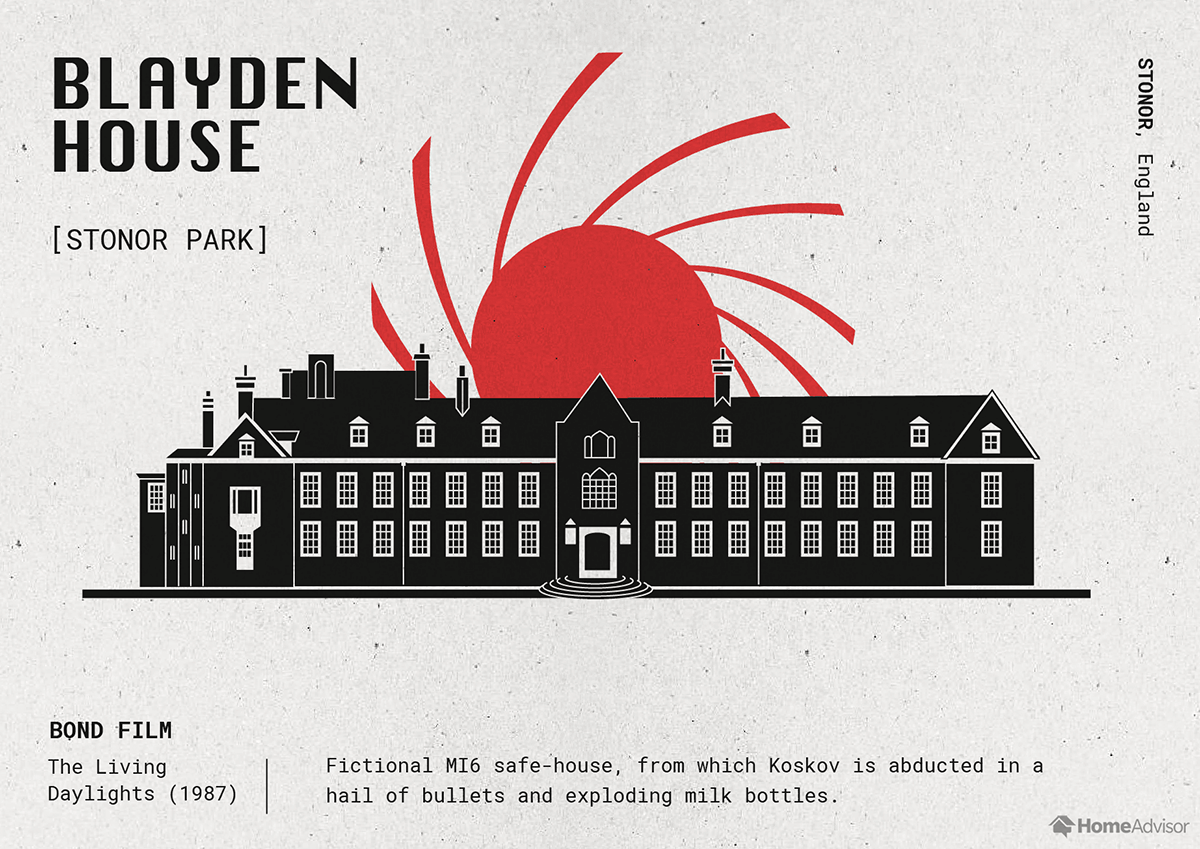 Stonor Park is an 850-year-old residence, although work on the house probably began around 1280. Georgi Koskov's henchman Necros disguises himself as a milkman to access the house to abduct and liberate Koskov.
Whitaker's Villa (The Living Daylights, 1987)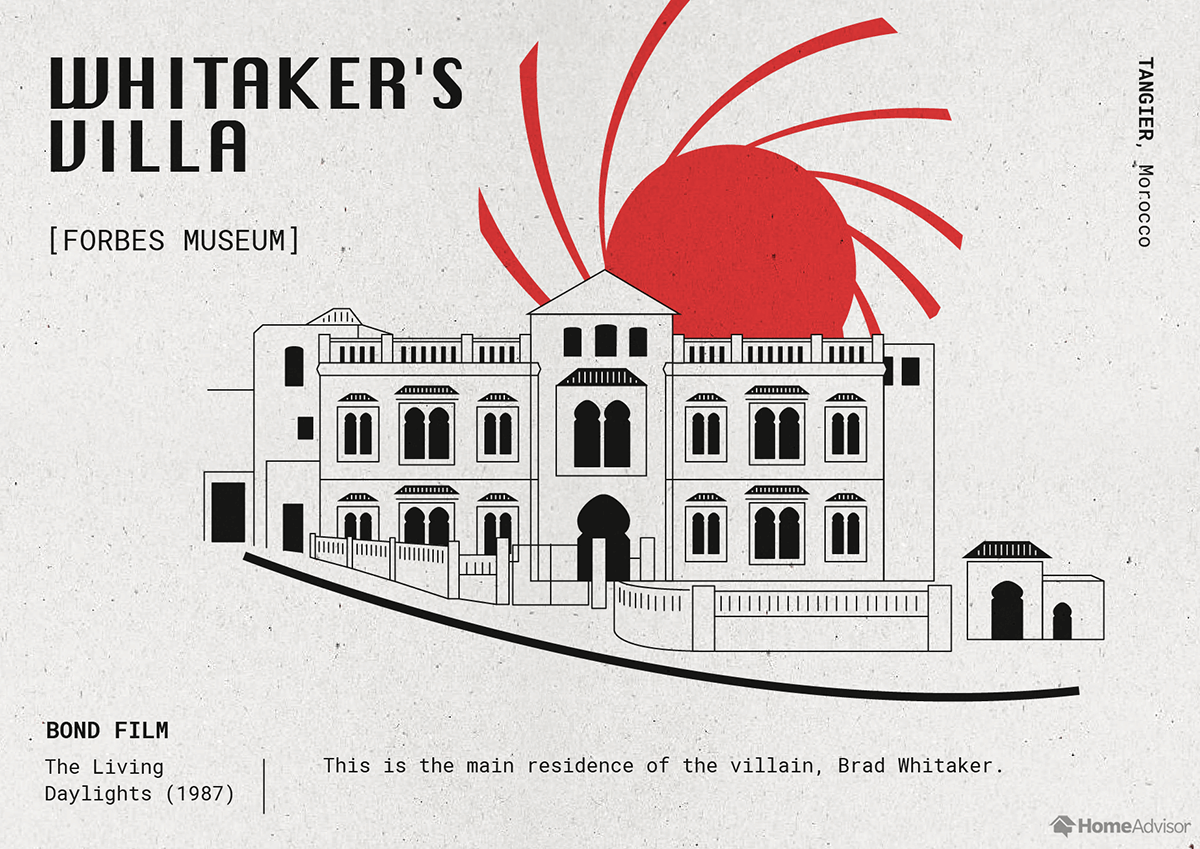 Mohammed Tazi built Dar al-Mandub in 1929. It was bought in 1970 by billionaire Malcom Forbes as a museum for his 100,000+ collection of toy soldiers. In "The Living Daylights," the building plays billionaire Brad Whitaker's villa – containing life-size sculptures of history's "great military commanders" – they were actually despots and genocidal leaders.
Franz Sanchez Villa (Licence to Kill, 1989)
The Arabesque was the home of the real-life Baron & Baroness di Portanova, flamboyant socialites who held legendary parties here throughout the 1980s. In "Bond #16," it is the home of drug baron Franz Sanchez.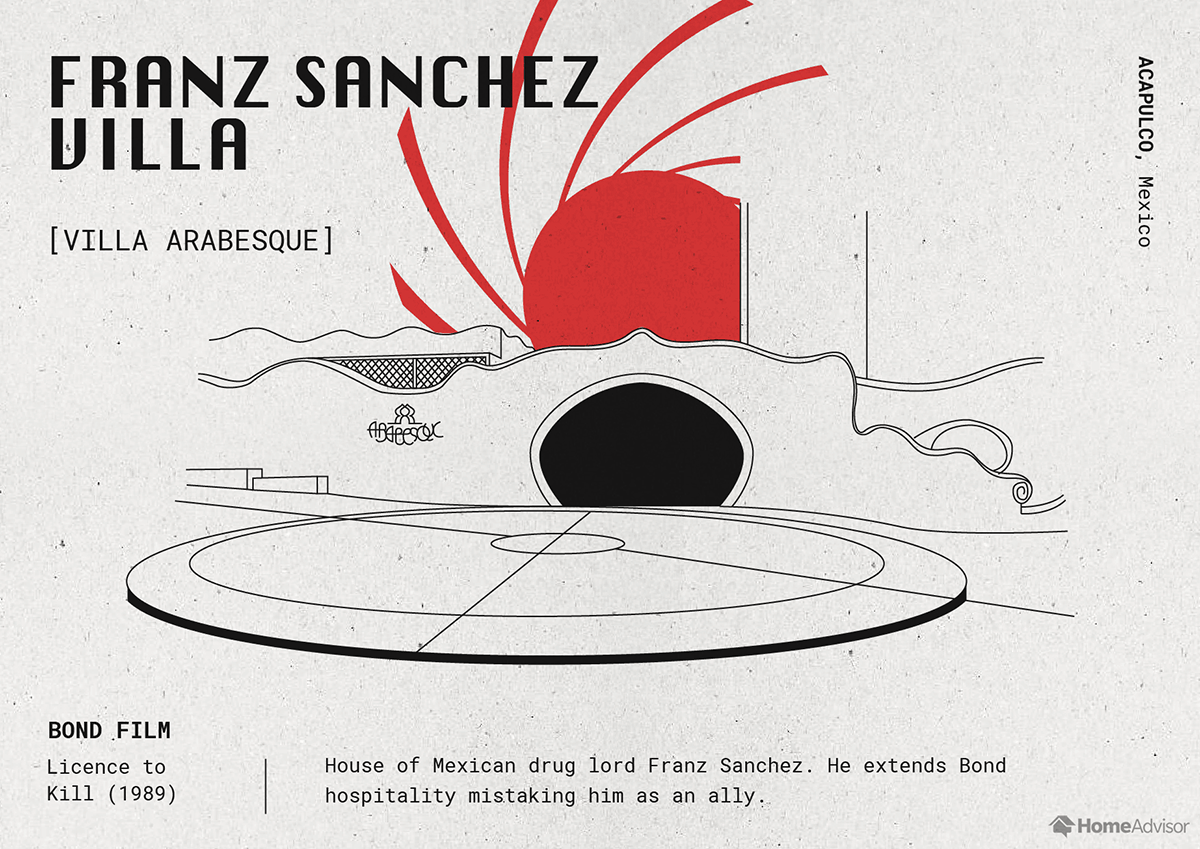 Notably, the villa boasts jaw-dropping infinity pools. Costs start at $55,000 for installation – without a doubt the most luxurious option if you're thinking about getting a pool.
Janus Satellite Control Center (GoldenEye, 1995)
"GoldenEye" was the first Bond film to use CGI. Some of the shots of the enormous Arecibo radio telescope are real, some are green-screened, and some made with miniatures in the studio. The real-life observatory is in Puerto Rico, but Bond and Natalya Simonova discover its fictional counterpart hidden beneath a lake in Cuba.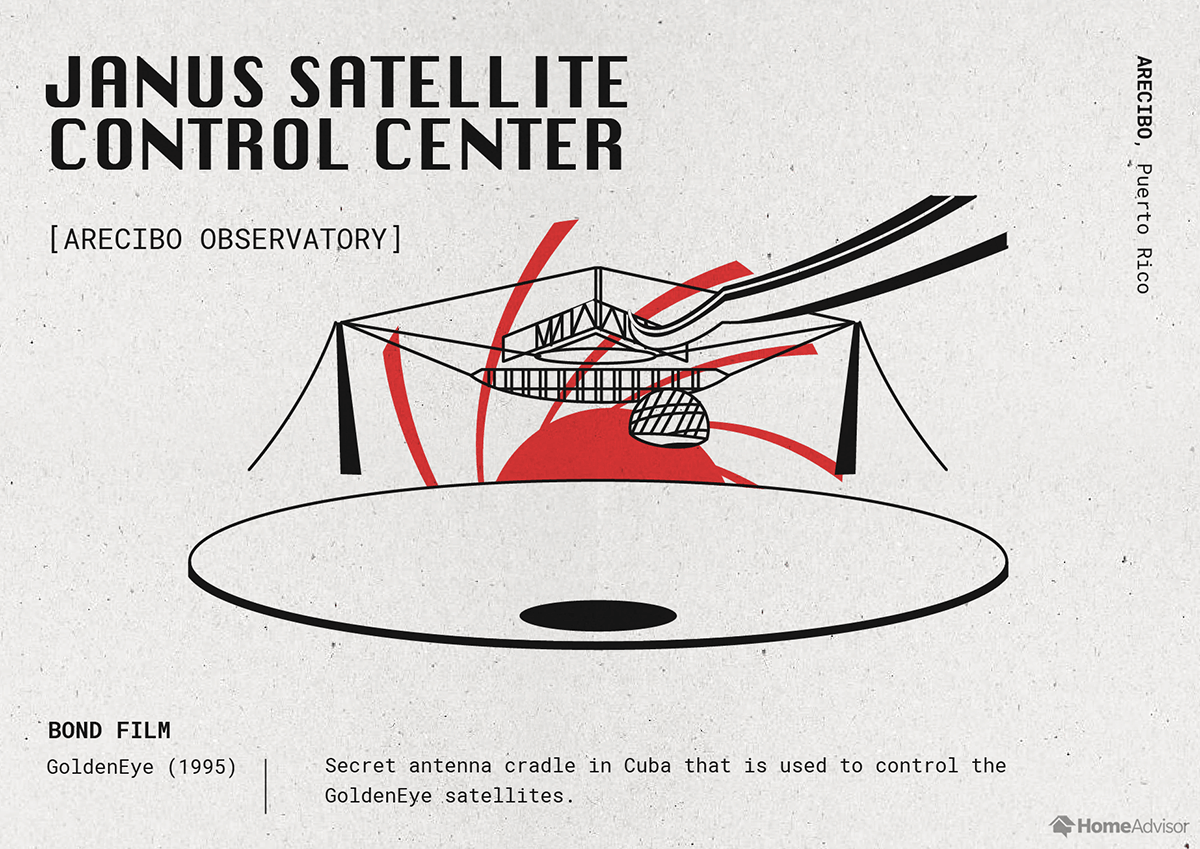 Sadly, the telescope's 900-ton receiver platform collapsed into the reflector dish in November 2020, and the observatory now faces closure.
Arkhangelsk Weapons Facility (GoldenEye, 1995)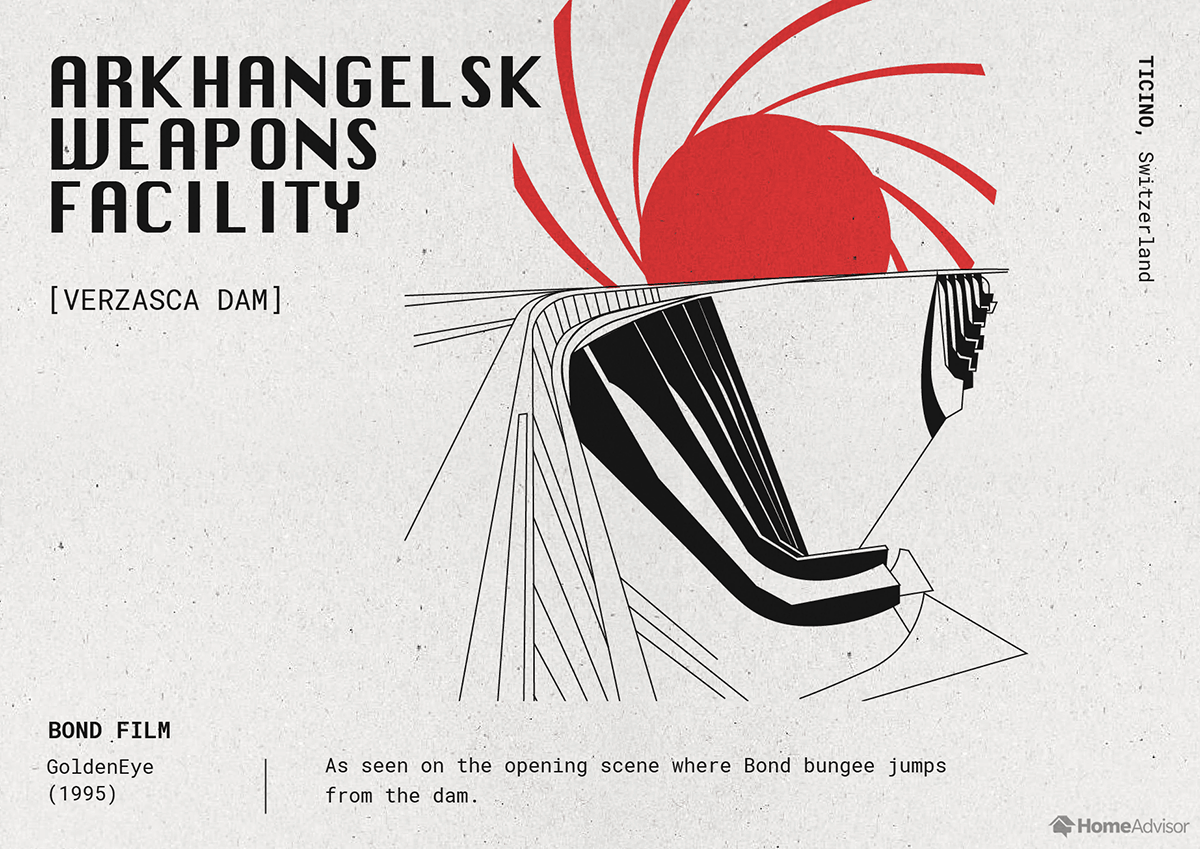 Pierce Brosnan bungee jumped into the role of Bond down the 220m-high Verzasca Dam in Ticino, Switzerland. Fans can follow in his foolhardy footsteps today. The dam was constructed in the early 1960s as the hub of the Verzasca Hydroelectric Complex. Wouldn't that make a good Bond movie name?
CMGN Saigon Headquarters (Tomorrow Never Dies, 1997)
Bangkok's Sinn Sathorn Tower is the 195-meter tower that Bond and Wai Lin descend in "Tomorrow Never Dies." The building was completed in a postmodern style in 1993.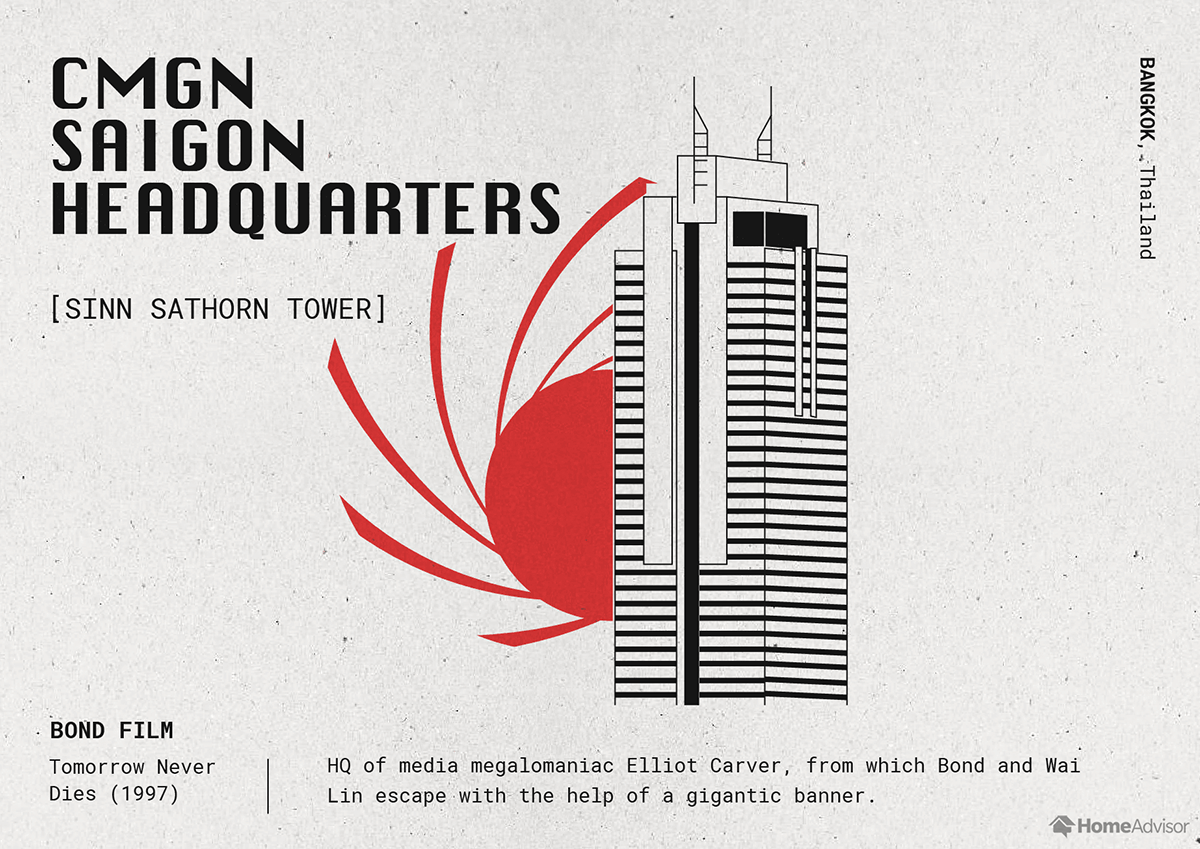 If you like the look of postmodern style, it's not difficult to incorporate it into your living room's interior design.
Hotel Atlantic (Tomorrow Never Dies, 1997)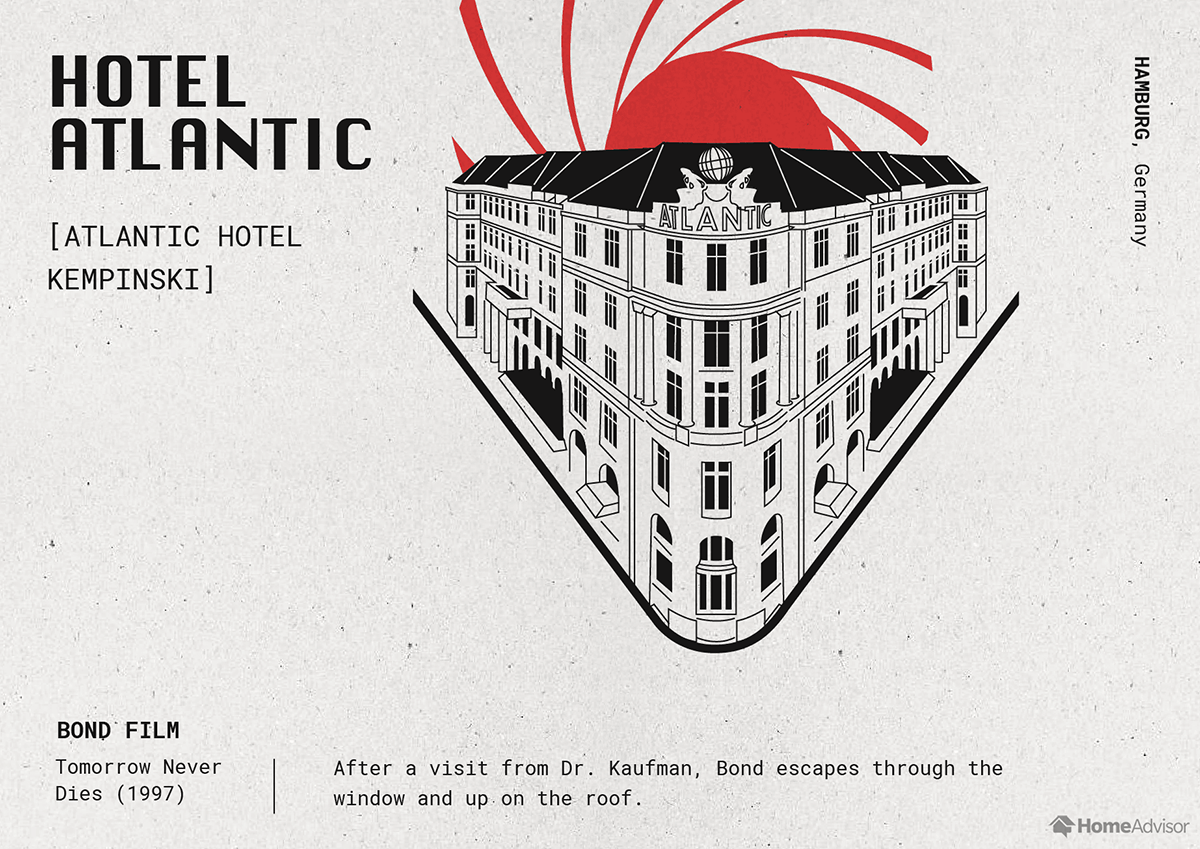 The Hotel Atlantic Kempinski opened in 1909 on the banks of Lake Alster in Hamburg, at a cost of 14 million gold marks. Real-life guests include Henry Kissinger and Neil Armstrong. While the interiors were shot in the U.K., Bond's escape up the façade to the roof of the Atlantic is unmistakable.
St. Petersburg Square (Tomorrow Never Dies, 1997)
Like Maud Adams, Somerset Square has played two different named roles in Bond: St. Petersburg square in "GoldenEye" and now MI6 HQ for "Tomorrow Never Dies." The Georgian neoclassical building underwent construction in 1776 as a public building for government and other offices. Today it is an arts center populated with filmmaker and artist studios.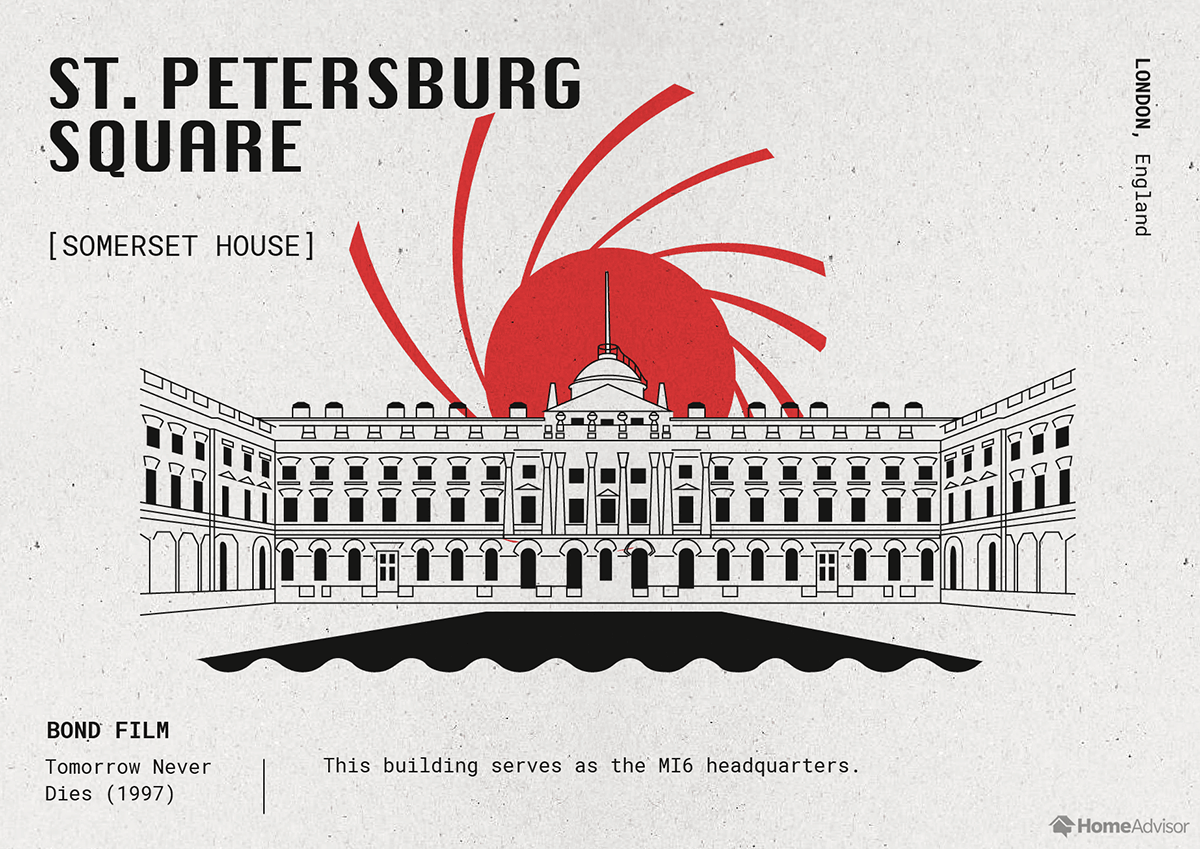 If you like the neoclassical look, consider other traditional home ideas and photos to help you incorporate the style into your space.
Le Casino L'Or Noir (The World Is Not Enough, 1999)
Le Casino L'Or Noir (The Casino of Black Gold) was filmed at Halton House in Buckinghamshire, England. The house was completed for Alfred de Rothschild in 1883 in the 'le goût Rothschild'-style – a term made up to fit the building. The interiors and exteriors doubled for Valentin Zukovsky's casino in "The World Is Not Enough."
Glen Darrock Estate (The World Is Not Enough, 1999)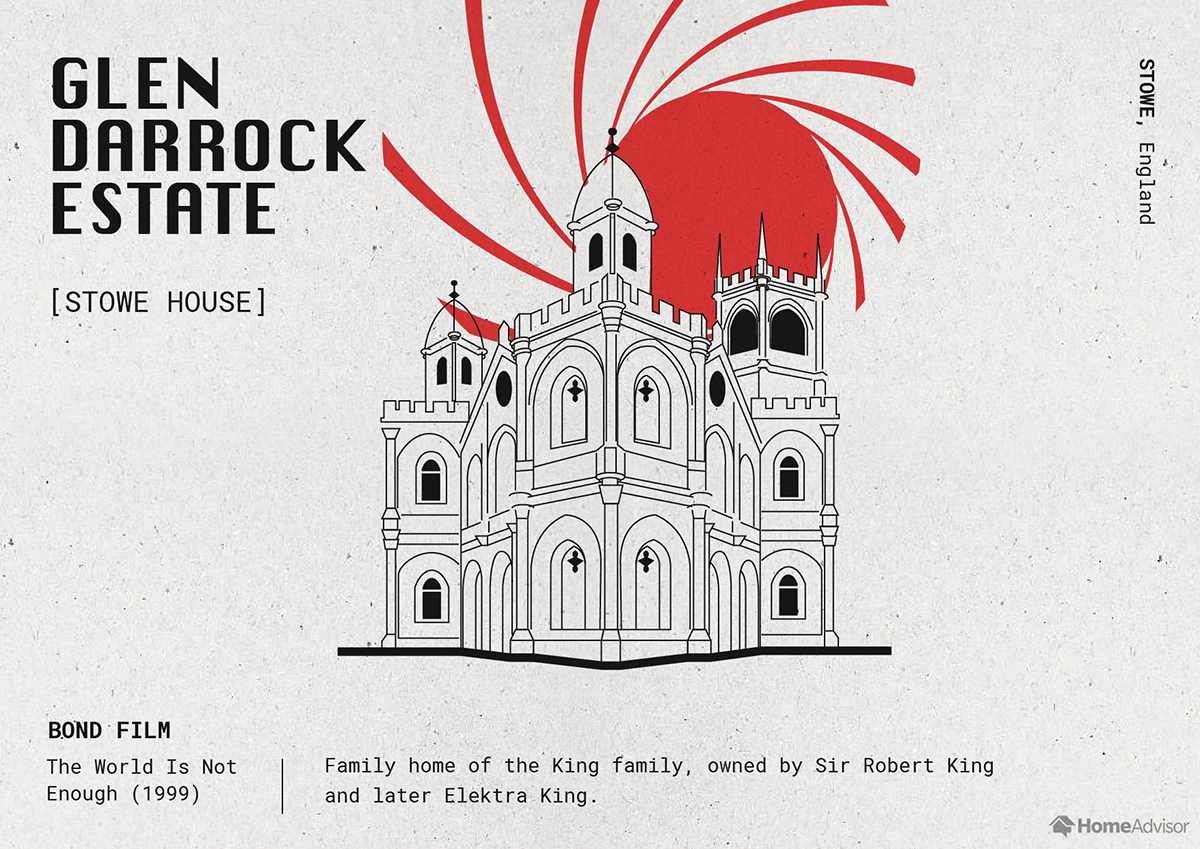 The fictional Glen Darrock Estate sits on the fictional Scottish Loch Lamont as the family home of Elektra King. The Stowe Estate's Gothic Temple is the family chapel. It was designed by James Gibbs and completed in 1748.
Ceyhan Oil Terminal (The World Is Not Enough, 1999)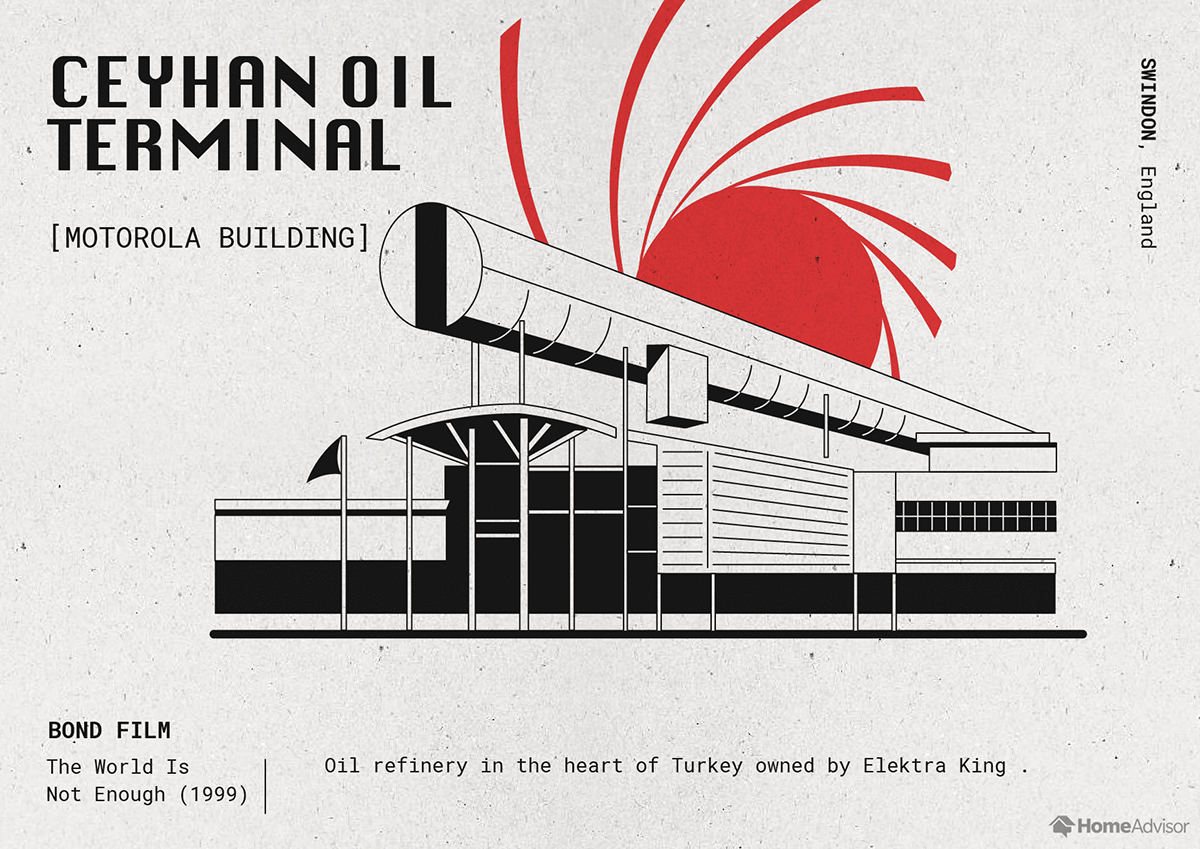 Elektra King's Ceyhan Oil Terminal is situated in Ceyhan, Turkey. In real life, it's the Motorola plant at Swindon, Wiltshire. Parts of the iconic outdoor façade have since been dismantled.
Castle Thane (The World Is Not Enough, 1999)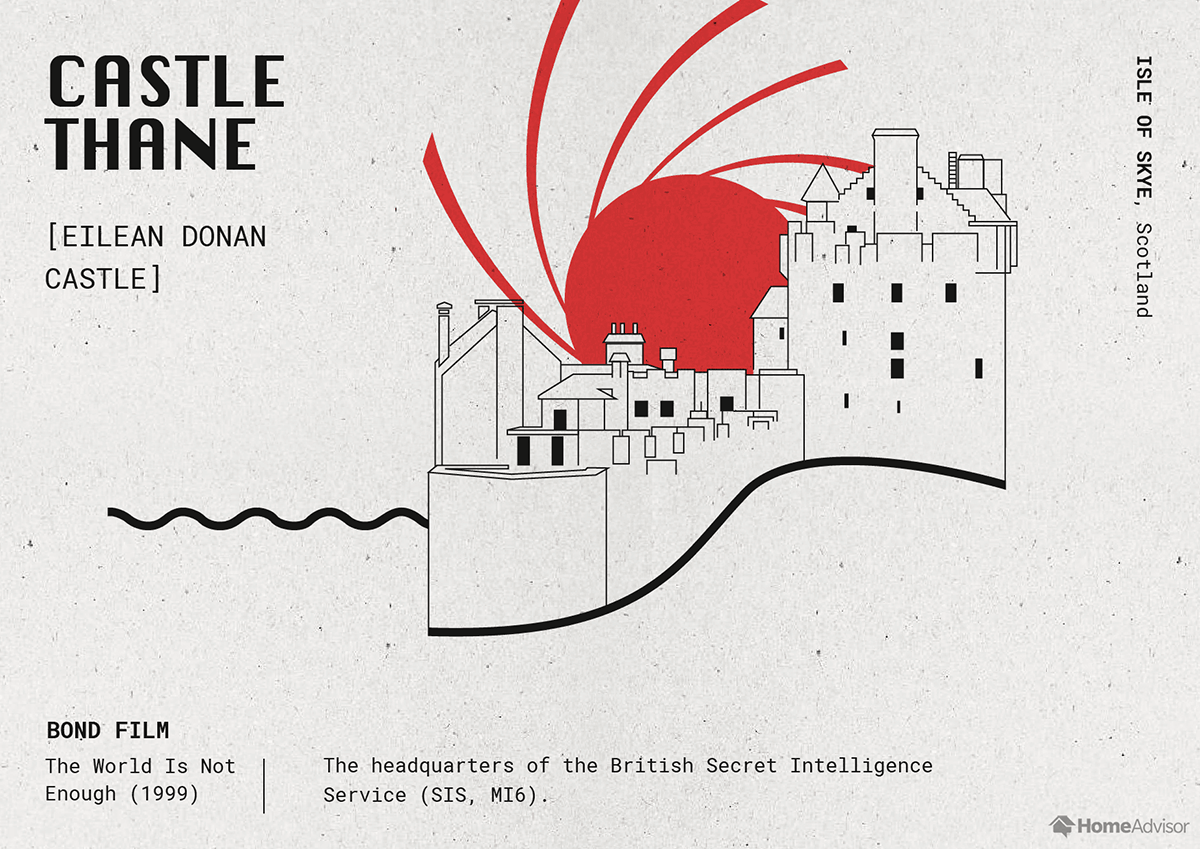 Castle Thane was the temporary HQ of the British Secret Intelligence Service (SIS, MI6) following Renard's (fictional) attack on the (real) SIS HQ in London. The real castle – Eilean Donan – dates back to the 14th century, although George Mackie Watson substantially rebuilt it from ruins around a century ago. It probably doesn't look much like it did first time around: architectural historian John Gifford called the remake "a rubbly Edwardian stage-set for life in the Middle Ages."
Guggenheim (The World Is Not Enough, 1999)
Frank Gehry's Bilbao Guggenheim is just a background character in "Bond #19." But the design of the building is so complex, Gehry used advanced aerospace engineering software to create it – surely there are some villainous secrets in its structure?
Elektra's Baku Estate (The World Is Not Enough, 1999)
As if Elektra King didn't have enough lairs already! Küçüksu Palace (which is actually in Turkey) forms the backdrop to her villa in the Azerbaijani capital, Baku. The palace was designed by father-and-son team Garabet Amira Balyan and Nigoğayos Balyan in the neo-baroque style, and completed in 1857.
The architecture of Renaissance and Baroque Homes and Buildings plays up vaulted ceilings, grand staircases and intricate details.
Graves' Ice Palace (Die Another Day, 2002)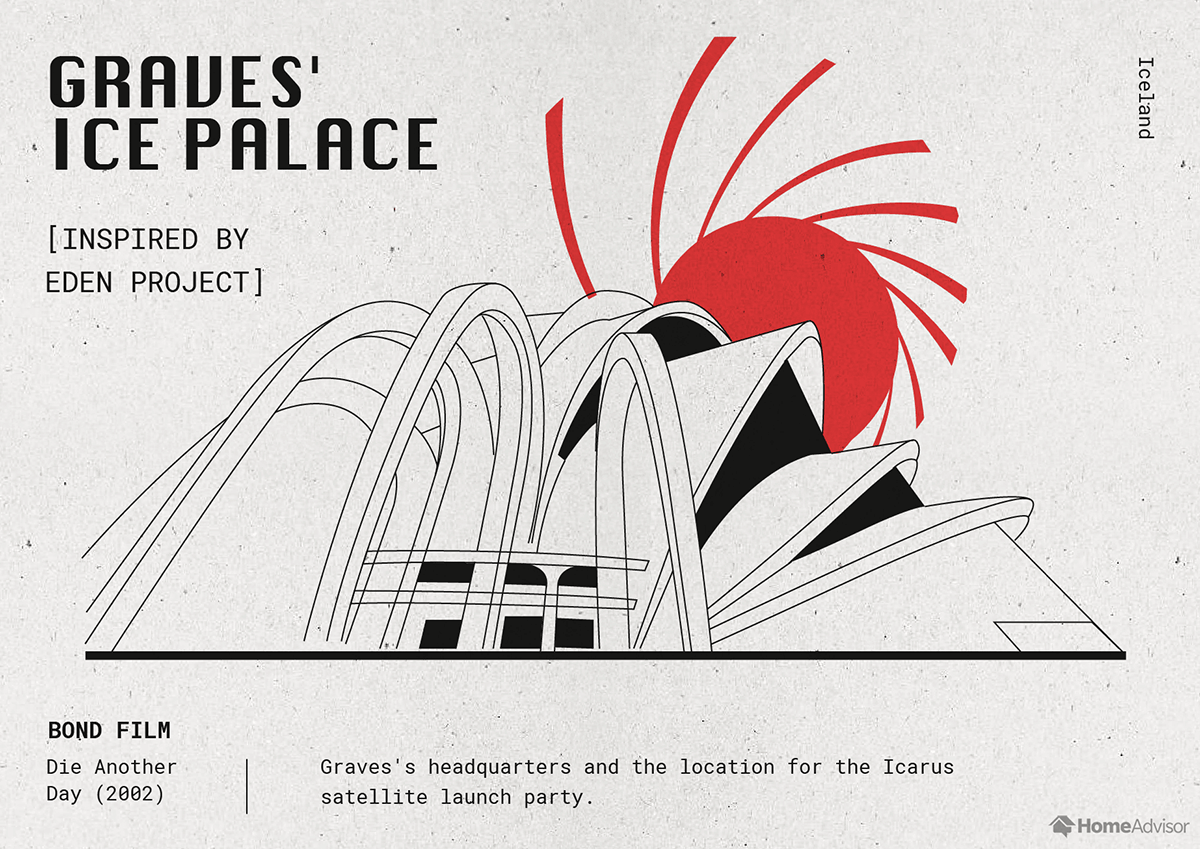 Every serious villain should have their own ice palace, but sadly, rogue military colonel and billionaire Gustav Graves' chilly bachelor pad is not for sale. The palace existed only as a model made from 40 tons of thermoplastic panelling, designed by Peter Lamont and inspired by the Ice Hotel in Jukkasjärvi, Sweden. Scenes were shot at Pinewood Studios, using the Jökulsárlón Glacier Lagoon in southeastern Iceland as a backdrop.
Blades (Die Another Day, 2002)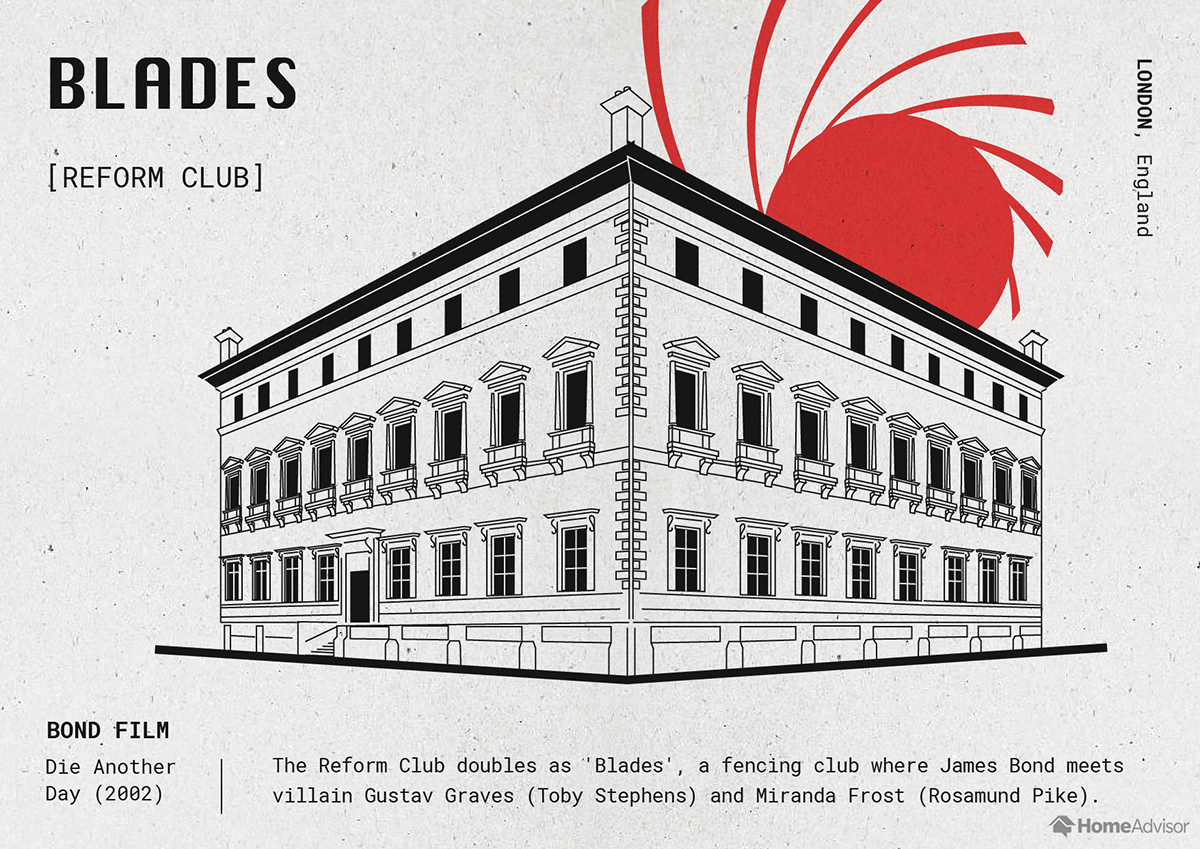 The Reform Club is a private members-only club that appears in both "Die Another Day" and "Quantum of Solace." First time around, it's used as a fencing club, "Blades," where the teacher is none other than Madonna (playing 'Verity'). Sir Charles Barry designed the 1836 building, inspired by Italian Renaissance architecture and Michelangelo's Palazzo Farnese in particular.
Mr. White's Estate (Casino Royale (2006)
Counterintelligence operative Mr. White is a fully-subscribed member of Quantum and SPECTRE. His membership card should rightly be delivered to his estate on Lake Como in in Lombardy, Italy – putting him in the neighborhood of celebrities George Clooney, Ronaldinho, and Richard Branson. The fantasy neo-medieval style Villa La Gaeta stands in for White's estate. This 1921 building was designed by Adolfo and Gino Coppedè.
This stunning estate is a great example of a property that has maximized natural features to bring out the beauty that surrounds it. You don't need a lakefront villa to do this – a landscape designer near you can help make the most of your outdoor space.
Casino Royale (Casino Royale, 2006)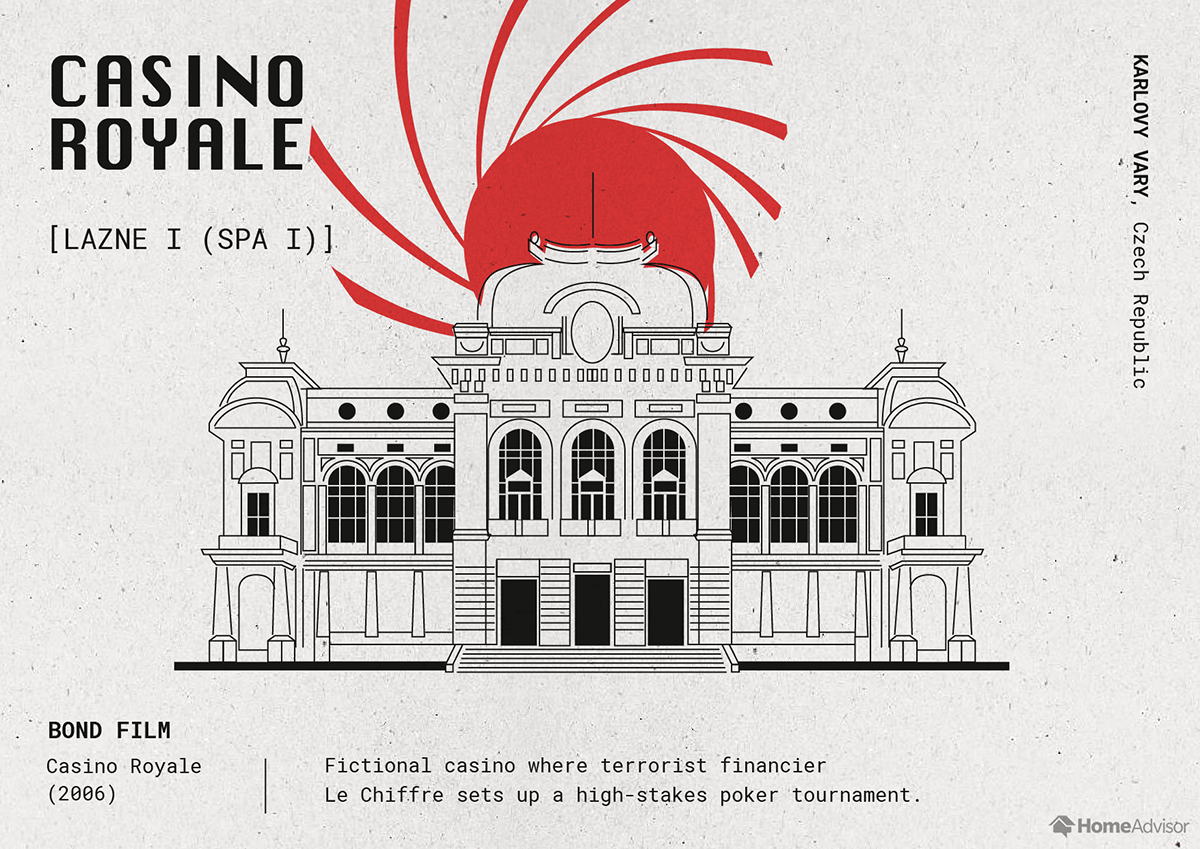 The Casino Royale in "Casino Royale" is a spa named Lazne I (formerly the Kaiserbad or Imperial Spa) in Karlovy Vary, Czech Republic. The pseudo-Renaissance building was designed by Ferdinand Fellner and Herman Helmer, opening in 1895. The spa building actually became a casino briefly in the 1980s.
Hotel Splendide (Casino Royale, 2006)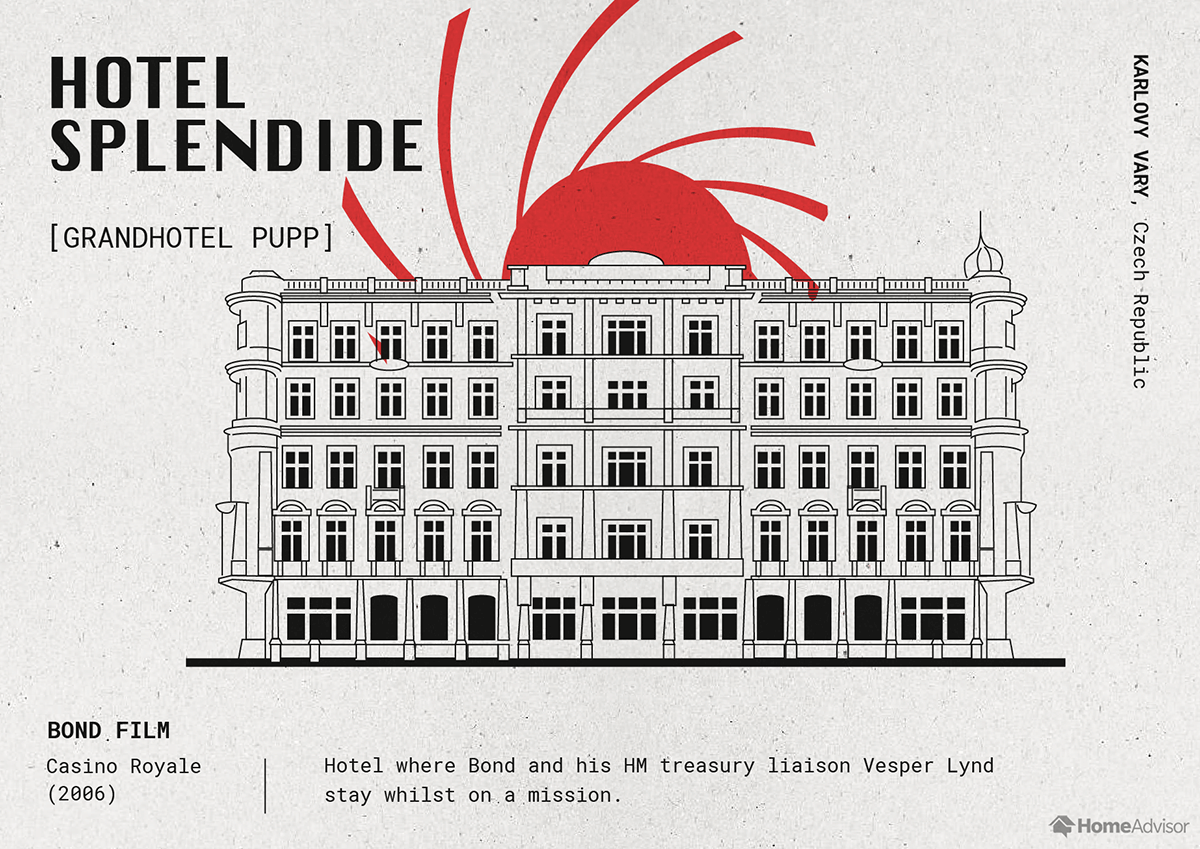 Hotel Splendide is just nearby Casino Royale, and the Grandhotel Pupp location used in the movie is also just by Lazne I, the casino stand-in. Pupp gets its name from Jan Jiří Pop, a confectioner whose family owned this neo-baroque building and several around it until the Communist government of Czechoslovakia redistributed wealth after World War II.
René Mathis' Villa (Quantum of Solace, 2008)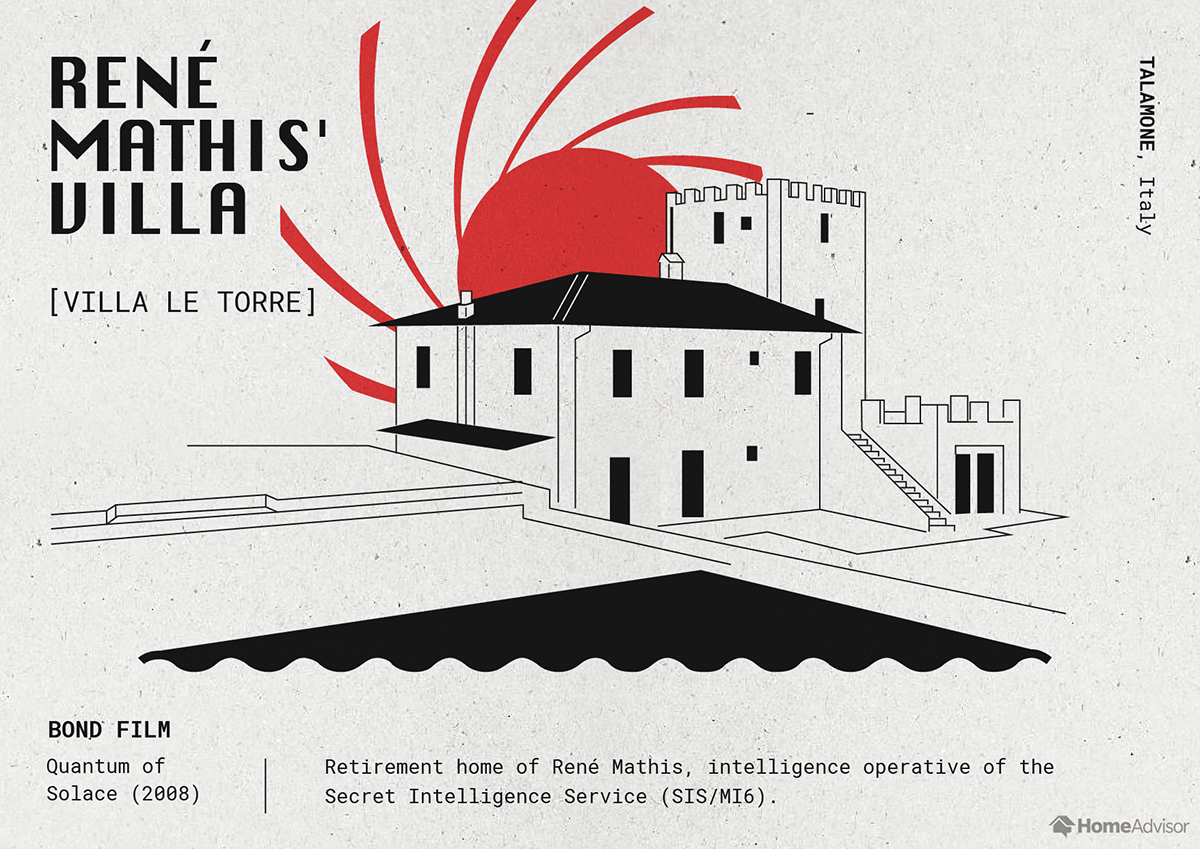 MI6 bought René Mathis a villa by way of apology for the misunderstandings of Casino Royale, and it is played by Villa Le Torre in Southern Tuscany, Italy. La Torre means 'the tower,' and this one was built one thousand years ago in a strategic position to defend against the Saracen invasions (although the villa and other adjoining buildings were added and renovated later.)
Hotel Perla de las Dunas (Quantum of Solace, 2008)
The Perla de las Dunas eco-hotel is where General Medrano and Carlos go to make their deal with Dominic Greene. The real-life building is the hotel of the ESO Very Large Telescope facility at the Paranal Observatory in northern Chile. Auer und Weber Architecten designed it to offer scientists a reliable respite from the treacherous conditions of the desert.
Bregenz Festival House (Quantum of Solace, 2008)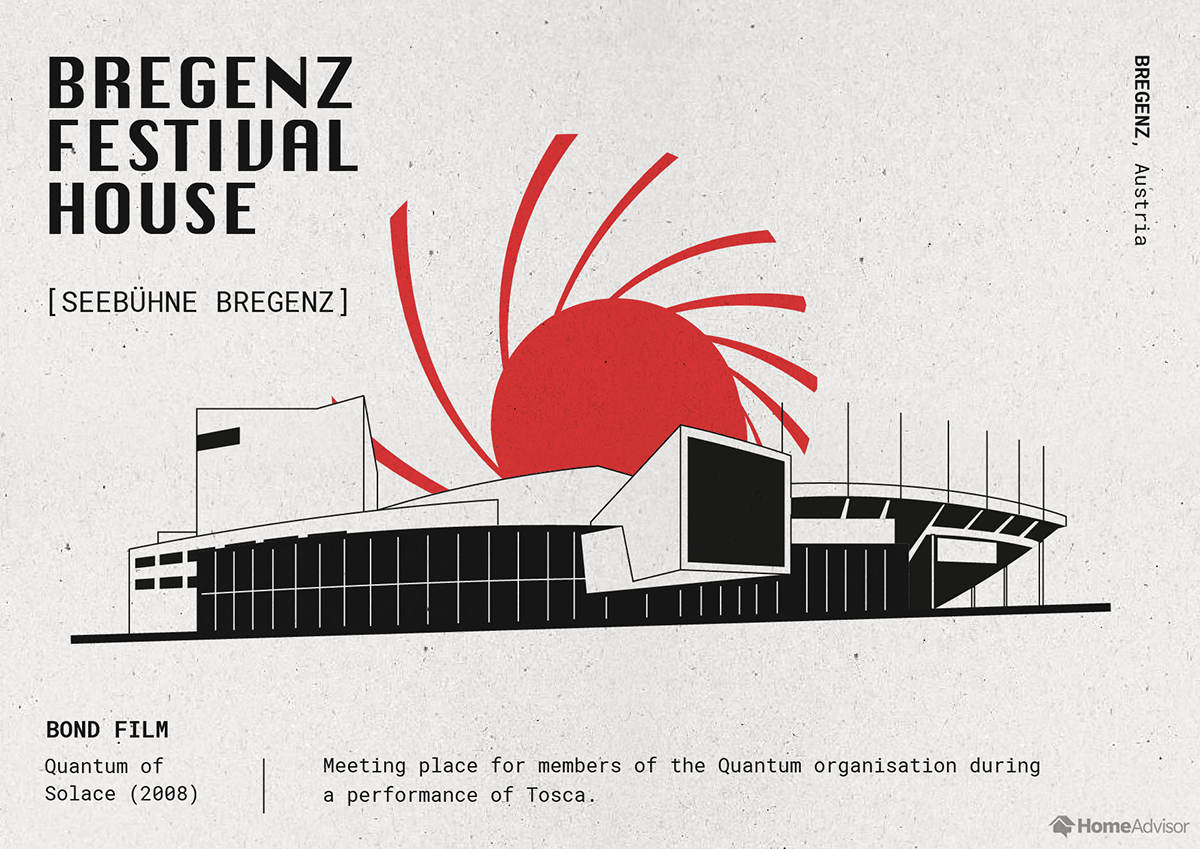 The Bregenz Festival House plays itself in Quantum of Solace. Bond tracks key members of the Quantum organization to a performance of Tosca on the floating stage (known as the Seebühne), Europe's largest outdoor auditorium. The postmodern-style complex was designed by Wilhelm Braun and opened in July 1980.
Skyfall Lodge (Skyfall, 2012)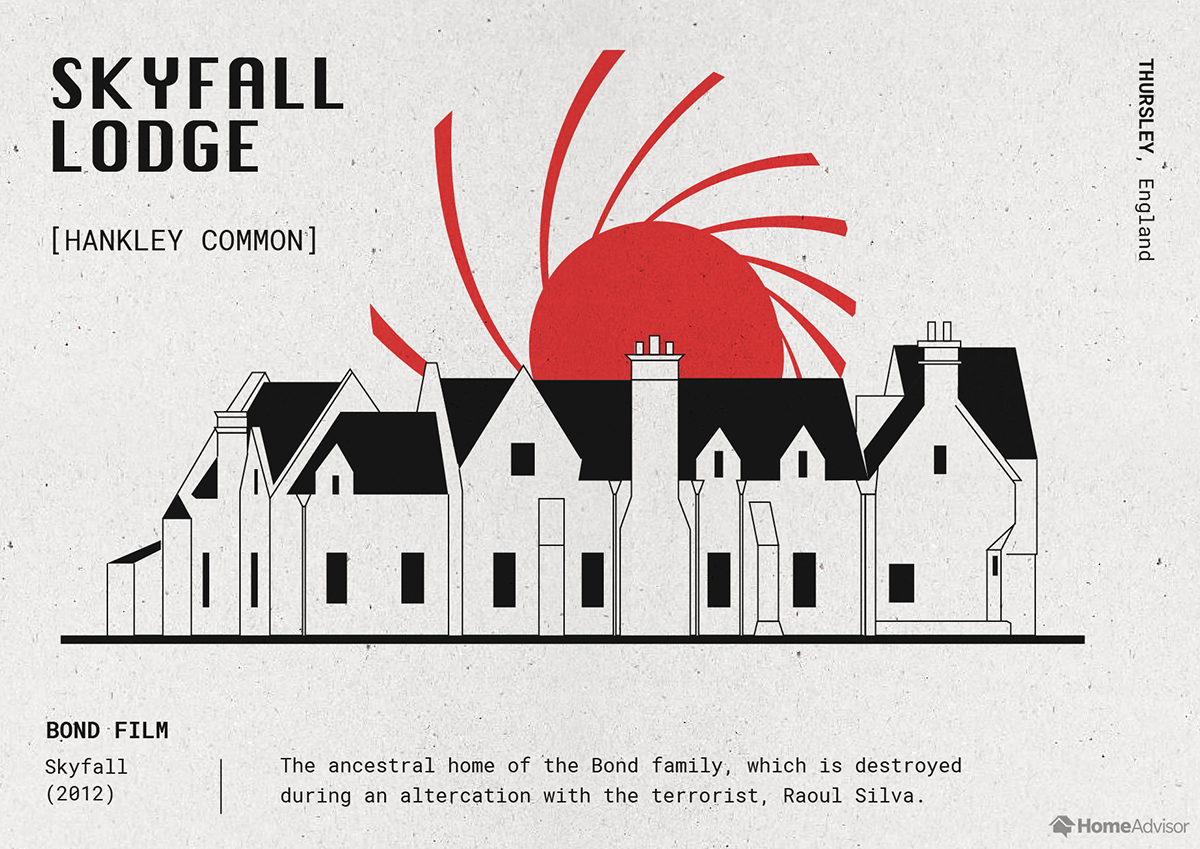 Art director Dean Clegg designed the title character of "Skyfall" – Bond's family home, Skyfall Lodge. The crew built it on Hankley Common using plywood and plaster over a six-month period. And then – spoiler alert – they blew it up. The landscape of Hankley Common also doubled for Azerbaijani (in "The World is Not Enough") and the Korean Demilitarized Zone (in "Die Another Day").
Raoul Silva's Island (Skyfall, 2012)
"Skyfall" villain Raoul Silva's lair is an abandoned island off the coast of Macau, a region on the south coast of China. The film set is inspired by the real-life abandoned island of Hashima, which formerly housed a Japanese mining facility. Bond star Daniel Craig initially learned about the island while working on a different movie – "The Girl with the Dragon Tattoo" – but the island's architecture was replicated in a studio due to safety concerns.
Saharan Crater Facility (Spectre, 2015)
Where else would SPECTRE's headquarters be than in a desert crater? It was filmed at Gara Medouar in Morocco It's actually a rock formation, not a meteor crater. Previously, the geological feature has served as a Moroccan military base and an impromptu shelter for trade caravans during sandstorms.
Palazzo Cardenza (Spectre, 2015)
Blenheim Palace is a country house in Oxfordshire, U.K., and the birthplace of Winston Churchill. It was designed in a baroque style by Sir John Vanbrugh in 1722. In the Bond universe, Blenheim stands in for the Palazzo Cardenza – the fictional palace in Rome, Italy, where SPECTRE's leadership meets to choose a replacement for Marco Sciarra, Bond's latest victim.
Blofeld's Lair (Spectre, 2015)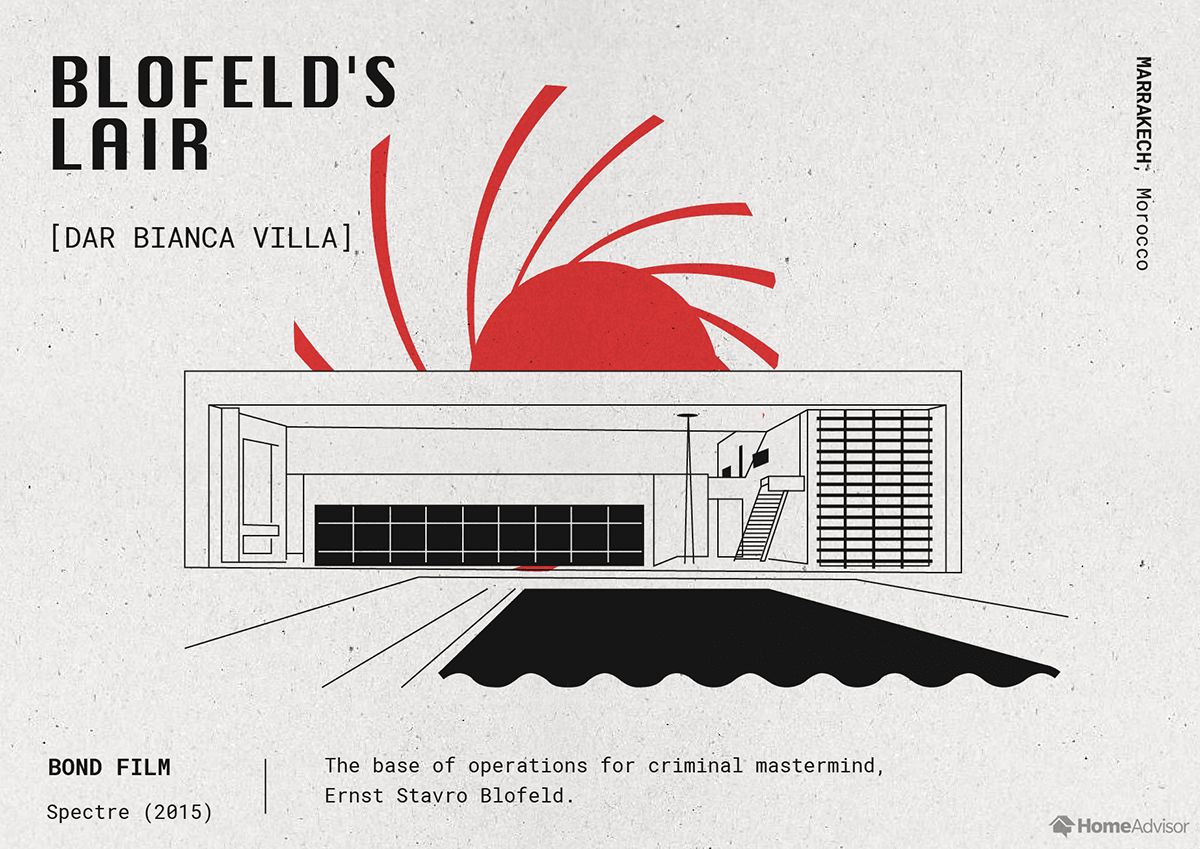 It's fitting that "Spectre" villain Ernst Blofeld would have an extravagant and inaccessible home, so Spectre's producers CGI'd the villa Dar Bianca in Marrakesh, Morocco, away from its real-life parkland setting and up into the mountains. Industrial designer Phillippe Starck's protégé, Imad Rhamouni, designed the building. It "adheres to Berber traditions of architecture, as it's built from pisé or rammed earth," according to one estate agent.
Matera City (No Time to Die, 2021)
"Bond #25" remains mostly under wraps, but the trailer features a starring role from the city of Matera, Italy. The city has been occupied since paleolithic times, with its landscape of human-made caves evolving into a baroque cityscape of carved-rock buildings. While it's not 100% clear the role the city plays in "No Time To Die," the trailer makes it evident there will be some cleaning up to do afterwards.
A Virtual Universe
The building most lamented by architect Edwin Heathcote – he called the new intelligence headquarters "like something a second-rate British commercial practice might design for Shanghai" – was actually drawn from scratch and CGI'd into a vacant plot opposite the real-life MI6 headquarters.
The only thing certain about the future of Bond – change will come. Whether with a new leading man after "No Time To Die," or a new era entirely. What kind of buildings would you like to see in the "James Bond" films of the 2020s and beyond?
No Comments Yet