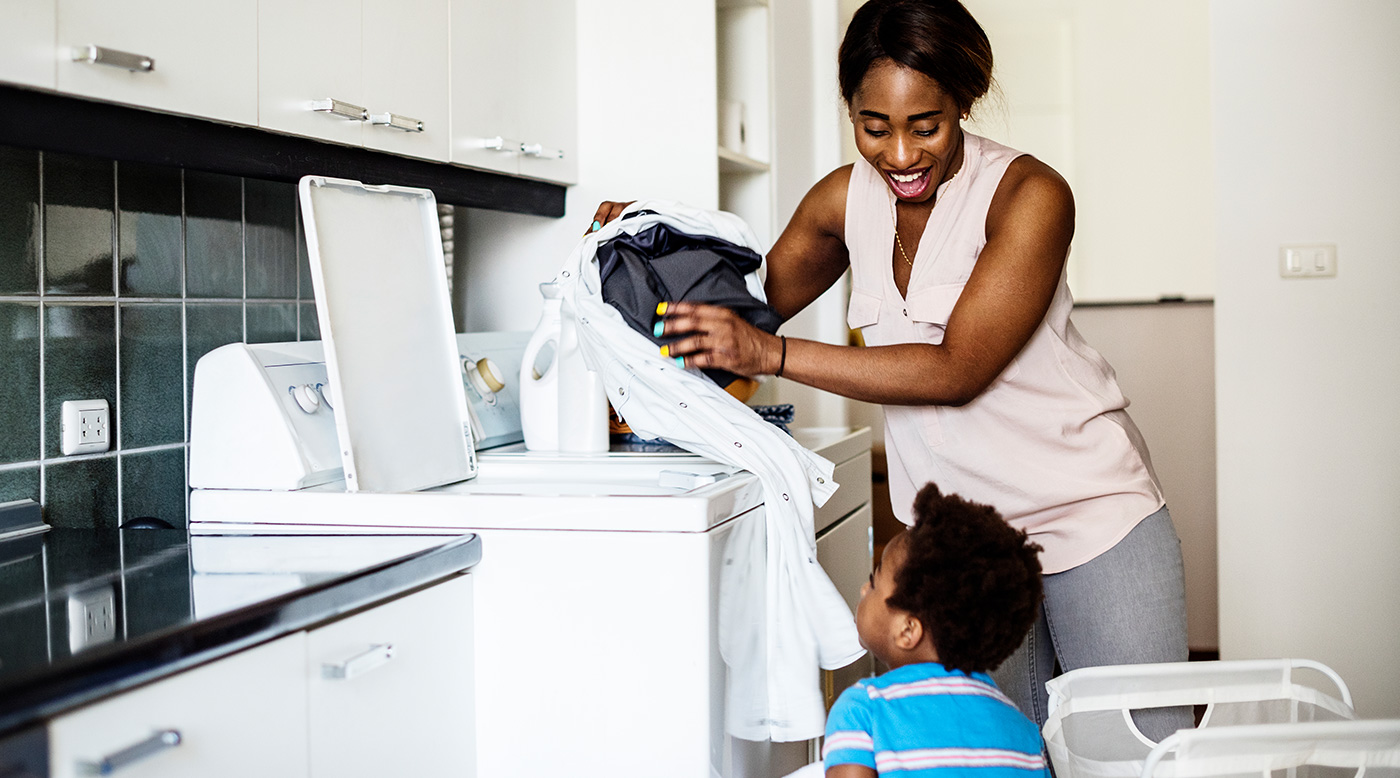 Photo: Rawpixel / iStock / Getty Images
Even if it's not a central part of your home, chances are that your laundry room could majorly benefit from a makeover. Since our surroundings influence us more than we realize, it's possible that giving your laundry area a facelift could positively impact your attitude around household chores.
Wouldn't it be worth it to invest in the cost of remodeling a room that used to be an eyesore so you can approach laundry with a positive mindset? Whether you want to do a budget-friendly refresh with easy DIY tricks or tackle a full-scale renovation, updating your laundry room is about more than just aesthetics. Keep in mind that a more involved renovation requires building permits, too.
If you plan to do a full laundry room remodel, hiring the right local contractor is key to bringing your vision to life. Who knows, your laundry room makeover could even encourage you to make the most of other neglected corners of your house, too.
Read on for our laundry room inspiration and practical tips that you can implement no matter how much time or energy you plan to put in.
On This Page:
1. Creatively Clear the Clutter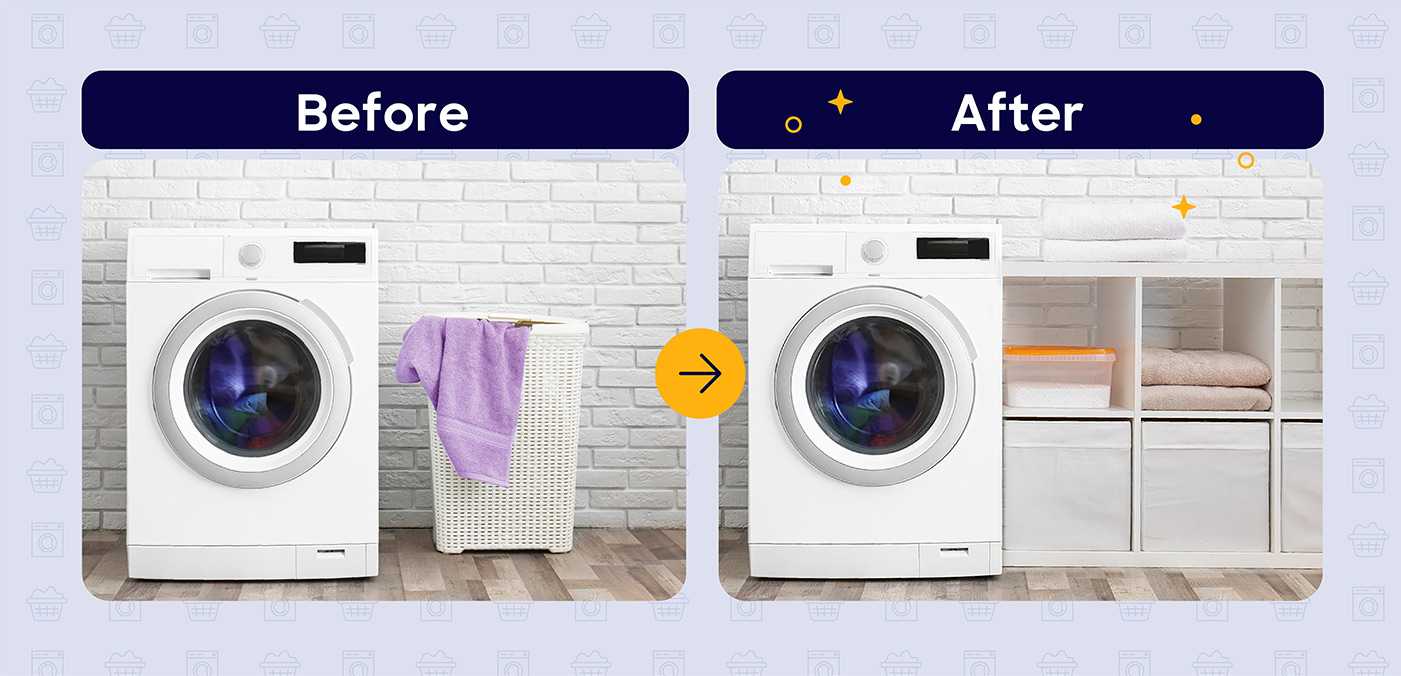 Photo: New Africa / Shutterstock
To create the most functional space possible, try to declutter by purging any nonessentials. You can get creative with folding shelving units and organizational systems that make use of small, empty spaces.
Pro tip: A thin, sliding storage unit that fits in the empty gap between appliances is a smart and convenient place to store detergent and dryer sheets.
2. Reimagine Your Lighting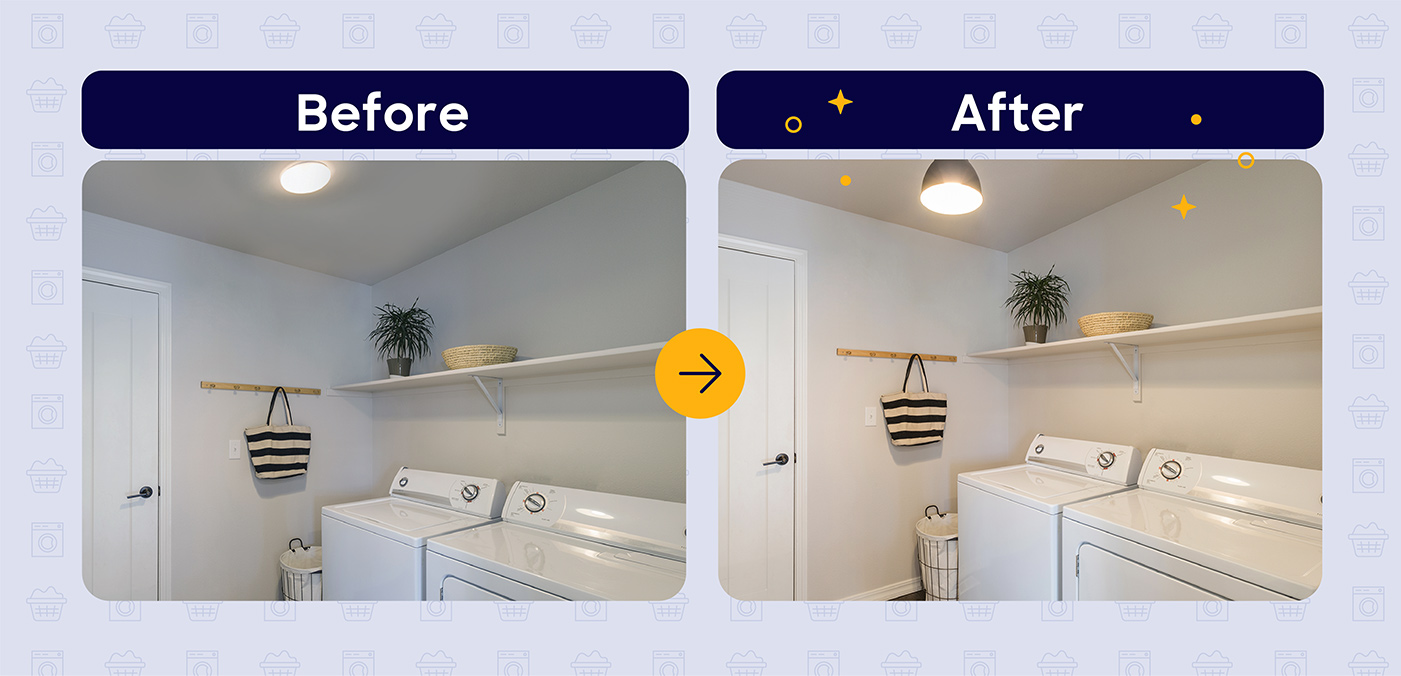 Photo: Neil Podoll / Shutterstock
To create a well-lit yet relaxing ambiance in your laundry area, consider adding decorative lighting solutions like faux lanterns and fairy lights in addition to your main light source.
Pro tip: Check your room light temperature to make sure it's consistent with your surroundings. Keep in mind that if you have mostly cool colors, you'll want a higher color temperature with blue undertones. On the other hand, if your color palette is warm, you'll want lower temperature, softer lighting.
3. Freshen Up Your Walls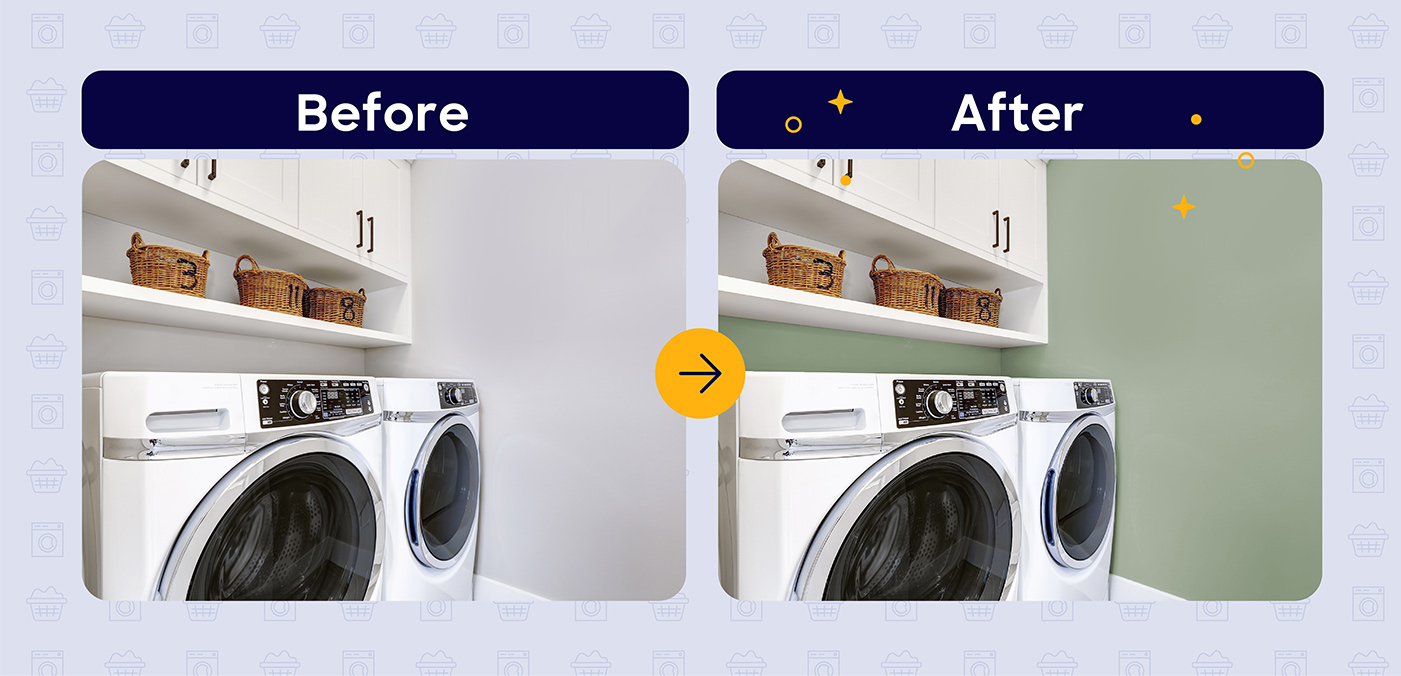 Photo: irina88w / iStock / Getty Images
When you add a fresh coat of paint, it can breathe new life into any room. Opt for a clean white or a bold, unconventional wall color that makes you smile. Keep in mind that you can opt for certain calming colors to create a relaxing vibe.
Pro tip: Consider alternating wall colors or even featuring wallpaper on one side. If you're not into painting on your own, you can always hire a local painter so you won't have to worry about priming and painting to achieve a polished look.
4. Incorporate a Cozy Carpet or Area Rug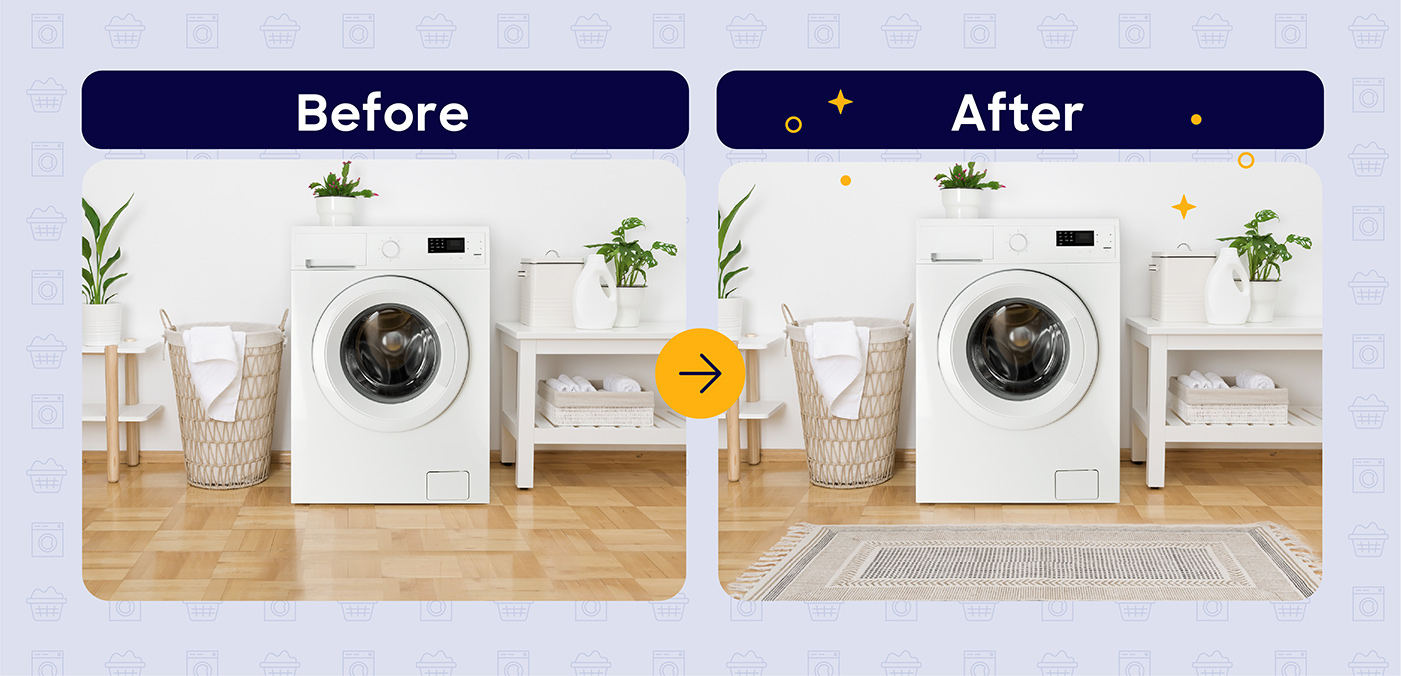 Photo: didecs / iStock / Getty Images
Not only does carpeting help your laundry area feel less utilitarian, but you'll also be thankful when your bare feet aren't standing on cold tile or wood while you're folding clothes. Even adding a small area rug can be a nice touch.
Pro tip: Thankfully, you don't have to break the bank to add this element of comfort. Simply rearranging your existing furniture and adding a cute rug could make all the difference.
5. Add a Couple of Easy Personal Touches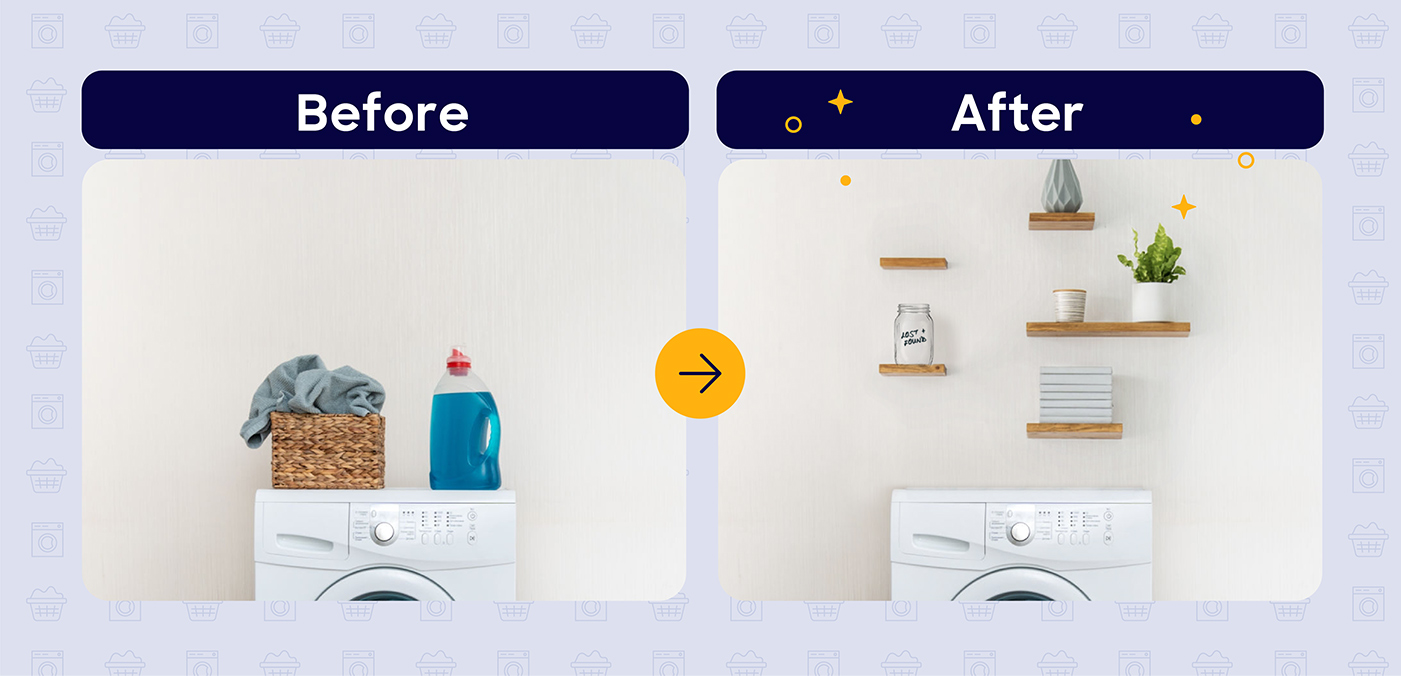 Photos: KatarzynaBialasiewicz / iStock / Getty Images; brizmaker / iStock / Getty Images; Winai_Tepsuttinun / iStock / Getty Images
You don't need pricey monogrammed decor to personalize a space. Sometimes the most creative and eco-friendly personal touch is an upcycled household item or a piece of your own art.
Pro tip: Consider repurposing and decorating tin cans or mason jars with handwritten labels to accessorize on a budget. For example, you can have a designated jar for the items you find when you empty your pockets while doing laundry.
6. Elevate the Space With a Pop of Color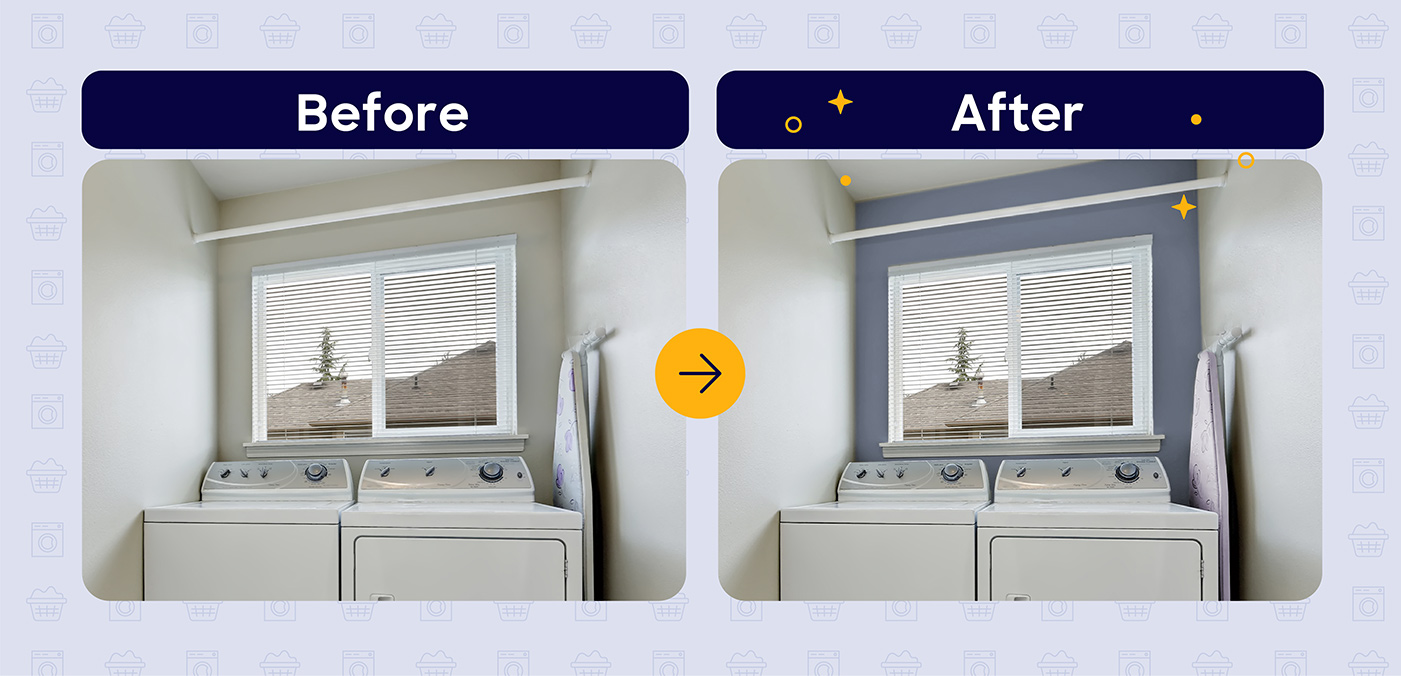 Photo: irina88w / iStock / Getty Images
Keep the ceiling a super bright white to maximize light throughout the room while choosing a bright color for just one or two aspects of the laundry room.
Pro tip: You can add a pop of color by picking a bright ironing board or collapsible storage caddy.
7. Match Your Hampers and Baskets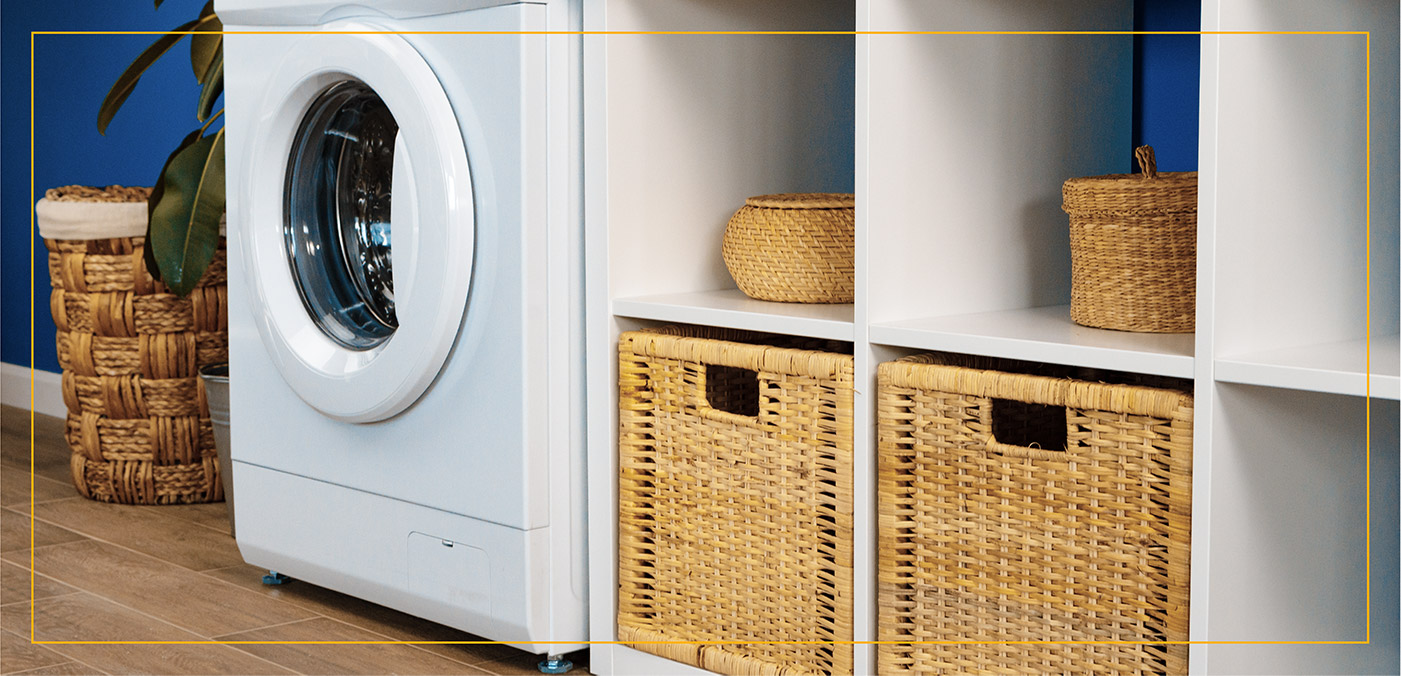 Photo: FabrikaCr / iStock / Getty Images
You don't need a fancy matching organizational system, but coordinating your hampers and baskets can give your laundry room a uniform, polished look.
Pro tip: Try to stick with one material theme. Would you rather have metal or wicker baskets? Are you going for a minimalist aesthetic? You might want to consider multipurpose furniture and storage.
8. Think Out of the Box for Drying Clothes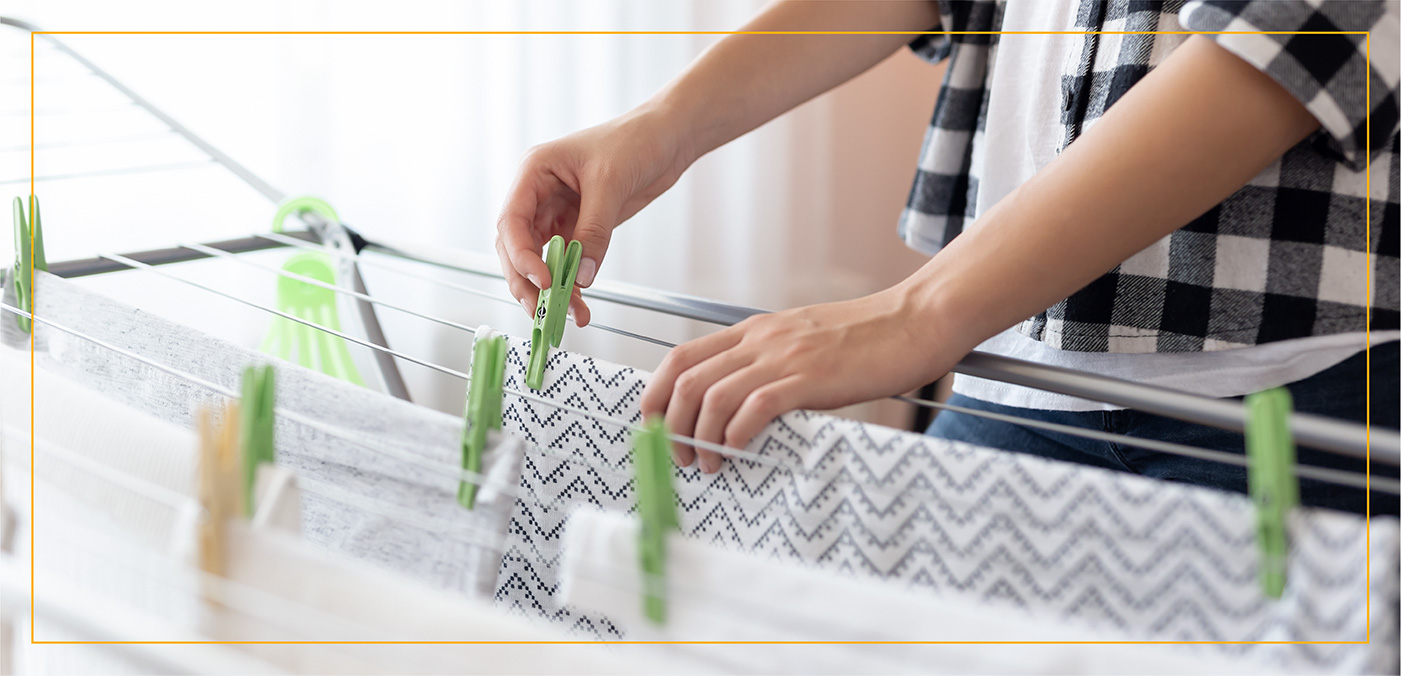 Photo: vladans / iStock / Getty Images
There are plenty of options for creating spaces to dry clothes in your new laundry room. Especially if you're short on space, play around with different options to custom fit a drying rack to make the most of every inch.
Pro tip: Whether you install a metal rod or a creatively repurposed overhead hanging rack, you can't go wrong. It's easy to set up an overhead rack and it can be a great space saver, too.
9. Consider Adding a Sink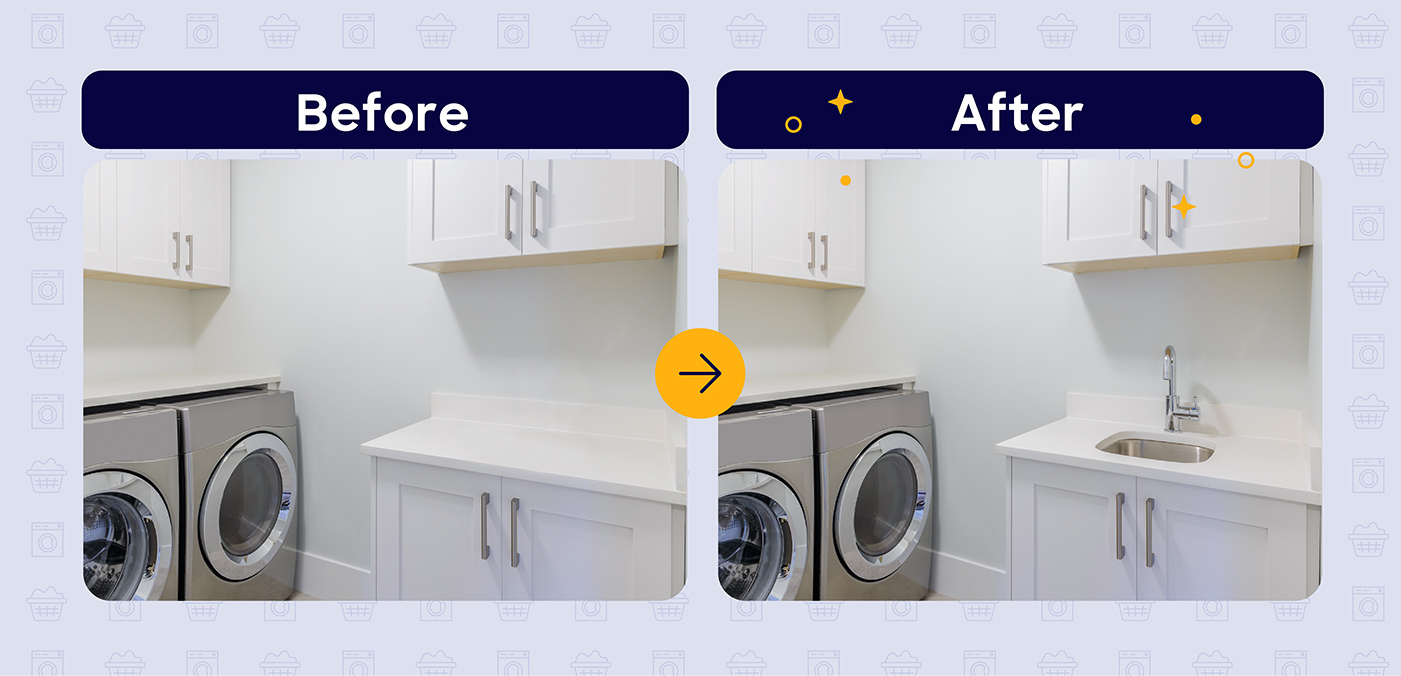 Photo: Karamysh / Shutterstock
If you don't already have one and your home's plumbing allows, consider adding a sink next to the washer. You'll be able to conveniently treat fabrics, clean heavy stains and wash your hands after dealing with filthy laundry.
Pro tip: Remember that sink installation costs can range from $220 to $560, which covers both labor and materials for a utility sink.
10. Create an Additional Folding Table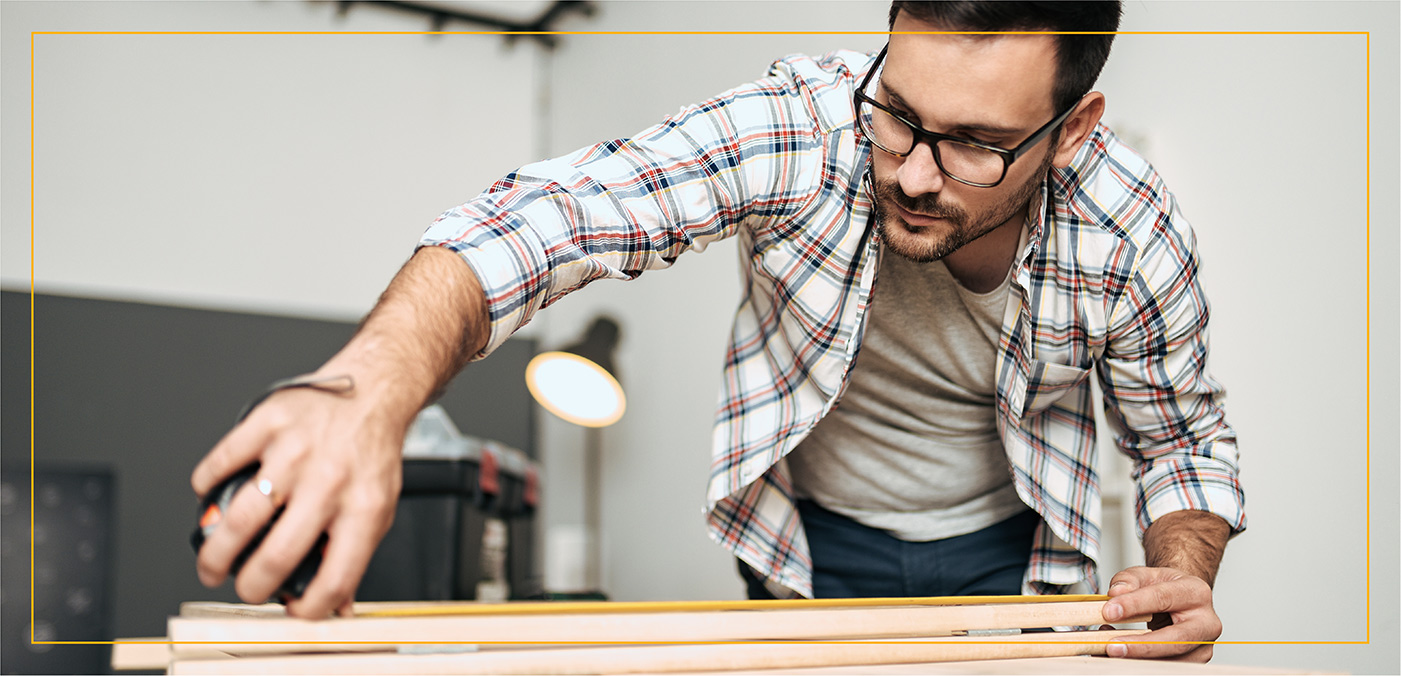 Photo: nortonrsx / iStock / Getty Images
If you're trying to optimize space during your laundry room makeover, it's easy to underestimate how spacious you would like your folding table to be. Chances are that you could always use more space.
Pro tip: Consider installing a folding table that's expandable and retractable. Even if you have to invest in the cost of a handyperson to build a custom table, this could be a game-changer when you have large loads to handle at once.
11. Relocate Your Washer and Dryer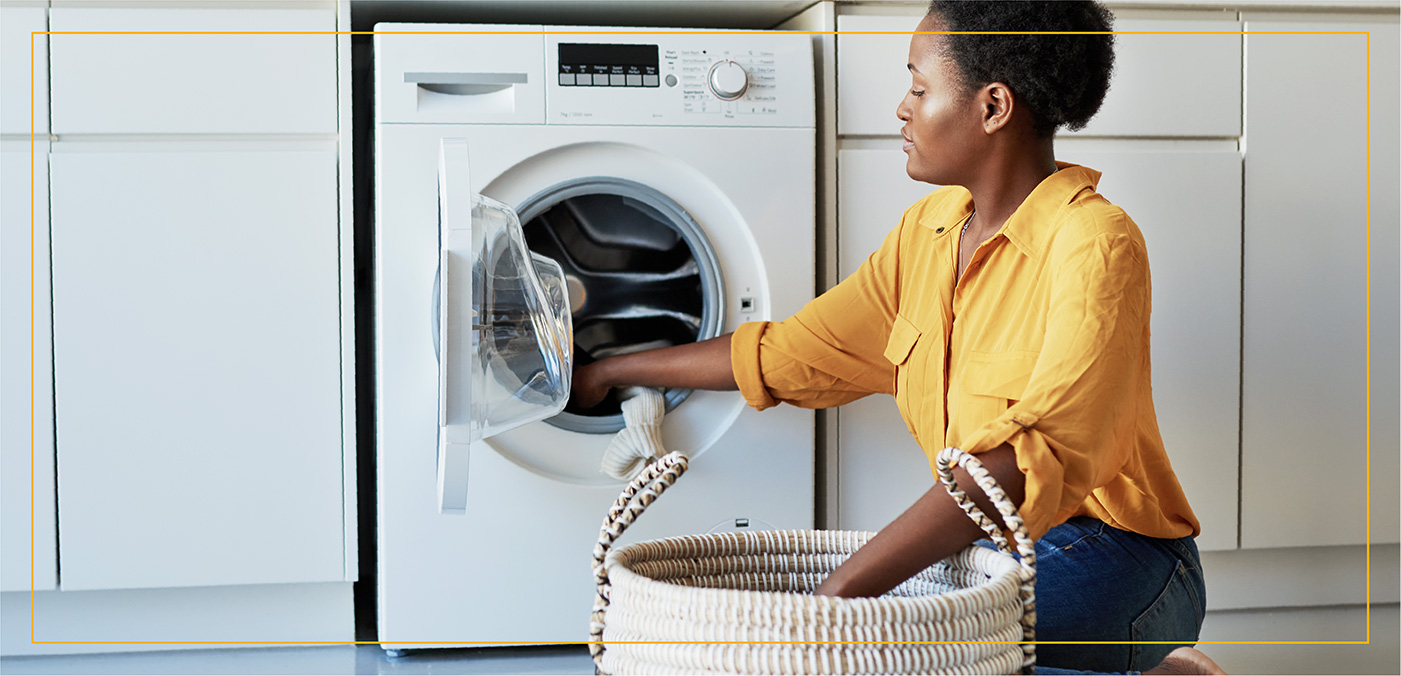 Photo: LaylaBird / E+ / Getty Images
When renovating your laundry room, the location of your appliances is sometimes the most inconvenient aspect. When you rearrange your washer and dryer, you can create a whole new look and feel to your laundry area.
Pro tip: Keep in mind that this is one of the more impactful but pricey laundry room renovation tasks. Physically moving your washer and dryer from their original installation spots and hooking up their respective water lines, drain lines and vent tube requires professional help that can cost up to $2,000.
12. Install a Custom Door or Cabinetry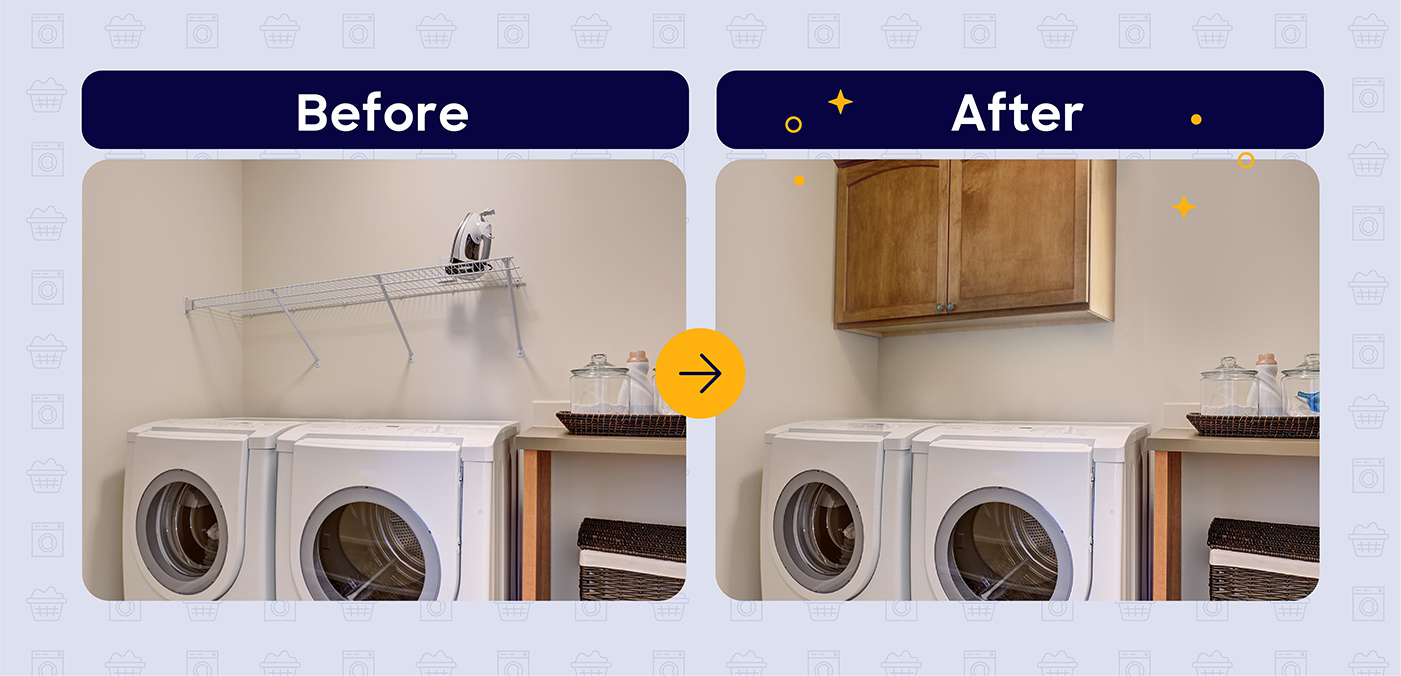 Photos: Ekaterina Rybina / Shutterstock; irina88w / iStock / Getty Images
There's nothing quite like custom cabinets to help you maximize your space in a stylish way. Since every laundry room set-up is different, custom cabinetry and doors might not be necessary, but they can be incredible to level up the space.
Pro tip: Be realistic about your budget and goals: You'll pay up to $750 per linear foot if you want custom designs. Remember that cabinet prices come in a wide range. Small, basic models run about $150 to $200 and up, while custom constructions cost as much as $1,000 or more.
13. Feature Practical Wall Art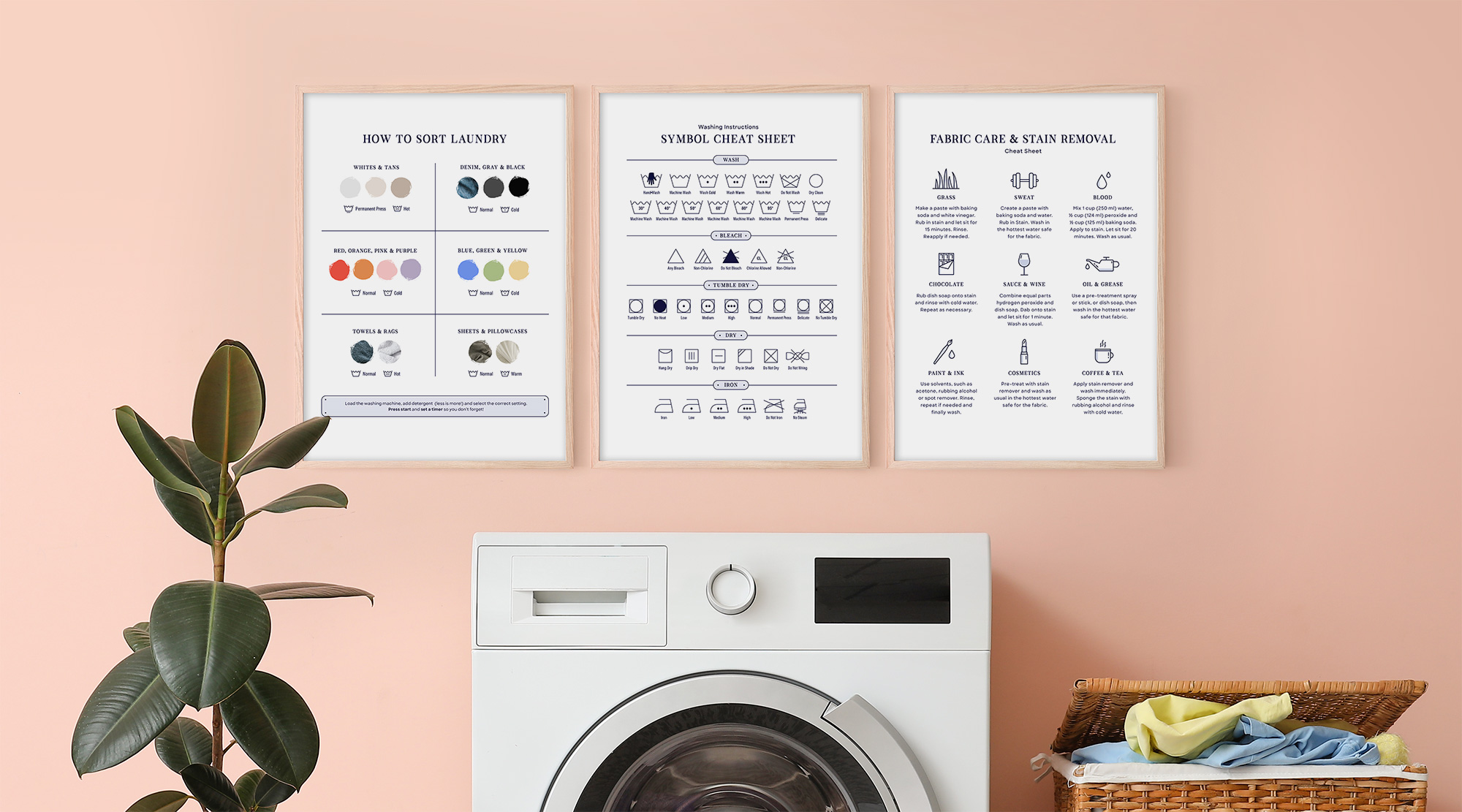 Photos: Ekaterina Rybina / Shutterstock; Pixel-Shot / Shutterstock
When it comes to a laundry room makeover, you can have the best of both worlds by combining form and function. Try decorating the space with elements that serve a purpose and make your life easier.
Pro tip: Consider hanging a laundry cheat sheet with clothing care symbols so you don't find yourself rushing to Google every time a new piece of clothing has different care instructions.
Did you know that laundry room remodels offer a 67% to 78% return on investment? However, keep in mind that the more wear and tear that shows from usage will greatly reduce its ROI over time.
Below are a few free printables that you can use to decorate your laundry room's walls with helpful tips, and to make chores a little bit more enjoyable for kids.

No Comments Yet