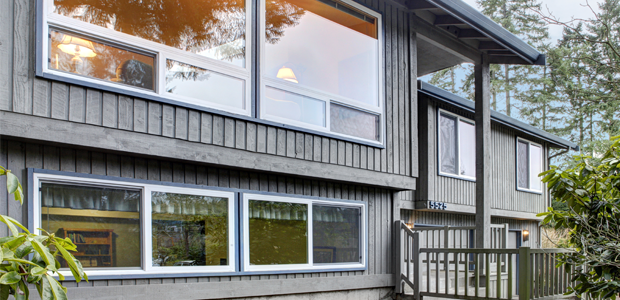 Let's face it: Choosing windows can be complicated. With a wide variety of materials, styles, features and price points available, it can be hard to know which windows will best suit your home and budget. Fortunately, the pros at Pella Windows have let us in on some secrets that make window selection a whole lot easier.
Carefully consider these five factors to cut through the clutter and choose exactly the right windows for your home!
1. Lifestyle
Consider the people, places and things in your life. Do you need to keep blinds and shades out of reach of children or pets? Is there a particular view you'd like to preserve or create? Are you dealing with extreme temperatures? Thinking of our windows in terms of how they fit into your lifestyle will help you focus on what matters most – whether it's added security, increased energy efficiency or an improved overall aesthetic.
2. Budget
It's difficult to create a realistic budget before you've started considering actual products and installation methods. But you should start by figuring out how much you can realistically afford to spend. Then, when you're ready to start shopping, schedule an in-home consultation to get a better idea of how new windows will fit into your ideal budget.
"There are good windows for the budget-minded consumer all the way up to historically authentic and contemporary design stylings — and then all the way up to a designer series, which offers triple-pane technology with the option of putting blinds or shades between the glass. We can keep things really basic or go all out and make something that nobody's ever seen before."

KEN ROBINSON
Selling Process Manager
Install Windows Project Costs
3. Materials
There are three chief material options — wood, fiberglass, and vinyl — each of which comes with its own unique set of benefits. A local window expert can provide more insight into materials as they relate to your lifestyle, budget, neighborhood and climate. But consider these factors when deciding which windows material is right for your home:
Wood
Creates a warm, natural look and can be stained or painted to complement your home's style.
Comes with the most design and color options — inside and out.
Low-maintenance aluminum-clad exteriors offer a durable finish that resists fading and helps protect the exterior for years to come.
"With wood windows, the sky's the limit. If you can draw it, we can build it. If you want a funky color, or a really unique shape, or a really interesting type of operation — or if you just want that warmth and beauty that wood brings to the table with a painted or stained interior — you can accomplish that with wood."

KEN ROBINSON
Selling Process Manager
Fiberglass
Proven to protect your home against extreme heat and cold, while also offering the look of a painted wood window.
Offers exceptional strength and durability.
Low-maintenance powdercoat finishes present the quality look of painted wood that lasts for years.
Vinyl
Offers energy efficiency and affordable quality.
Easy-care frames require no painting, staining or refinishing.
Multi-chambered frames and fully welded sashes add strength and durability.
"Vinyl is the least expensive material option, so a lot of people think they're making a sacrifice when they choose it. But they're definitely not. Vinyl has fewer aesthetic features than wood, but it's extremely energy efficient and extremely low maintenance — and it has a low manufacturing cost. This makes vinyl a win-win-win for some homeowners."

KEN ROBINSON
Selling Process Manager
4. Style
The style best suited for your windows will depend on your personal preference, the design of your home, the purpose or function of the window, and your budget. You'll choose from these main window types:
Casement:
Casement windows are hinged at the sides and swing outward, opening and closing with the turn of a handle. These windows are a great option for spots that are difficult to reach, like over the kitchen sink.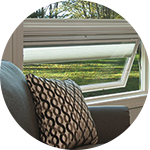 Awning:
Awning windows are hinged at the top and swing outward from the bottom. Awning windows are often placed above or below other windows to add architectural interest and light.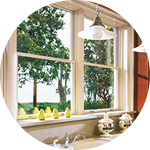 Double-hung:
Double-hung windows complement any home, from classic to contemporary. They can be raised from the bottom or lowered from the top for two levels of ventilation. And, the sashes also lean in for convenient cleaning.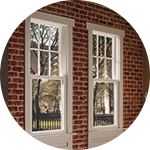 Single-hung:
Single-hung windows are raised from the bottom for ventilation, while the top sash remains stationary. Single-hung windows provide a classic look for any home.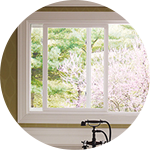 Sliding:
Sliding windows slide open horizontally from one side, providing easy access to fresh air.
"Right now, people either want to go really traditional or really contemporary. We're seeing a huge demand for more traditional looks. And we're also seeing a huge demand for a minimalist look with contemporary hardware and thin frames and sashes — with a huge demand for black – not just on the exterior of the frame but also black interior finishes."

KEN ROBINSON
Selling Process Manager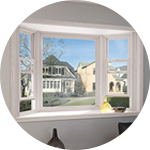 Bay or Bow:
A bay window usually consists of a large center window flanked by double-hung or casement windows set at an angle. The bow window, like a bay window, consists of four or more equal-size windows joined together to form a curve. A window seat is a popular addition to any bay or bow window.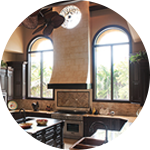 Special Shapes/Fixed:
Round, octagonal, elliptical, rectangular, pentagonal, hexagonal and other shapes of windows can add architectural interest to your home. These windows don't typically open or vent.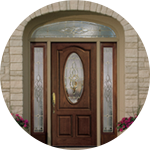 Transom:
Available in many shapes, transom windows are typically installed above or below a room's primary windows, giving the illusion of larger windows. They may be venting or fixed.

Custom Windows/Combinations:
From extra wall to extra wide — and everything in between — the right window manufacturer can help you build exactly what you want.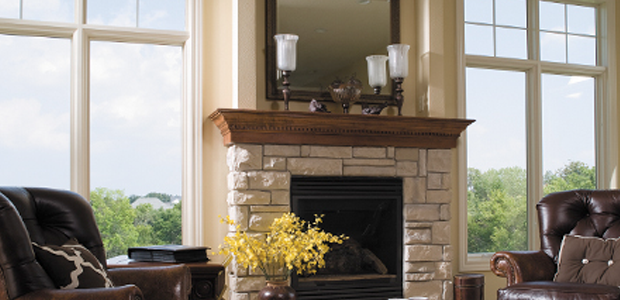 5. Features and Options:
You can customize your windows with options that bring added beauty and performance. These are some of the many options available:
Finishes and colors:
Windows are available in a wide range of finishes and colors to complement both the interior and exterior of your home. Depending on the product, you may be able to choose from dozens of color options to find the one that's right for your home.
"Color is really in for windows and doors right now. We have 27 different exterior colors for our windows, from black to red to naval blue. And they're all meant to complement each other."

HEIDI FARMER
PR Manager
Grilles:
Grilles create individual windowpanes, giving you the authentic look of true divided-light windows. There are several window grille types, so you can choose one that best fits your home's architectural style.
Trim for wood windows:
There are a variety of interior trim options available — from Colonial to Craftsman and Ranch to Provincial. For the exterior, look for low-maintenance aluminum-clad trim options for wood windows. The more styles and colors available, the more likely your windows can stay true to your home's architectural style and decor.
Between-the-glass blinds, shades, or grilles:
Pella offers wood windows with snap-in technology, which lets you easily change the shades, blinds or grilles between your window glass whenever you want a new look. Because they're tucked between the panes of glass, they won't harbor dust and allergens. And they can be operated via a remote control when connected to a compatible home automation system.
Hardware:
Window hardware can be as beautiful as it is functional. Choose finishes that will coordinate with other decorative finishes in your home — such as light fixtures and cabinet hardware.
Screens:
Window screens are important to your home's light, ventilation and view. Today's innovative high-transparency screens are practically invisible, which helps you bring the outdoors in. Consider options like retractable screens, which roll up and down like a shade to maximize your view and allow more light into your room.
Energy efficient glass:
Choosing the right glass for your region and your home is one of the most important decisions you'll face when buying windows. For optimum energy efficiency, choose two or three panes of glass. And look for windows with Low-E (Low-emissivity) insulating glass
with argon between the panes to block more of the sun's ultraviolet rays. For maximum energy performance, choose products that meet ENERGY STAR® requirements.
"What's important to you in terms of energy efficiency may depend on where you live. If you're in a northern climate, you may want more sunlight coming in as opposed to being in a southern climate. Some glazing options will allow more light in, while others will block the sun's rays. The best products for your home may depend on your region."

JADEN VOS
Product Engineer/Installation Specialist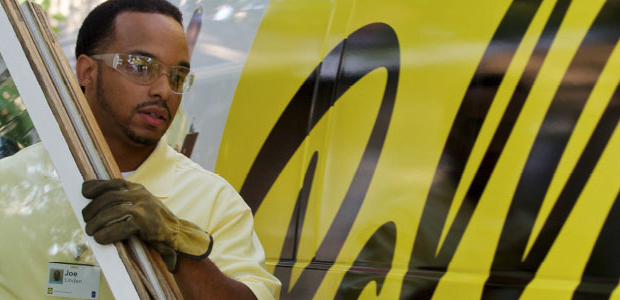 Working With a Pro
Once you've given some thought to your lifestyle and budget — as well as the many materials, styles, and features available — it's a good idea to schedule an in-home window consultation. During an in-home consultation, a certified window professional will ask a number of questions — and show you a number of samples — to help you decide which windows are best for your home. And, they will also take measurements and go over the process of installation. Most manufacturers will back the installation services of a certified window professional. Of course, you may also decide to purchase windows and have them installed independently. Should you go this route, you'll want to be sure that your contractor specializes in window installation and replacement.