A new roof is a big investment — but it's one that's worthwhile. After all, your roof both protects your home and adds to its curb appeal. And leaving a faulty roof to chance can leave you spending far more in expensive damage and repair work down the road! Here's a rundown of the most important cost factors.
Labor and Logistics
The average roofing job costs about $8,000, according to HomeAdvisor's True Cost Guide. But the price you'll pay for your roof will depend on the size of your roof, as well as its layout and the type of shingles you choose.
Labor and overhead costs typically make up 60 percent of the cost of a roofing job. So, complicating factors like multiple chimneys, angles and steep grades will drive up the final price tag.
Logistical matters will also factor into the cost of your roofing project. Roofing is a material-heavy job. So, the more easily your roofing pro can store, stage and load materials around your yard and home, the cheaper the project will be.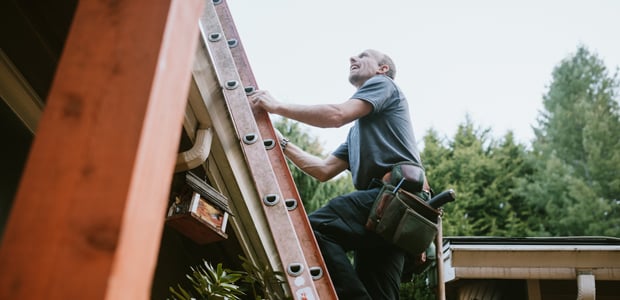 Materials Pricing
The remaining 40 percent of a roofing project's cost depends on materials. Given the upfront cost of your roofing project, and the fact that the typical roof will last an average of 20 years or more, it generally pays to go with the highest-quality materials your budget will allow. Of course, you'll also want to consider what's best for your climate, as well as what will best complement your home and neighborhood.
Asphalt roofing is the most common type of roofing, and for good reason. Asphalt shingles are durable, inexpensive and available in a wide variety of styles and color options.
Average cost: Between $4,700 and $9,000.
Wood shingles and shakes present an upscale look and offer a nice complement to historic homes. Keep in mind that these shingles require more maintenance than others, and they don't resist fire, insects or damage as well.
Average cost: Between $10,000 and $20,000.
Slate is one of the most attractive, durable and heavy roofing materials available. It's also among the most expensive, and its weight may cause strain on an unready structure.
Average cost: $5,000 to $14,000.
Metal roofing is durable and energy efficient. It's more difficult to install than other materials, but it lasts a very long time with minimal maintenance.
Average cost: Between $5,000 and $12,000.
Tile creates an elegant look and comes in a wide variety of colors. It's also long-lasting and easy to repair.
Average cost: Concrete tiles cost between $8,000 and $12,000. Clay tiles cost between $13,000 and $30,000.
TIP: Pay attention to the material warranty. A roof should last several decades, so a longer warranty may well be worth the cost!