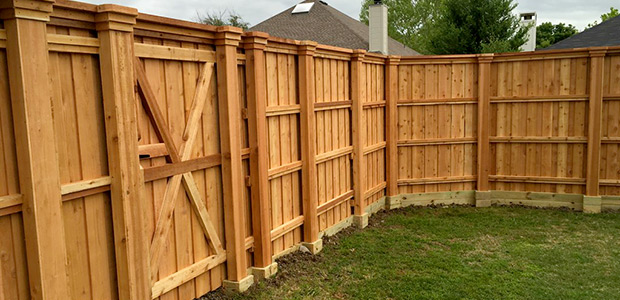 In need of new fencing? This look at materials, prices and durability will help you find the perfect solution for your home.
Material
Price* /
Durability
What You Need to Know
Photo
Wrought Iron
$ $ $ $

---

◉◉◉◉

Wrought iron is one of the strongest and longest-lasting fencing materials available. It's also easy to customize. Wrought iron comes at a premium price.
Steel
$ $ $ $

---

◉◉◉◉

Steel is sturdy and maintenance-free, but it's less versatile than other materials. Steel also comes at a higher price.
Aluminum
$ $ $ $

---

◉◉◉◉

Aluminum is rust-resistant and doesn't require regular upkeep. It is weaker than other metal options.
Vinyl
$ $ $ $

---

◉◉◉◉

Vinyl is affordable and easy to install, but it is weaker than most other materials. Vinyl is not recommended for security fencing.
Wood
(pictured above)
$ $ $ $

---

◉◉◉◉

Wood is strong and can be long-lasting. Most wood fences will require regular upkeep and staining.
Chain Link
$ $ $ $

---

◉◉◉◉

Chain link is affordable and durable, but its construction makes it less attractive than other materials.
If you need a security or containment fence, choose tougher materials like steel, wrought iron or wood.
Find Fencing Pros
* Fencing installation prices range from $430 and $8,000, according to HomeAdvisor's True Cost Guide.