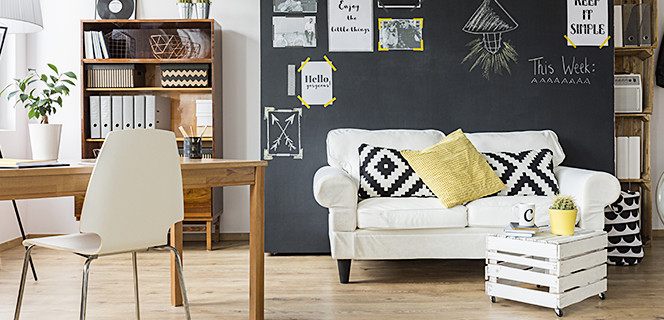 Got more stuff than you've got places to put it? Not to worry. Even the tiniest of houses can be converted into space-saving hero houses. It just takes some creativity — and a little elbow grease or professional help. According to HomeAdvisor's True Cost Guide, most homeowners spend an average of $380 to $1,000 to have an expert make sense of their mess. Here are five real projects to give you the ideas and inspiration you need to get started — whether you decide to go solo or call on a pro.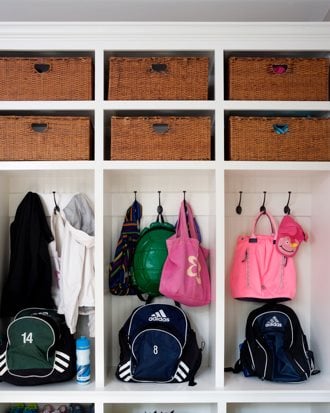 1. Cut the clutter with cubbies.
Cubbies take us all back to a simpler time — elementary school — when our greatest worry was whether we'd open our lunchbox to find yet another bologna sandwich. And while they may not be able to wipe our worries away – or make us a nostalgia-worthy bologna sandwich — cubbies can do a lot to make things a little simpler again. In fact, cubbies are the perfect systematizing solution for entryways and mudrooms. You can create them inexpensively with freestanding modular units and hooks, or you can invest in custom built-ins like these.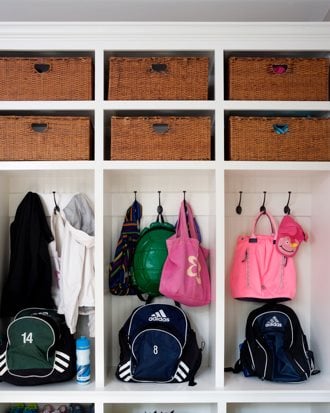 2. Put pullouts to work in the kitchen.
Lower kitchen cabinets. The place where Tupperware goes silently packing and pots and pans – amidst chaos — clamor for their rightful rank. The solution? Simple pullout drawers (also known as rolling drawers, sliding drawers and pullout shelves). You can find these ready-made for standard cabinet dimensions or have them custom made and installed. Pullout drawers are also a fantastic organization solution for pantries, laundry rooms and bathrooms — and they'll give your back a break while cutting your swear jar donations, too.

3. Make room with a murphy bed.
Murphy beds are cool even in big spaces with plenty of storage. Because, who doesn't love the idea of magically pulling their bed out of the wall? But in small spaces with little room for everyday living, Murphy beds are more than cool: They reign as supreme kings of accommodation. In fact, with the addition of a Murphy bed, your guest bedroom can do double duty as a home office or playroom — and it's a whole lot cheaper than actually adding another room. Plus, you can take organization to the next level with the addition of matching cabinets like these.

4. Stow stuff in your staircase.
When it comes to efficiency, staircases offer the ultimate opportunity to get creative. In fact, you can often cut into the untapped area under a staircase — or better utilize one that's already exposed — and put it to use as a cocktail bar, a seating nook, a mini-library, or handy shelving and storage. Perhaps the paragon of maximized space, this unassuming staircase has been retrofitted and transformed into a highly functional chest of drawers. Amazing, right? And oh-so-practical too!

5. Bury belongings under the bed.
Alright, there's nothing new about this one. We've all been stashing things under the bed since the days of cubbies. But there are so many functional tools for doing this well these days that it warrants a rose-colored mention. Bedroom built-ins like those pictured here are the stuff dreams are made of. But if something like this isn't a practical fit for your budget or your home, you can find under-bed storage organizers at retailers that will do the job just as well.