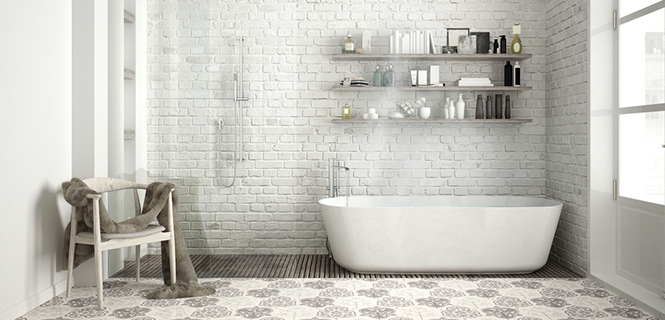 Like all major remodeling projects, the key to a successful bathroom update is careful planning. From the contractor you hire to the materials you choose, your remodel will be filled with critical decisions — beginning with your budget.
While you may have $50,000 to allocate to your remodel, it's important to ensure that your investment is appropriate for your current market. According to HomeAdvisor's True Cost Guide, the average cost of a bathroom remodel is between $5,928 to $14,137. How much you spend on your bathroom update will depend on several key factors.
Return on Investment: Does It Matter?
Before beginning your remodel, it's important to gauge your expectations regarding your return-on-investment (ROI). If you're anticipating a maximum ROI, avoid over-improvement (spend no more than 5% of your home's value on your bathroom remodel). Most homeowners agree that mid-grade materials yield the highest returns.
What's the (Floor) Plan?
Have you been dreaming of expanding your bathroom into a master bath? Depending on the extent of your remodel, expect a price tag of roughly $6,000. Additionally, the cost of installing or rerouting pipes and electrical wiring (which usually coincides with the addition of new walls) will add an extra $2,000-$4,000 to your total.
Factoring in Fixtures
Next, you'll need to calculate the cost of fixtures. The amount you spend on toilets, sinks, tubs, showers and faucets will depend on the quality of each item. If you're working within a budget, it pays to be flexible. Likewise, a degree of flexibility should be included in high-end projects as well. Connecting focal points with mid-grade fixtures allows you to complete your upscale remodel without unnecessary expenses.
Hiring a Quality Pro
Your last step will be factoring in labor costs. While the do-it-yourself approach will work for certain parts of your project (if you have the know-how), hiring a licensed pro is the fail-safe approach. Before hiring a pro, it's important to understand that the quality of your remodeling experience is dependent on the quality of your professional. Finding a pro you feel comfortable working with isn't easy, so make sure to take your time. The more remodelers you interview, the better chance you have of finding the perfect pro.