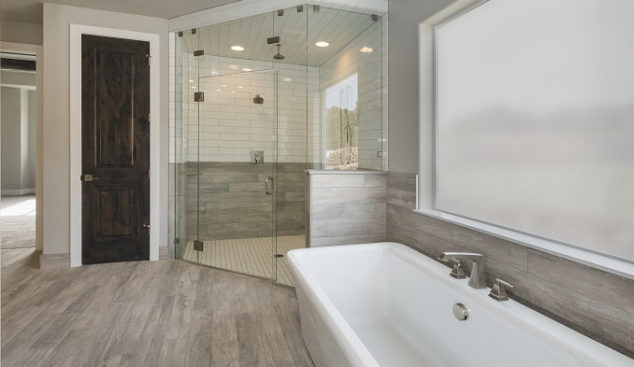 Remodeling a master bathroom can be a very exciting, though often stressful, process. If you take the time to plan your remodel ahead of time, then you're doing a lot to ensure it is more exciting and less stressful.
Ideas for Master Bathroom Remodeling
When you first start planning your master bathroom remodel, it is very important for you to gather master bathroom remodeling ideas from many sources. Looking at the work that others have done in the past can help create significant inspiration when planning your own remodel. During your search, you will probably find a number of simple ideas that could provide you with the type of bathroom you've always dreamed of. When planning your remodel:
Decide on the style you are going for with the remodel– modern, traditional, or something entirely different
Consider selecting fixtures with a warm, earthy color if you are painting in a cooler color palette
If you are using tile in your shower, consider using the same style and color of tile on the floor to create a more continuous flow to the color scheme
Create a consistent theme for your bathroom that will bring all of your fixtures, appliances, and design choices together
Using tile artistically to create designs on your walls has the potential to make even dull bathrooms attractive
Try to find the most water and electricity-efficient appliances and fixtures you can
Remember that simplicity can often impart a level of class and distinction to a room that ostentatious flair cannot
Always ask yourself what each decision will do to your budget
Utilize Pictures of Other Master Bathroom Designs & Layouts
Looking at pictures of bathroom layouts can also provide a lot of inspiration when planning your own bathroom layout. This is especially true for people who don't have a lot of experience with drawing or visualizing unique layouts. Not everyone has ability to think of a spacial design purely from scratch. When looking for master bathroom remodel pictures, take care to:
Look for pictures that are taken in homes that match the general layout and flow of your own home
Look specifically at the materials and fixtures used in the picture, constantly stopping to look up prices
Keep yourself from spending too much time fantasizing about remodels that are outside of your price range, as this can lead to frustration and potential financial hardship
Spend time studying pictures and trying to figure out what it is that you like about each picture you look at
Always ask yourself if the bathroom would be comfortable for you to use every day or if it is just a pretty artistic image
How Much Does it Cost to Remodel a Master Bath?
The cost of a master bathroom remodel can vary widely depending on a lot of factors. For the most part, contractors tell clients that the labor costs of the remodel will hover around twice the cost of the materials. Below, you will find a basic breakdown of the needs and associated costs for a small and large master bathroom remodel.
Small Master Bath
A small bathroom remodel including new tile, new fixtures, new cabinets, and new flooring will cost around $8,000 for materials alone. The labor costs for this project could reach upwards of $16-$18,000.
Large Master Bath
A larger remodeling project could run you $12,000 or more depending on how extravagant you get. The labor costs for a project like this would be around $30,000.
---
No Comments Yet
You can be the first to comment!