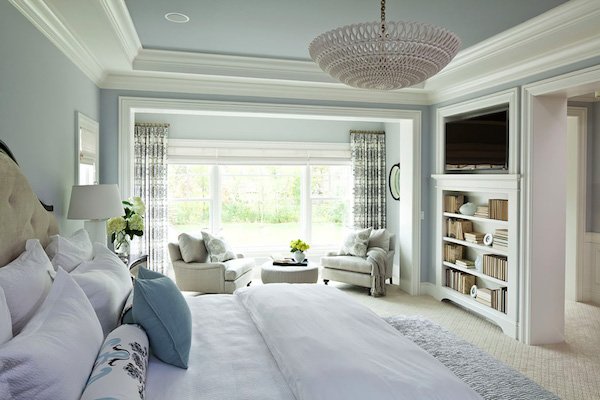 Though they might seem like the same thing at first, the terms "bedroom addition" and "master suite addition" are actually very different. While conventional bedroom additions are typically focused on practicality, master suite additions are also concerned with comfort and convenience. While bedroom additions tend to be built purely to create needed living space, master suite additions are created to provide those who use it with a private sanctuary inside the home. If you're thinking of adding a bedroom anyway, it is well worth considering the small (but important) upgrades that will make your new addition a true master suite.
The Practicality of Master Suite Additions
The idea of a master suite addition is not appealing to everyone at first; adding a bedroom is expensive enough, without the extras that make master suites more costly. However, when you consider the practicality of many master suite designs, it becomes easier to see why these projects are becoming so popular.
Master suite addition designs typically include a walk-in closet, a private bathroom (often of a "his and hers" layout), and room for a couch or loveseat. In a way, master suite layouts are very comparable to creating a small apartment attached to the house. This not only makes getting ready in the morning easier and coming home at night more enjoyable, it also increases the value of your property and makes your home more appealing to future prospective buyers. Since you are adding a space that can act as a living room, bathroom, and bedroom, the extra cost of a master suite may actually be considered a bargain!
Master Suite Addition Ideas
One of the nice things about master suite additions is that they can perform whatever functions you like. Adding a breakfast nook to make mornings more comfortable is a popular option, as is adding a small kitchenette to keep snacks, drinks, and some flatware easily accessible. Many homeowners view master suites as an opportunity to create a second-story living room, as the higher perspective often yields a better view. If the couple that shares the room tends to get in each other's way when getting ready for work or a night out, a changing room might be a good inclusion; for those who work from home, a master suite addition is a great idea for a small home office. Those with a spouse who snores might appreciate a daybed or comfortable couch a little bit away from the main bed to get a better night's sleep. Just about anything is possible in such a diverse and adaptable area, so imagine what you want or need and go for it!
Keeping the Price of Master Suite Additions Manageable
Of course, the most prohibitive aspect of a master suite addition is the price. Unfortunately, just the term "master suite" conjures images of high-end materials and even higher-end construction costs. If you want all the bells and whistles to go along with your new master suite, you're going to have to pay for them; however, it is important not to pay too much if you don't have to! When considering contractors to build your new addition, make sure to meet with and get estimates from at least three; the more contractors you interview, the better your idea of how much your particular project will (and should) cost, and the better your chances of finding a company you feel comfortable with to do the work.
Before you meet with contractors, make a list of the things you absolutely must have along with those that would be nice but you could do without if the cost becomes too high. This will allow you to realistically picture the project you can afford and will give each contractor you interview a chance to wow you with their suggestions, ideas, and, of course, estimate!
No Comments Yet