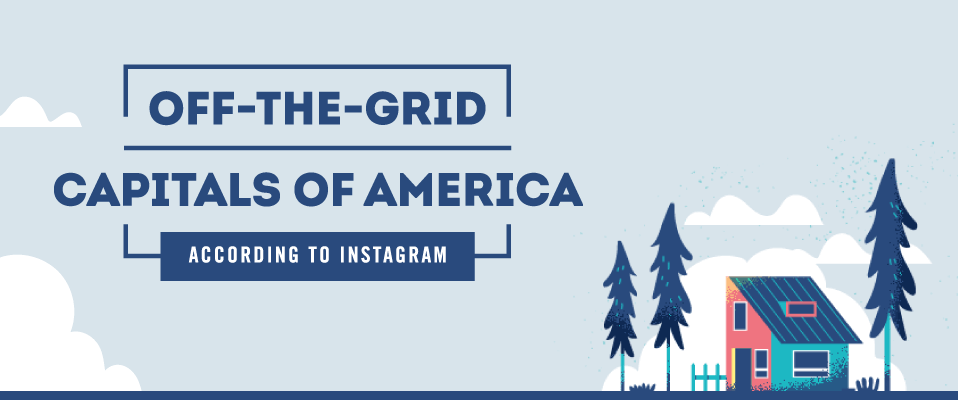 More and more Americans are living off-grid. Energized by the climate crisis, increasing surveillance or idealism for a better way of life, they're throwing off the shackles of mainstream society. And they're each doing it in their own way.
Here's a look at the major trends within the movement:
Homesteading is mainly about self-sufficiency. You'll find homesteaders growing their own food, generating their own power and making their own clothes.
Tiny living is a lifestyle that leaves a smaller footprint on the world. Tiny houses – and tiny living – are about simplification and lowering cost of living.
Living off-the-grid is a broad category that includes tiny living and homesteading. It also means disappearing from staples of society like the electric grid, schooling and the internet.
Everybody has their own reason for pursuing one of these ways of life; many of today's Americans feel regular life has become at once too easy and too heavy. They're looking for purpose, but they also seek freedom: "be a producer and not just a consumer," according to Shaye Elliot, the 'Gwyneth Paltrow of homesteading.'
So, where do all these off-gridders go? If they're doing it properly, nobody really knows. But we went hunting for signs of life on Instagram. We scraped data on posts tagged #homesteading, #tinyliving, and #offgridliving. Here's the map of America's capital 'cities' of off-grid living that we created with the results. Read on below to find out more about each movement!
The best states for #homesteading
Checked out the #homesteading hashtag on Instagram lately? There, you'll find artsy shots of spotted eggs and wholesome toddlers. From composting to herb gardens, it's safe to say homesteading is at the 'community living' end of the off-the-grid spectrum.
The homesteaders aren't necessarily rural, Henry David Thoreau-types, either.
"Urban homesteading is really getting some traction," Hollis Palmer, a back-yard farmer in Newport, Virginia, tells CBN News. "And it gives you good energy, and you can get good exercise, and most of all, you get some good eatin' out of it, so give it a shot."
The urban homesteading trend explains the density of #homesteading pictures Instagrammed from the east coast. Saratoga Springs (170 photos) in New York State is a surprising hotspot for #homesteading pics. (The quality of water and resulting tasty crops may play a part). Picturesque east coast locations like Peacham, Vermont, are also ripe for a good time outside (245 photos). As the pattern on the map shows: wherever you are on the east coast, you're never far from a home-grown carrot. If you don't have a natural green thumb, it's possible to pay for a helping hand. Garden and yard work services cost between $130 and $400 a month.
However, the King of American Homesteading is nowhere near the East Coast. It's Livermore, Colorado, with 322 photos.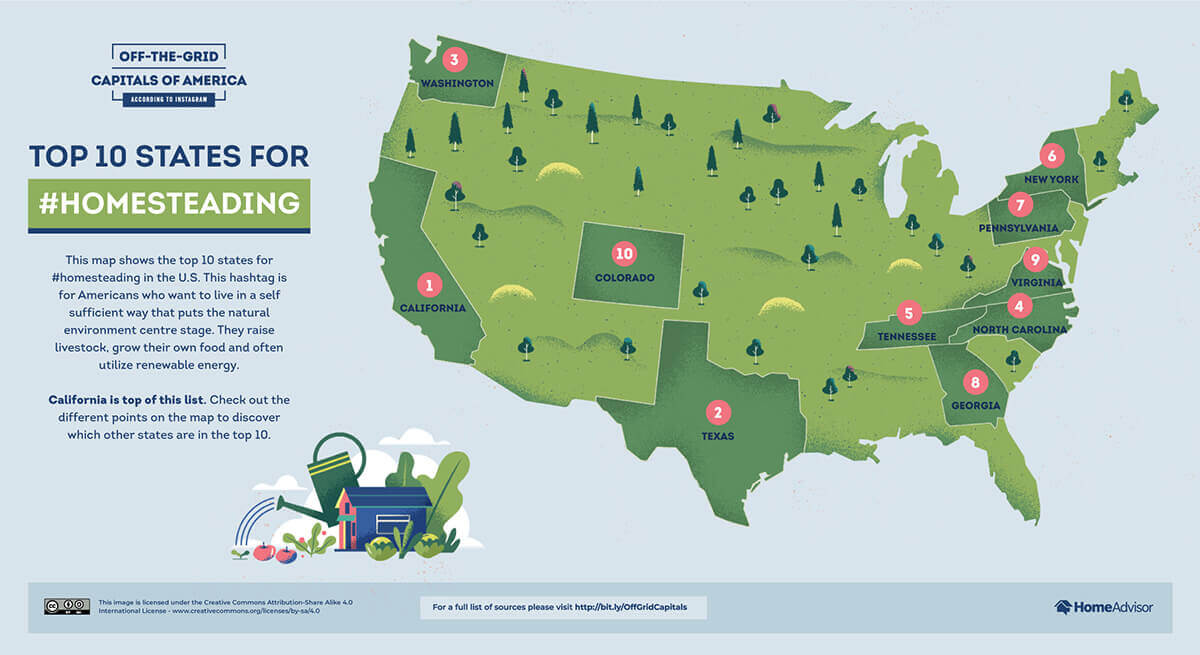 The best states for #offgridliving living
Technically the #offgridliving hashtag is an oxymoron because you need the internet to post on Instagram. But there are a few casual off-gridders who showcase what life looks like in their world. Casual off-gridders have a range of motivations. Some have inherited an old house that's expensive to connect to the electric grid. Others just want to get away from it all for a while.
And the #offgridliving aesthetic? You'll still find baskets of eggs, but they're surrounded by bushcraft knives, off-road vehicles, and ornate water filtration systems. Garbage disposal is another mundane reality to factor into the off-grid life, because bears, bugs, and skunks live off-grid, too. Wild animals aren't just a safety issue – they're also a financial one. Animal Control & Removal Services cost an average of $345.
The off-grid living capital of the US in terms of Instagram posts is Kimberly, Alabama (234 photos). However, many of Kimberly's photos are attributable to a single off-grid cabin and its AirBnB guests. The hosts are keen to warn you that this isn't the hotel for you if "[y]ou need a hair dryer to feel complete" or "the thought of being dropped off 1.25 miles into the woods leaves you a little panicky."
More predictably, California wins the title of 'The Off-Grid State.' More than one in 10 usages of the #offgridliving tag occur in the land of hippies and surfers. If you live in Los Angeles, San Francisco or San Diego, you may well have an off-gridding Instagram-user right next door. For Californians, it appears off-grid living is about living an eco-conscious life. If you can't completely unplug but want to take steps toward living sustainably, solar panels cost between $16,590 and $30,740 to install.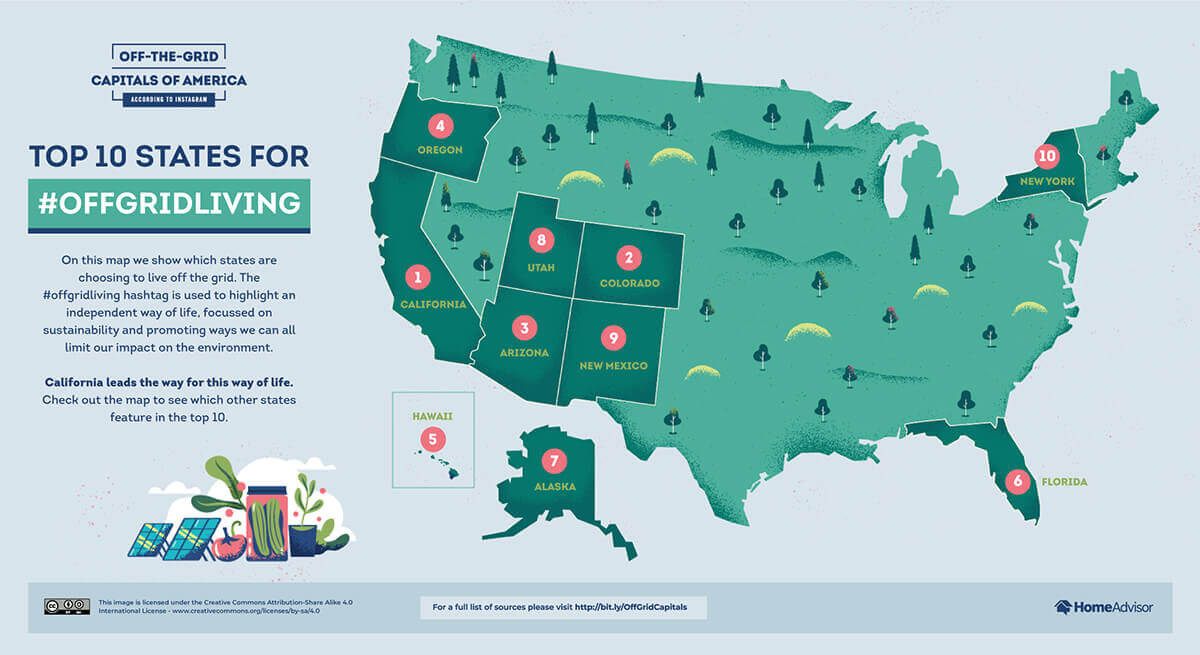 The best states for #tinyliving living
The #tinyliving movement may sound cute, but it is driven by a fierce desire to minimize waste and energy usage. This is for the good of the planet and for the tiny homeowner's personal economy. Lester Walker's 1987 guide to building tiny houses kickstarted the movement. Walker's guide was inspired by the American tradition of cabins and cottages (including Thoreau's). Sustainable home improvements that help save the planet include:
Solar panel installation.
A geothermal heating and cooling system.
New air-tight windows.
Updated insulation in your house.
Upgraded appliances.
More than the subcultures mentioned above, tiny living requires smart, imaginative design. Much of the pleasure of tiny living comes from dreaming up economic solutions to the challenges of existing small-scale.
Like an inside-out Marie Kondo, the process is sometimes painful. But the reward is a sense of control and a neat, petite footprint. The #tinyliving hashtag reveals few craft knives or carrots; it's mostly adorable exteriors and satisfying Tetris-tight arrangements of shelves and furniture inside. This is no small feat: Creative living room design can reinvent a space.
Our Instagram data suggests that tiny living figures big in cities known for arts and creativity: Portland, Oregon (695 photos) is America's Tiny Capital, while Austin, Texas, L.A., New York City and Seattle all feature in the top 10. Today's design-led tiny living movement is more cultured and modern than the 'back to the earth' subcultures of homesteading and off-gridding.
But big city folk face another motivation for downsizing: skyrocketing rent. Simply Home is the name of a three-house village in Portland where residents pay as little as $350 per month to live. The whole neighborhood has the joint footprint of one single regular-sized house. Meanwhile, local company Tiny Heirloom custom designs tiny homes on demand, and offers off-the-shelf living spaces for the price of a mid-range SUV. It costs about $23,000 to build a tiny home and join the tiny house movement.
The 20th century represented a drive towards convenience to the point of extravagance. But today, people seek more meaning and engagement with their surroundings. Off-gridders, homesteaders, and people in tiny houses are learning new skills and making unlikely neighbors, doing the honest work of caring for the world around us.
Methodology
To create these visualizations, we collected data by "scraping" it. Scraping is a technique that gathers large amounts of data from websites. In this case, we wrote a custom script in Python to get the data for each hashtag. The script collected information including the number of likes, number of comments, location, etc. for posts with each of the three lifestyle hashtags. The python script also collects data that human users can't see, like specific location information about where the post was published from.
We didn't include posts without location information. We also didn't include posts outside of the United States. We then standardized the city and state data. Then, we grouped the posts by city and by state, tallying the number of posts for each hashtag. This gave us our top locations.
Finally, we created a backend database to store this information and a front-end map to display it.
Sources
For the full research behind this project, including the sources visit http://bit.ly/OffGridCapitals.
No Comments Yet