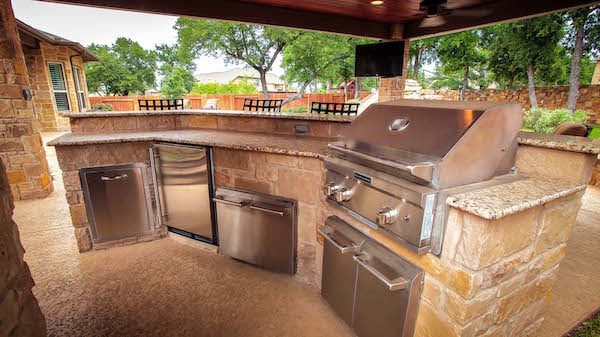 Outdoor kitchens are not the new thing; they are the thing. Outdoor kitchens have been around for a while in the warmer states, where they can be used year round. But like every great idea, it caught, and even caught on in areas where these additions can't be enjoyed during all times of the year.
These additions have survived the fad and they are here to stay, which makes them valuable selling points for your home, not to mention valuable living points while you reside there.
What's even better is that since they have been around for a years, all the wrinkles have been ironed out, advances have been made, and now outdoor kitchens can be just as smooth as any other home addition.
Typical Outdoor Kitchen Design
If you're not familiar these home remodels, let's get you up to speed. The centerpiece to an outdoor kitchen is the fire. The fire is typically a BBQ grill of some stripe. But this addition is not just a grill, otherwise most everyone already has one. To be a true outdoor kitchen, there has to be more kitchen to it, which is why sinks counters, and a basic cooking station typically accompany this popular home addition. They are basically exactly what they sound like: kitchens that are outside. And if you have one, no more running back and forth to get anything while you are grilling, because you have everything you need right there.
Custom Outdoor Kitchens
Outdoor kitchens would not be so popular if it weren't all the upgrades. Here are some that we have noticed over the last few years.
Ready to start your
outdoor kitchen

?Find Pros
Masonry & Brick Ovens
If you have a grill, a counter, a sink, waste basket and the like, some brick or stone masonry can really keep everything together instead of looking thrown together. Some have invested in brick ovens and then just built in their BBQ grill and the rest. Very stylish approach.
Dishwashers & Garbage Disposals
You don't want the luxury of cooking outside if you have to run all the dishes back inside, not to mention the scrap food. Dishwashers are not only great for cleaning dishes, but they are also great for storing dishes as well. They are perfect, out of the way places. And a garbage disposal? If you're going to do this, do it right. The last thing you want beside you out there is a can of chicken fat and corn husks while you are entertaining guests.
Fridges & Cabinets
Many custom outdoor kitchen have under-the-counter mini-fridges for storing cold drink, wine, and those marinating meats and vegetables. Some have also installed cabinets into the masonry or simply alongside the grill to store cookware, spices, glasses, and whatever else people need when they cook.
The Big Picture
Many have chosen to put their outdoor kitchens on their patios; however, the problem with this is that if you are to run water, gas, and electricity out to your outside kitchen, then you need some way to sneak in there discretely.
Many have chosen to build a deck for their kitchens. All the pipes and wiring can be run below deck and out of site. Others have chosen to install a pergola over their patios or deck, and they just run their wiring and pipes through there, down the posts, and no one is the wiser.
If you do choose a deck, or if you already have one, you'll likely need extra fortification for all of the weight that will be sitting atop the boards, but this is small potato stuff. For now, sketch out some space, pull in some good outdoor kitchen design, and get what you want. ***Remember that if you live in a cold state, you will need to winterize your outdoor kitchen come October, so make sure you have this in mind when building it.

Ready to start your
outdoor kitchen

?Find Pros
No Comments Yet