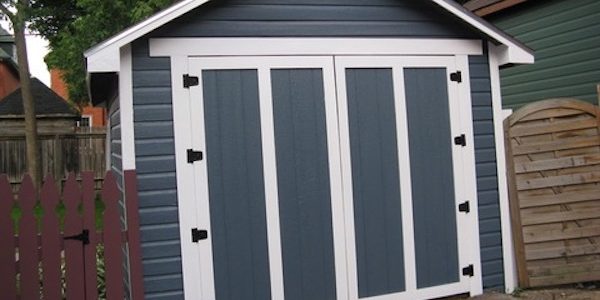 Who doesn't wish for a custom-designed loft apartment with a luxury bathroom, highly insulated walls, top-notch heating and cooling systems with recessed lighting, built-in cabinetry and shelves, and two wide easy-to-access doors with state-of-the-art remote operated garage door openers for their new garage addition? Your new garage may not be too big to fail, but it can be too big and too complex to be cost effective. (It can also be too big for your mortgage lender to finance.) Prefab garage kits and free garage plans are two ways to substantially reduce the cost of garage construction and get more bang-for-your-buck. Here's what you need to know to maximize the potential of these resources and eliminate the pitfalls.
Understanding Prefab Garage Kits
Prefab garages are often marketed as a way to inexpensively build a garage on your own. Indeed, many handy homeowners undertake this project to great success every year, but for every success story there is at least one "horror" story from a homeowner who equates "prefab garage kits" with "some assembly required." A prefab kit for a major home improvement—such as a garage addition—isn't just a more complicated version of assembling an office desk or bedroom dresser from the local furniture store. You need basic carpentry skills, experience reading detailed construction plans, and a huge chunk of time and patience to review the instructions and them follow step-by-step.
Prefab Garage Installation
Most prefab garage kit manufacturers will, at the very least, make a recommendation that you hire a professional for laying the concrete foundation of your new garage. The foundation planning and application is typically the most expensive and technically demanding, but also the most important, component to get right. Many skilled homeowners might very well be able to build their own garage from a prefab garage kit, if only they have the foresight and wherewithal to delegate the foundation to a concrete professional. It's also worth noting that prefab kits can be installed entirely by a professional such as a handyman or carpenter. This route will cost more than doing it yourself, but usually less than hiring a general contractor or garage addition company.
Plans for Prefab Garages
Whether it's a new home, a kitchen remodel, or a garage addition plan, professional home builders and contractors don't just start building from scratch, they follow detailed, carefully crafted plans. Your new garage needs to be conceived, designed, and professionally rendered before construction can begin. Of course, most construction companies have staff members who can generate these plans for you, but you may be able to save some time and money by providing ready-made garage plans yourself. Plus, these plans should ensure you're comparing apples-to-apples when soliciting estimates from multiple contractors.
Free garage plans are available through a number of online resources, but just like anything else, there is usually a reason they're free. Rudimentary plans may still provide you with a reasonably strong garage, but they're not going to offer many, if any, bells and whistles, and many result in a finished garage that won't last nearly as long as more high-quality plans. That said, it's not a bad idea to print out a free garage plan and take it to three garage builders to solicit estimates. This way, you can get an apples-to-apples comparison without spending a dollar and with no pressure to stick with these plans if you decide to upgrade or change the design before the construction begins.
Need to find a pro for your garage plans?
Find Pros
Prefab Garages, Kits, Garage Plans, and Building Permits
Some homeowners make the mistake of assuming that a prefab garage circumvents the need to secure a building permit for a garage addition. Other homeowners don't realize that using a prefab garage kit is of no advantage during this process. The truth usually lies somewhere in between. Many prefab kits gain pre-approval in many jurisdictions throughout the country, but the homeowner must still apply for the permit. Even if pre-approval isn't granted, you will have the advantage of a large corporation with a vested interest in getting their kit approved in your area. And having big business on your side never hurts when it comes to politics.
---
No Comments Yet
You can be the first to comment!