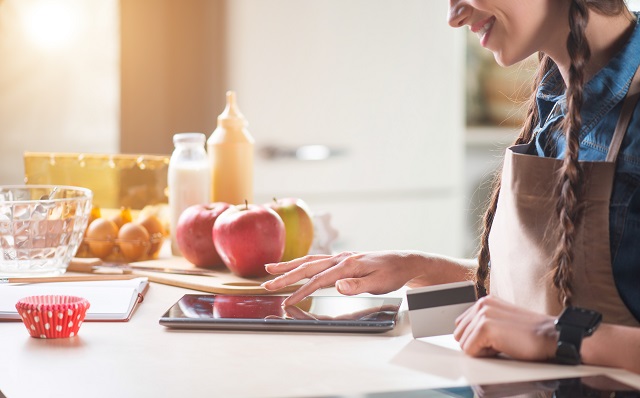 The holiday season is just around the corner, which means your kitchen is about to go into overdrive. But cooking for a crowd can be much less stressful with the latest smart appliances and gadgets.
Here are five ways to take advantage of the smart technology to help keep your holiday kitchen under control.
1. Put a wireless speaker to work
A smart speaker from the likes of Amazon, Google, or Microsoft has all the answers during busy meal prep. Need to convert cups to grams? Just ask Alexa. Looking for a stuffing recipe that calls for chestnuts and shiitake mushrooms. Google Home can help. Then of course there's the hands-free timer, which remains the most popular digital assistant task.
Last but not least, Alexa owners can use the HomeAdvisor skill on their device to find professional service in a pinch, say an appliance repairman to deal with a broken dishwasher or a plumber to unclog the kitchen sink.
Bargain Pick: Google Home Mini, $50. Stylish design, solid sound quality, and the power of Google search combine for great value.
Smart Splurge: Amazon Show, $230. Built-in screen makes it easy to search and read recipes.
2. Spring for a wireless meat thermometer
You only to need burn one Thanksgiving turkey (or worse, under-cook it) to appreciate the value of a meat thermometer. Spending more on a digital model will ensure accuracy, so your bird will come out of the oven at the optimal 165 degrees Fahrenheit. With a wireless model, you'll even get an alert on your smart phone when that desired temperature is reached.
Bargain Pick: Weber iGrill mini, $50. Powered by Bluetooth up to 150 feet with a long-lasting battery.
Smart Splurge: Williams Sonoma Smart Thermometer 2, $200. Leave-in probe is extremely precise, plus you can set separate timers for side dishes.
3. Smarten up your coffee brewer
Instead of having to jump up at the end of the meal to put on a pot of coffee, what if you could simply pull out your smart phone? That's the beauty of today's smart coffee machines, which you control from an app. Some integrate with wireless speakers, allowing you to simply say "Alexa, start brewing my coffee," from the table, and café-quality brew will start to percolate.
Bargain Pick: BrewGenie Smart Coffee Maker, $70. Even lets you program your smartphone to play music when brewing begins for a gentle wake up.
Smart Splurge: Behmor Connected Brewer, $170. Features Amazon Dash Replenishment Service, automatically reordering coffee beans when supplies are running low.
4. Take the plunge into sous vide
French for "under vacuum" sous vide is a way of cooking meat, fish, and other foods in vacuum-tight bags placed in a temperature-controlled bath. Besides impressing dinner guests, the technique is a huge help when cooking for a crowd, since you can prepare steaks, filets and other dishes hours, or even days in advance, then flash sear them in a hot pan right before dinner is served. That's how you say "voila!"
Bargain Pick: Kitchen Gizmo Sous Vide Immersion Circulator, $75. Compact design and whisper-quiet operation.
Smart Splurge: Anova Precision Cooker, $150. The interactive Anova app features more than 1,000 sous vide recipes.
5. Check your smoke alarms
November and December are among the busiest months for home fires, in part because of the uptick in cooking, according to the National Fire Protection Association. That's why it's vital to check your smoke alarms before the holiday season gets busy. Smart smoke alarms allow you to better manage nuisance alarms from a smoky cook-top—as opposed to ripping out the batteries, which can be tempting when you're busy whipping up a big holiday meal.
Bargain Pick: Roost Smoke Alarm, $60. You can also install the $35 Roost battery into existing alarms to make them smart.
Smart Splurge: Nest Protect, $120. Available in both hardwired and battery-powered model, Nest is also self-testing, for added peace of mind.,
Dan's Bottom Line
I see the kitchen as the next frontier in smart home technology. Given how much time we spend there, especially during the holidays, the benefits are enormous, from time savings to safety and security to the promotion of healthy eating. It's no wonder that, in a 2017 HomeAdvisor survey of smart home consumers, kitchen appliances were the most frequently installed product, edging out thermostats, security systems, and lighting.
A lot of smart kitchen technology is DIY-friendly, meaning homeowners can get started without bringing in a professional. Having said that, smart home pros, as well as designers and contractors, should keep up with the technology, since the devices fit into the smart home ecosystem. For example, if you're specifying a smart home hub for a customer, you'll want to know which connected devices are compatible with it.
No Comments Yet