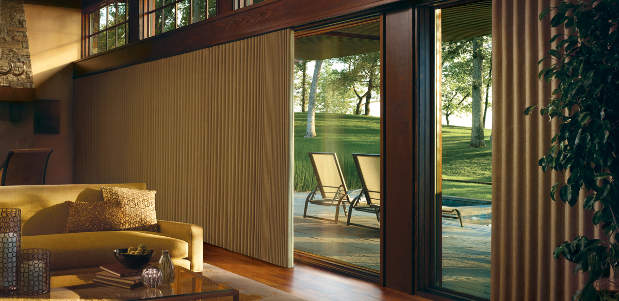 Windows, especially older windows, are notoriously poor insulators. It is true that replacing old windows and sealing window frames can greatly reduce the amount of heat transfer between the interior of your house and the outside. A remodel can certainly fix insulation problems, but there may be some other things you can do to reduce the amount of wasted energy in your home.
Thermal Drape Benefits
Thermal drapes or thermal curtains are designed specifically to hinder the movement of heat between the living area and the windows around it. In colder climates, thermal drapes keep heat in during the winter months. In hot climates, they keep heat out in the summer. In both cases, they will have an affect on energy costs.
While not a window replacement, the construction of a thermal curtain is much heavier than a standard one. It will have a highly insulate core that is surrounded by any fabric you desire. Installing thermal drapes won't fix all your heat loss problems, but can be up to 5 times more efficient than a traditionally constructed curtain.
For homeowners who have a lot of heat transfer issues, but aren't ready to remodel, they can provide a measure of relief from high bills and uncomfortable drafts. Thermal drapes can also be used after a new window is put in. The combination of the two will make an excellent barrier from the heat and cold, alike.
Custom Thermal Curtains
Those with very specific needs can have a set of thermal drapes or curtains custom made. The curtain crafters will be able to cover the insulate core with whatever pattern, color, or fabric you desire. They will also have a large number of styles you can choose from. You'll be able to specify how you want them to look and how they should open.
A custom job, however, is sure to cost a bit more than purchasing a standard set in a store or ordering them online. It will also take a bit longer, as they won't begin making the drapes until you both come to an agreement on exactly what the finished product should be.
Curtains for Blocking Light
Though not all thermal curtains are made specifically to block light, their heavy construction often provides a significant light barrier. The reverse is also true: blackout curtains often provide more insulation than standard curtains. In both cases, the extra qualities are a plus, but neither is designed specifically for that purpose. If light and heat blockage are both needed, make sure to purchase curtains that are made to do both.
Limitations
Thermal curtains and drapes are meant to supplement a home's energy efficiency, not to fix problems entirely. If your heating or cooling costs are way too high, your home's large energy consumption is probably due to a number of different issues. The curtains are a start (and a beautiful one at that), but you'll most likely need some serious renovation to truly become energy efficient.
No Comments Yet