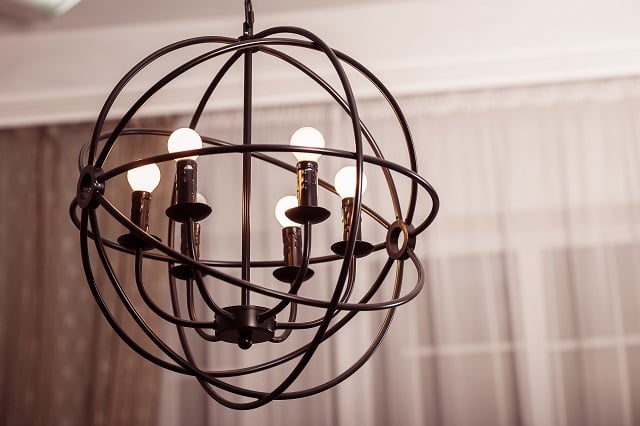 Updated October 2017
Chandeliers make beautiful, colossal centerpieces for any room. Modern homes feel incomplete without one. They draw attention immediately to the center of the room and make a grand statement about your lighting choices. Synonymous to luxury and splendor, these incredible light fixtures come in a variety of styles, colors, sizes, and shapes which may either be tiered or non-tiered to suit every room, mood, and occasion. Gone are the days when chandeliers were restricted to formal dining rooms and opulent hotel foyers. Now, they embellish any living space from hallways to kitchen islands, living room, dining room, master bedrooms, and bathrooms. Check out these four types of chandeliers and get inspired before you upgrade or renovate your home.
Crystal Chandeliers:
Crystal chandeliers might sound too cliched but they are dramatic when hung in hallways or high-ceiling rooms. Such magnificent pieces are definitely not for modern homes which are more casually designed. It is better to choose one that strikes a balance between high drama and subtlety so that it does not overpower your decor. But if you want your chandelier to steal the show, then go for authentic vintage chandeliers with tiered crystal beads.
Contemporary Chandeliers:
Living room is the utilitarian space of any home and the right spot to stun your guests with uber cool centrepieces. Contemporary chandeliers come in asymmetrical and unexpected designs than their tiered traditional counterparts. They blend elements of classical touch and glamour with the sleekest of designs, adding the right amount of sparkle to ultra modern living rooms. They have very less detailing and give an elegant look to even the smallest of rooms.
Rustic Chandeliers:
Rustic chandeliers are less dramatic, giving an antique look to the room and add a casual touch to your decor. Ideal for dining rooms, they complement both traditional and modern wooden furniture giving a rustic mid-century vibe. Designs such as antlers, plants, branches, and distressed material when paired with right wall accents and furniture create a tough look.
Candle Style Chandeliers:
Candle style chandeliers date back to the ancient days, when candles were mounted on them to lighten up the room. With a modern twist to these classical designs, flickering candle-shaped electric bulbs imitating candlelight are used, retaining their elegance and functionality. They make good centerpieces for dining rooms and kitchens if you want to give your interior a moderate look with a touch of sleekness.
Tips to hang chandeliers:
Hang them in the center of the room, making it the first thing a person sees while entering a room.
For a dining room setup it should be positioned in the center of the dining table and at a reasonable height to avoid bumping.
Do not hang it right above where a person would sit as it casts unflattering shadows and the heat from the bulbs could make the person uncomfortable.
Entice your guests by mounting chandeliers in the rarest of places like bathrooms and kitchens, because they least expect to see one in such parts of a home.
Install dimmmer switches to the chandelier to achieve the perfect glow and create a serene ambiance.
Do not limit yourself to one big chandelier, instead go for two or more smaller ones to make better use of the space.
Hire professionals to mount chandeliers because they have a better understanding of the electrical systems. Besides, they bring the right tools to mount them irrespective of the size, weight of the chandelier or the ceiling height.

The above mentioned types are only broad categories of chandeliers and they come in different sizes and shapes. Chandeliers come in shapes like drum, sputnik, waterfall, cage, globe, antler, and teardrop, to name a few. Another element is the tiers, they could range from 1 to 5 tiers depending on the ceiling height and the size of the room. Ramp up the style of your home by choosing the right lighting fixture for every room.

No Comments Yet