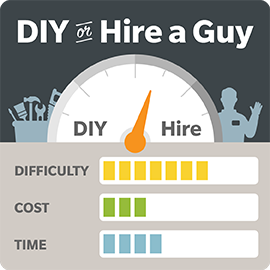 Leaky faucets can be frustrating, but they can also be a quick fix if you know what to do. Use this guide to show you how to install a faucet.



Materials Required:
Level
Screwdriver
New Thermostat
Pencil
Electrical Drill
Wall Anchor Mounts
Hammer
---
Keep in mind: if the DIY is over your head, you can always hire a guy instead.
Steps for Installing a New Faucet
Turn off the water to the sink you are working on and—using a wrench—disconnect the supply lines from the faucet.
Remove the faucet by loosening the screws underneath the sink and pulling the faucet out.
Place the new faucet through the mounting holes.
Attach the faucet to the sink. Follow the manufacturer's instructions for this step.
Reconnect the water line and any other plumbing accessories.
Make sure all parts of the faucet are secure and turn the water back on.
HomeAdvisor Tip:
 Some manufacturers require sealant or plumber's putty when installing the gasket.
No Comments Yet