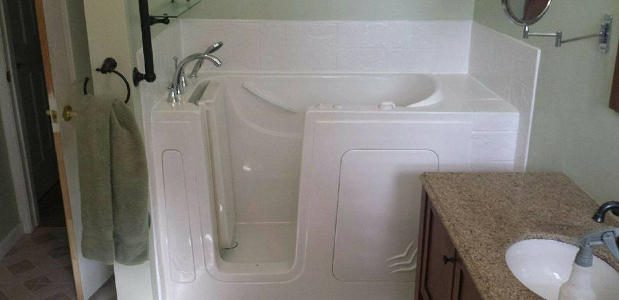 As we get older and less agile, certain aspects of living at home begin to present a challenge. One of the worst of those is the bathtub and shower area, with its slippery surfaces, high steps, and multiple obstacles. The answer to this dilemma is the walk-in bathtub. As aging-in-place building philosophies sweep the nation, the walk-in tub is leading the charge to create safe, convenient bathroom spaces for those who might find a traditional bath and shower difficult, and dangerous, to use.
Walk-in Bathtub Basics
A walk-in bathtub is a tub with a swinging entrance door that allows easy access for those who might find it difficult to climb into, and get out of, a standard bathtub. They come in a large variety of models that offer a number of different features. That being the case, it's important to know what's out there before you buy.
What to Look for
As has already been mentioned, the model you end up purchasing is going to depend a lot on what you're purchasing it for. If you just want to feel safer and more secure, then a low rise model is the perfect solution. These models are basically a regular sized bathtub with a swinging side door that makes getting in and out of the tub less hazardous. Of course, many people looking for a walk in bathtub have more pressing needs. For those homeowners, there are tubs with high walls and raised seats, making them ideal for people who use wheelchairs, scooters, and walkers, and for those who simply can't get up and down like they used to. Transferring from a wheelchair to one of these tubs is a breeze, making it possible for those with mobility restrictions to retain their independence when it comes to personal hygiene.
Walk in Bath Tub Luxuries
Few walk-in bathtubs come without the option of adding a few luxuries to the design. Hydrotherapy in the form of jets, whirlpools, and other water massagers, can make bathing a therapeutic experience, as well as a cleansing one. Besides hydrotherapy, numbers of models come with features such as seats that raise and lower at the touch of a button, and hand held shower heads so you can achieve an ultimate clean without having to stand up.
Need to find a pro for your Walk-In Tub Install?
Find Pros
Installation
While it may sound like a daunting task, walk-in tub installation is actually a pretty easy endeavor. Most are pre-plumbed, meaning all you have to do to get them running is hook them up to the pre-existing water source in your bathroom and plug them into a wall outlet. Of course, you always have the option to have a plumber fit it in as a permanent fixture, both plumbing and electrical wise, greatly reducing the chance of future potential problems. As for fitting these tubs into pre-existing bathrooms, there's no need to worry. Most walk in tubs are designed with space considerations in mind, and you can rest assured that there is a model out there to fit your allotted area, whether it used to house a narrow bathtub, or an even smaller shower stall. Of course, if you have the space there are larger, more spacious models to choose from that really let you stretch out, relax, and enjoy your bathing experience.
If you think a walk-in tub might be the right fit for you, talk to a supplier or plumber about what you need to do to get one of these safe, attractive, and convenient bathroom fixtures installed in your home.
---
No Comments Yet
You can be the first to comment!