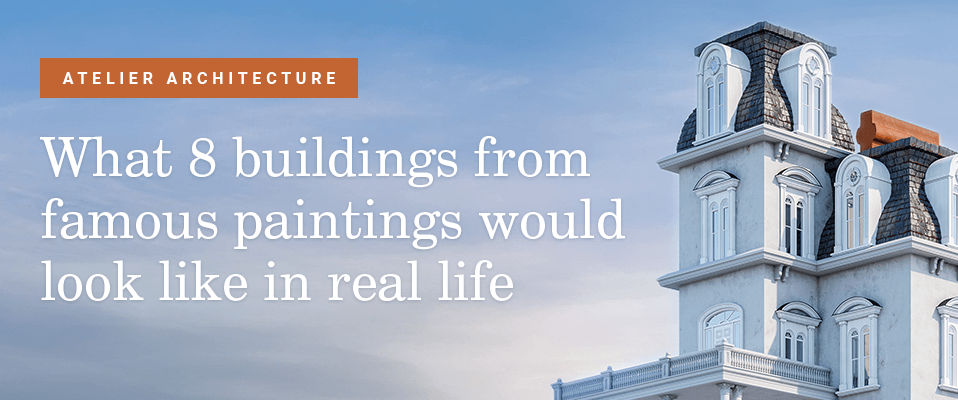 Everybody wonders whether the real Mona Lisa's smile was so enigmatic, or whether the figure in The Scream was actually just a bored spaniel.
But architecture in paintings can be just as mysterious. An artist might express hidden themes and meanings through the way they portray their buildings or hint at impenetrable spaces that can only be explored in the imagination.
We've produced a new set of realistic renders of 'atelier architecture' – the beautiful (if structurally dubious) depictions of real and imaginary buildings our greatest artists created in their studios.
1. Evening Snow at Kanbara (Utagawa Hiroshige, 1833–1834)
Utagawa Hiroshige (1797-1858) is probably the most celebrated Japanese artist of the late Edo period. He is also considered the last great master of the ukiyo-e tradition of Japanese woodblock printing. 'Evening Snow' is from a series of woodcut prints Hiroshige created in response to his first journey along the historic Tōkaidō road in 1832.
In fact, it rarely snows in Kanbara, and Hiroshige used a deal of poetic license in his design – possibly even working from guidebook images of a completely different town called Kanbara! Our recreation may be the first chance to see the 'real' Kanbara as it existed in Hiroshige's mind.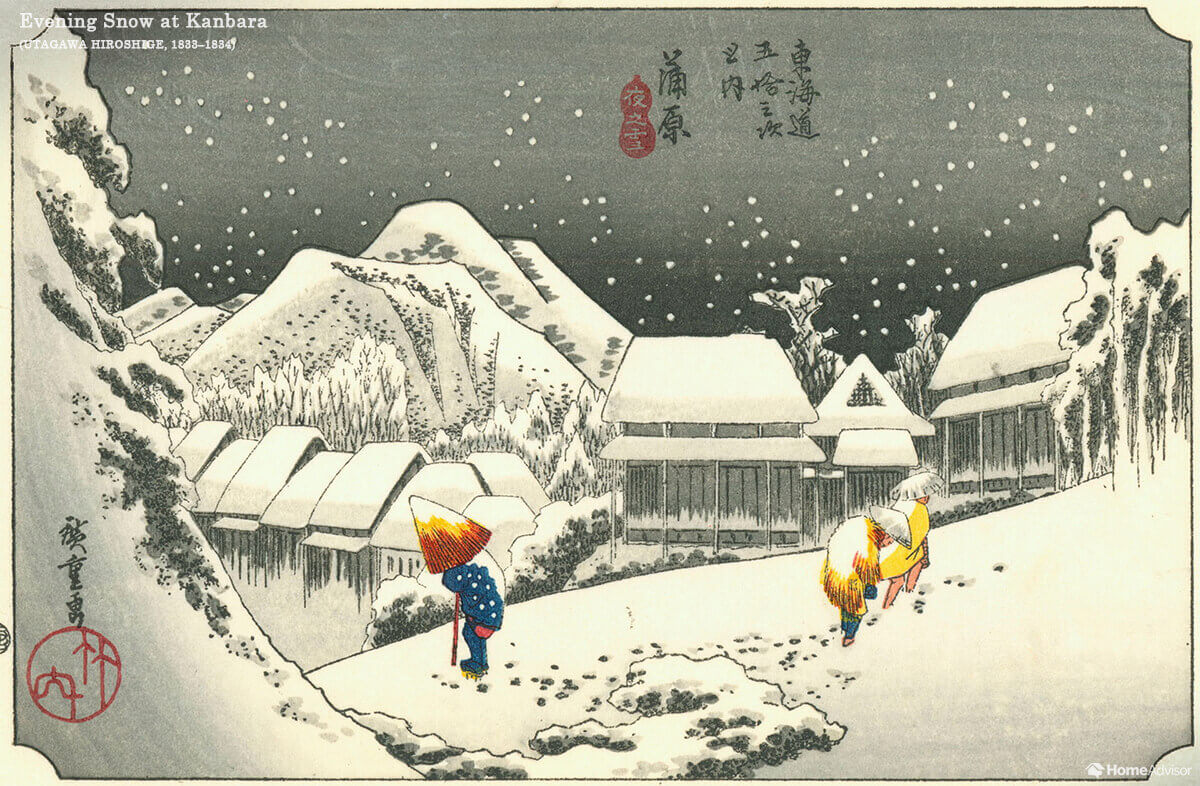 2. The Cottage (Vincent Van Gogh, 1885)
Van Gogh painted 'The Cottage' as one of his 'Peasant Character Studies.' The building has two front doors, and a split chimney, and is shared between two families. Van Gogh was careful to note the hues of "green soap and the copper-color of a worn 10-centime piece" that caught his imagination.
He was also fascinated by Emile Zola's Germinal at the time. Echoing the novel, Van Gogh's interpretation of this "human nest" of a house is both an uncompromising social comment and an affectionate tribute to the human spirit. In a letter to his brother Theo, the post-impressionist wrote: "those two cottages, half decayed under one and the same thatched roof, reminded me of a couple of worn-out old folk who make up just one single being and whom one sees supporting each other."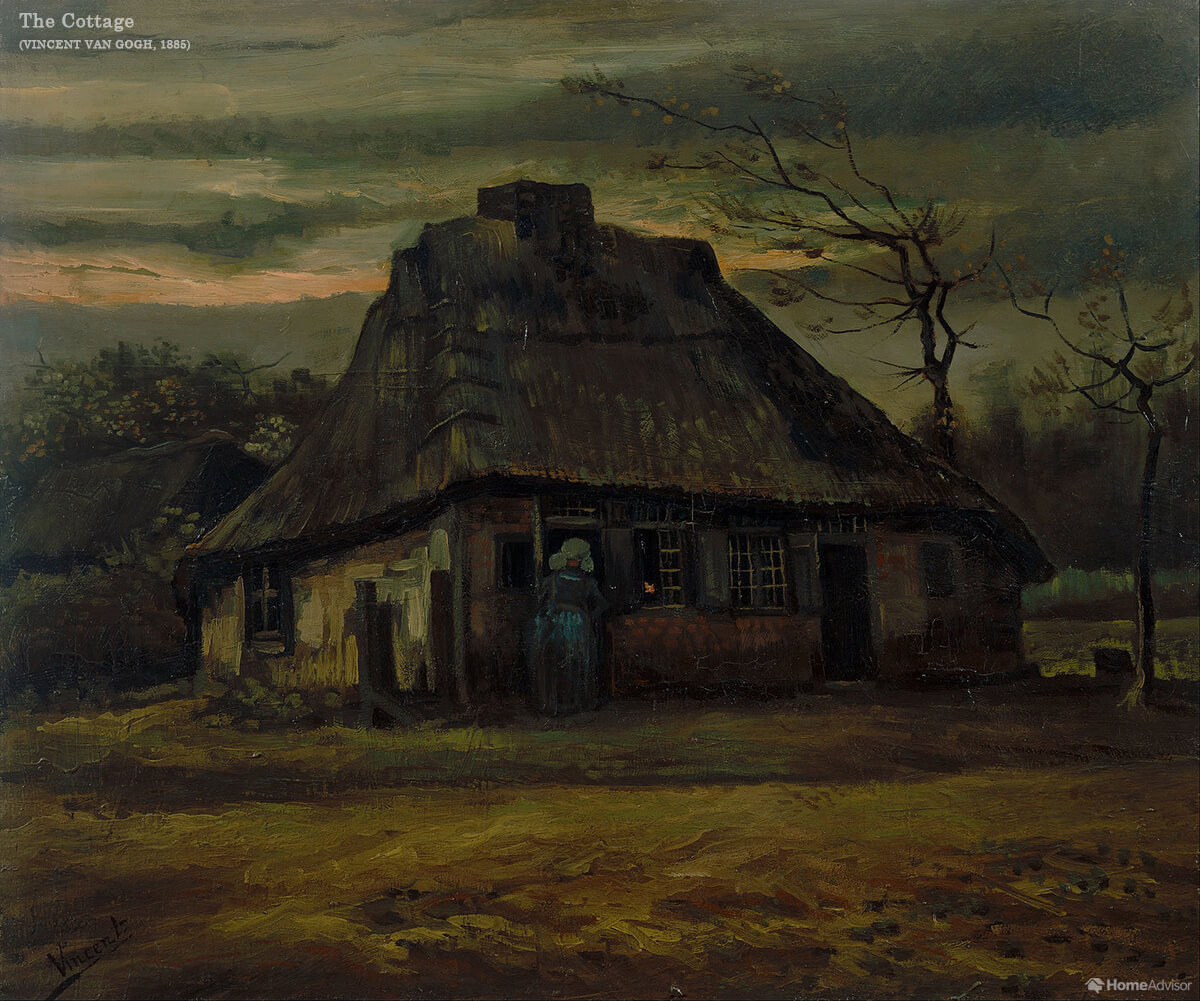 3. House by the Railroad (Edward Hopper, 1925)
The Victorian mansion in Hopper's painting cuts a lonely, forgotten figure, bypassed in time by the arrival of the railroad. Hopper claimed his compositions were drawn plainly from the world in front of him, but it is hard not to see the juxtaposition of elements in 'House by the Railroad' as a reflection on the disharmony between tradition and progress, fixity and mutability.
Our render brings out the odd, almost Surrealist shape of the house poet Edward Hirsch described as "ashamed/Of its fantastic mansard rooftop/And its pseudo-Gothic porch, ashamed/of its shoulders and large, awkward hands."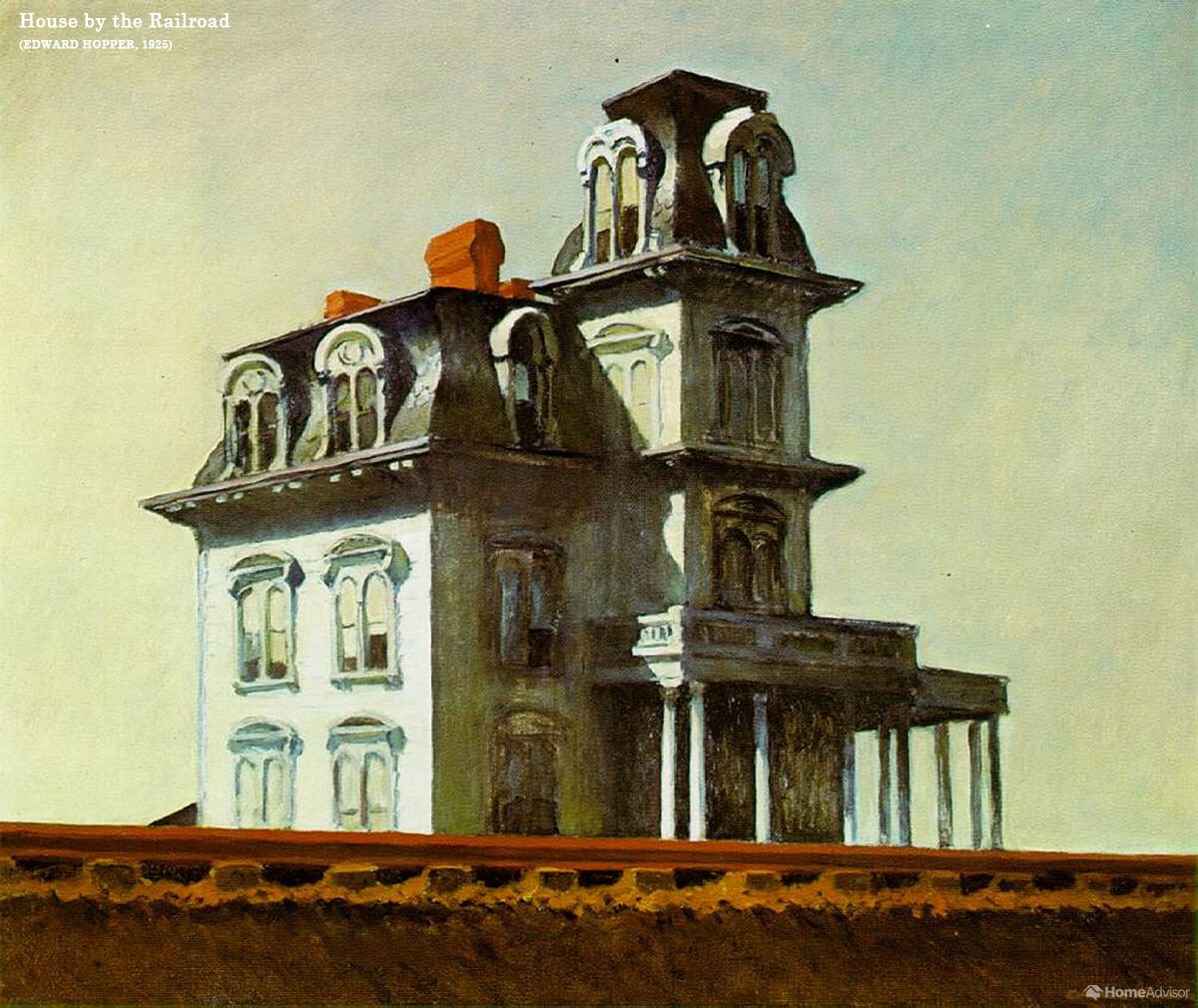 4. Houses At Falaise In The Fog (Claude Monet, 1885)
Claude Monet was one of the founders of the impressionism movement in painting. It was his work Impression, Sunrise that gave the technique its name. Impressionism foregrounds the artist's perception of their subject (commonly a landscape) over an optically realistic rendering.
'House At Falaise In The Fog' illustrates Monet's attempt to capture the uniqueness of the movement of light in a landscape, rather than depend on his imagination. Monet settled in Giverny with his wife, her children, and his sons, in 1883, and he would frequently visit nearby Falaise to paint.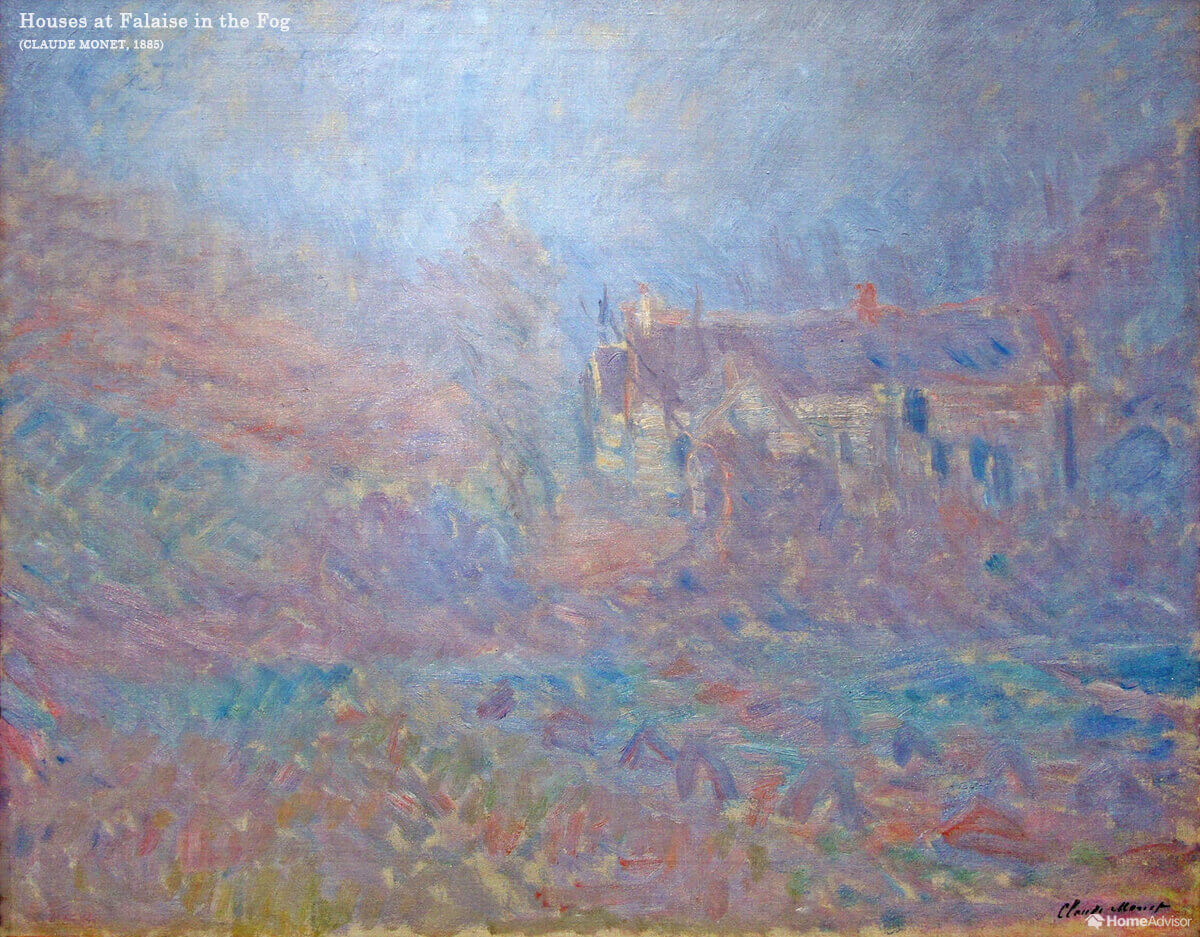 Inspired by the natural flowers in the foreground? Replicate this colorful landscaping in your own yard.
5. Little House by the Road (Bob Ross, 1986)
Television's Bob Ross painted 'Little Road By The House' for Season 9, Episode 8 of The Joy of Painting. His art tuition show enchanted a generation of young painters, and continues to charm today thanks to YouTube – where Ross has also become the unofficial 'Godfather of ASMR.'
Ross painted up to three versions of each design for his show, but it is not known where his 'Little House' is today. The house in the painting appears to be in a settler-era limestone home common among European colonists in the 18th and 19th centuries. Ross describes the colors he uses as including Sap Green, Alizarin Crimson, Titanium White, and Phthalo Blue.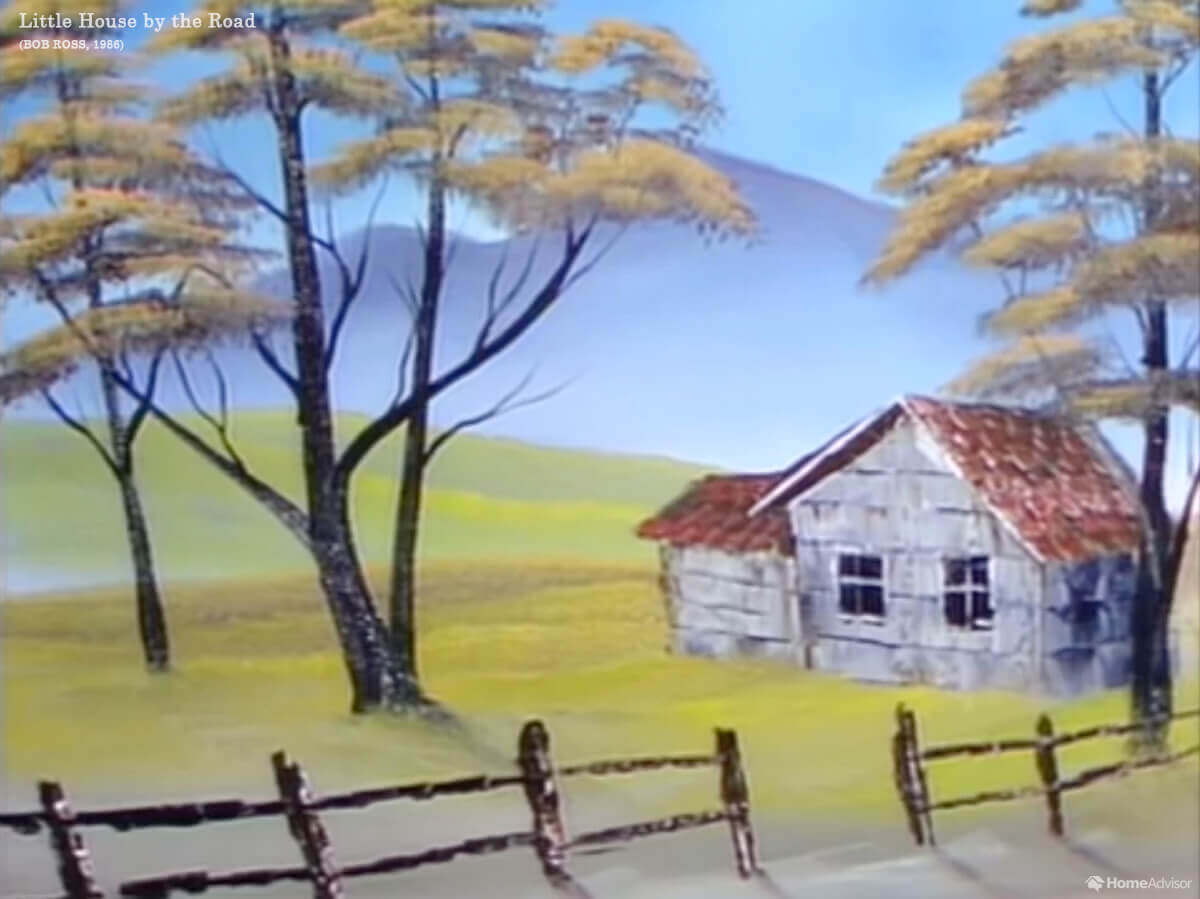 6. Taos Storytellers (R. C. Gorman, 1993)
The Navajo painter Rudolph Carl Gorman was born in Chinle, Arizona in 1931. He is known as "the Picasso of American Indian Art" for his bold, abstract-realist depictions of Navajo women.
Taos Storytellers portrays two such women outside traditional pueblo buildings in Taos, where Gorman opened the first Native American-owned gallery in 1968. The gallery itself is part of the iconic adobe Taos Plaza complex.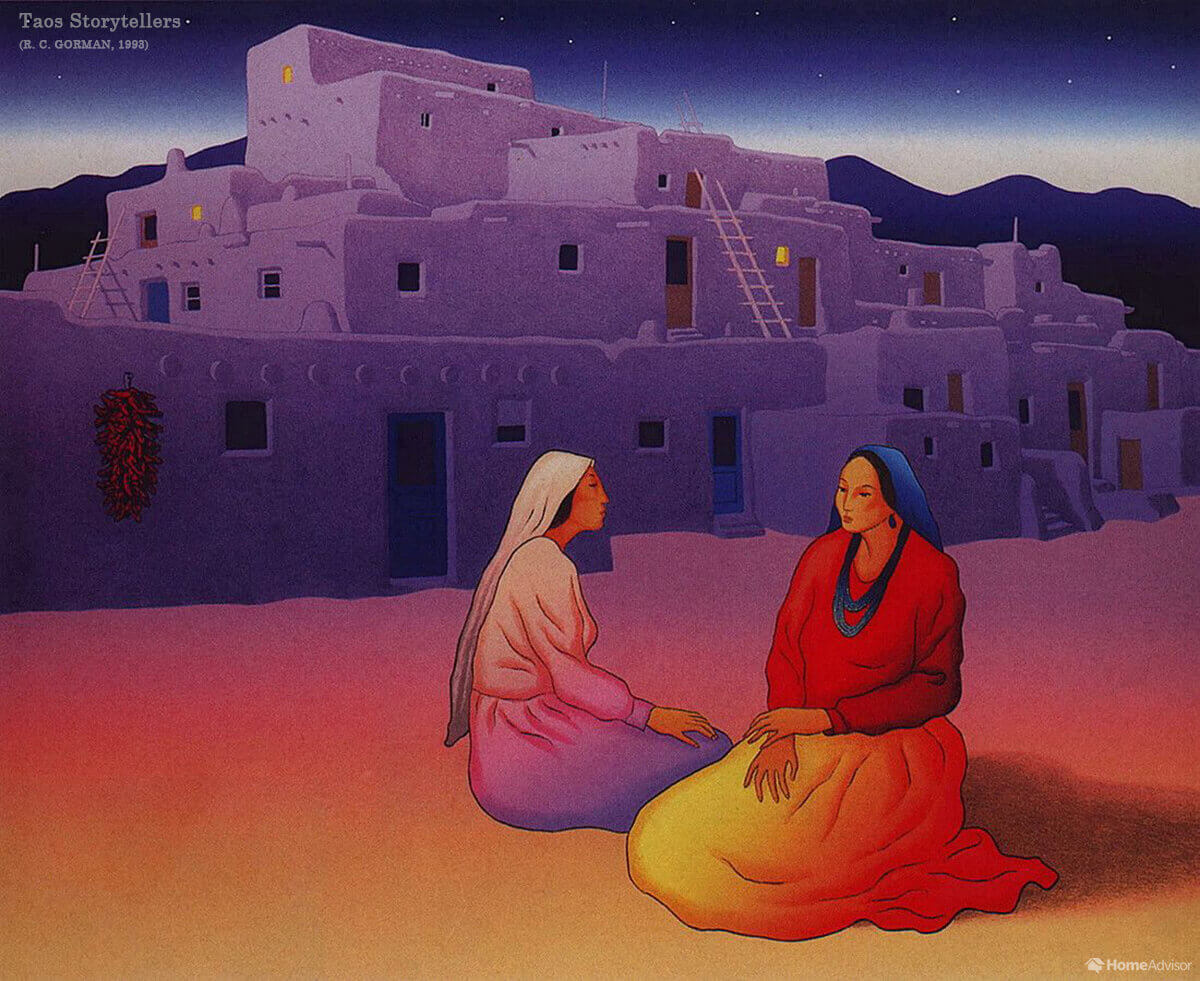 7. Palmeiras (Tarsila do Amaral, 1925)
Tarsila is a Brazilian painter who studied in Paris in the company celebrated artists such as Fernand Léger and André Lhôte. She brought back the then-fashionable influence of African and primitive art to Brazil and adapted it to her native heritage.
Palmeiras is from her "Metaphysical/Oneiric Pau-Brasil" period was inspired by a sketch she made on a trip to either Rio or Minas Gerais. Its geometric forms and bold colors are exemplary of Tarsila's minimalist style. Tarsila gives nature and the built environment equal prominence. In fact, the farmhouses didn't feature in her original landscape sketch – suggesting she conjured them from her memory or her imagination.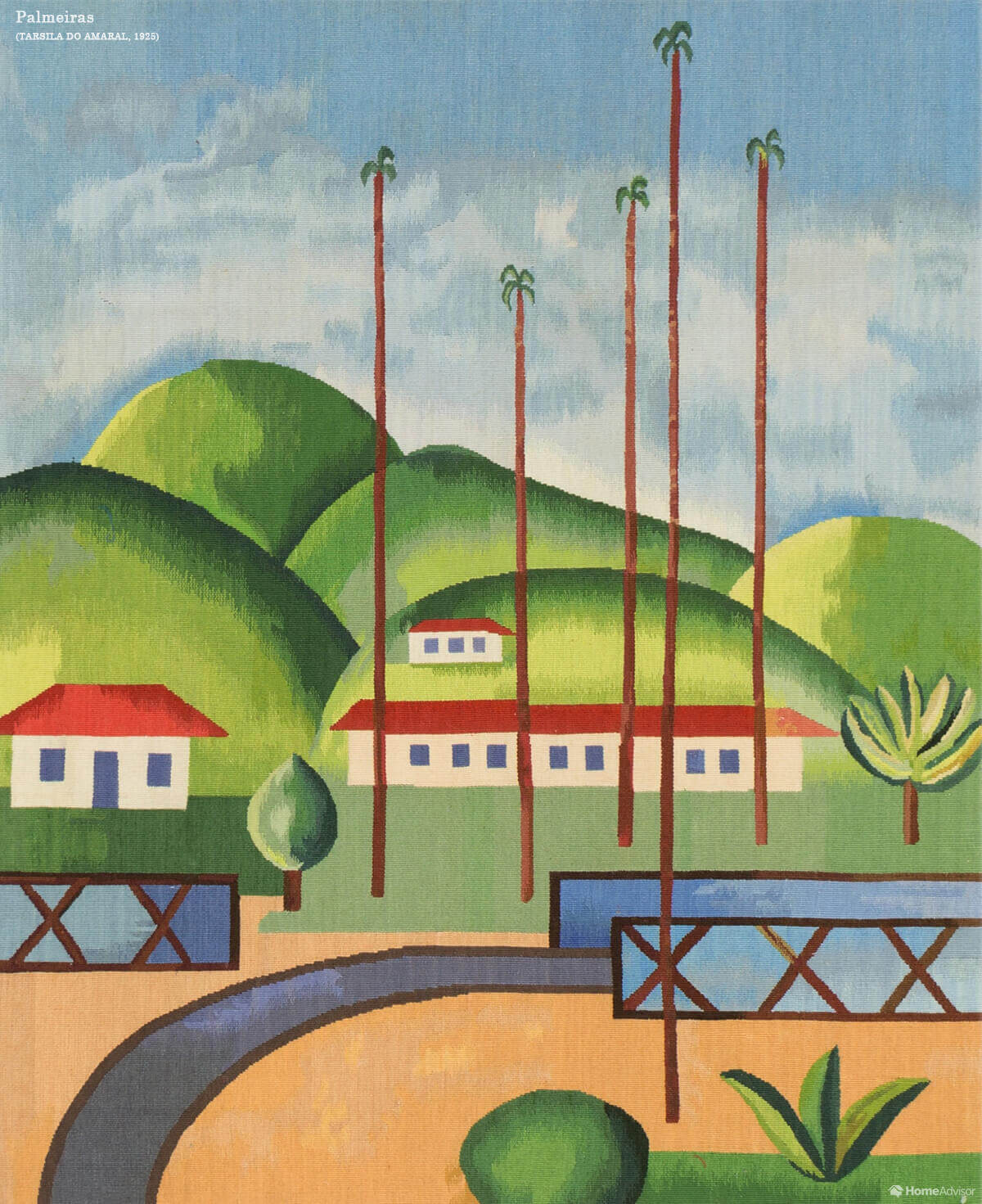 8. Hungarian Village Church (Amrita Sher-Gil, 1932)
Amrita Sher-Gil was a pioneer of modernist art in India. While studying at the École des Beaux-Arts in Paris, the Hungarian-born painter would holiday in the medieval village of Zebegény, 25 miles (40km) north of Budapest on the Danube. However, the church in the painting was actually built around 1908 by Hungarian-Transylvanian architect Karoly Kós, who was influenced by the English Arts and Crafts movement and Finnish and Eastern European folk art.
A comparison of the painting, our realistic rendering of the painting, and a photo of the real church demonstrates how Sher-Gil softened and simplified the form of the building. It reveals Sher-Gil's own preoccupation with the organic human form, the primitive, and centuries of European mythology.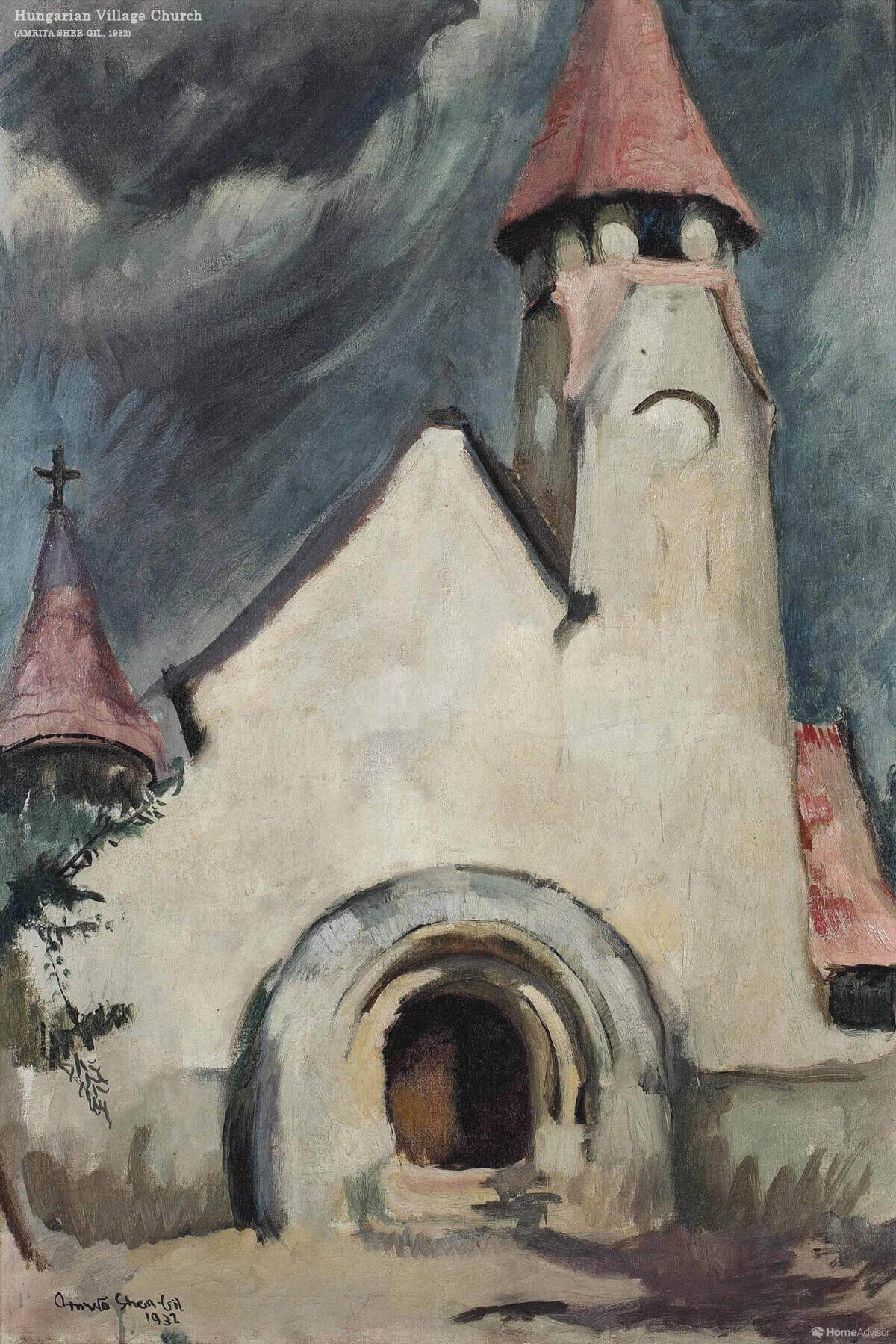 The buildings portrayed by the great artists of the past 200 years often represent real places – but represented artistically, they give you so much more to think about. If you found this project inspiring, why not check out our renders of six realistic interiors from famous paintings?
Sources
No Comments Yet