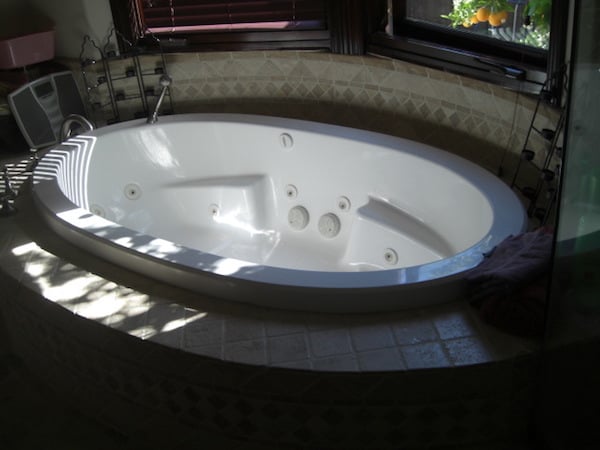 Nobody needs to be sold on the idea of a nice, long-massaging soak in the tub. After a long day working or a strenuous Saturday morning exercise, a whirlpool bathtub is the epitome of winding down into a stress-free nirvana. Not all whirlpool tubs are created equal, however, and knowing what's out there can help you make sure you get the tub that's right for you.
Water Jets vs. Air Jets
Traditionally, whirlpool meant a tub with water jets. Now, a whirlpool bathtub can be fitted with water or air jets. An air jet system can give your tub general bubbling action that may be soothing, but water jets create a more therapeutic massage.
Each kind of jet has advantages and disadvantages. Air jets don't recirculate water, allowing salts and oils to be added to the tub without contaminating the jets. In general, air jet systems are considerably easier to clean and maintain. Water jets don't just shoot water. They are designed to swivel and readily adjust water pressure. In this way, you can achieve a vigorous massage and a soothing soak in the same bathing session.
Several dozen small jets typically comprise an air jet system. Four to eight large jets are more the norm for water jets. There's not a significant difference in price for each system. A low end whirlpool tub can cost less than $1,000, while a huge, luxury whirlpool tub installation can easily go over $10,000.
Whirlpool Installation Options
Whirlpool motors—Most tubs are fitted with a one or two horsepower motor. A two horsepower variable flow motor is best as it provides the more power and uses less energy. If possible, try to install the motor at least 15 feet from the tub to reduce noise and vibration.
Independent Water Heater—Giving the whirlpool bathtub its own supplemental water heater will ensure your tub gets filled with hot water and maintains that temperature throughout your bath.
Jet Design—The placement and number of jets will influence the effectiveness of comfort and therapeutic value. For example, extra jets can be placed to specifically target your neck, feet, or your upper or lower back.
Tub Basins—Basins can be made from cast-iron, acrylic or fiberglass composite. Cast-iron is more high-end and longer-lasting tub. It may require additional support due to its weight. Acrylic is the most versatile and can be manufactured to any size, shape and color. Fiberglass is the cheapest and easiest to install.
Self-Cleaning Tub Systems—These are usually for water jet systems. It's a great option if you can afford it, although proper maintenance and care can also allow you to spend your money elsewhere.
Other Options—Make sure you inquire about slip resistant finishes, rails for getting in and out of the tub, and safety shutoffs. These little extras can go a long way for safety and convenience.
Important Note: This is not a DIY project. Installation involves working with water and electricity and in many places it's against the law to install a whirlpool tub without proper certification.
No Comments Yet