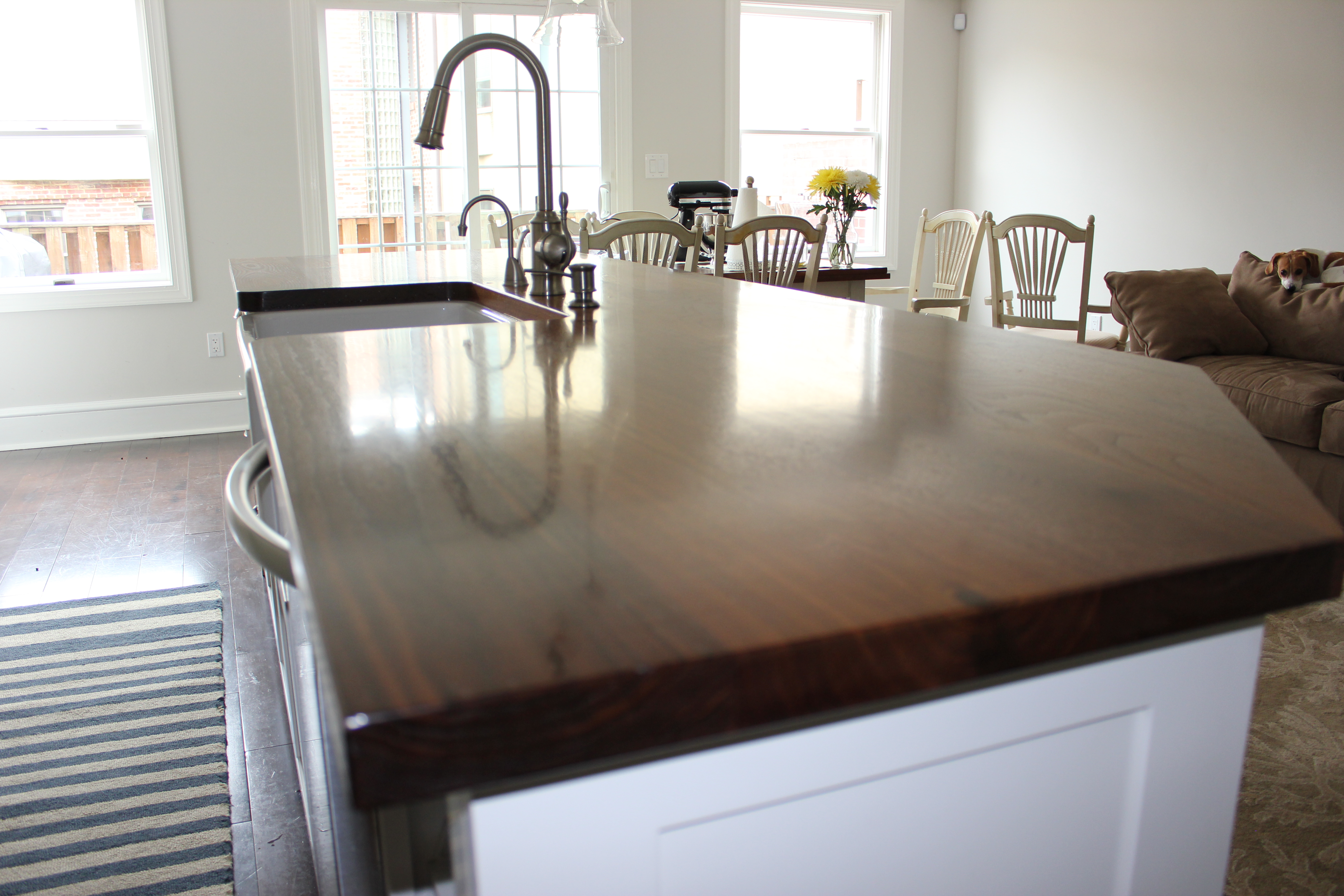 Wood countertops are a cozy addition to any kitchen due to their natural appearance, distinct color schemes, and detailed grains. They also act as a nice accent to any hardwood floors or cabinetry system in the house. Though they usually have an authentic antique feel, they're also sleek and elegant to match any modern design. So obviously they look warm and inviting, but they also serve as a more practical kitchen tool than most other surface materials.
Stacked Construction
Wood counters are made up of hardwoods, such as maple, oak, cherry or teak. But they don't come in big boards or pieces of lumber. Instead, they are assembled in parts: cut strips stacked upon one another and tightly glued. Typically they vary in thickness (from 2-20 inches) depending on their use and location. Even though they're all constructed in a similar fashion, there are also several different ways to configure them. Here are two different compositions to choose from:
Edge Grain: This is when strips of wood are placed length-wise and edge to edge, forming longer, sleeker surfaces. Commonly used for most any traditional countertop, this construction looks smooth and beautiful in any kitchen.
End Grain: Often used in butcher blocks or islands, this construction uses short blocks of wood arranged so that the ends point up, revealing their growth rings. These wood counters are typically thicker, form a checker-board pattern, and are more durable. In fact, when using a knife against this surface, the blade isn't even dulled because it squeezes between the grain instead of against it.
Natural Benefits
Hygienic: Wood counters are naturally sanitary because they have an inherent, built-in protection against bacteria.
Easy Fixes: Unlike other materials, if wood countertops are ever damaged, simply sand away the undesired marks or dents to smooth out the surface.
Adaptability: The rustic look of lumber allows wood counters to go anywhere in the home. Put them in the kitchen, install them on your wet bar, place them in your butler's pantry, make a butcher block island to hang your pots and pans above like a real gourmet.
Price: However, since this surface isn't man made, it also comes at a naturally hefty price. Depending upon the size, construction, and species, they can run anywhere from $30 to $90 per square foot and around $3,000 to $4,400 to install depending on square footage.
Moisture Control
Wood countertops are porous and naturally prone to water damage, but if they lose too much moisture they will also dry out. So it's important to have a countertop professional apply a finish to retain the wood's natural moisture levels as well as to bring out their beautiful grain. There are also specialized sealants on the market to can create a non-porous barrier to keep out any food material or additional surface water. For safety's sake you may want to keep them away from sinks unless they're protected with many coats of sealant or if you're installing a self-rimming unit that can avoid any residual water irrigation. Plus, when cleaning, never use any harsh detergents or bleach. Simply use soap and water or a non-toxic mineral oil to bring out the sheen (fatty, vegetable oil will penetrate the surface and create health hazards).
Ready to start your
Wood Countertops

?Find Pros
No Comments Yet